Vegetarian Noodle Soup – Eat Best Food in Can Tho
Vegetarian noodle soup is a great dish for you to change the taste for family meals or refresh the menu in the full moon days, the beginning of the month. Traveling to Can Tho, visitors should once enjoy vegetarian noodle soup to feel the unique flavor of this dish.
By Thomas Vietnam at vemekong.com | All Best Foods & Restaurants in Can Tho
1. Better to Know as a Food Lover
Find them: Ninh Kieu District, Can Tho city.
Best time: Dusk-Dawn
Don't miss: Vegetarian Noodle Soup
Local's pick: Vegetarian Noodle Soup restaurant at Nguyen Van Cu street and De Tham street.
Tourist's pick: Cuong's Chay restaurant
Blog: https://vemekong.com/vegetarian-rice-noodle-soup-can-tho-food/
Facts: It is called vegetarian noodle soup because the ingredients are made from noodle soup and completely made of vegetables, there are no fish, egg and meat in this soup.
2. Better to Know Vegetarian Noodle Soup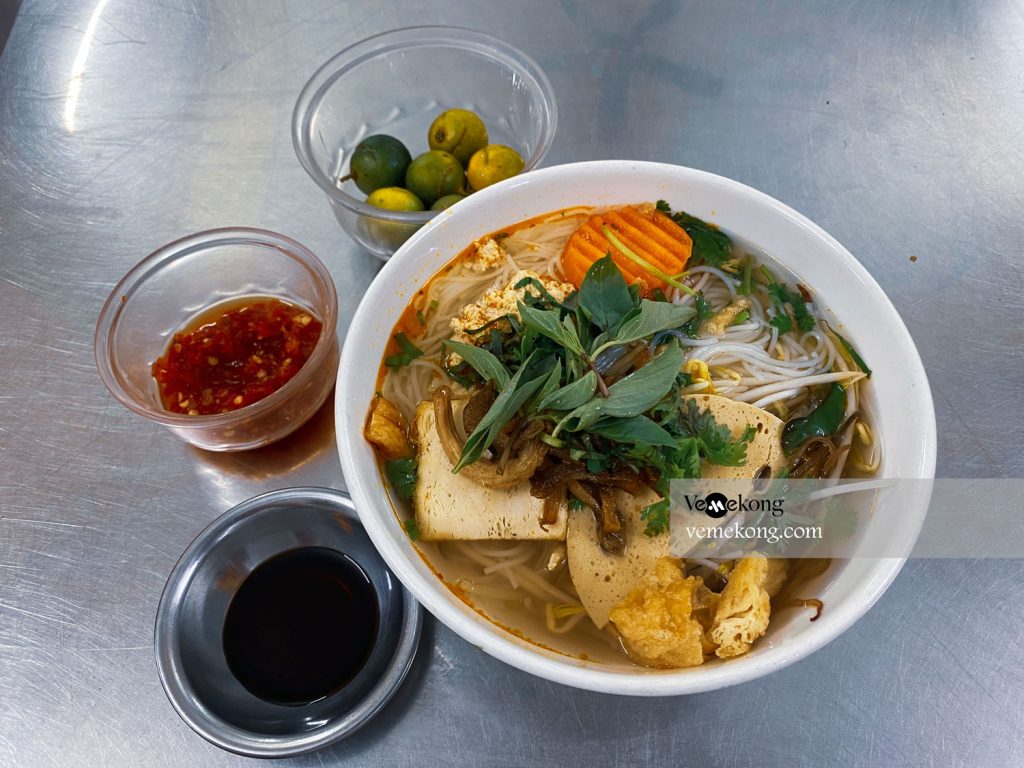 Eating vegetarian noodles soup in particular or being vegetarian in general has positive effects on your health:
– Weight loss
According to Dr. Neal Barnard and colleagues of the Physicians Committee on Medical Responsibility, vegetarians often have an increased calorie burn after each meal compared to those who eat salty foods.
This means that plant-based foods act as a source of fuel for the body, as opposed to being stored as fat.
According to this study, vegetarians are slimmer than meat eaters, and they are placed in the group of people with a lower risk of cardiovascular disease, diabetes, high blood pressure and diseases caused by weight gain and obesity.
– Reduce the risk of cancer
According to the statistics of epidemiologists, 35% of cancer cases are related to eating. Vegetarians are less likely to get sick and die from cancers of the mouth, throat, prostate, and especially colon than those who eat salty foods.
The reason is that vegetarian food is high in fiber and low in fat. Vegetarian foods also contain many substances that have potential to prevent cancer such as antioxidants and some phytochemicals.
– Hypotension
Fasting helps lower blood pressure and reduce the risk of cardiovascular disease. A vegetarian diet is high in potassium, complex carbohydrates, unsaturated fats, fiber, calcium, magnesium, vitamin C and vitamin A, all of which have a beneficial effect on blood pressure.
Vegetarians' blood pressure tends to be lower than those of salty eaters and increases less with age. Studies show that the more animal foods you eat, the higher your blood pressure tends to be.
3. Vegetarian Noodle Soup in Can Tho
Vegetarianism is gradually becoming a habit of many people to reduce the amount of protein, fat, etc., to ensure healthy maintenance. If you do not know what menu to plan for vegetarian days of the month, vegetarian noodle soup will be an extremely attractive suggestion. How to cook vegetarian noodle soup is not too difficult, you just need a little ingenuity and good secrets in the process of cooking vegetable broth to be able to successfully complete the dish. The frugal taste made from fruits and vegetables has made the dish not only suitable for many people's tastes but also very nutritious. Unlike salty noodles, vegetarian noodles need more secrets, especially in the process of cooking the broth to make the dish perfect and sweet.
4. How to Make Vegetarian Noodle Soup
Ingredients for Vegetarian Noodle Soup
Dried noodles 500 gr
Straw mushroom 300 gr
2 melons
2 tubers of cassava
2 white radishes
1 carrot
1/2 cup pickled radish (sacrifice)
Tofu ketchup 200 gr
Vegetarian rolls 1 tree (about 200g)
Tofu 2 pieces
Price 100 gr
Chives 10 branches
Coriander 5 branches
Basil 1 little
Roasted peanuts 100 gr
Rock sugar 3 tbsp
Cooking oil 5 tablespoons
Vegetarian seasoning 1 tbsp
Common seasoning 1 little
(salt / monosodium glutamate / ground pepper).
How to choose and buy fresh ingredients
How to choose to buy fresh straw mushrooms
Delicious straw mushrooms are mushrooms with buds, round or cylindrical, if you squeeze a bit hard, the mushroom will taste better when eaten.
Should choose mushrooms with uniform size to make the dish more beautiful and delicious.
You should choose to buy black or gray straw mushrooms, which will be more delicious than the white ones.
Do not choose if the mushrooms have a bad smell, are dull, soft to the touch, if the mushrooms are too large, the mushrooms that have been stored for a long time will not be delicious.
How to choose and buy delicious fresh melon
You should choose fragrant melons when holding a heavy hand, have a dark green skin, and have a natural aroma when smelling.
Prioritize choosing to buy elongated, well-balanced fruits, so choose small or medium ones, as young fruits will taste better.
Do not choose to buy fruits that are too old, the surface has many black dots and is scratched and damaged.
How to choose to buy delicious fresh cassava
To choose a delicious cassava tuber, you should choose the tubers with a light brown skin and a weight equivalent to the size of the tuber.
Besides, the smaller the stalks, the more fleshy, less fibrous, and sweeter and tastier.
Do not choose to buy if the tubers are large but light in weight because these bulbs are often in the soil for a long time, the amount of water in the tubers has evaporated quite a lot, so it will not be sweet and delicious.
In addition, you should not choose cassava roots that are crushed, have a dull color, are dark yellow or have black bruises on the outside. It is possible that these tubers have been wormed or damaged on the inside, even though the outer skin looks relatively normal.
How to choose to buy fresh carrots
Fresh carrots will have a bright, dark orange color, fresh green petioles firmly attached to the stem.
You should choose carrots that, when pressed with your hand, have a hard stem. The shape of the tuber is straight and elongated towards the tail.
Do not choose carrots whose stalks are wilted, the body is bruised, viscous, and bruises appear.
How to choose to buy, where to buy vegetarian rolls
You should choose to buy vegetarian rolls at reputable establishments such as supermarkets or markets to ensure the quality and origin of the products.
For packaged products, you should carefully check the expiry date, the outer packaging is intact, not torn or stained, the product inside is not moldy.
How to prepare vegetarian noodle soup
Step 1. Preliminary processing of vegetables
Peel the melon, wash it, dry it and cut it in half.
White radish, carrot, cassava root peeled, washed, cut into bite-sized pieces about 1/3 of a finger thick.
Straw mushrooms cut off the mushroom legs, wash and cut in half. Price, chives washed, dried. Coriander, remove the roots, wash and cut into small pieces. Basil picks up the old leaves, washes and dries.
Tofu, vegetarian rolls cut into bite-sized pieces about 2 fingers.
Step 2. Fried tofu
Put the pan on the stove on medium heat, add 5 tablespoons of cooking oil, wait until the oil is hot, fry the tofu on both sides until golden brown, then take it out and drain the oil.
Step 3. Cooking broth
Put the pot on the stove on high heat, add 3.5 liters of water to boil, when the water boils, add 1/2 salted radish, cassava root, white radish, carrot, lower the heat and stew for about 10 minutes.
Then add melon, straw mushrooms to the stew for another 20-25 minutes.
Season with 1 tbsp salt, 1/2 tbsp MSG, 3 tbsp rock sugar, 1 tbsp vegetarian seasoning.
Wait for the water to boil again, season to taste, add cilantro, a little pepper to the pot and turn off the heat.
Step 4. Dumplings and prices
Put the pot on the stove on high heat, add 2 liters of water to boil, when the water boils, put the chives in the pot for about 20 seconds, then take them out and drain.
Next, put the noodles in the pot for about 1 minute and then take them out to drain.
How to cook delicious, chewy noodles without being mushy
First, you should separate the noodles into separate strands, if the noodles are too long, they can be shortened to about 20-30cm to fit.
You can soak the noodles in cold water to soften them faster. Do not soak for too long to avoid friable noodles.
When finished boiling, put the noodles in a bowl of cold water, wait for the noodles to cool, then take them out. Doing so will make the noodles crispy and not mushy.
Step 5. Finished product
After finishing vegetarian noodle soup, it will have an attractive and very eye-catching aroma, sweet broth from vegetables combined with soft and chewy noodles.
When eating, you put noodles in a bowl, add broth, add ky tofu, tofu, vegetarian rolls, roasted peanuts and serve with chives and basil, add a cup of spicy fish sauce to increase the flavor!
5. Pro tips:
Here are our tips for easing your mind (and stomach) around food-handling environments that you may not be used to.
Make sure the food is freshly cooked. If you're eating hot street food, it's always safest (not to mention more delicious) to eat food you can see being cooked to order.
Look for lines and busy stalls. Busy street food stalls are an indicator of popularity, and their high turnover rate means the food is never sitting out for hours and developing dreaded bacteria. Yes, long lines can be discouraging when you're hungry after a full day of exploring, but it's not worth the risk of grabbing precooked food from the empty spot next door.
Eat when the locals are eating. The last and most important element here is when to eat. You're likely already on a weird eating schedule while you're traveling, but it's important to try and adjust to the eating times of where you are. A bowl of pho might be lunch for Americans, but it's breakfast for the Vietnamese. This ensures that you're eating freshly cooked food and that you can find the best and most popular places to eat.
If you can't drink the water, then you can't eat the salad. Most people get so hung up on not drinking the water or skipping ice in drinks that they don't think about all of the other ways in which water is used in food service. Fruits and vegetables tend to be washed with tap water in most places, rather than the filtered water that locals drink—or sometimes it's not washed at all. If you're really craving some produce, try fruits you can peel or cooked veggies.
Trust your gut. If you're unsure about the food or the way that it's being prepared, then keep moving. Eating street food all over the world doesn't make you an expert. Every stall and every country are different, and sometimes the rules can be harder to follow. When something doesn't look, smell, or feel right, don't eat it! Trust your judgment. Chances are that there's another spot close by that's making something more delicious.
Must-Eat Foods & Restaurants in Can Tho: Co Ut's Cong cake, Ut Dzach Fine Rice Vermicelli, Thanh Van Grilled Pork Sausage, Crab Noodle Soup At Floating Market, Scorched Rice with Caramelized Fish Sauce, 7-Toi's Duck Meat Pancake, Banh Mi Thuy, Banana Blossom Salad, Fried Spring Rolls, Fresh Spring Rolls, Fetal duck egg (balut), Honeycomb Cake, Mini Sticky Rice Cake, Cassava Silkworm Cake, Grilled Banana Wrapped in Sticky Rice, Khmer-style Bun Goi Da Soup, Egg Coffee, Con Son Grilled Snakehead Fish, Bun Mam – Fermented Fish Noodle Soup, Lau Mam – Fermented Fish Hotpot, Grilled Snails with Pepper, Magenta Sticky Rice Cake, Duck cooked with Fermented Tofu, Rice Noodle Pizza, Vegetarian Noodle Soup, Snails Stuffed With Pork…
Must-Eat Foods & Restaurants in Chau Doc: Chau Doc Fish Noodle Soup, Sugar Palm Fruit, Basa Fish Hot Pot, Mam (Fermented fish), Phu Huong Beef Noodle Soup, Broken Rice with Pork Chop, Long Xuyen Broken Rice, Nui Cam Pancake, O Thum's Chicken Grilled with Lime Leaves, Stir-fried Shrimp with Sesbania Flower, Sweet & Sour Soup with Siamese Mud Carp Soup & Sesbania Flower, Caramelized & Braised Catfish, Grilled Rice-field Rat with Salt and Chili…
Must-Eat Foods & Restaurants in Soc Trang: Pia Cake, Cong Cake (Banh Cong), Bun Nuoc Leo Soc Trang's Noodle Soup, Soc Trang's Bun Goi Da Soup, Duck Noodle Soup with black Pepper, Curry Noodle Soup, Grilled Beef on Tile, Khmer-style Tube Cake, Khmer-style Mung Bean Cake (Banh In), Dried Radish (Xa Bau), Stir-Fried Noodles with Seafood (Mi Sua), Soc Trang's Green Rice Flakes…
Must-Eat Foods & Restaurants in Ben Tre: Phu Le Rice Wine, Ben Tre's Coconut Candy, Flat Banana, Coconut Rice, Snail Pancake, Sea Snail with Coconut Milk, Coconut Worm, Young Coconut Salad with Shrimp & Pork, Son Doc Puff Rice Paper…
Must-Eat Foods & Restaurants in Cai Be: Puffed Rice Cake…
Must-Eat Foods & Restaurants in Vinh Long: Elephant Ear Fish (fried giant gourami)…
Must-Eat Foods & Restaurants in My Tho: Fried Sticky Rice, Snakehead Fish Rice Porridge, Hu Tieu My Tho (Noodle Soup), Coconut Banana Cake…
Must-Eat Foods & Restaurants in Tra Vinh: Macapuno Coconut, Bun Nuoc Leo Tra Vinh's Noodle Soup, Tra Cuon's Sticky Rice Cake…
Must-Eat Foods & Restaurants in Sadec: Sa Dec Noodle Soup, Sadec Crab Hotpot, Lai Vung Spring Rolls, Sa Giang Shrimp Puff Pastry, Lai Vung Tangerine…
Must-Eat Foods & Restaurants in Bac Lieu: Spicy Beef Noodle Soup, Bac Lieu's Three-striped Crab, White Radish Pies, Bac Lieu Thick Noodles & Creamy Coconut Milk, Bon Bon Pickles…
Must-Eat Foods & Restaurants in Ca Mau: Banh tam ga cay (Silkworm rice cake with curried chicken), Grilled Vop clams with salt and pepper, Grilled Mudskipper Fish, Stone Crab Roast With Salt, Young Bee Salad, Nam Can's Crab, U Minh Forest's Honey, U Minh's Fermented Fish Hotpot…
Must-Eat Foods & Restaurants in Hau Giang: Cau Duc Pineapple, Cai Tac's Pork Organs Porridge, Hau Giang's Bronze Featherback Fish Cake…
Must-Eat Foods & Restaurants in Ha Tien: Herring Fish Salad, Spider crab cake soup, Ken Noodle soup, Xoi Xiem (Siamese sticky rice), Steamed Noodle soup, Ha Tien Oyster porridge…
Must-Eat Foods & Restaurants in Rach Gia: Stir Noodle Soup, Kien Giang Fish Noodle Soup…
Must-Eat Foods & Restaurants in Con Dao: Bang nut jam, Vu Nang Snail, Roasted Pork Bread (Banh Mi), Coconut Ice Cream…
Must-Eat Foods & Restaurants in Phu Quoc: Phu Quoc Sim Wine, Phu Quoc Pepper, Phu Quoc fish sauce…
Hopefully, the above tips will help you to come up with a great plan for your adventure in Mekong River Delta, Vietnam. Have a safe trip!
"Sleep less, travel more, respect more" – Thomas Vietnam – Local travel expert.
Thank you