Cong Cake (Banh Cong) – Can Tho's Best Street Food
One of the best Can Tho street foods is definitely Cong Cake (Banh Cong). It is a hot, crispy drain cake with the greasy meat, shrimps and the green beans served with sweet and sour sauce and vegetable
By Thomas Vietnam at vemekong.com | Official Can Tho Visitor Guide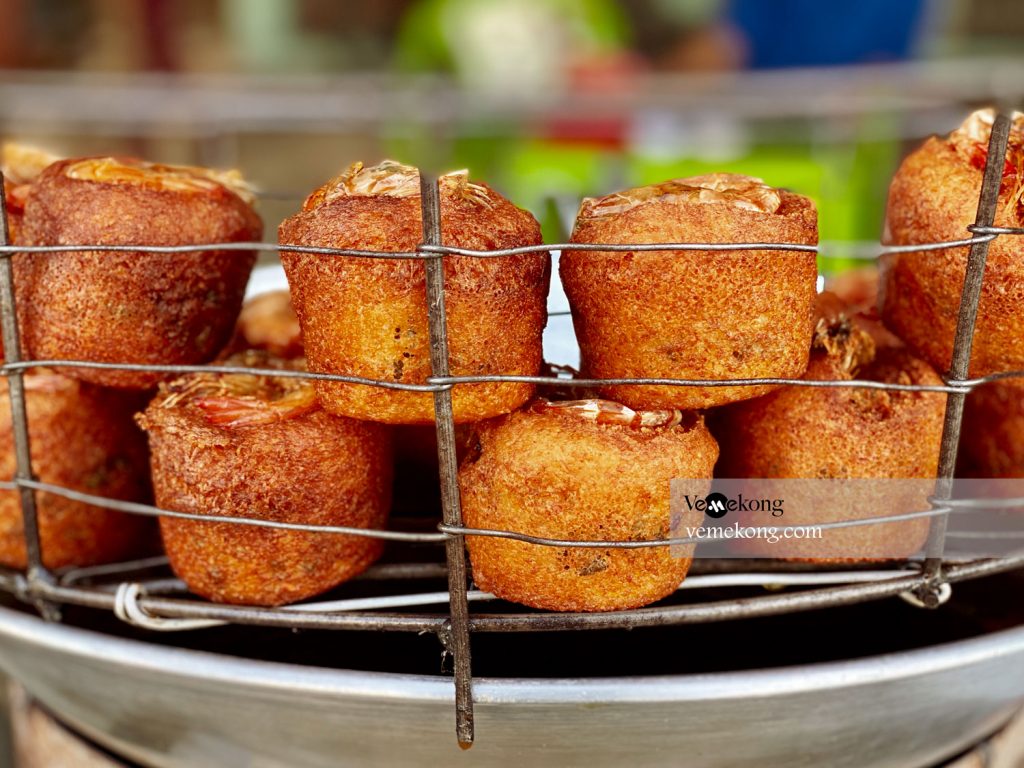 1. Better to Know as a Tourist
Find them: De Tham Street and Ly Tu Trong Street, An Cu Ward, Ninh Kieu District, Can Tho City
Best time: After 2pm
Don't miss: Spring roll
Local's pick: Banh Cong Co Ut
Tourist's pick: Many Cong cake local restaurants in Can Tho city center.
2. Better to Know Cong Cake (Bánh Cống)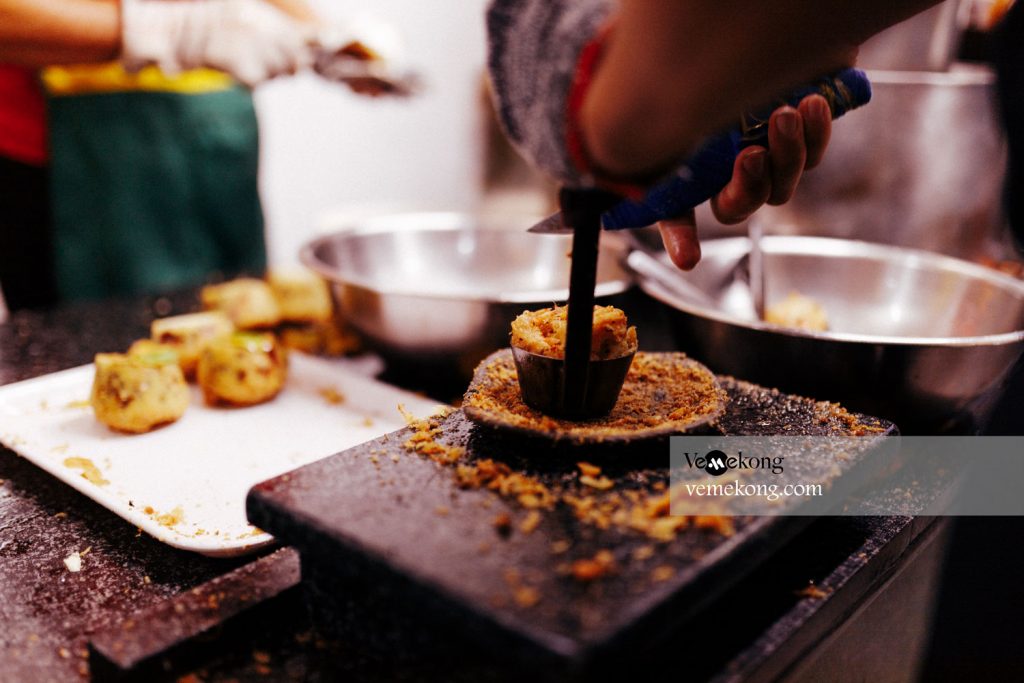 It's called "Banh Cong" because people use a "Cong" to cook. A "Cong" has a long handle and looks like a small metal milk bottle. In the Mekong Delta, people still use "Cong" as a unit of measures in dealing at the market. "Cong" has many sizes: ½ "xị", 1 "xị" (4 "xị" equal to 1 liter), ½ liter, 1 liter and the biggest size is 2-liters Cống.
The "Cong" used to make Bánh Cong has only one size with diameter 5 cm, height 5cm with the handle about 1 span. The "Cong" used to fry Bánh Cống does not have cylinder shape like the "Cong" used for measuring, it has the bottom a little smaller than the topping, it helps Banh Cong to float up once it is done.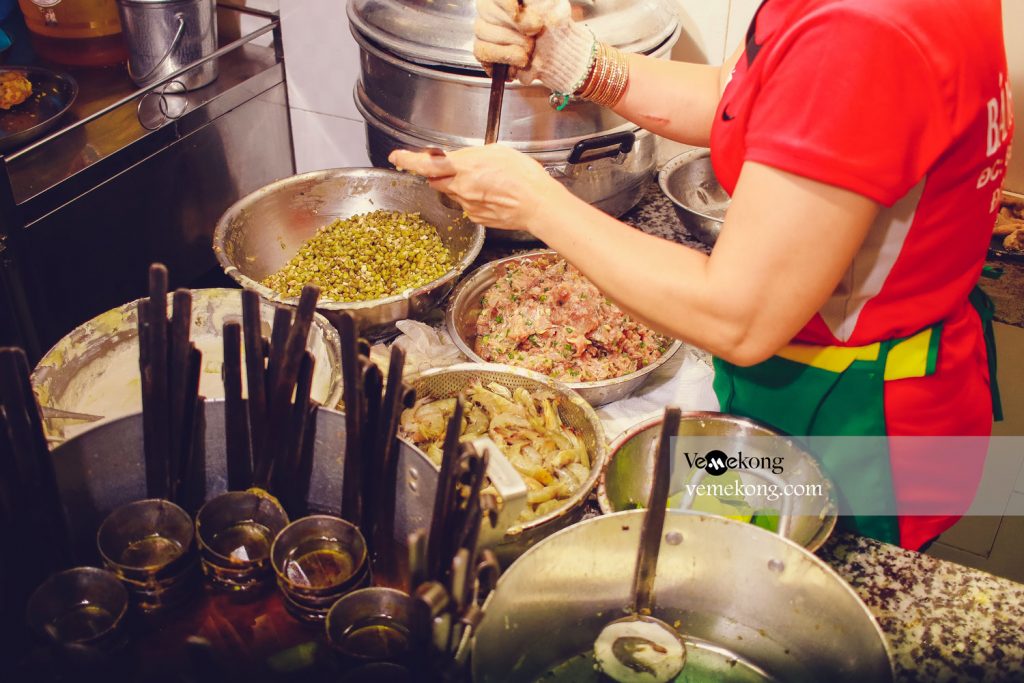 Banh Cong is made with rice flour mixed with wheat flour to keep Banh Cong soft and crispy. You can use rice flour or soak rice then grind to make Banh Cong. Rice flour grinded is always better than buying rice flour from the market because it keeps the fragrant flavor. If you don't know how to select rice flour at the market you can easily get old, moudy flour and make your cake sour and bitter.
Banh Cong is always served with sweet-sour fish sauce, lime and minced chili. Fish sauce adds more shredded cucumber, carrot and radish. Aromatic herbs are fish mint, lettuce, basil, herb mint…
The eater can wrap Banh Cong, Banh Hoi (fine rice vermicelli) and aromatic herbs together to enjoy.
3. Banh Cong Co Ut Restaurant in Can Tho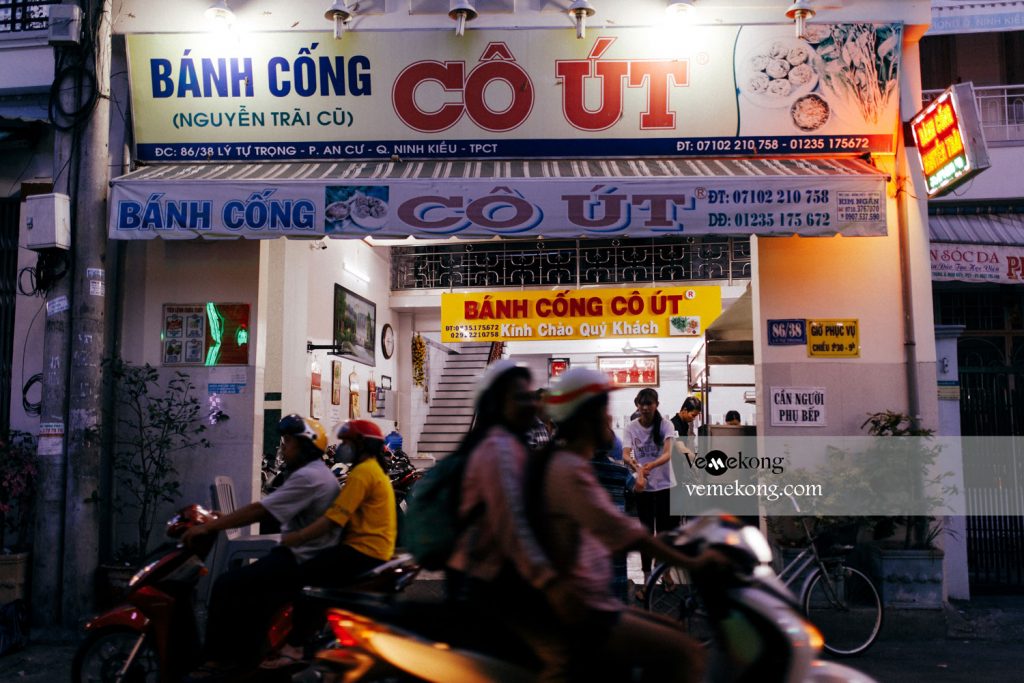 One of the most famous specialties in the West of Vietnam is Bánh Cống. There are many stories about the origin of it, but many commented that the Bánh Cống comes from the Khmer people, and the Khmer people in the southwestern region are always proud to be the first ones who has made this traditional dish for over 100 years. Soc Trang is famous for Bánh Cống, and from then on, it has become popular with many people and they also learn how to make it. From then on, Bánh Cống is ubiquitous in the Mekong delta.
Banh Cong Co Ut was formerly a small restaurant of a family of civil servants in the power sector, the restaurant was next to the former Can Tho Power Company. In the past, BánhCống was mainly rice flour. Later, thanks to ingenuity and diligent study of the makers, the materials were more diversified, Banh Cong were tastier, crispy and spongy. The aromatic and fatty rice cake attracts more and more visitors, even older guests. Since then, the small shop has become famous for customers from near and far, both in domestic and foreign markets.
Ms. Ut shared her job story with her customers that "the origin of her family was previously in SocTrang, then moved to Can Tho to live. The whole family lived with the salary of her father's civil servants so her family's economy was very tight. She talked with her mother to open a homemade Banh Cong store to improve her family life. From then on, Banh Cong Nguyen Trai was born and the next generations inherit and continue to promote its reputation. Ms Út said she still retains the traditional way of Bánh Cống processing from her mother. They order Sóc Trăng winter rice and have to bake overnight before grinding rice into flour instead of using industrial rice flour. Therefore, Banh Cong are so crispy but not dry and hard. Moreover, meat used for making Banh Cong filler must be fresh and they are crushed then seasoned with mashed potatoes and especially marinated onions and finely chopped green onions. It is one of the key tips of the restaurant because the meat is not like other places, without meat filler, the typical taste of Banh Cong will be lost. Additionally, the makers have to choose round and big green beans, then boil and mix them with meat to make the filler. Shrimp or fresh cashew is selected depending on the season, then they will be cleaned and kept in the shell, after that frozen them overnight, when defrosting shrimp, it will be very brittle after drying. The way to pour the mixture of flour, shrimp and filler to dry in a round frame is also very professional. Only after a few movements, there will be golden brown and eye-catching Banh Cong. Sauce is an indispensable ingredient to make the taste of Banh Cong more delicious. The best sauce comes with pickles and minced chili. Many customers choose Banh Cong Co Ut restaurant as a place to treat partners and friends because they are very proud of their traditional dishes of their homeland.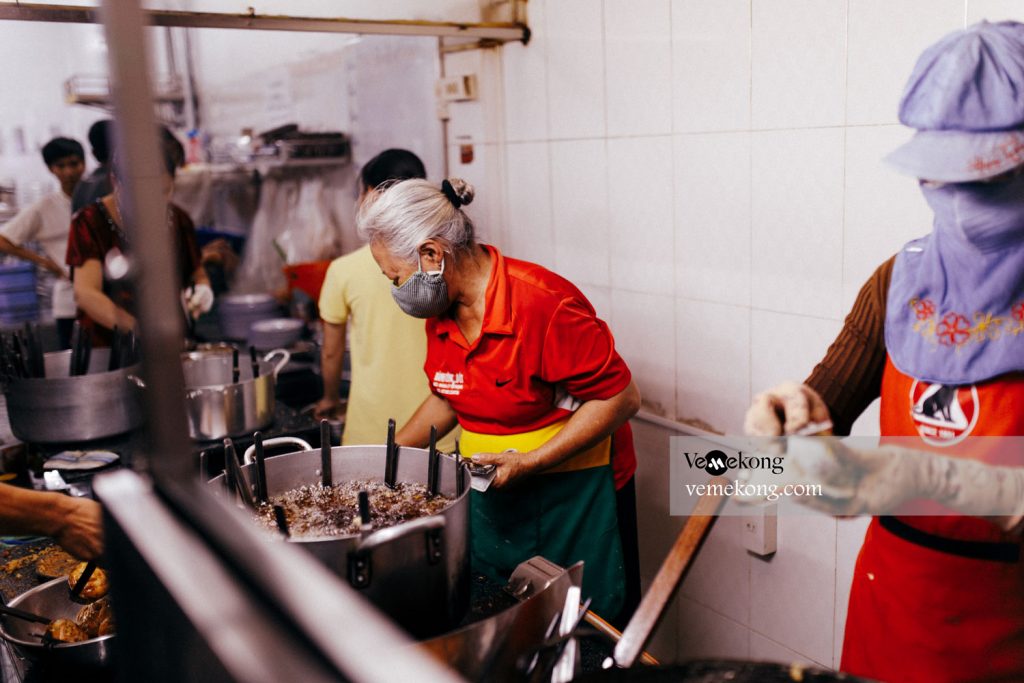 Banh Cong Co Ut and other famous specialties show the dexterity of the women of Mekong Delta who have put this rural food into a famous specialty throughout the region, which is unique and nowhere to be found. From then on, this land is quickly known by tourists. Another interesting thing is that the waiters are young women from Sóc Trăng. All of them know how to make Banh Cong, some have been working in this restaurant for more than 10 years, one of them has married and regarded Can Tho as the second homeland. It can be seen that they have a big love for Banh Cong.
Through enjoying folk unique dishes, people can see the manual dexterity of those women, they always preserve traditions. Just enjoy one Banh Cong, we can understand the labor of how many people in this speciality. The city people are very grateful to those who contributed to making food for the needs of daily life and grateful to those who have devoted their energies to make the culinary reputation of this land fly high and far.
4. How to Make a Simple Cong Cake (Bánh Cống)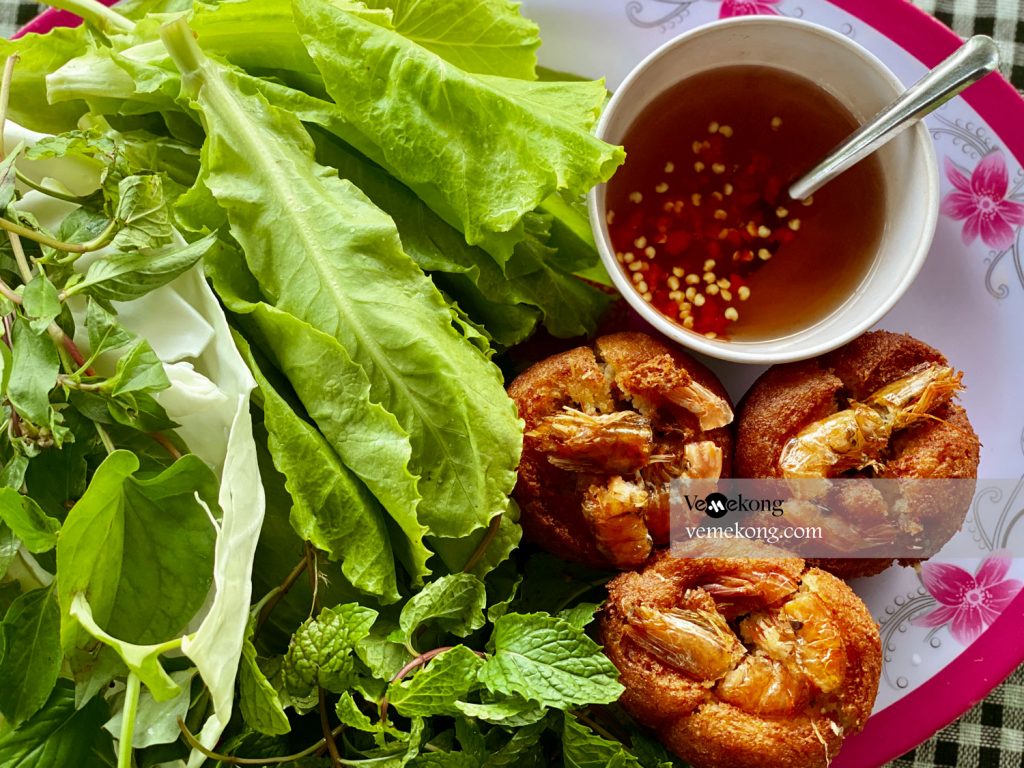 – 100gr mung bean (green bean) (Which no cover)
– 200gr rice flour
– 50gr wheat flour
– 200gr shrimps
– 250cc water
– ½ tsp salt + 1 tbsp sugar + 1 whole onion.
– Cong patterns.
Process:
Step 1: Soak Mung bean (green bean) in water for about 2 – 3 hours, next steam until it is cooked.
Step 2: Rice flour + wheat flour mix with water, stir frequently if you do not make it curdle. Add more salt + sugar and continue to stir for about 10 minutes. Please make this step correctly, because it is the main step to create one of delicious Vietnamese dish recipes.
Step 3: Peel off the cover of onion, mince it. Clean shrimps. Cut the heads. Next, add minced onion and shrimps and mung beans into mixture flour. Keep some shrimps if you want to add on the face of cakes.
Step 4: Boil oil, put all Cong patterns into oil to make them hot. Then, pour mixture flour into each pattern, and put into the pan again to fry it. You can add more shrimp on the cake when it is nearly done. Fry for about 3 minutes.
Step 5: Making Dipping Fish Sauce
5. Pro tips: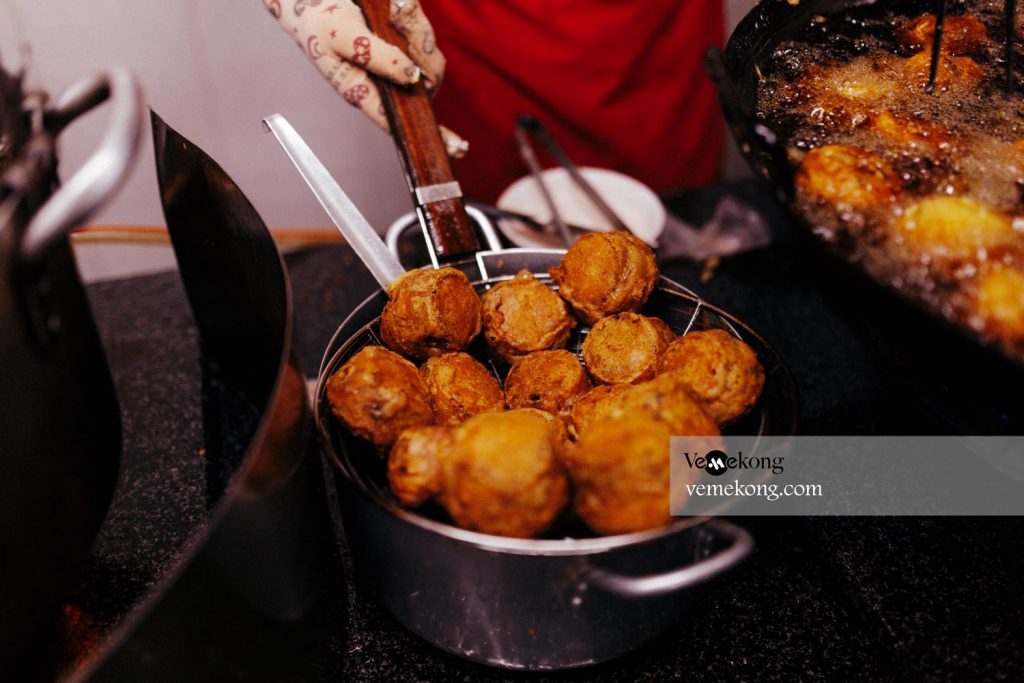 Here are our tips for easing your mind (and stomach) around food-handling environments that you may not be used to.
Make sure the food is freshly cooked. If you're eating hot street food, it's always safest (not to mention more delicious) to eat food you can see being cooked to order.
Look for lines and busy stalls. Busy street food stalls are an indicator of popularity, and their high turnover rate means the food is never sitting out for hours and developing dreaded bacteria. Yes, long lines can be discouraging when you're hungry after a full day of exploring, but it's not worth the risk of grabbing precooked food from the empty spot next door.
Eat when the locals are eating. The last and most important element here is when to eat. You're likely already on a weird eating schedule while you're traveling, but it's important to try and adjust to the eating times of where you are. A bowl of pho might be lunch for Americans, but it's breakfast for the Vietnamese. This ensures that you're eating freshly cooked food and that you can find the best and most popular places to eat.
If you can't drink the water, then you can't eat the salad. Most people get so hung up on not drinking the water or skipping ice in drinks that they don't think about all of the other ways in which water is used in food service. Fruits and vegetables tend to be washed with tap water in most places, rather than the filtered water that locals drink—or sometimes it's not washed at all. If you're really craving some produce, try fruits you can peel or cooked veggies.
Trust your gut. If you're unsure about the food or the way that it's being prepared, then keep moving. Eating street food all over the world doesn't make you an expert. Every stall and every country are different, and sometimes the rules can be harder to follow. When something doesn't look, smell, or feel right, don't eat it! Trust your judgment. Chances are that there's another spot close by that's making something more delicious.
Must-Eat Foods & Restaurants in Can Tho: Co Ut's Cong cake, Ut Dzach Fine Rice Vermicelli, Thanh Van Grilled Pork Sausage, Crab Noodle Soup At Floating Market, Scorched Rice with Caramelized Fish Sauce, 7-Toi's Duck Meat Pancake, Banh Mi Thuy, Banana Blossom Salad, Fried Spring Rolls, Fresh Spring Rolls, Fetal duck egg (balut), Honeycomb Cake, Mini Sticky Rice Cake, Cassava Silkworm Cake, Grilled Banana Wrapped in Sticky Rice, Khmer-style Bun Goi Da Soup, Egg Coffee, Con Son Grilled Snakehead Fish, Bun Mam – Fermented Fish Noodle Soup, Lau Mam – Fermented Fish Hotpot, Grilled Snails with Pepper, Magenta Sticky Rice Cake, Duck cooked with Fermented Tofu, Rice Noodle Pizza, Vegetarian Noodle Soup, Snails Stuffed With Pork…
Must-Eat Foods & Restaurants in Chau Doc: Chau Doc Fish Noodle Soup, Sugar Palm Fruit, Basa Fish Hot Pot, Mam (Fermented fish), Phu Huong Beef Noodle Soup, Broken Rice with Pork Chop, Long Xuyen Broken Rice, Nui Cam Pancake, O Thum's Chicken Grilled with Lime Leaves, Stir-fried Shrimp with Sesbania Flower, Sweet & Sour Soup with Siamese Mud Carp Soup & Sesbania Flower, Caramelized & Braised Catfish, Grilled Rice-field Rat with Salt and Chili…
Must-Eat Foods & Restaurants in Soc Trang: Pia Cake, Cong Cake (Banh Cong), Bun Nuoc Leo Soc Trang's Noodle Soup, Soc Trang's Bun Goi Da Soup, Duck Noodle Soup with black Pepper, Curry Noodle Soup, Grilled Beef on Tile, Khmer-style Tube Cake, Khmer-style Mung Bean Cake (Banh In), Dried Radish (Xa Bau), Stir-Fried Noodles with Seafood (Mi Sua), Soc Trang's Green Rice Flakes…
Must-Eat Foods & Restaurants in Ben Tre: Phu Le Rice Wine, Ben Tre's Coconut Candy, Flat Banana, Coconut Rice, Snail Pancake, Sea Snail with Coconut Milk, Coconut Worm, Young Coconut Salad with Shrimp & Pork, Son Doc Puff Rice Paper…
Must-Eat Foods & Restaurants in Cai Be: Puffed Rice Cake…
Must-Eat Foods & Restaurants in Vinh Long: Elephant Ear Fish (fried giant gourami)…
Must-Eat Foods & Restaurants in My Tho: Fried Sticky Rice, Snakehead Fish Rice Porridge, Hu Tieu My Tho (Noodle Soup), Coconut Banana Cake…
Must-Eat Foods & Restaurants in Tra Vinh: Macapuno Coconut, Bun Nuoc Leo Tra Vinh's Noodle Soup, Tra Cuon's Sticky Rice Cake…
Must-Eat Foods & Restaurants in Sadec: Sa Dec Noodle Soup, Sadec Crab Hotpot, Lai Vung Spring Rolls, Sa Giang Shrimp Puff Pastry, Lai Vung Tangerine…
Must-Eat Foods & Restaurants in Bac Lieu: Spicy Beef Noodle Soup, Bac Lieu's Three-striped Crab, White Radish Pies, Bac Lieu Thick Noodles & Creamy Coconut Milk, Bon Bon Pickles…
Must-Eat Foods & Restaurants in Ca Mau: Banh tam ga cay (Silkworm rice cake with curried chicken), Grilled Vop clams with salt and pepper, Grilled Mudskipper Fish, Stone Crab Roast With Salt, Young Bee Salad, Nam Can's Crab, U Minh Forest's Honey, U Minh's Fermented Fish Hotpot…
Must-Eat Foods & Restaurants in Hau Giang: Cau Duc Pineapple, Cai Tac's Pork Organs Porridge, Hau Giang's Bronze Featherback Fish Cake…
Must-Eat Foods & Restaurants in Ha Tien: Herring Fish Salad, Spider crab cake soup, Ken Noodle soup, Xoi Xiem (Siamese sticky rice), Steamed Noodle soup, Ha Tien Oyster porridge…
Must-Eat Foods & Restaurants in Rach Gia: Stir Noodle Soup, Kien Giang Fish Noodle Soup…
Must-Eat Foods & Restaurants in Con Dao: Bang nut jam, Vu Nang Snail, Roasted Pork Bread (Banh Mi), Coconut Ice Cream…
Must-Eat Foods & Restaurants in Phu Quoc: Phu Quoc Sim Wine, Phu Quoc Pepper, Phu Quoc fish sauce…
Hopefully, the above tips will help you to come up with a great plan for your adventure in Mekong River Delta, Vietnam. Have a safe trip!
"Sleep less, travel more, respect more" – Thomas Vietnam – Local travel expert.
Thank you