Ut Dzach Fine Rice Vermicelli – Eat Best Food in Can Tho
Ut Dzach hammock-shaped Fine Rice Vermicelli is a rustic cake, present in many places. Not only delicious, this specialty also provides significant calories for your body's vital activities. In Can Tho city, The Ut Dzach hammock-shaped fine rice vermicelli has long been identified by customers near and far as the "King in Tay Do". Here, visitors can experience making their own special cakes.
By Thomas Vietnam at vemekong.com | Official Can Tho Visitor Guide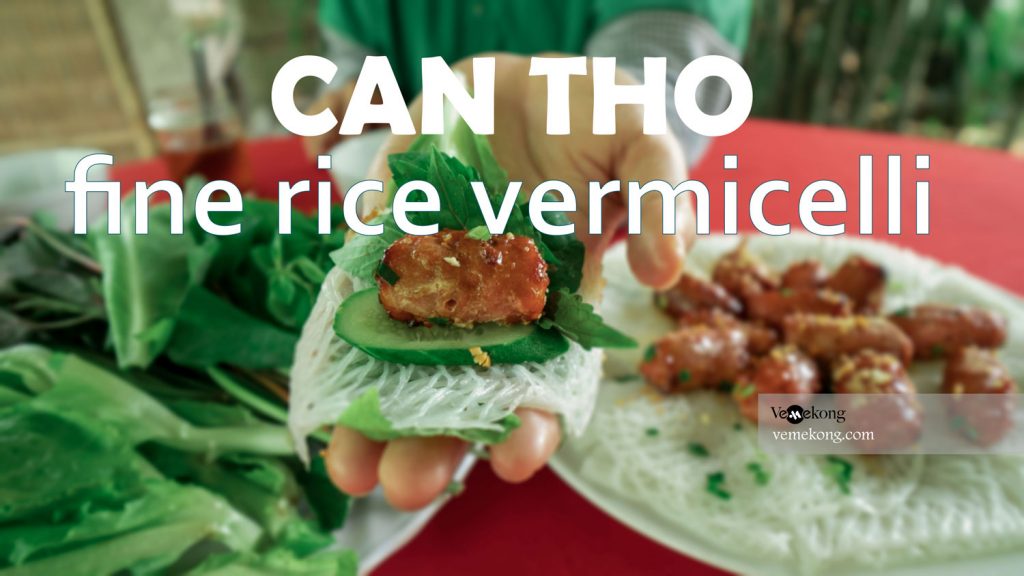 1. Better to Know as a Food Lover
Find them: Located at 509 Provincial Road 61B, Nhon Binh Hamlet, Nhon Ai Commune, Phong Phong Dien District.
Best time: Dawn – Dusk
Don't miss: Kim Tien barbecue, garden chicken salad, pancakes…
Local's pick: Garden eco-tourism area – Ut Dzach hammock-shaped Fine Rice Vermicelli
Tourist's pick: Flan Cake restaurant, Co Rom fine rice vermicelli restaurant…
Blog: https://vemekong.com/can-tho-fine-rice-vermicelli/
Facts: The reason this cake has the name hammock-shaped is because the cake's pattern looks like a very beautiful mesh that makes the maker's ingenuity
2. Better to Know Ut Dzach hammock-shaped Fine Rice Vermicelli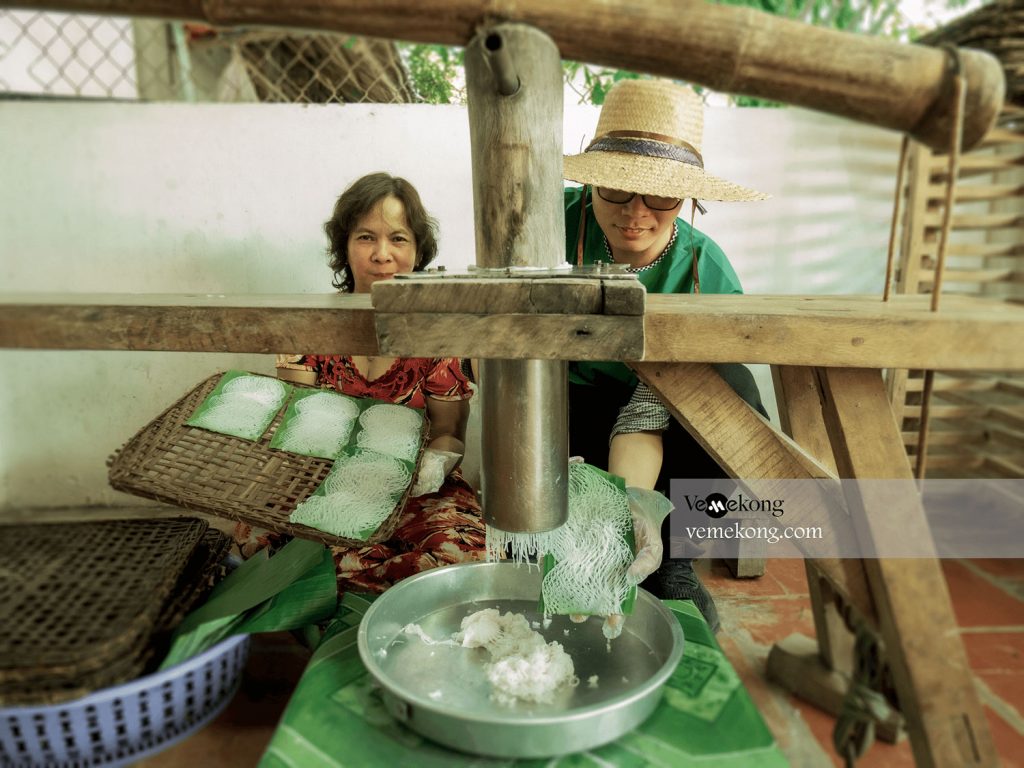 Mr. Tran Thien Canh (son of artisan Chau Kim Thuan) said that his family's hammock-shaped fine rice vermicelli is a long-standing tradition, dating back more than 50 years. The hammock-shaped fine rice vermicelli is different from other cakes because it has a sweet, salty taste, a clear, chewy piece of cake and no additives.
According to artisan Chau Kim Thuan, in the past, making hammock-shaped finerice vermicelli was only for the purpose of serving in the family and helpingneighborswhenthere was an anniversary, partying was the main thing, not for sale. Later, at therequestof her children, she intends to make cakes and ask for processing to sell. Later, it developed into an eco-tourismsite attracting Can Tho tourists to visit.
3. Ut Dzach hammock-shaped fine rice vermicelli in Can Tho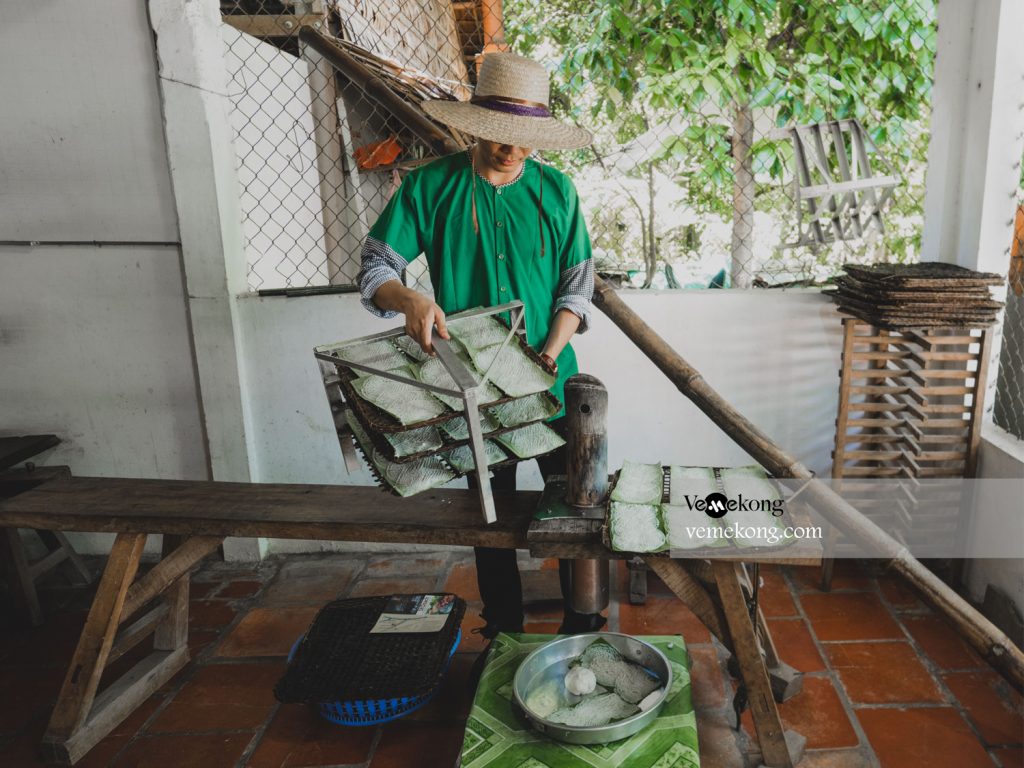 The hammock–shapedfinericevermicelliis served with grilled meat, also made by the owner of the garden. Grilled meat has an eye-catching golden-brown color, with a bit of fat lying in the rolled meat layer, giving diners a feeling of moderate fat without getting bored.
The hammock-faced cake is served with a plate of hot grilled meat, a few fragrant raw vegetables. When eating meat rolls, ask to add some herbs and dip them with dipping sauce. The natural sweetness of the cake mixes with the rich taste of grilled meat, making visitors flutter forever.
4. How to Make hammock-shaped fine rice vermicelli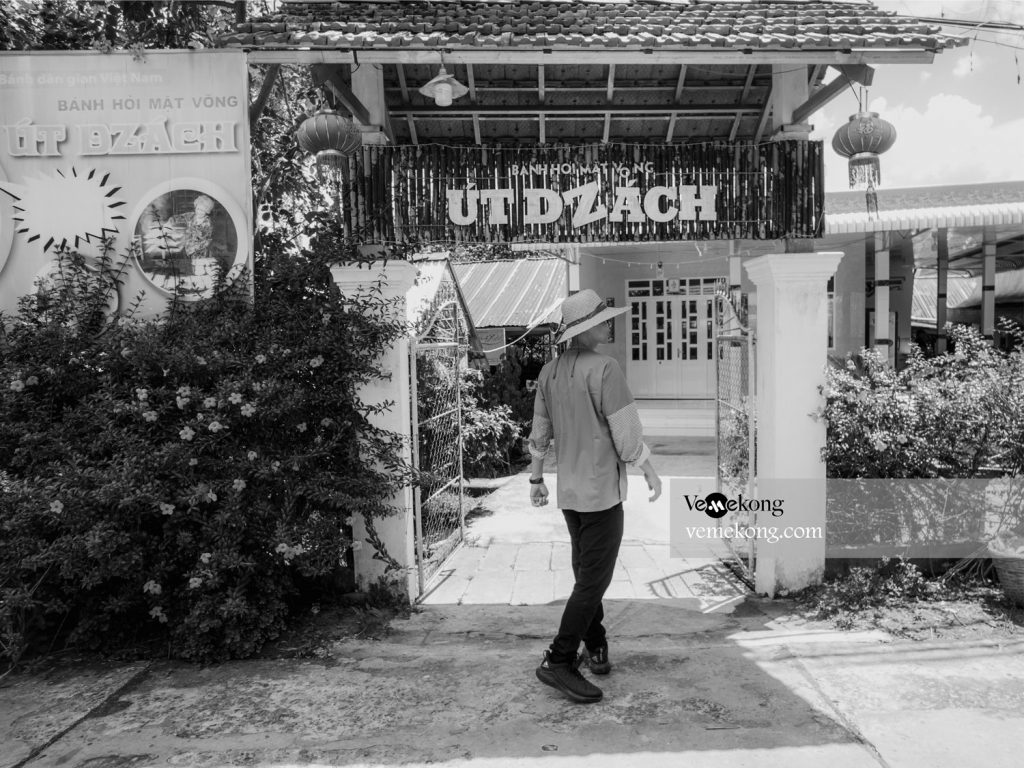 Ut Dzach hammock-shaped Fine Rice Vermicelli is made up of quite simple ingredients by rice flour, shallot leaves and filtered water. However, to be able to make a delicious Ut Dzach hammock-shaped Fine Rice Vermicelliwe also need to know how to choose the right type of rice and ensure quality.
The ingredients for making Ut Dzach hammock-shaped Fine Rice Vermicelli are very simple, just plain rice
The criteria given when choosing rice as Ut Dzach hammock-shaped Fine Rice Vermicelli include:
+ Fragrant rice (delicious rice), not moldy or moth
+ The percentage of impurities is less than 0.1%
Tools needed to make Ut Dzach hammock-shaped Fine Rice Vermicelli
To process Ut Dzach hammock-shaped Fine Rice, you need to prepare a set of molds made of stainless-steel blocks or copper pipes. Usually, the size of the mold is about 7-8 cm in diameter (large sizes can be up to 20 cm) and about 50 cm in height.
We will need to prepare the mold before making the cake
The mouth of the tube is usually designed to flare out to be able to lean on a wooden table. The bottom of the tube will have a rack a few centimeters thick with many small holes (like the tip of a needle). These holes are very important, if the hole is too big, the cake will not taste good, if the hole is too small, the dough will not pass through.
In addition, the tools you need to prepare more such as: saucepans, pans, knives, chopsticks … Please prepare carefully so as not to be interrupted or affected when starting the baking process.
As a popular dish in Vietnam, if you've ever enjoyed this cake, you won't be able to ignore how it is made. Here are the details of how to make Banh Mui that we want to share with our readers.
Rice materials before being put in need to be selected and carefully screened to remove impurities such as sand and gravel. Wash the rice, treat it with clean water a few times to ensure good input
After being cleaned through preliminary processing, you proceed to soak the rice in clean water for about 10 hours (1 night). This step is the main purpose of making the rice soft by absorbing a certain amount of water. This will help the rice flour when grinding will be more flexible and soft.
Also, be aware that the amount of water you use to soak the rice needs to cover the entire mass of rice. Each step in the process will affect the quality of the cake in the future.
After soaking the rice, you proceed to take the rice out and step into the wet grinding stage. The process of grinding rice can be done by hand as follows: put a tablespoon of rice and a tablespoon of clean water into the mill until a white powder is formed.
We can increase the crushing capacity and shorten the time by mechanization with the vertical or horizontal double cutting mill. The rice will be finely ground with the amount of water flowing through the 2,400 holes/cm2 filter to create a fine powder that is easy to shape and increases the toughness of the noodles later.
Draining is quite important, we will do it in tanks or bamboo baskets designed with filter cloth lining. The purpose is to convert the d
During the cooking process, you need to stir constantly to ensure that the dough is cooked evenly. When the dough becomes pliable, thick and slightly transparent, it means the dough is just cooked.
Cooling, kneading and dividing steps
After the step of cooking the dough until it is just cooked, let the dough cool down so that you can knead and divide the dough. Kneading the dough will help the dough to be much softer and more supple.
The process of pressing and shaping Ut Dzach hammock-shaped Fine Rice vermicelli
We proceed to put the dough into the pre-prepared mold. The molds will usually be tubular, rectangular or cylindrical in shape. Then, you use a wooden block of the right size and shape to fit the mold to press the rice flour to melt.
Squeezing and shaping Ut Dzach hammock-shaped Fine Rice vermicelli with 2 people
The pressure required will be quite large because the dough is dense and the holes of the mold are small. Usually, two people are needed in the process of pressing Ut Dzach hammock-shaped Fine Rice Vermicelli, one pressing and one cutting the cake. The cake fibers going through the holes will be cut into equal lengths (about 10cm) and steamed in a water bath.
The process of forming Ut Dzach hammock-shaped Fine Rice vermicelli will depend on the properties of the dough fibers. Therefore, starch gelatinization is so important that we must not neglect it.
Steamed this fine rice vermicelli – the last step
Boil water and put the flour fibers in the steam for about 3 minutes. Through this stage, we will produce a complete product.
5. Mekong Delta 4k Video of Ut Dzach Fine Rice Vermicelli
Embedded slot
6. Free Itinerary and Google Maps Ut Dzach Fine Rice Vermicelli and Activities
On the way to the garden, you may combine Can Tho floating market tour and cycling around Mekong canals before stopping over at the Ut Dzach. Top tip: Make yourself a good and off the beaten track with Can Tho scooters.
Embedded slot
7. Responsible Travel and Advice to Visit the Local Family
Banh Hoi is considered by the government as an authentic and traditional cuisine of Can Tho people. That means a lot for the Can Tho food culture and its values. What a responsible place for the locals and tourists to come and understand more about this food. Top tip: Many news and media talk about this secret food and its flavor.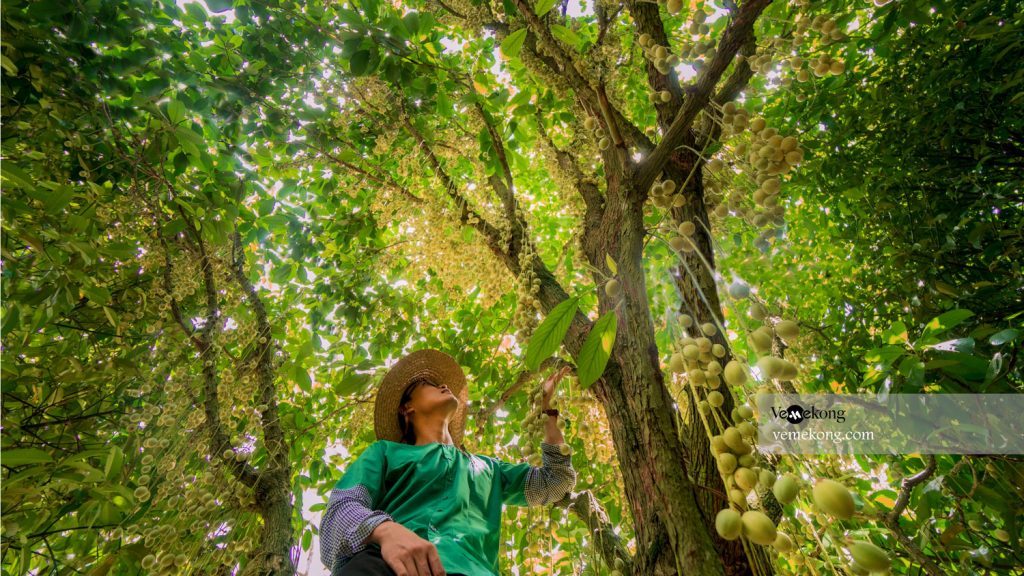 8. Pro tips:
Here are our tips for easing your mind (and stomach) around food-handling environments that you may not be used to.
Make sure the food is freshly cooked. If you're eating hot street food, it's always safest (not to mention more delicious) to eat food you can see being cooked to order.
Look for lines and busy stalls. Busy street food stalls are an indicator of popularity, and their high turnover rate means the food is never sitting out for hours and developing dreaded bacteria. Yes, long lines can be discouraging when you're hungry after a full day of exploring, but it's not worth the risk of grabbing precooked food from the empty spot next door.
Eat when the locals are eating. The last and most important element here is when to eat. You're likely already on a weird eating schedule while you're traveling, but it's important to try and adjust to the eating times of where you are. A bowl of pho might be lunch for Americans, but it's breakfast for the Vietnamese. This ensures that you're eating freshly cooked food and that you can find the best and most popular places to eat.
If you can't drink the water, then you can't eat the salad. Most people get so hung up on not drinking the water or skipping ice in drinks that they don't think about all of the other ways in which water is used in food service. Fruits and vegetables tend to be washed with tap water in most places, rather than the filtered water that locals drink—or sometimes it's not washed at all. If you're really craving some produce, try fruits you can peel or cooked veggies.
Trust your gut. If you're unsure about the food or the way that it's being prepared, then keep moving. Eating street food all over the world doesn't make you an expert. Every stall and every country are different, and sometimes the rules can be harder to follow. When something doesn't look, smell, or feel right, don't eat it! Trust your judgment. Chances are that there's another spot close by that's making something more delicious.
Must-Eat Foods & Restaurants in Can Tho: Co Ut's Cong cake, Ut Dzach Fine Rice Vermicelli, Thanh Van Grilled Pork Sausage, Crab Noodle Soup At Floating Market, Scorched Rice with Caramelized Fish Sauce, 7-Toi's Duck Meat Pancake, Banh Mi Thuy, Banana Blossom Salad, Fried Spring Rolls, Fresh Spring Rolls, Fetal duck egg (balut), Honeycomb Cake, Mini Sticky Rice Cake, Cassava Silkworm Cake, Grilled Banana Wrapped in Sticky Rice, Khmer-style Bun Goi Da Soup, Egg Coffee, Con Son Grilled Snakehead Fish, Bun Mam – Fermented Fish Noodle Soup, Lau Mam – Fermented Fish Hotpot, Grilled Snails with Pepper, Magenta Sticky Rice Cake, Duck cooked with Fermented Tofu, Rice Noodle Pizza, Vegetarian Noodle Soup, Snails Stuffed With Pork…
Must-Eat Foods & Restaurants in Chau Doc: Chau Doc Fish Noodle Soup, Sugar Palm Fruit, Basa Fish Hot Pot, Mam (Fermented fish), Phu Huong Beef Noodle Soup, Broken Rice with Pork Chop, Long Xuyen Broken Rice, Nui Cam Pancake, O Thum's Chicken Grilled with Lime Leaves, Stir-fried Shrimp with Sesbania Flower, Sweet & Sour Soup with Siamese Mud Carp Soup & Sesbania Flower, Caramelized & Braised Catfish, Grilled Rice-field Rat with Salt and Chili…
Must-Eat Foods & Restaurants in Soc Trang: Pia Cake, Cong Cake (Banh Cong), Bun Nuoc Leo Soc Trang's Noodle Soup, Soc Trang's Bun Goi Da Soup, Duck Noodle Soup with black Pepper, Curry Noodle Soup, Grilled Beef on Tile, Khmer-style Tube Cake, Khmer-style Mung Bean Cake (Banh In), Dried Radish (Xa Bau), Stir-Fried Noodles with Seafood (Mi Sua), Soc Trang's Green Rice Flakes…
Must-Eat Foods & Restaurants in Ben Tre: Phu Le Rice Wine, Ben Tre's Coconut Candy, Flat Banana, Coconut Rice, Snail Pancake, Sea Snail with Coconut Milk, Coconut Worm, Young Coconut Salad with Shrimp & Pork, Son Doc Puff Rice Paper…
Must-Eat Foods & Restaurants in Cai Be: Puffed Rice Cake…
Must-Eat Foods & Restaurants in Vinh Long: Elephant Ear Fish (fried giant gourami)…
Must-Eat Foods & Restaurants in My Tho: Fried Sticky Rice, Snakehead Fish Rice Porridge, Hu Tieu My Tho (Noodle Soup), Coconut Banana Cake…
Must-Eat Foods & Restaurants in Tra Vinh: Macapuno Coconut, Bun Nuoc Leo Tra Vinh's Noodle Soup, Tra Cuon's Sticky Rice Cake…
Must-Eat Foods & Restaurants in Sadec: Sa Dec Noodle Soup, Sadec Crab Hotpot, Lai Vung Spring Rolls, Sa Giang Shrimp Puff Pastry, Lai Vung Tangerine…
Must-Eat Foods & Restaurants in Bac Lieu: Spicy Beef Noodle Soup, Bac Lieu's Three-striped Crab, White Radish Pies, Bac Lieu Thick Noodles & Creamy Coconut Milk, Bon Bon Pickles…
Must-Eat Foods & Restaurants in Ca Mau: Banh tam ga cay (Silkworm rice cake with curried chicken), Grilled Vop clams with salt and pepper, Grilled Mudskipper Fish, Stone Crab Roast With Salt, Young Bee Salad, Nam Can's Crab, U Minh Forest's Honey, U Minh's Fermented Fish Hotpot…
Must-Eat Foods & Restaurants in Hau Giang: Cau Duc Pineapple, Cai Tac's Pork Organs Porridge, Hau Giang's Bronze Featherback Fish Cake…
Must-Eat Foods & Restaurants in Ha Tien: Herring Fish Salad, Spider crab cake soup, Ken Noodle soup, Xoi Xiem (Siamese sticky rice), Steamed Noodle soup, Ha Tien Oyster porridge…
Must-Eat Foods & Restaurants in Rach Gia: Stir Noodle Soup, Kien Giang Fish Noodle Soup…
Must-Eat Foods & Restaurants in Con Dao: Bang nut jam, Vu Nang Snail, Roasted Pork Bread (Banh Mi), Coconut Ice Cream…
Must-Eat Foods & Restaurants in Phu Quoc: Phu Quoc Sim Wine, Phu Quoc Pepper, Phu Quoc fish sauce…
Hopefully, the above tips will help you to come up with a great plan for your adventure in Mekong River Delta, Vietnam. Have a safe trip!
"Sleep less, travel more, respect more" – Thomas Vietnam – Local travel expert.
Thank you