Magenta Sticky Rice Cake – Eat Best Food in Can Tho
For people in the South, especially people in the Mekong Delta, this Tet cake (sticky rice cake or Banh Tet) seems to be a familiar daily dish to them like rice. However, that familiar feature is a very unique feature with people in other regions. And especially, the dish of magenta sticky rice cake in Can Tho has made many people admire not only because of its delicious taste but also because it has a very beautiful color.
By Thomas Vietnam at vemekong.com | All Best Foods & Restaurants in Can Tho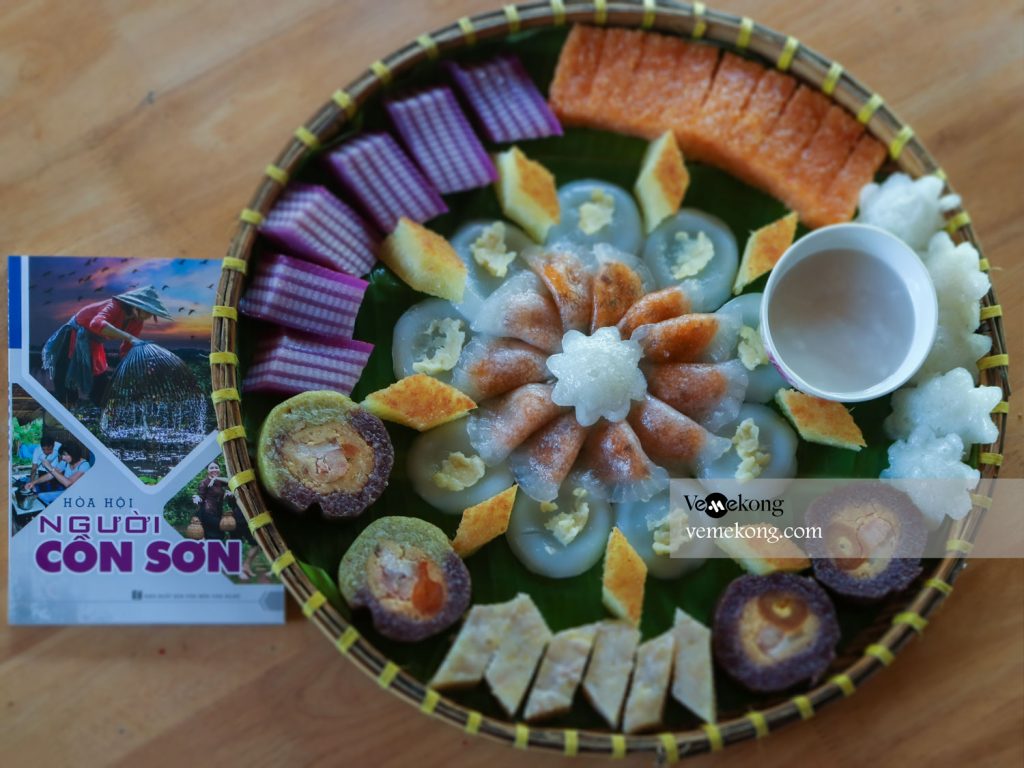 1. Better to Know as a Food Lover
Find them: Ninh Kieu District, Can Tho city.
Best time: Dusk-Dawn
Don't miss: Magenta sticky rice cake
Local's pick: Tet cakes from artisan Huynh Thi Trong, Tet cakes from Chin Cam, Tet cakes from Tu Dep…
Tourist's pick: Xuan Khanh market, An Thoi market, Tan An market…
Blog: https://vemekong.com/magenta-sticky-rice-cake-can-tho-food/
Facts: It is called magenta sticky rice cake because the main ingredients are delicious sticky rice and the color from magenta leaves.
2. Better to Know magenta sticky rice cake
Every spring, almost every house in the West cannot do without the presence of Tet cake on the ancestral altar. Tet Cake is considered a variation of Chung Cake, a cake with a long history. Traditional Vietnamese cuisine is also mentioned in history books through legends related to Prince Lang Lieu in the 6th Hung King Dynasty. Due to the impact of living conditions and typical ingredients of the region, the square shape of the Chung Cake has turned into a cylinder of Tet cake, but the basic ingredients and processing methods are almost the same.
Today, Chung cake is still a traditional cake with a special position in the minds of people in the North, whereas Tet cake is extremely sacred to people in the South. Wrapping and cooking Tet cakes, sitting in a pot of cakes by the fire has become a living custom and culture in Southern families. Since then, many brands of Tet cake in the West were born. In particular, magenta sticky rice cake in Can Tho is famous for its delicious, strange taste, not to be confused with other countryside.
The Huynh family in Can Tho was the first to think of a way to distill the dark purple juice of magenta leaves to mix with sticky rice to make magenta sticky rice cake.
3. Magenta sticky rice cake in Can Tho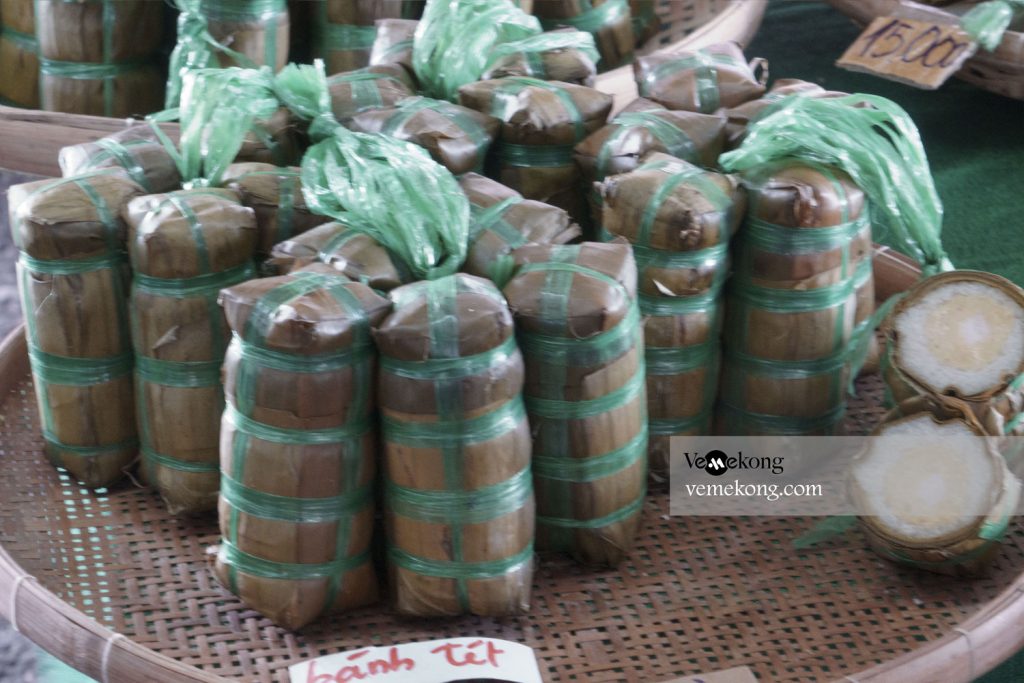 To have a delicious batch of banh tet, the processing is very elaborate. First you have to choose the sticky rice well, don't mix it with plain rice to make it flexible, soak it for 6 hours, then drain it, and mix it with water to get a beautiful purple color. Camellia leaves must be fresh, withered leaves will cause the juice of the leaves to decrease in color. After soaking the sticky rice is relatively soft, it will be stir-fried with coconut milk, seasoned with salt and sugar for about an hour so that the color of the leaves and the bundle of coconut water infuse into each glutinous grain. The filling of banh tet leaves is quite diverse, it can be inside with green beans, meat, salted eggs, can add dried shrimp or simply banana. The cake is wrapped in fresh banana leaves and is cleaned and applied a layer of oil on the surface to prevent sticky rice from sticking to the leaves when cooking. The main stage of wrapping is when skillful hands are required, the beautiful cake must be evenly rounded, so that the filling is meat, or salted eggs, ribs, even bananas with vegetarian banh tet must be located in the right place. center position of the cake.
And yet, when tying the wheel, the worker must also have the sophistication to feel the brace firmly enough. The stage of baking the cake is equally important. Banh tet must be boiled with firewood to be delicious, squishy, ​​and for a long time, the cake will still be flexible without being left with rice. The cake is boiled for about 4-5 hours, then it is cooked, then taken out and drained of water. Magenta leaves not only give an eye-catching purple color but are also a non-toxic natural preservation method. If ordinary Tet Cake only lasts 2, 3 days, magenta sticky rice cake can last 4-5 days. Even if it's cold, it can be left for 7 or 8 days without spoiling. In addition, the cake can also be stored in the refrigerator, when using it just needs to be steamed.
It is thanks to the meticulousness and meticulousness that Can Tho brocade cake is very famous. Moreover, the natural purple-pink color of the leaves makes the cake more vivid and beautiful. Biting a piece of purple cake, sticky rice and the sweetness of meat, the aroma of salted egg seems to settle in the tip of the tongue. You will see a very clear difference when eating this special Tet cake compared to other traditional Tet cakes. No matter how fastidious anyone is, they have to nod their heads to complement each other when enjoying the fragrant, fragrant Tet cake originating from the land of Can Tho.
When life is more and more developed, the demand is increasing, so Tet cake is not only made on every Tet holiday, but this traditional cake is made daily to serve the needs of people and visitors.
4. How to Make magenta sticky rice cake
Ingredient
250g green beans
250g grated coconut
500g pandan leaves
250g pork belly
500g magenta leaves
1kg banana leaves
Fastener
Green onions, purple onions
Salt, cooking oil, sugar, seasoning
1kg of glutinous rice
Prepare the ingredients
You take the brocade, then you put it in a pot to cook with 1 cup of water thoroughly until it turns a beautiful purple color.
Chickpeas are put in water to soak overnight to expand, then wash and drain.
The grated coconut is put in a little warm water and then squeezed out the juice. Then you add another cup of water to the coconut pulp you just squeezed and squeeze one more time to get the coconut milk.
Glutinous rice is washed, soaked in water for 6 hours, then drained, then added 1 tablespoon of salt to mix well.
Just bought bacon, cleaned, cut into long strips with your fingers, marinated with minced purple onion, seasoning seeds, and pepper and left for about 3-4 hours to absorb evenly.
The salted egg is beaten with a separate yolk to soak in the wine to reduce the fishy taste, and the egg white is put in a food wrap to shrink into a small shape.
Banana leaves are washed, then dried in the sun or soaked in boiling water until soft, then torn into pieces about 30x40cm. Each cake corresponds to 3 pieces, and a horizontal banana leaf is placed inside, measuring 6x20cm.
Making
Step 1: Make the sticky rice
You need to prepare a pan, then put the pan on the stove to bring the water and coconut milk to boil. Next, add the glutinous rice and stir well, add 2 tablespoons of salt and 2 tablespoons of sugar and stir-fry until the juice is almost gone.
After stirring, the glutinous rice will expand a little, you divide the sticky rice into 5 parts.
Step 2: Make the filling
Take the soaked green beans and put them in with coconut milk and 1 teaspoon of salt until soft and no longer sticky to your hands.
Put the pan on the stove, add the dried onions, then add the green beans and stir-fry together, then pound or put in a blender.
Filled with bacon: Clean, cut into long strips with your fingers, marinate with minced purple onion, seasoning seeds, and pepper and leave for about 3-4 hours to absorb evenly.
Step 3: Grasp the kernel
Divide the filling ingredients into 5 equal parts. Then you spread the food wrap and spread it with a layer of green beans, then fold the meat, salted eggs, roll into a long cylinder. Twist the two ends of the wrapper to make the core firmer.
Step 4: Wrap the cake
Spread out the banana leaf and spread it on a layer of soaked rice with jasmine leaves, place the filling along the leaf, fold the two edges together, roll it up and press it tightly. Take the scissors to cut off the excess leaves at the 2 ends, put 2 more pieces of real letter-shaped leaves to cover the top of the cake and then tie the 2 ends of the cake.
Next, you use the string to tie tightly in the shape of a cross along the wheel to fix the leaf, remove the horizontal wire, tie 6 times around the cake and then twist the rope tightly. If there is excess wire, you should wrap it up.
Step 5: Boil the cake
You put the cake in the pot and pour water to cover the cake, boil for 4-5 hours, the cake will be soft.
Step 6: Finished Product
After the cake is cooked, take it out, let it cool, cut it and enjoy it immediately. The cake will be very flexible, fragrant with salted egg flavor, the fleshy taste of green beans and the color is extremely beautiful.
5. Pro tips:
Here are our tips for easing your mind (and stomach) around food-handling environments that you may not be used to.
Make sure the food is freshly cooked. If you're eating hot street food, it's always safest (not to mention more delicious) to eat food you can see being cooked to order.
Look for lines and busy stalls. Busy street food stalls are an indicator of popularity, and their high turnover rate means the food is never sitting out for hours and developing dreaded bacteria. Yes, long lines can be discouraging when you're hungry after a full day of exploring, but it's not worth the risk of grabbing precooked food from the empty spot next door.
Eat when the locals are eating. The last and most important element here is when to eat. You're likely already on a weird eating schedule while you're traveling, but it's important to try and adjust to the eating times of where you are. A bowl of pho might be lunch for Americans, but it's breakfast for the Vietnamese. This ensures that you're eating freshly cooked food and that you can find the best and most popular places to eat.
If you can't drink the water, then you can't eat the salad. Most people get so hung up on not drinking the water or skipping ice in drinks that they don't think about all of the other ways in which water is used in food service. Fruits and vegetables tend to be washed with tap water in most places, rather than the filtered water that locals drink—or sometimes it's not washed at all. If you're really craving some produce, try fruits you can peel or cooked veggies.
Trust your gut. If you're unsure about the food or the way that it's being prepared, then keep moving. Eating street food all over the world doesn't make you an expert. Every stall and every country are different, and sometimes the rules can be harder to follow. When something doesn't look, smell, or feel right, don't eat it! Trust your judgment. Chances are that there's another spot close by that's making something more delicious.
Must-Eat Foods & Restaurants in Can Tho: Co Ut's Cong cake, Ut Dzach Fine Rice Vermicelli, Thanh Van Grilled Pork Sausage, Crab Noodle Soup At Floating Market, Scorched Rice with Caramelized Fish Sauce, 7-Toi's Duck Meat Pancake, Banh Mi Thuy, Banana Blossom Salad, Fried Spring Rolls, Fresh Spring Rolls, Fetal duck egg (balut), Honeycomb Cake, Mini Sticky Rice Cake, Cassava Silkworm Cake, Grilled Banana Wrapped in Sticky Rice, Khmer-style Bun Goi Da Soup, Egg Coffee, Con Son Grilled Snakehead Fish, Bun Mam – Fermented Fish Noodle Soup, Lau Mam – Fermented Fish Hotpot, Grilled Snails with Pepper, Magenta Sticky Rice Cake, Duck cooked with Fermented Tofu, Rice Noodle Pizza, Vegetarian Noodle Soup, Snails Stuffed With Pork…
Must-Eat Foods & Restaurants in Chau Doc: Chau Doc Fish Noodle Soup, Sugar Palm Fruit, Basa Fish Hot Pot, Mam (Fermented fish), Phu Huong Beef Noodle Soup, Broken Rice with Pork Chop, Long Xuyen Broken Rice, Nui Cam Pancake, O Thum's Chicken Grilled with Lime Leaves, Stir-fried Shrimp with Sesbania Flower, Sweet & Sour Soup with Siamese Mud Carp Soup & Sesbania Flower, Caramelized & Braised Catfish, Grilled Rice-field Rat with Salt and Chili…
Must-Eat Foods & Restaurants in Soc Trang: Pia Cake, Cong Cake (Banh Cong), Bun Nuoc Leo Soc Trang's Noodle Soup, Soc Trang's Bun Goi Da Soup, Duck Noodle Soup with black Pepper, Curry Noodle Soup, Grilled Beef on Tile, Khmer-style Tube Cake, Khmer-style Mung Bean Cake (Banh In), Dried Radish (Xa Bau), Stir-Fried Noodles with Seafood (Mi Sua), Soc Trang's Green Rice Flakes…
Must-Eat Foods & Restaurants in Ben Tre: Phu Le Rice Wine, Ben Tre's Coconut Candy, Flat Banana, Coconut Rice, Snail Pancake, Sea Snail with Coconut Milk, Coconut Worm, Young Coconut Salad with Shrimp & Pork, Son Doc Puff Rice Paper…
Must-Eat Foods & Restaurants in Cai Be: Puffed Rice Cake…
Must-Eat Foods & Restaurants in Vinh Long: Elephant Ear Fish (fried giant gourami)…
Must-Eat Foods & Restaurants in My Tho: Fried Sticky Rice, Snakehead Fish Rice Porridge, Hu Tieu My Tho (Noodle Soup), Coconut Banana Cake…
Must-Eat Foods & Restaurants in Tra Vinh: Macapuno Coconut, Bun Nuoc Leo Tra Vinh's Noodle Soup, Tra Cuon's Sticky Rice Cake…
Must-Eat Foods & Restaurants in Sadec: Sa Dec Noodle Soup, Sadec Crab Hotpot, Lai Vung Spring Rolls, Sa Giang Shrimp Puff Pastry, Lai Vung Tangerine…
Must-Eat Foods & Restaurants in Bac Lieu: Spicy Beef Noodle Soup, Bac Lieu's Three-striped Crab, White Radish Pies, Bac Lieu Thick Noodles & Creamy Coconut Milk, Bon Bon Pickles…
Must-Eat Foods & Restaurants in Ca Mau: Banh tam ga cay (Silkworm rice cake with curried chicken), Grilled Vop clams with salt and pepper, Grilled Mudskipper Fish, Stone Crab Roast With Salt, Young Bee Salad, Nam Can's Crab, U Minh Forest's Honey, U Minh's Fermented Fish Hotpot…
Must-Eat Foods & Restaurants in Hau Giang: Cau Duc Pineapple, Cai Tac's Pork Organs Porridge, Hau Giang's Bronze Featherback Fish Cake…
Must-Eat Foods & Restaurants in Ha Tien: Herring Fish Salad, Spider crab cake soup, Ken Noodle soup, Xoi Xiem (Siamese sticky rice), Steamed Noodle soup, Ha Tien Oyster porridge…
Must-Eat Foods & Restaurants in Rach Gia: Stir Noodle Soup, Kien Giang Fish Noodle Soup…
Must-Eat Foods & Restaurants in Con Dao: Bang nut jam, Vu Nang Snail, Roasted Pork Bread (Banh Mi), Coconut Ice Cream…
Must-Eat Foods & Restaurants in Phu Quoc: Phu Quoc Sim Wine, Phu Quoc Pepper, Phu Quoc fish sauce…
Hopefully, the above tips will help you to come up with a great plan for your adventure in Mekong River Delta, Vietnam. Have a safe trip!
"Sleep less, travel more, respect more" – Thomas Vietnam – Local travel expert.
Thank you