Ultimate Travel Guide to Phong Dien Floating Market & Small Canals
Can Tho City have two floating markets like Cai Rang and Phong Dien. Phong Dien floating market is the smaller and authentic one but it is still worth to see when you take Can Tho small canals sampan tour.
By Thomas Vietnam at vemekong.com | Jan 01, 2021 | Can Tho Travel Guide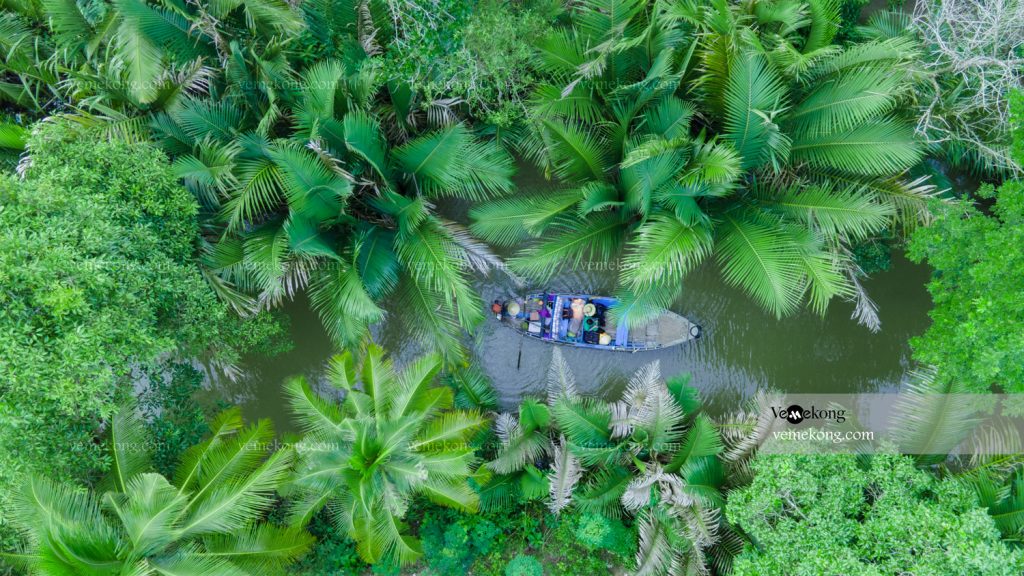 1. Mekong Delta Drone 4K Video of Phong Dien Floating Market & Small Canals
Embedded slot
2. How to go to the Floating Market and Canals
The Phong Dien floating market absolutely stays on the river. The best way to discover this market is by boat or sampan. Anyway, there is a bridge nearby the market which gives you a bird's eye view of this stunning market as well. So that you can get to Phong Dien by boat, scooter or car and locate where the market is. It is about 16km away from Can Tho center and takes about 2 hours by boat and 45 minutes by car or scooter. After the market the sampan will take you to many villages and small canals in Phong Dien. Top tip: The best experience is to see the floating market from the sampan.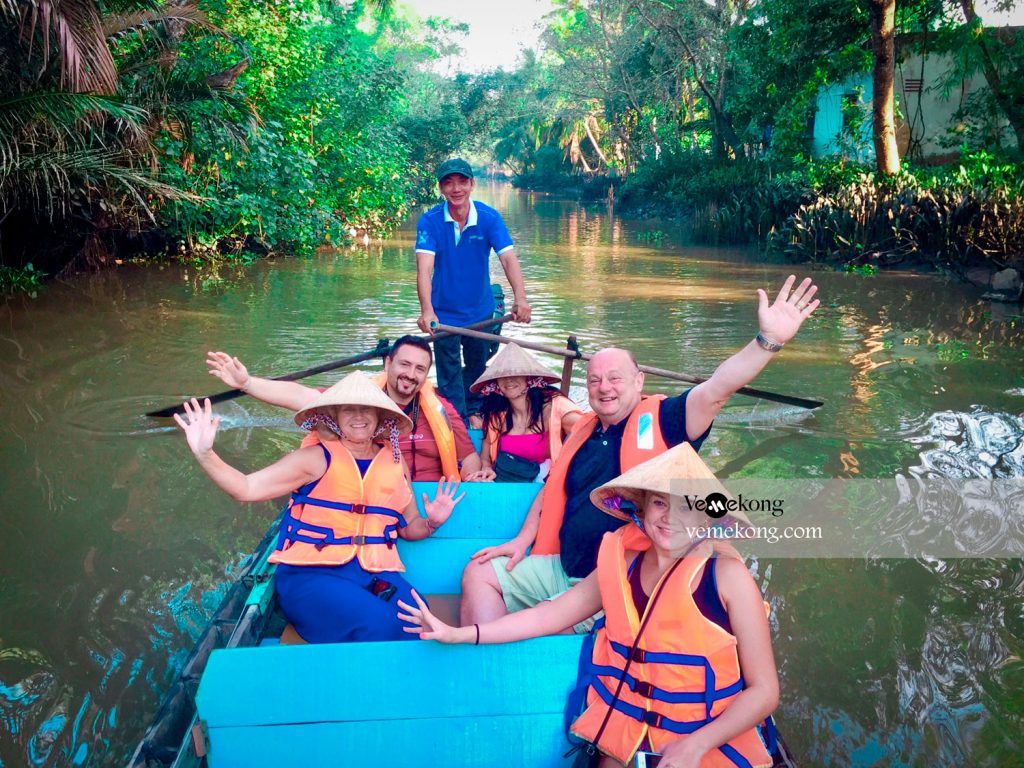 3. Best Time to Visit it
As a local expert, we do know that the Phong Dien floating market will be no more after 7am. Because this one is very small and very local, there are about more or less 45 boats and sampans at this market, you can watch our drone video 4k to know more. Let's tell you, we inspect this market a lot and it is always busy and real touching is at the sunrise and the locals start to go home about 6:45a.m. Top tip: Best enjoying time to be right at the spot is from 5:30am-6:30am. I hope you have an amazing sunrise on the Mekong Delta river.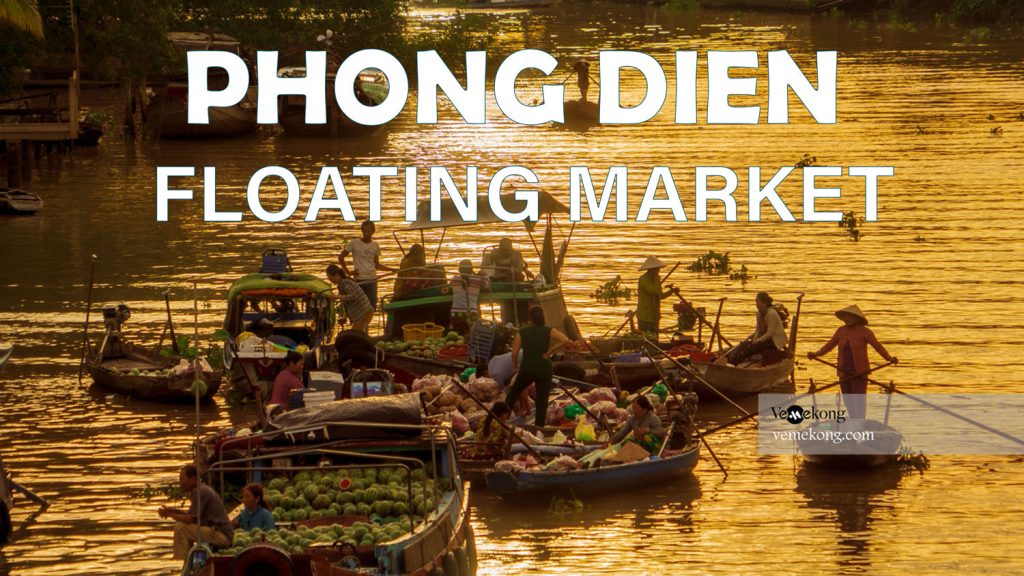 4. What to Eat and See at Phong Dien Floating Market and Along the Way
As you see, this is a very local floating market, so you sometimes find coffee and noodle soup at Phong Dien floating market. Besides, you may admire local women there, we see many of them are female who run boats and manage the small business as well. Along the way, you may see fisherman, sand boats, local ferries and more. Top tip: Smile and have a cup of coffee with the locals and enjoy the peaceful moments with the river life at the floating market.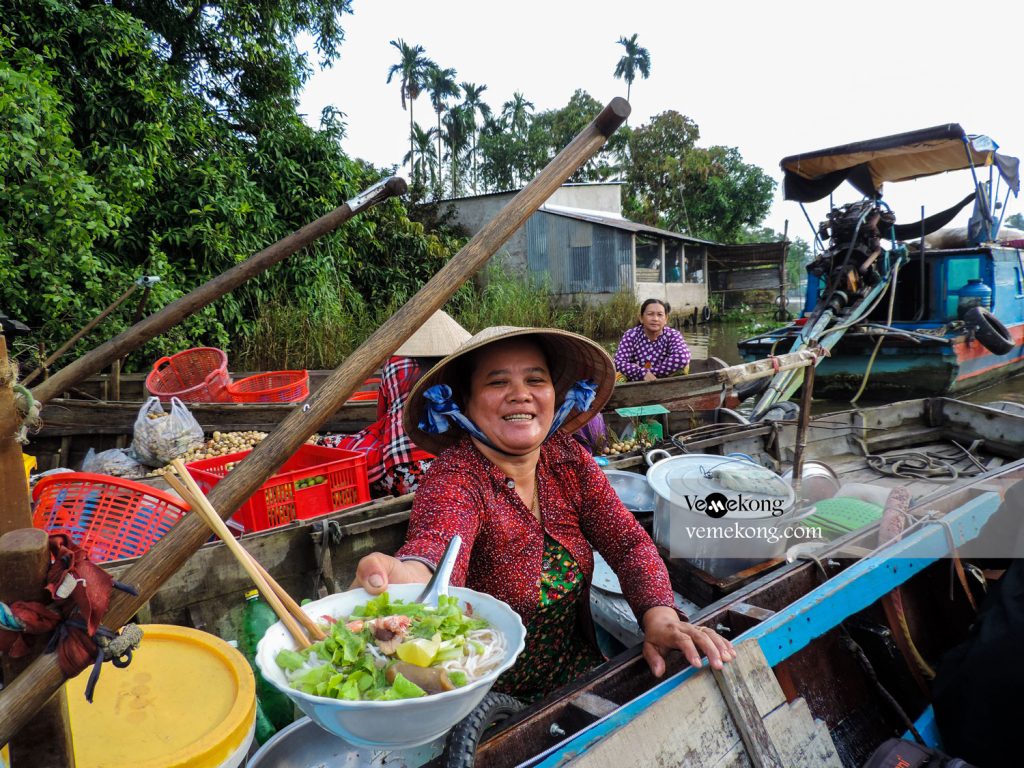 5. Free Itinerary and Google Maps of Phong Dien Floating Market and Small Canals
As we mentioned above, there are some ideas to visit this market. First, you have a boat trip to it, and this is the best way to explore the Mekong Delta. Second, you stay in a homestay which is near the market, this will help you out the best option. Last, you can hire a scooter, car or bike and explore it by yourself, but you can not hire the boat at Phong Dien floating market and just see it from the mainland, but still cool to see and pass by any chance in your adventure. Top tip: Make sure you have time and a good local tour guide.
Embedded slot
6. Phong Dien Floating Market Opens during Lunar New Year?
We do not think so! The local market is not too tourism yet, so it does not run during the traditional Tet Lunar New Year, but the Calendar New Year is fine. Top tip: If you make a visit to this market one week before Lunar New Year, you win the best days of the year for the market.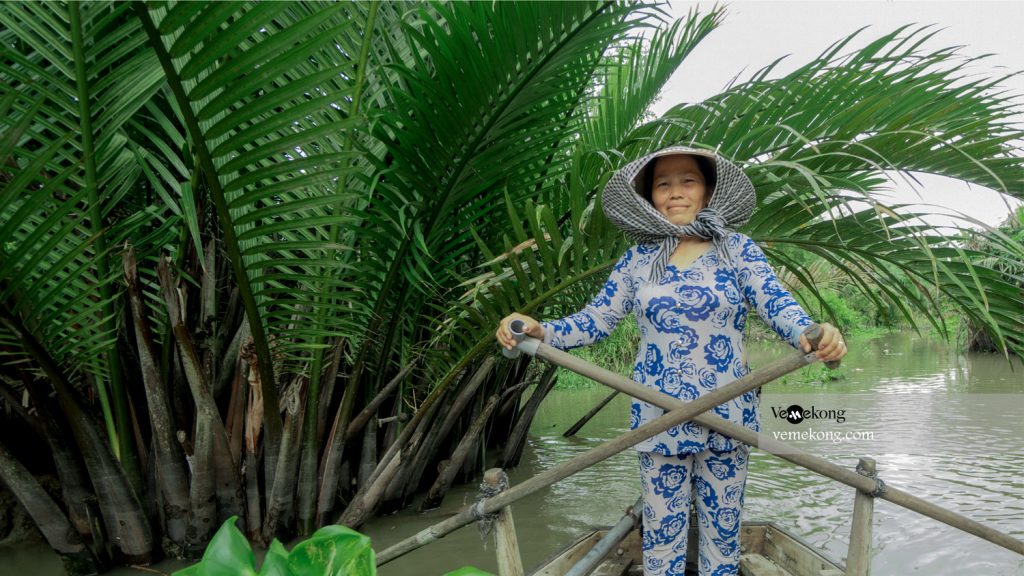 7. The Solo Travel Guide to Phong Dien Floating Market & Can Tho Canals
Yeah, you can do it by yourself. Vietnamese are friendly and used to with foreigner tourists, so that you are fine to bargain and make a deal with them. Remember responsible travel please, bargain for fun and willing to help the local and its destination. Top tip: Get to Can Tho riverside Ninh Kieu park, where Ho Chi Minh monument is, to find local boats and hire it from there. Make sure you have a life jacket equipped on the boat. Or you can find the best group tour at vemekong.com/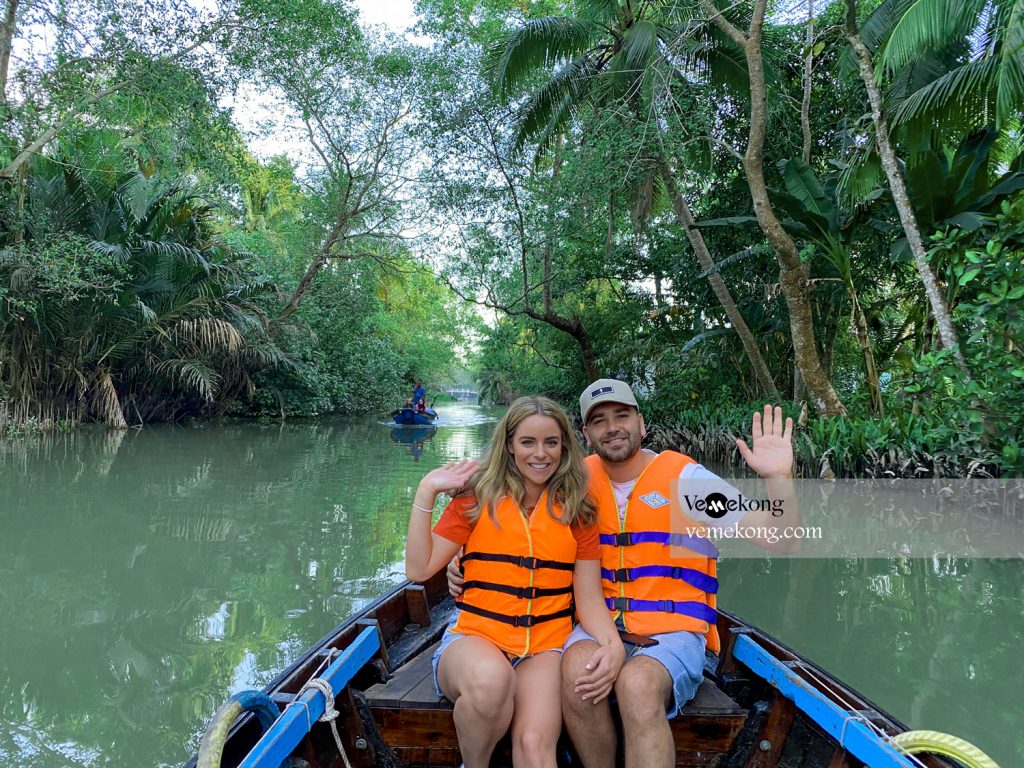 8. Responsible Travel and Advice to Do any Can Tho River Tour and Floating Markets
It is always good to repeat "responsible travel" over and over. River itself is facing so many challenges from chemical and human waste and modern life with high-tech. We do appreciate any of you who do respect and take good behavior about the river and its protection. Top tip: Can Tho River Tour and Vemekong.com are some of the companies that care a lot about responsible travel and local respectation.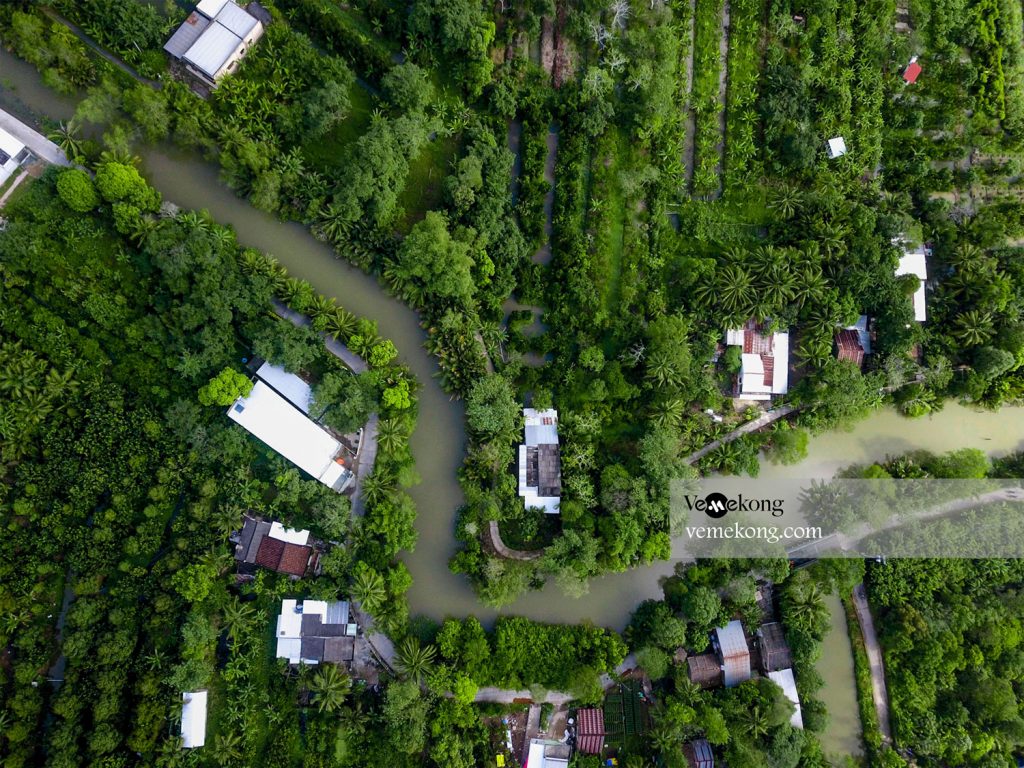 Pro tips:
Bring your hat, sunglasses, and sunblock, scarf to wear when visiting temples, pagodas, and the cathedral.
If you plan to extend your stay in the homestay, do not forget to bring mosquito repellent cream.
When visiting the Can Tho city or doing any customized tours, choose reputable providers and boats equipped with lifebuoys and jackets. Safety is a priority!
Can Tho is magnificent itself, but if you have enough time, don't forget to put other places onto your bucket lists such as rice fields, Gian Gua heritage tree, Bang Lang stork garden, Binh Thuy ancient house, Can Tho wildlife & forest…
Bring the raincoat if you travel to Can Tho in the rainy season, as Can Tho always looks fantastic in the full rain and full sun.
Hopefully, the above tips will help you to come up with a great plan for your adventure in Can Tho, Vietnam. Have a safe trip!
"Sleep less, travel more, respect more" – Thomas Vietnam and Thank You!!