Can Tho Fruit Garden & Hidden Gems
One of Can Tho's secrets is the tropical orchard where a real traveler always adds it in their wishlist. "It is a very fun, educational and responsible activity to go for the village and local when you travel" an insider said.
By Thomas Vietnam at vemekong.com | Updated: Dec 09, 2020 | Can Tho Travel Guide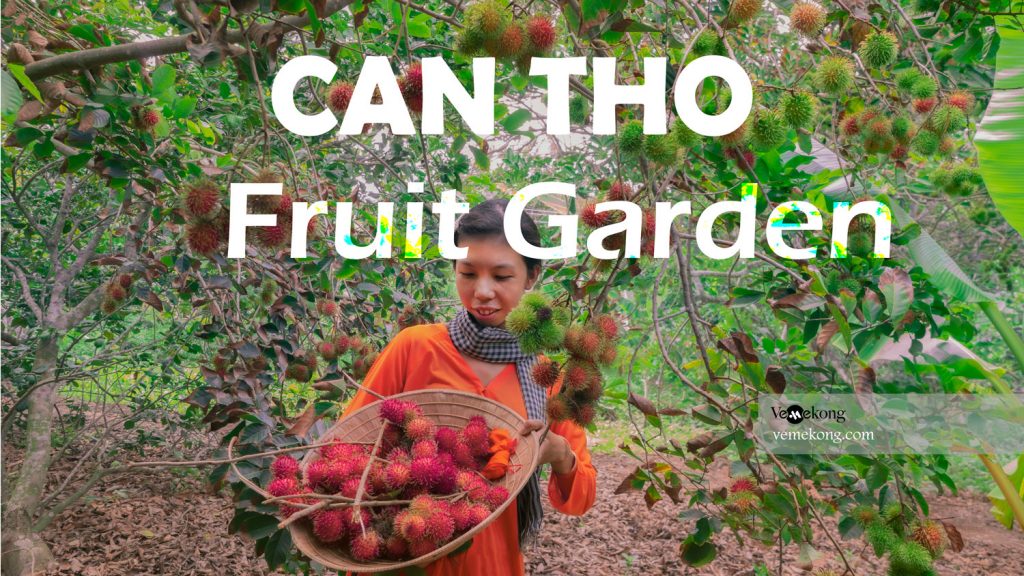 1. Mekong Delta Drone 4K Video of Can Tho Fruit Garden
Embedded slot
2. How to visit Can Tho Fruit Garden
Boat, bike, scooter, and car are some means of transportation to reach the Can Tho fruit garden. It just depends on your styles and how much time you have. Because the garden is in the countryside and the small road you go, the authentic garden you will see. As a local, we prefer taking a small boat, sampan or bicycle to go. Top tip: Making a ride of your life around Mekong canal and fruit garden by bike or scooter is a great and amazing trip.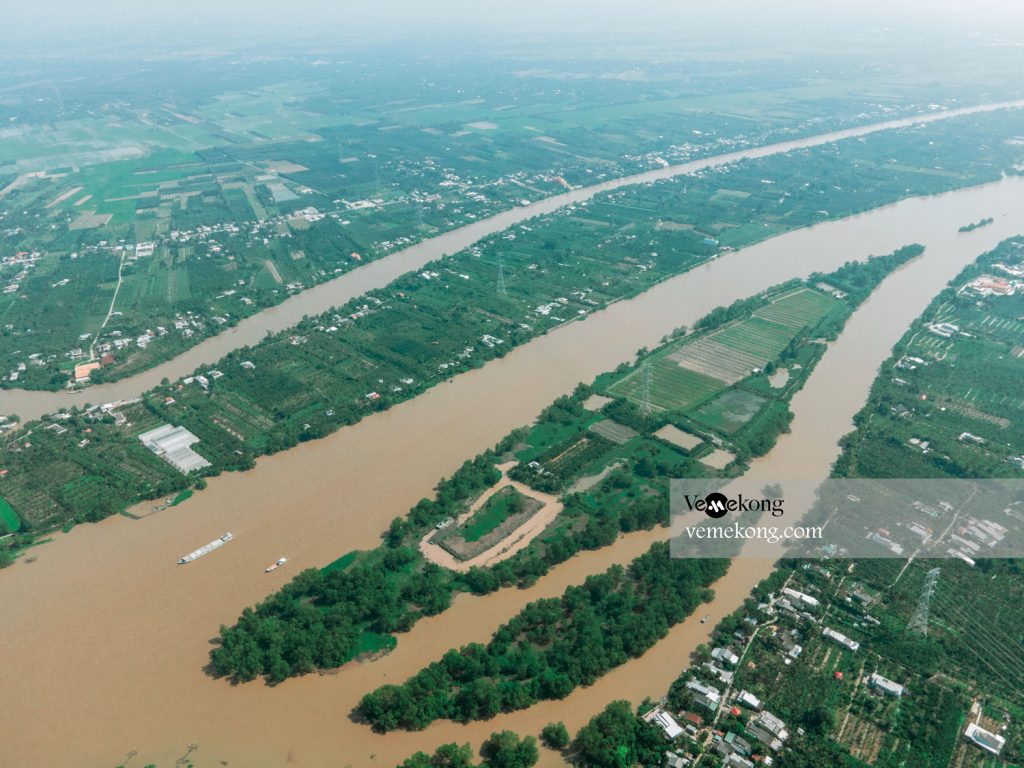 3. Best Time to visit Can Tho Fruit Garden
Fruit is seasonal. If you really look for a beautiful fruit garden, you should plan to see it during the wet season. When the rain comes, the flowers blossom and the yummy fruit grow. Top tip: It is prettier to see the garden in the morning.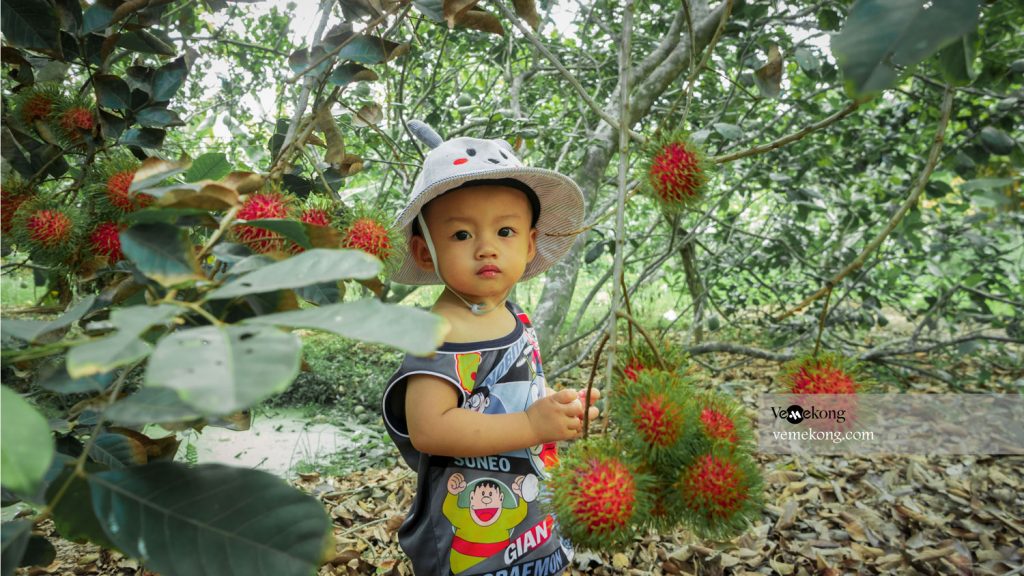 4. What to Eat and See at the Garden
If you visit the right garden, you will see more things than your expectations. First, you take a walk around the garden and explore different native tropical trees and see how flowers and fruits grow from dragon fruit, durian fruit, rambutan, Vietnamese green orange, pomelo, longan, guava, rose apple, cacao, mango, and a lot more. Second, you also capture some colorful flowers like lotus, water lily and fruit flowers. Third, you will see fish and try the monkey bridge. Last, the gardener will serve you the selective seasonal fruits in their garden. Top tip: If you have a local tour guide, you absolutely enjoy more and learn more via this cultural and educational trip.
5. Free Itinerary and Google Maps Can Tho Fruit Garden and Activities
On the way to the garden, you may combine Can Tho floating market tour and cycling around Mekong canals before stopping over at the fruit garden. If you have time, keep exploring more villages and Can Tho flower gardens during spring season and New Year. Top tip: Make yourself a good and full exploration day in Can Tho.
Embedded slot
6. The Solo Travel Guide to Can Tho Fruit Garden
It is possible for solo travellers to use google maps and do it alone. But sometimes they need to update local maintained roads and bridges which close and lead you a longer road than the road from google maps. It is just about the time. It takes more time to find the correct garden to come. Adventure is always fun. Wifi is strong in Can Tho village! The locals find it hard to speak English as well. Top tip: Sticking to one canal and keeping going along it which gives you more things to see and avoids getting lost. Contact vemekong.com to hire a car, scooter with English-speaking-driver or cycling tours in Can Tho.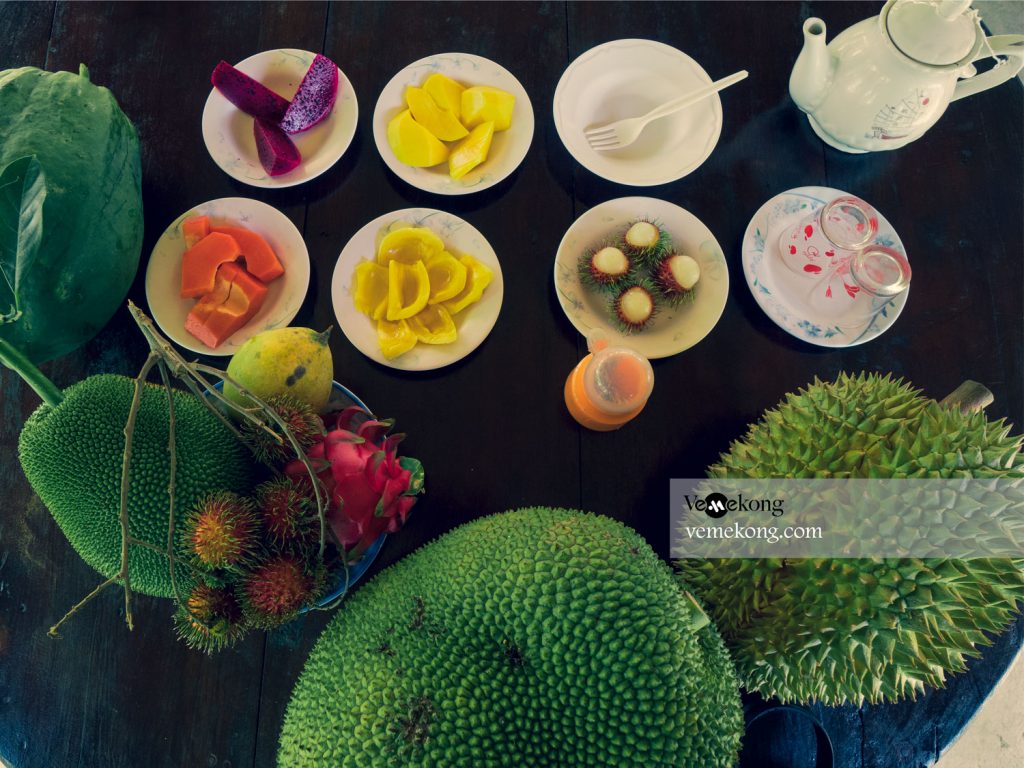 7. The Cheapest Way to Visit Mekong Fruit Garden
Join Can Tho daily group tours for the best solution about boat, time, pick-up and drop-off, information, fun, great memory, responsible travel and safety at vemekong.com. Top tip: You should combine all in one day tour: floating market+sampan+canal+biking+lunch in the village+garden+Can Tho hidden gems.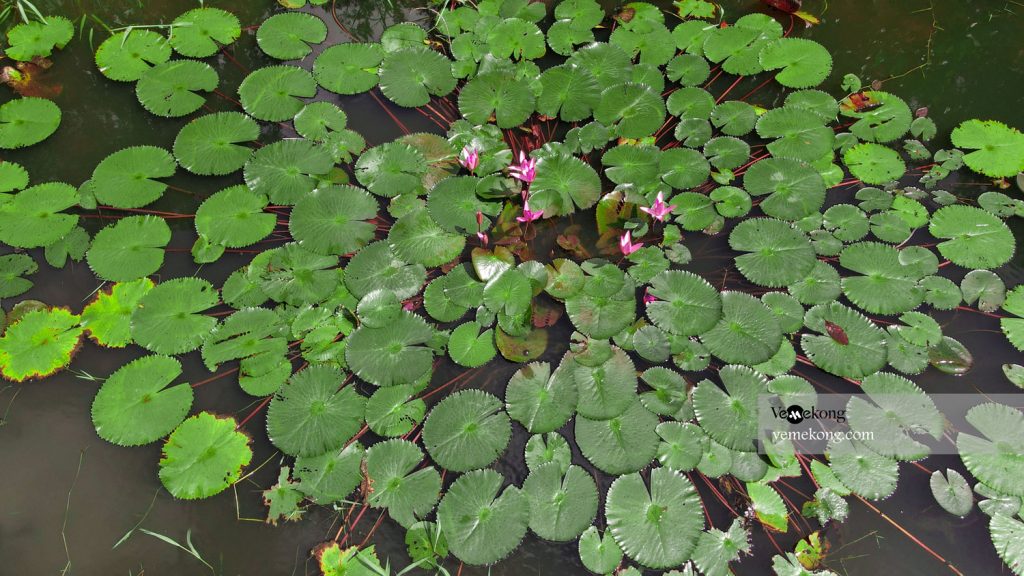 8. Responsible Travel and Advice to Do any Fruit Garden Tour
Don't get us wrong. But we assure you that you totally agree with us. "Do not give candy and things to the children when you plan to visit any local villages", the kids will leave the school and follow the sweetie stuff and later they find some things to give you or sell to you. The garden is a little forest, don't pick and touch the flowers or fruits without the local's smiles. We deal to travel green and leave green behind, not plastic. Top tip: Can Tho River Tour and Vemekong.com are some of the companies that care a lot about responsible travel and local respectation.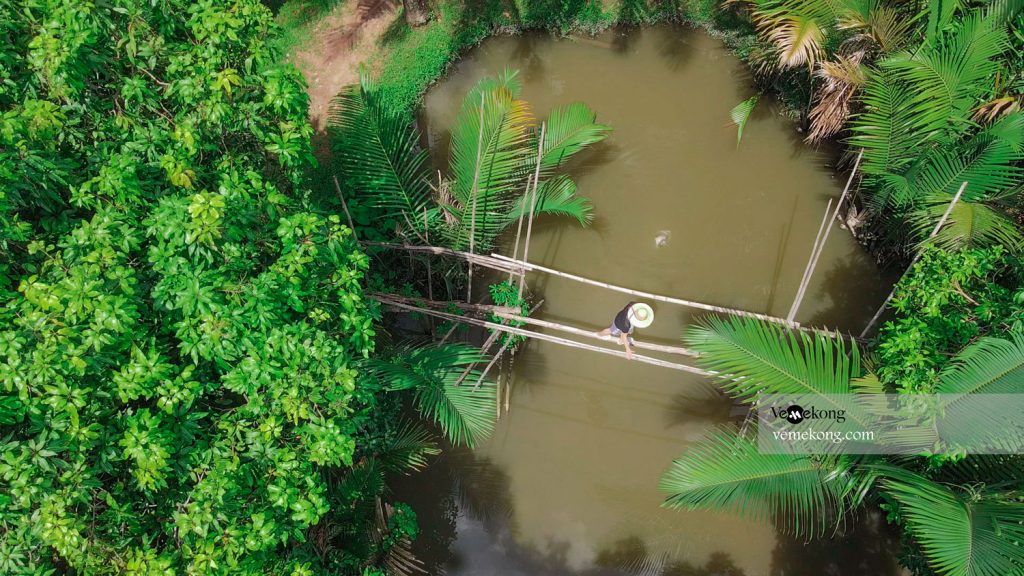 Pro tips:
Bring your hat, sunglasses, and sunblock.
If you plan to extend your stay in the homestay, do not forget to bring mosquito repellent cream.
When visiting the Can Tho city or doing any customized tours, choose reputable providers and boats equipped with lifebuoys and jackets. Safety is a priority!
Can Tho is magnificent itself, but if you have enough time, don't forget to put other places onto your bucket lists such as rice fields, Gian Gua heritage tree, Bang Lang stork garden, Binh Thuy ancient house…
Bring the raincoat if you travel to Can Tho in the rainy season, as Can Tho always looks fantastic in the full rain and full sun.
Hopefully, the above tips will help you to come up with a great plan for your adventure in Can Tho, Vietnam. Have a safe trip!
"Sleep less, travel more, respect more" – Thomas Vietnam and Thank You!!