Can Tho Floating Markets, Vietnam – Can Tho Visitor Guide
In this article, you can find insight details about Cai Rang floating market and Phong Dien floating market in Can Tho, Vietnam: How to get, when to go, what to see & eat at Can Tho floating markets. To get the spirit of Can Tho, the floating market is a must-see because it shows you what river culture is, how local people can adapt to the geography and how they can maintain this kind of very traditional market until now. It is a process. It is not random.
By Thomas Vietnam at vemekong.com | Official Can Tho Visitor Guide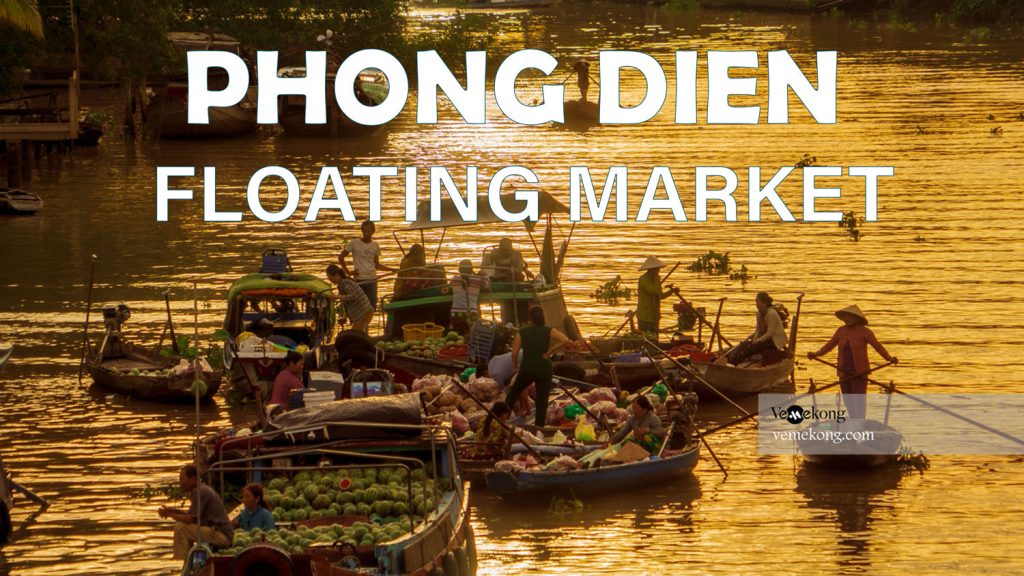 1. Better to Know as a Tourist
Ticket: Free
Spend-time: An hour (approx) for Cai Rang floating market, Half an hour for Phong Dien one
Hours: Dawn – dusk
Food: Yes
Shop: Yes
Parking lot: Yes for boat, coach
Blog: https://vemekong.com/guide-to-can-tho-floating-markets/
Address of Cai Rang floating market: Cai Rang Bridge, Cai Rang District, Can Tho City. About 6 km from Can Tho city center.
Address of Phong Dien floating market: Tay Do Bridge, Nhon Ai, Phong Dien District, Can Tho City. About 17km from Can Tho city center.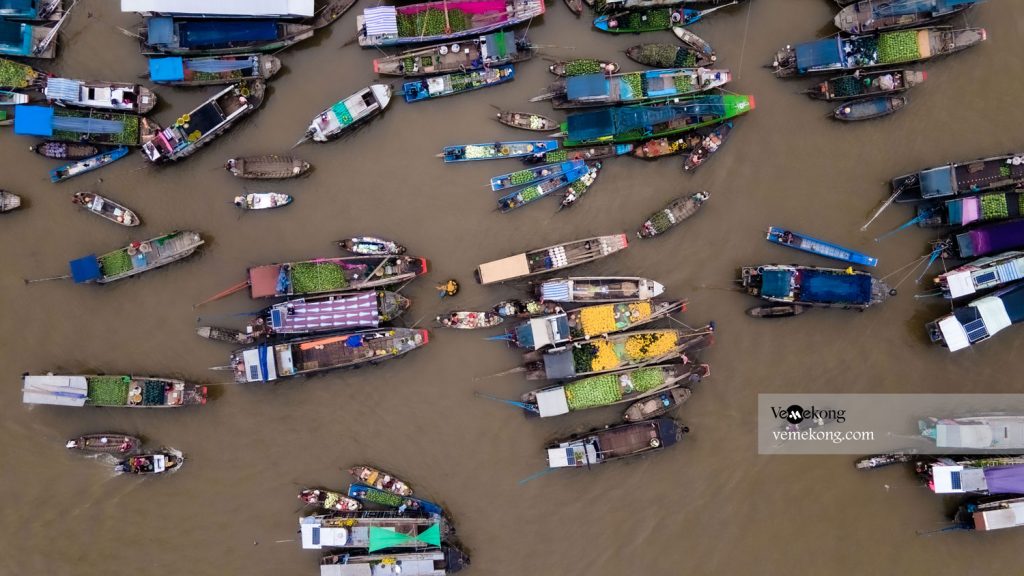 Recognition(s): Cai Rang floating market was recognised as a national intangible cultural heritage in June 2016. The UK's Rough Guide selected Cai Rang Floating Market as one of the ten most impressive markets in the world, characterized by colorful boats selling tropical agricultural products.
Added values: It is considered as one of the gems worth discovering for those who are passionate about simplicity and uniqueness and originality of the cultural Mekong river life now and then.
Nearby attractions and hidden gems: Looking for places to stop on your way to and from Cai Rang floating market? Or maybe you found it too crowded here? We've got some ideas! Check out our list: Organic cacao farm (30 minutes away by boat), fruit gardens (30 minutes away by boat), Can Tho rice noodle factory (1o minutes by boat).
2. Why Can Tho Floating Markets Occur ?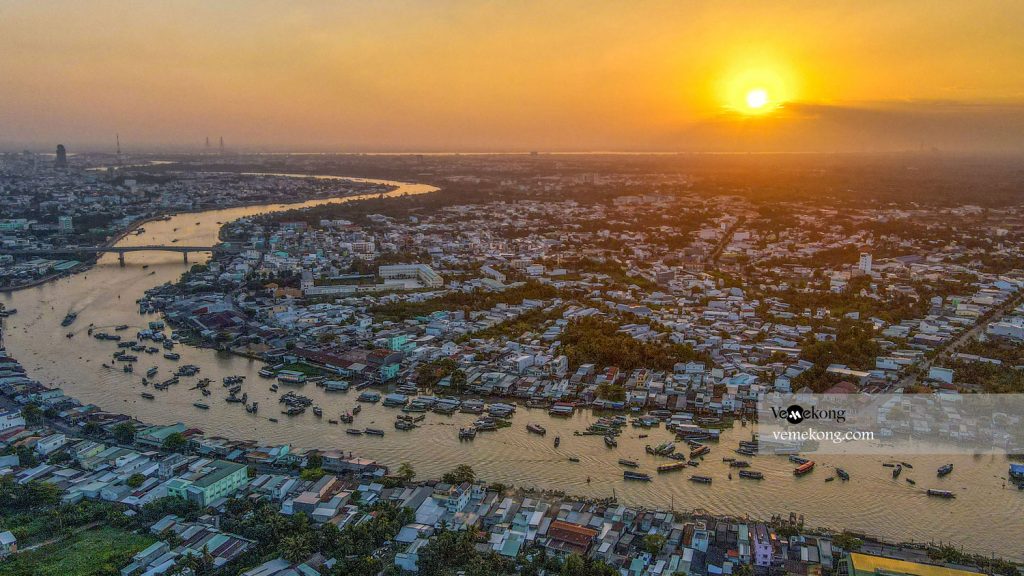 There were no cars, trucks some decades ago, so waterways were the main transfer in southern Vietnam. Because Can Tho is the biggest city there, Cai Rang and Phong Dien floating markets are well known besides many beautiful tropical orchards and traditional villages. Although modern life is invading, the floating market still is the soul of the city with "country side environment".
With the advent of several new road networks and bridges over many rivers, as well as the setting up of supermarkets on the mainland, the indispensability of floating markets has been dented somewhat, but the waterways still offer the only route to several rural remote areas in the Mekong Delta region. Many locals still prefer floating markets, which have been a part of their daily lives and livelihoods for generations
3. Best Time to see Can Tho Floating Markets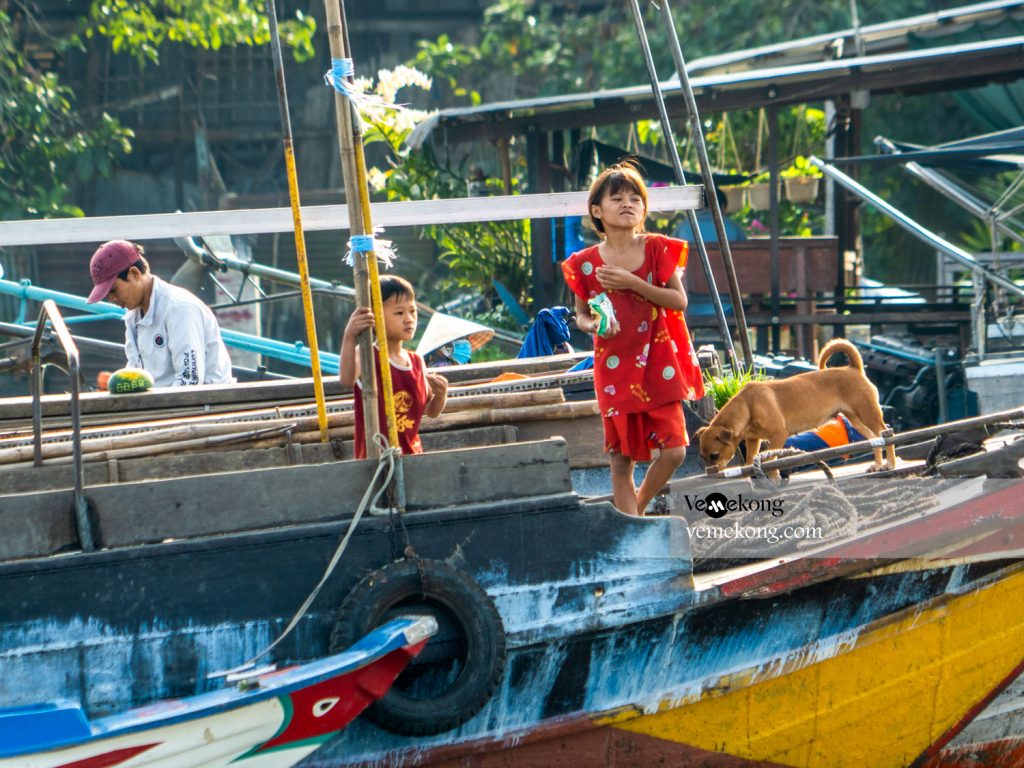 For Phong Dien floating market: As a local expert, we do know that the Phong Dien floating market will be no more after 7:30 am. Because this one is very small and very local, there are about more or less 45 boats and sampans at this market, you can watch our drone video 4k to know more. Let's tell you, we inspect this market a lot and it is always busy and real touching is at the sunrise and the locals start to go home about 6:45a.m. Top tip: Best enjoying time to be right at the spot is from 5:30am-6:30am. I hope you have an amazing sunrise on the Mekong Delta river.
For Cai Rang floating market: The floating market has made a contribution not only to cultural exchange but also waterway economic development. The market opens every day from sunrise until evening and the busiest time is from dawn until 9:30 a.m. In the early morning, the waterway becomes a maze of hundreds of boats and junks of all sizes are anchored along the river about a kilometre; all carrying a variety of seasonal fruits and vegetables. Traders come to the market to buy fruits and vegetables and then bring them to other markets or the big trucks will take them all to many mainland wholesale markets (mainly in HCMC). Unlike shops and stalls in ordinary markets, sellers cannot cry out to advertise their wares since it is impossible to be heard amidst the noise of running boat engines. That is why it is essential for each boat to display a long upright pole (the locals call "Cay Beo") at its bow on which the sellers hang samples of their products. If they sell bananas and durian, they will hang bananas and durian on the pole ("Cay Beo") so that buyers can see what items are on sale from a distance. This way of selling is simple but has existed over a hundred years.
4. How to Get to Can Tho Floating Markets from Can Tho City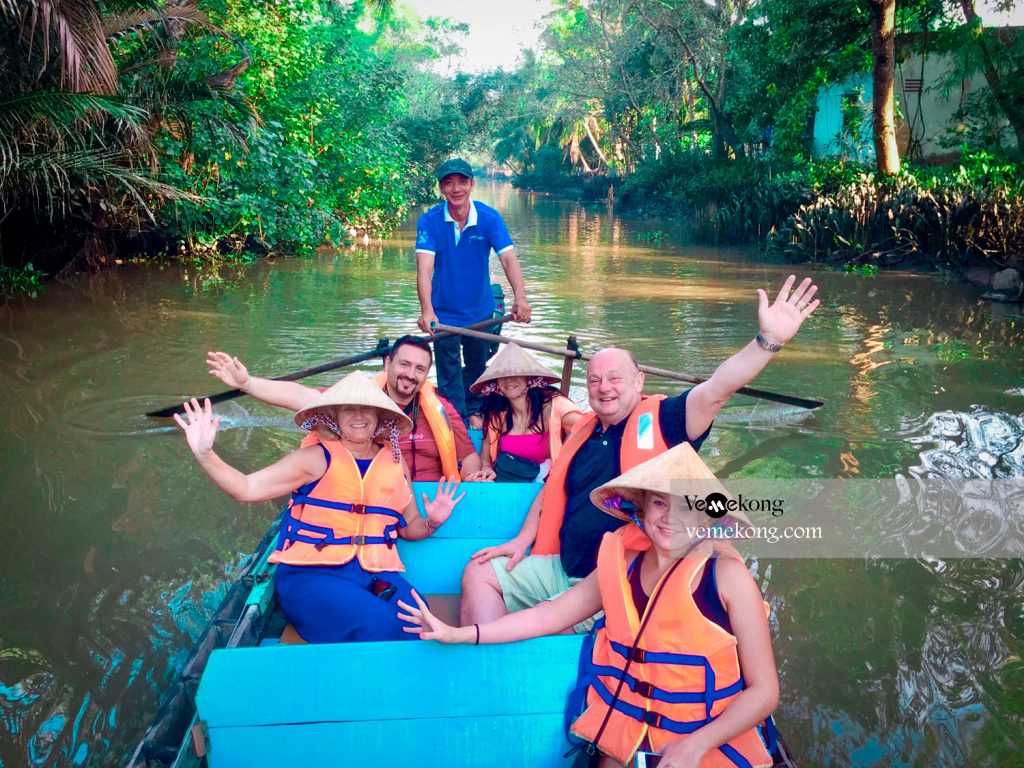 Cai Rang floating market. The largest floating market in Can Tho, Vietnam, and one of the most popular in the world, the Cai Rang floating market is an exciting, colorful hub of many wholesalers. It is crowded and noisy (with many tourist boats), but still fascinating. The market, about 6 km (3,7 miles) or 30 minutes by boat from Ninh Kieu wharf.
Phong Dien floating market. About 18 km (11,1 miles) or two hours by boat from Ninh Kieu Wharf, Phong Dien retail floating market is one of the most lively and colorful markets and, as an added bonus, less popular with tourists who usually visit the Cai Rang floating market that's closer to Can Tho.
5. How to Get to Can Tho Floating Markets from HCM City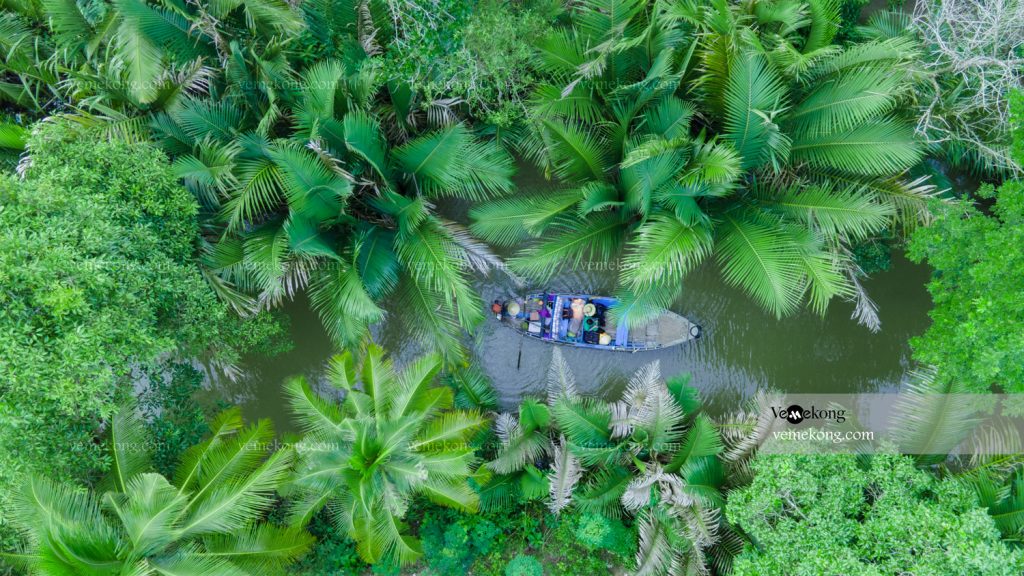 From Ho Chi Minh City to Cai Rang floating market by yourself? Take a sleeping Futa bus (125,000 VND per person) to go to Can Tho (about 5 hours one way – 3,5 hours on the bus, and the waiting time for departure, rest stop, pick up, drop off…). When you arrive at the Can Tho bus station, it is about 15 minutes or 6 km to reach Ninh Kieu Wharf by taxi (a taxi costs around 80,000 VND. Mai Linh taxi (+842923656565). Khanh Cuong taxi (+842923868686) if you have time! You can wait and then take the free Futa transfer service to Ninh Kieu Wharf and let's tour! Rent a sampan by yourself (about 250.000vnd [~11$] for 2 or 3 people) or rent a boat (about 660.000vnd [~30$] for 7 people) with a roof and life jackets, no tour guide. Another way is to book a package Can Tho Tour From Ho Chi Minh 1 Day (HCM-Can Tho-HCM), pick-up at 04:00 AM at your hotel from Ho Chi Minh city center; 119$ per person).
From Ho Chi Minh City to Phong Dien floating market by yourself? You also take a bus from HCMC to Can Tho. When you arrive at the Can Tho bus station, it is about 35 minutes or 19,5 km to reach Phong Dien floating market by taxi. Many tourists choose to start the tour from Ninh Kieu wharf for Cai Rang floating market first and then Phong Dien one later by boat. This idea is cheaper and safer for the early morning tour.
6. What to Do – See – Eat at Can Tho Floating Markets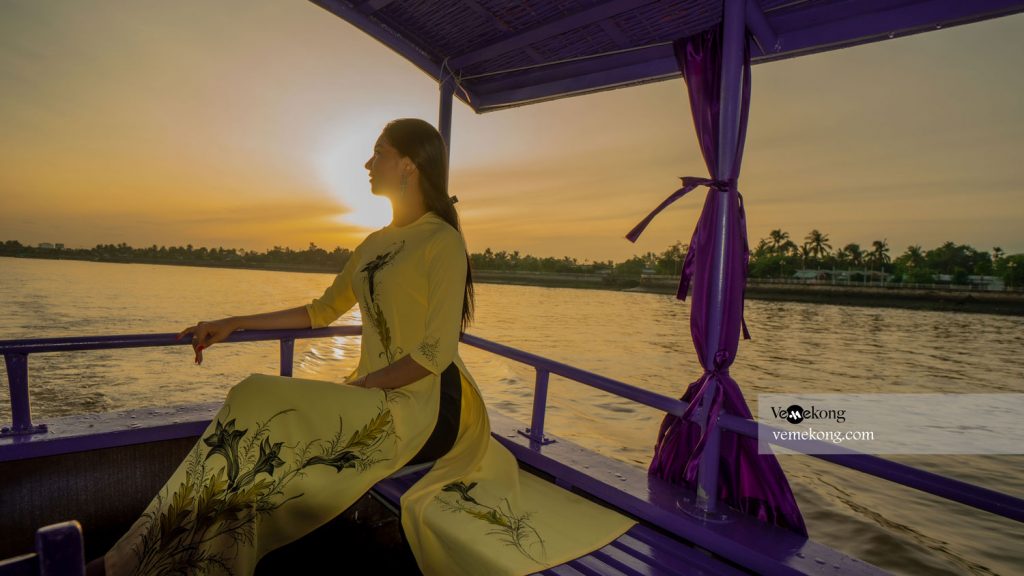 Cai Rang floating market
Unlike floating markets in Thailand, floating markets in Vietnam, including the Cai Rang floating market, have evolved naturally over a hundred year. Thus, they are not only markets but also bring with them features of traditional culture. This specific feature of the floating market attracts both Vietnamese people and foreign tourists. According to Vemekong inspections, the market has about 300–500 local boats and many tourist boats each day. Trading activities at the Cai Rang floating market are an occasion for visitors not only to buy indigenous specialties but also to sense the hardships of the sellers and learn more about the local peoples. A visit to the Cai Rang floating market is a great way to experience how the local population uses the river canals for transportation and commerce.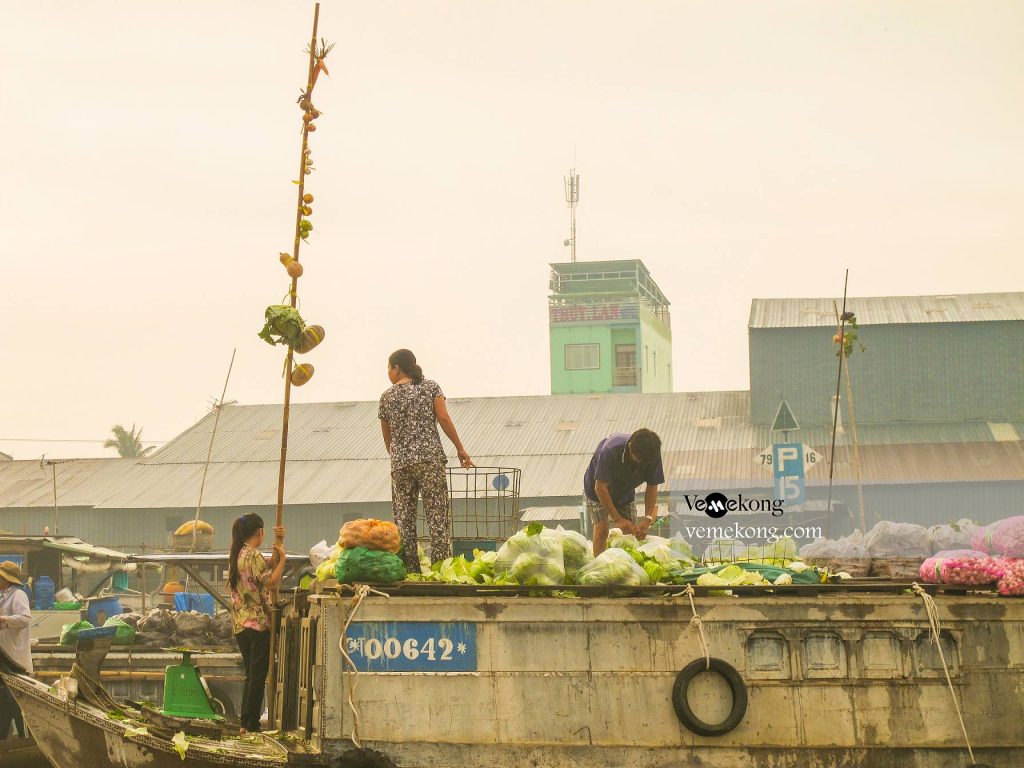 It is a market for agricultural goods, especially fruits. There are a hundred and one kinds of tropical fruit such as mangoes, mangosteens, rambutans, dragon fruits, longans and the like. You will still somehow find strangely comfortable moments while immersing in the rustic lifestyle of the Vietnamese and breathing in the cool breeze of the great river. A drink seller will also approach you via boat. You can enjoy a fresh coconut, Vietnamese coffee and even try local bun rieu – noodle soup…from the floating boats. A bridge nearby offers great views, but nothing compares to exploring the market by boat. However, only the Cai Rang floating market is not enough to know well about the floating culture of locals. Top tip: In the US program Masterchef season 4, episode 21, broadcast on August 28, 2013 on Fox TV channel, Vietnamese noodle soup has become a difficult topic for the contestants in the top 5. Gordon Ramsay's favorite dish when he came to Cai Rang floating market, Can Tho, Vietnam. Do not miss the noodle soup (Hu Tieu or Bun Rieu) there!
Phong Dien floating market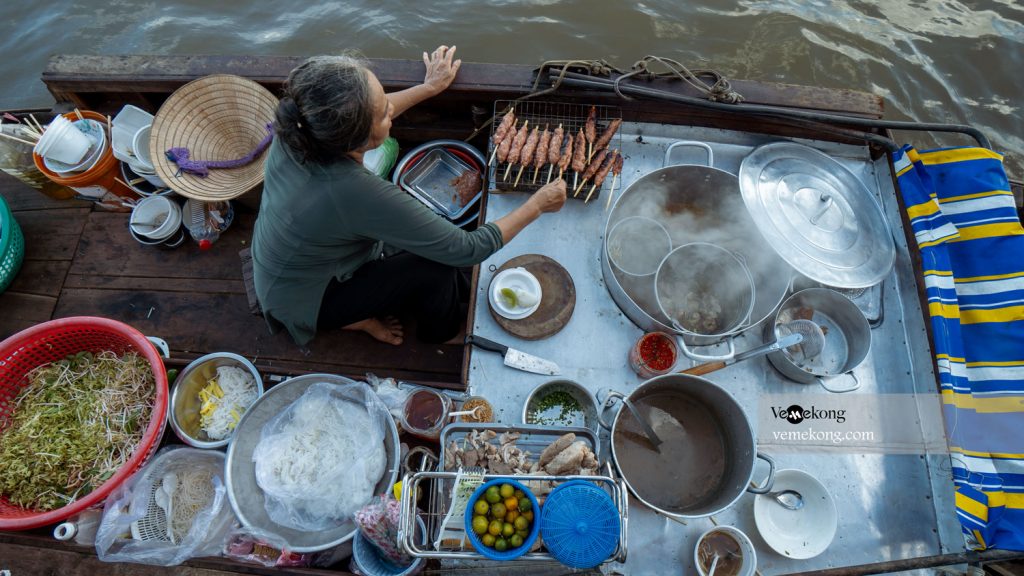 There are just about 30-45 small nice sampans (traditional farmer's boats used to use in small villages and small canals) boats every day. Phong Dien market possesses an endearing simplicity because it is known for the sale and exchange of local goods with the native only! There are not many local merchants coming to the floating market on rainy or low-tide days. Top tip: Have breakfast in the floating market with rice noodle soup, pho or rice (about 20.000vnd – 50.000vnd [~1$-2,5$] per one). Enjoy Vietnamese coffee or coconut juice (about 10.000vnd – 25.000vnd [0,5$-1,10$]).
Both Cai Rang and Phong Dien floating markets are on Can Tho river, so we call the way to visit them is Can Tho River Tour. It is a special tour which flows on a part of the Mekong river. Moreover, there are many amazing things in these markets that make you surprised such as what is the function of the bamboo stick in every boat, why boats have eyes and how local people live in a boat the whole day.
7. How to Find Can Tho Floating Markets Tour by yourself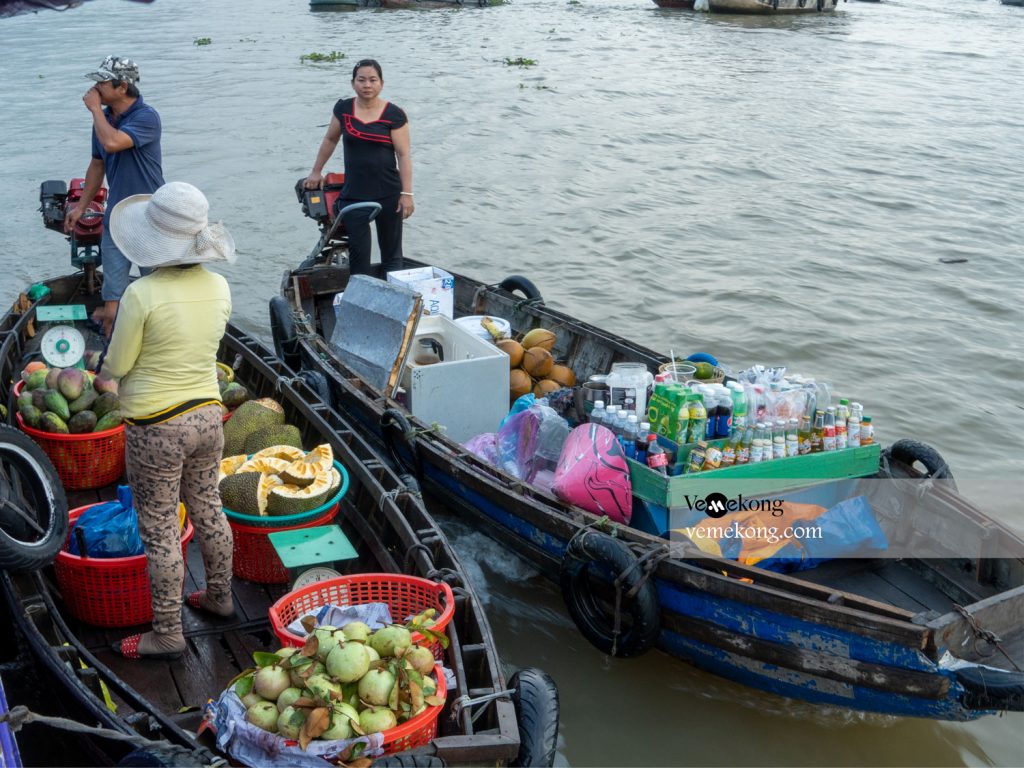 How to grab worthy unique tours which make you not get upset, confusing or wasting travel days to Can Tho and fix your budget as well? We share 3 common options. The first option is a strong budget. You just need to walk to the Ninh Kieu Wharf and some freelance locals will catch & show you their boats and the price with a typical non-guided tour, still fun and a bit challenging, make sure you got the life jackets and remember to pay the one you deal with, plenty tourists pay around. The second option is much nicer. As you know, most Can Tho hotels offer basic package tours with guide and pick-up, drop off from the hotel. The price is fair and fixed. The last option is the TripAdvisor's Recommended tours from the newest reviews for sure, as we know, Can Tho River Tour Co.,LTD (WhatsApp/Hotline/Viber/Wechat +84908169205; canthorivertour.com) is a top-notch number one with 99% of excellent of 900 reviews, a well-regarded travel and tour company, set up by a group of passionate Can Tho locals.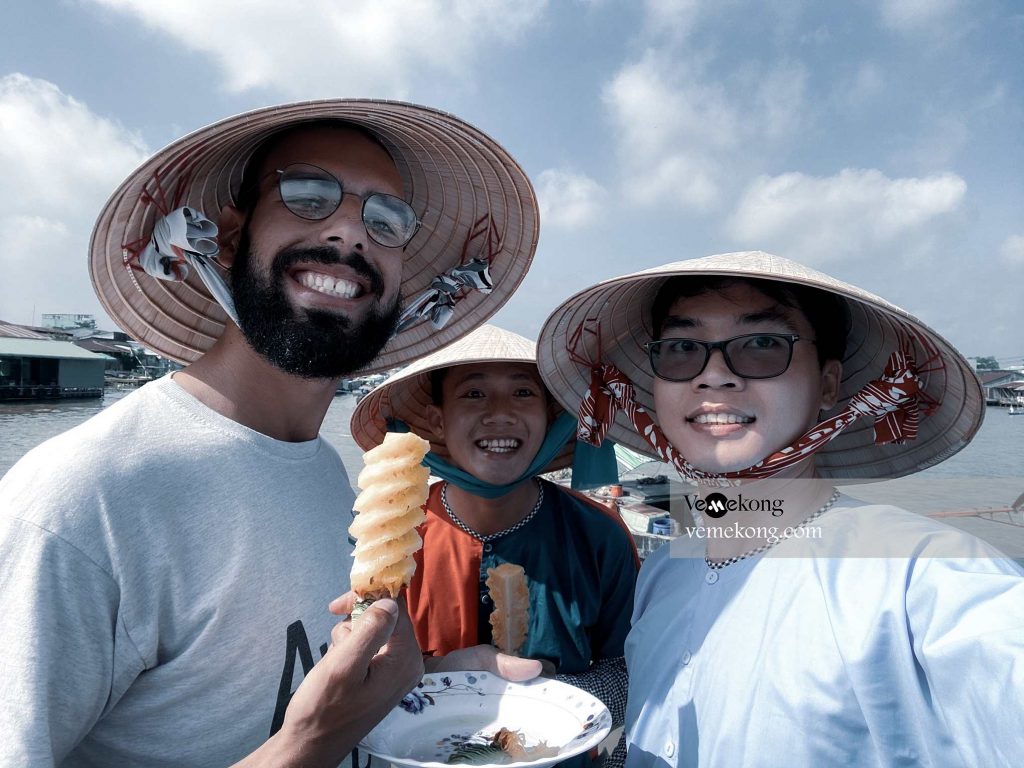 If you do not have much time left, it is easy to check out spots in one full day by boat or with bike or with motorbike and car. But there are much more than tourist sites like these in Can Tho. Make sure you have more time to feel and explore more about the hidden gems and the culture, food, night life, wildlife and forest as well. Top tip: Stay in a homestay nearby, so you have more chances to visit it and surroundings. If you are looking for the package Can Tho day tour with local, you can contact www.vemekong.com or Hotline/WhatsApp/WeChat/Zalo +84939888559; email: hello@vemekong.com
8. Google Maps of Cai Rang Floating Market
Embedded slot
9. Google Maps of Phong Dien Floating Market
Google Maps made a name for itself helping people travel from one place to another, avoid traffic (You probably know the route from your hotel to the gas station by heart, but what you can't be sure about is gridlock), measure a distance, get back to the hotel on time, share the location…
Embedded slot
10. Responsible Travel and Advice to Can Tho Floating Markets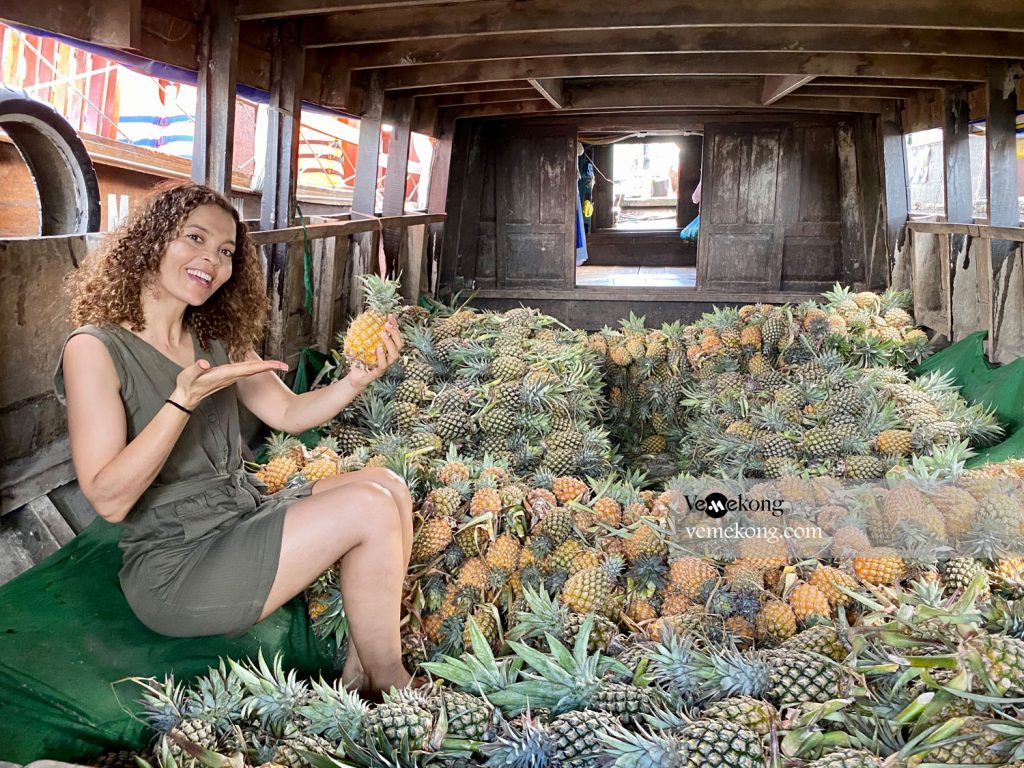 It is always good to repeat "responsible travel" over and over. The river itself is facing so many challenges and pollution from chemical and human waste and modern life with high-tech. We do appreciate any of you who do visit and take good behavior to the river and the local village. Top tip: Please take this note "be a part of the solution, not part of the pollution".
11. Amazing Video flycam/drone of Can Tho Floating Market (4k)
If a picture says a thousand words, it stands to reason that the video says many times more.
Video of Cai Rang Floating Market
Embedded slot
Video of Phong Dien Floating Market
Embedded slot
12. Incredible Tips for Photography, Specialists, KOLs, Media and Influencers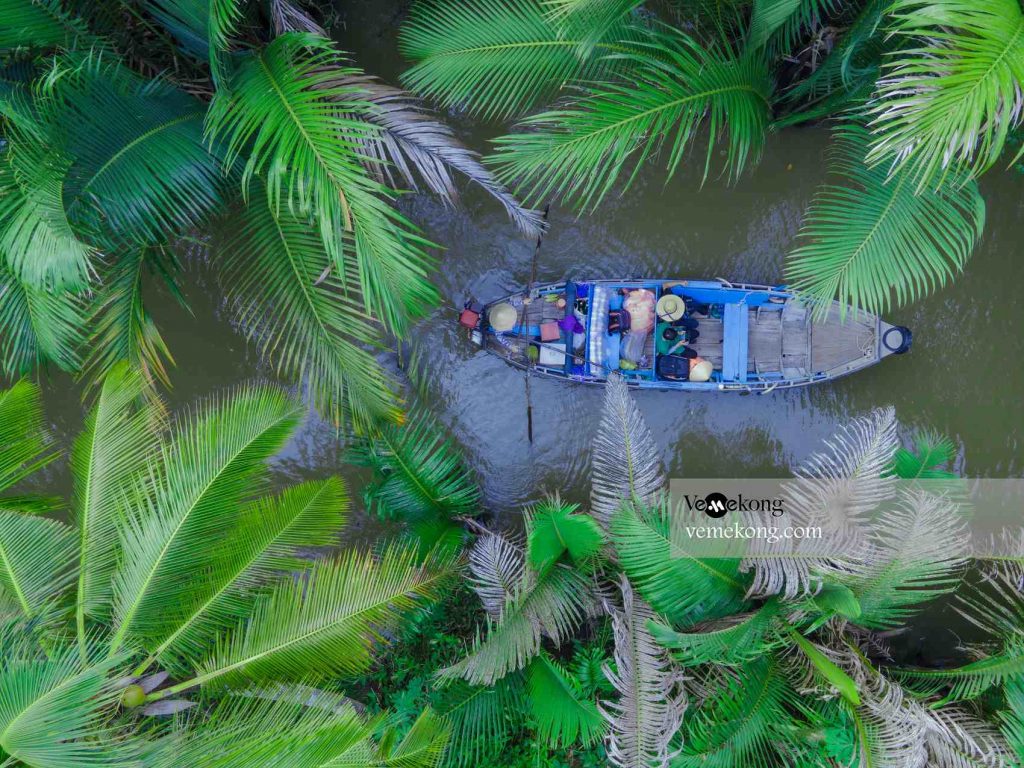 To get the best of the best for your unique writing, featuring, photo, video and insider's stories. We do recommend you to have a local travel expert, the one who always gets more ground information and makes sure every single element is solved perfectly. Vemekong (very exclusive Mekong) team is your priority choice. Email and have a private talk with them to customize your journey smoothly, personal and the most ultimately amazing. You can contact www.vemekong.com or Hotline/WhatsApp/WeChat/Zalo +84939888559; email: hello@vemekong.com
13. Can Tho Floating Markets Open during the Lunar New Year?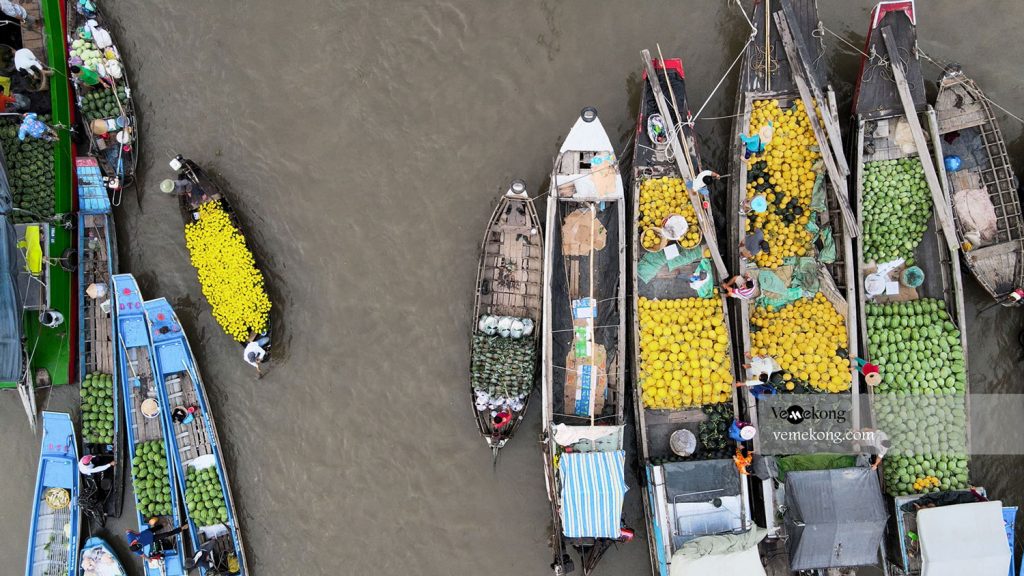 We do not think so! Can Tho floating market opens all year round but it does "close" and has no boat and no activities during the traditional Tet Lunar New Year, but the Christmas and Calendar New Year are fine. Top tip: If you make a visit to this market one week before Lunar New Year, you win the best days of the year for the market. This time the market is like the flower floating market, so that many media choose this time for any MV video or marketing PR shots and more.
14. Pro Tips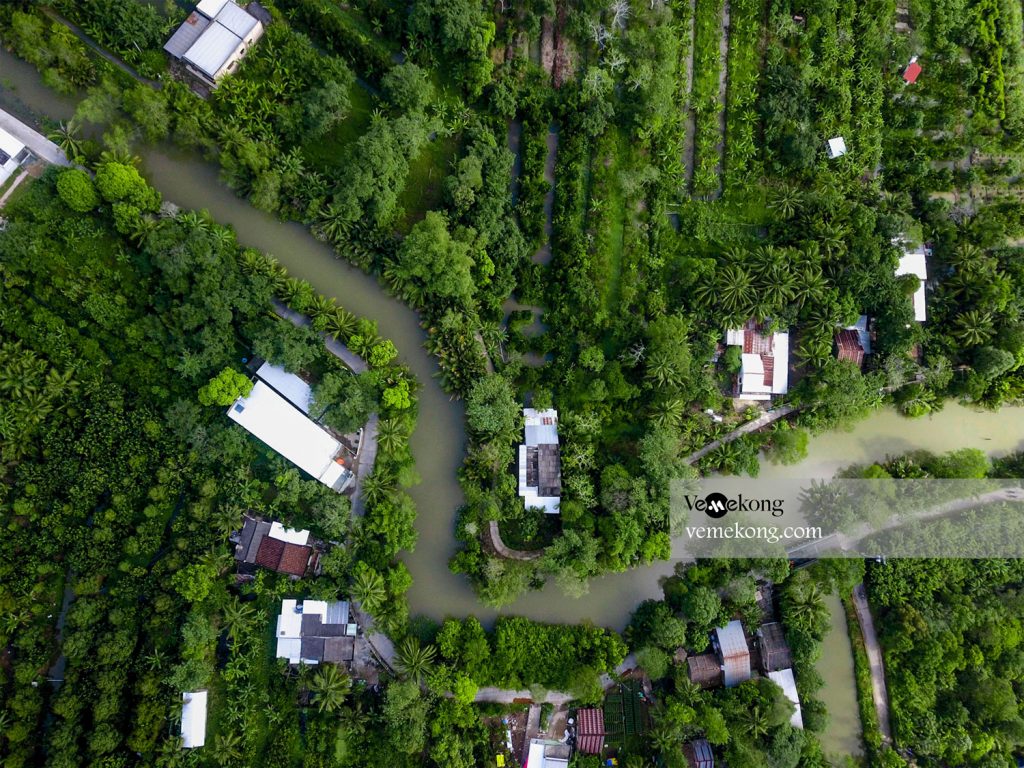 You can stay in a homestay which is near the Can Tho floating market, this will help you out the best option. Then you can hire a scooter, car or bike and explore it by yourself, but you still need to hire a boat for the floating markets.
If you plan to extend your travel to Can Tho homestay, do not forget to bring mosquito repellent cream.
Visit Can Tho or do any customized tours, please choose reputable providers with boat trips equipped with lifebuoys, jackets, motorcycle and cycling tours with the helmets and. Safety is a priority! Choose Can Tho responsible tours which help you give back while traveling. It's a cliché, but it's true.
Can Tho food & drink guide ranges from street food, authentic, fancy to fusion foods. As a tropical land of many fresh vegetables and homegrown gardens, which always make Can Tho cuisines fresh, close to nature and very traditional. If you are a food lover, don't hesitate to put other bites onto your food lists such as Cong cake in Can Tho, Ut Dzach Fine Rice Vermicelli…
Bring your hat, sunglasses, and sunblock, scarf to wear when visiting temples, pagodas, and the cathedral.
Bring the raincoat if you're planning a trip to Can Tho in the rainy season, as Can Tho always looks fantastic in the full rain and full sun.
Can Tho tourist attractions are magnificent itself, but if you have enough time, don't forget to put other places onto your bucket lists such as Can Tho Wildlife & Forest, Binh Thuy Ancient House, Organic Cacao farm, Can Tho Small Canals & Sampan Ride, Can Tho Fruit Garden, Can Tho Paddy Rice Fields, Can Tho Giant Ficus Tree – Secret VC base, Can Tho Rice Noodle Factory, Cai Rang floating market, Can Tho Old Market, Phong Dien floating market, Truc Lam Phuong Nam Zen Monastery, Can Tho to Con Dao – Express boat, Son Islet – Community-based Tourism…
Hopefully, the above tips will help you to come up with a great plan for your adventure in Can Tho, Mekong Delta, Vietnam. Have a safe trip!
"Sleep less, travel more, respect more" – Thomas Vietnam – Local travel expert.
Thank you