A Guide to Chau Doc Floating Market & Hidden Canal
One of the best highlight things to see and do in Chau Doc town is the authentic Chau Doc floating market and hidden gems – small canals. It is just about the traditional and cultural river life in the Mekong Delta now and then.
By Thomas Vietnam at vemekong.com | Nov 27, 2020 | An Giang Travel Guide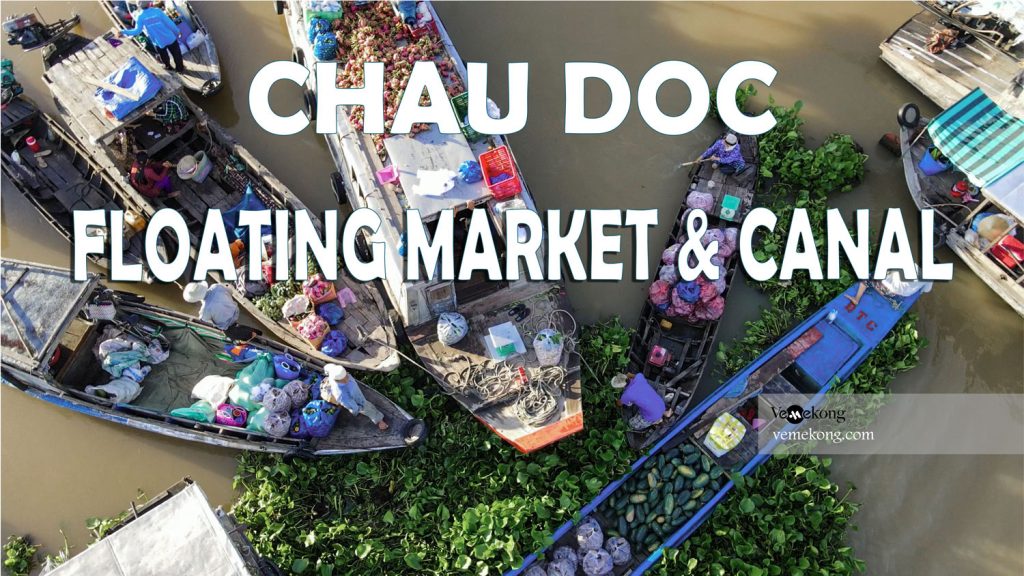 1. Mekong Delta Drone 4K Video of Chau Doc Floating Market
Embedded slot
2. How to visit Chau Doc Floating Market and Canals
Boat trip is the only way to reach the floating market located in the middle of the Chau Doc river (Bassac river). No worry, it is a very central distance from your hotel. Firstly, you get to Chau Doc riverside park, where basa fish sculpture is. Secondly, you take the boat trip from there, there are small sampan and big boat for a big group. The last, the boat trip just takes you about 15 minutes from that boat station to the floating market. Top tip: You should hire a boat a day ahead at least, the next early morning is too dark and hurry to have a boat at 5am.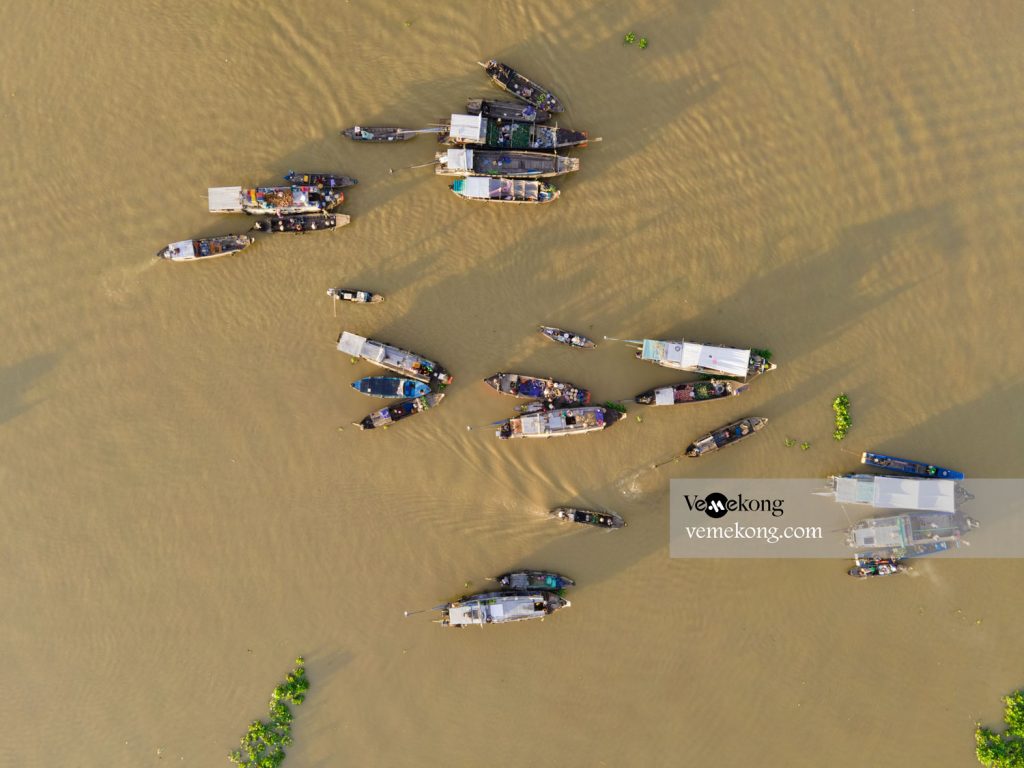 3. Why to visit the Floating Market at the Sunrise
As a local expert, we do know that the Chau Doc floating market will be no more after 7am. Because this one is very small and very local, there are about more or less 30 boats and sampans at this market, you can watch our drone video 4k to know more. Let's tell you, we inspect this market a lot and it is always busy and real touching is at the sunsise. Top tip: Best enjoying time to be right at the spot is from 5:45am-6:30am. I hope you have an amazing sunrise on the Mekong Delta river.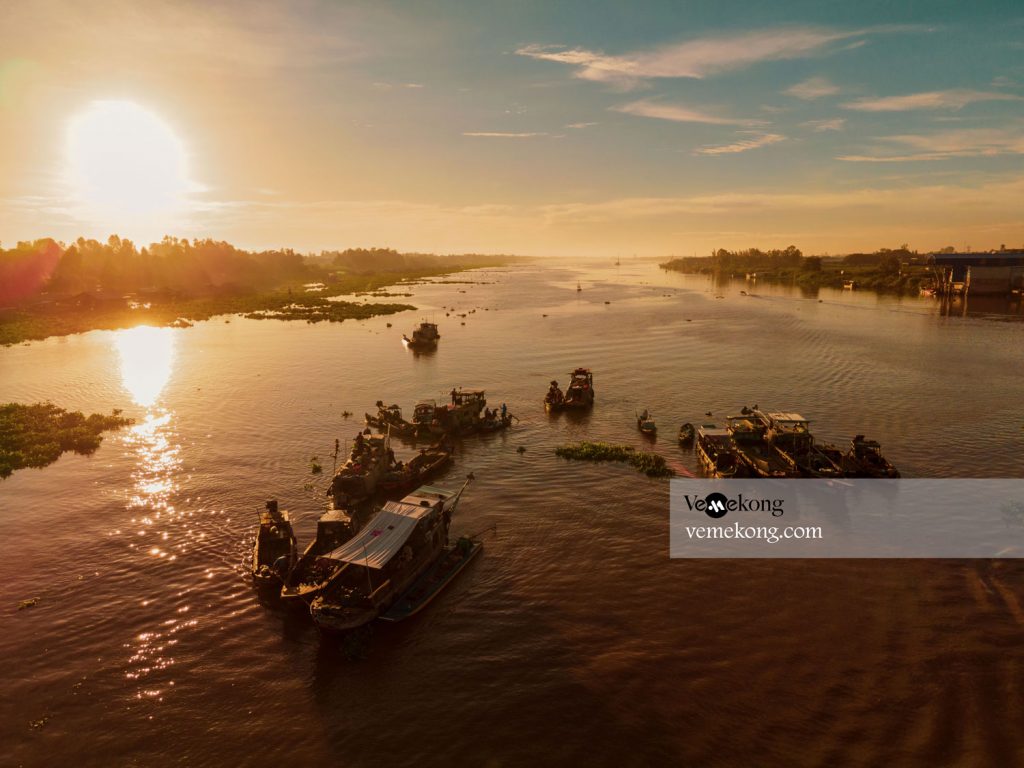 4. What to Eat and See at Chau Doc Floating Market and Along the Way
As you see, this is a very local floating market, so you sometimes find coffee and noodle soup at Chau Doc floating market. Besides, you may admire local women there, we see many of them are female who run boats and manage the small business as well. Along the way, you may see fisherman, local boat families on the way to the market or school, ferry and more. Top tip: Smile and have a cup of coffee with the locals and watch the river floating life at the floating market.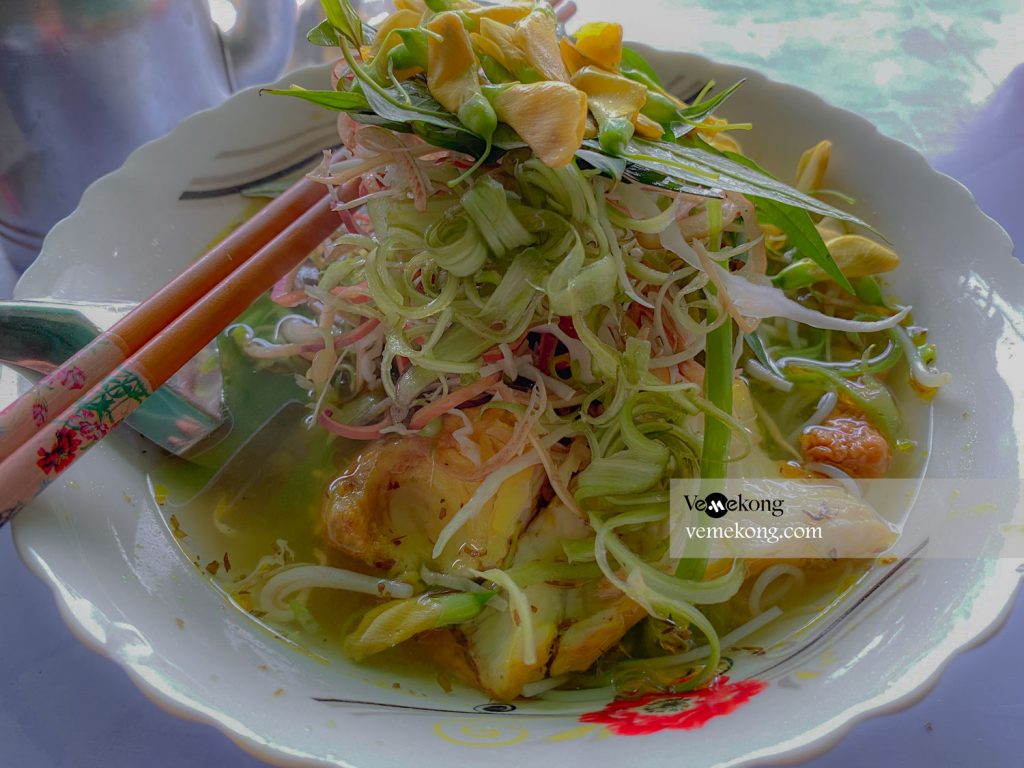 5. Free Itinerary and Maps to Go with Chau Doc Floating Market+Canal+Fish Farm+Cham Village
The best deal with the boat too. Just on the way to the floating market, you absolutely can add some more stops to make your boat trip much more worthy. May we share with you the easy-going itinerary, first you should go straight to the floating market, then see the Chau Doc fish farm, and Cham village on the way back, and chill yourself while the boat weaving into the stunning canal. Top tip: Make sure you have time and a good local tour guide.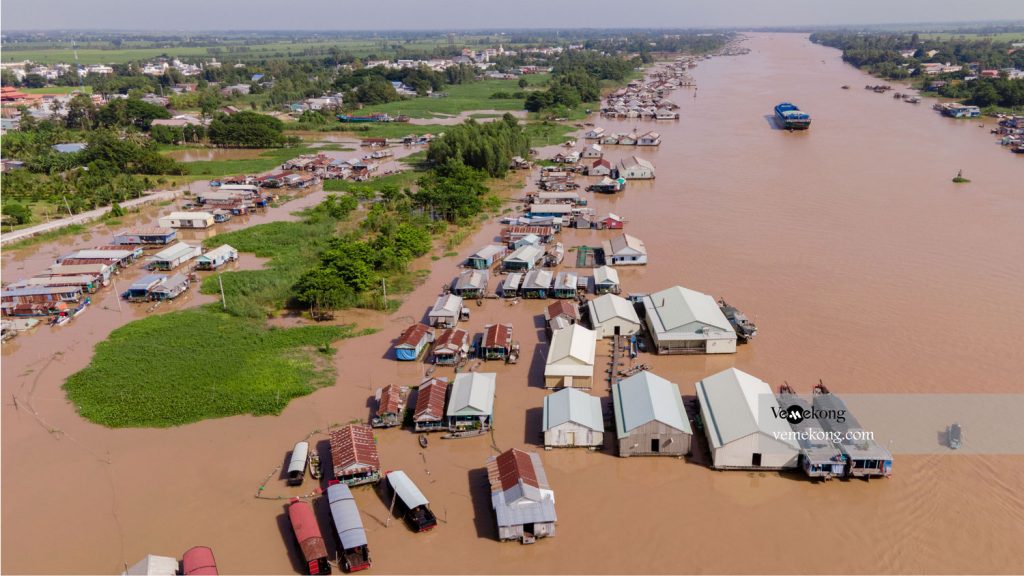 Embedded slot
6. Can We See the Floating Market from Chau Doc to Phnom Penh by the Speedboat?
Nope! It is not in the same direction though. But you can see the floating fish farm from Chau Doc to Phnom Penh from your speed boat. Top tip: The speed boat always starts at 7am from Chau Doc. If you really want to see the floating market, you can make it and finish the market tour before 6:30am. Easy.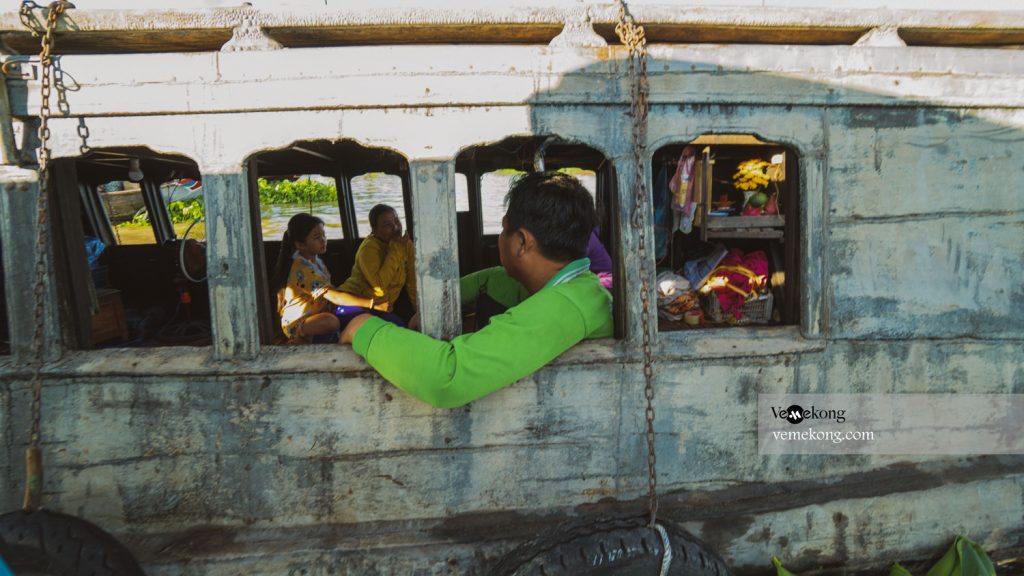 7. Chau Doc Floating Market & Tra Su Forest in One day
What a trip! If you can make this full adventure day tour of Chau Doc floating market and Tra Su forest in one day will be so much well-planned. Top tip: Contact vemekong.com to see more unique Chau Doc daily tours.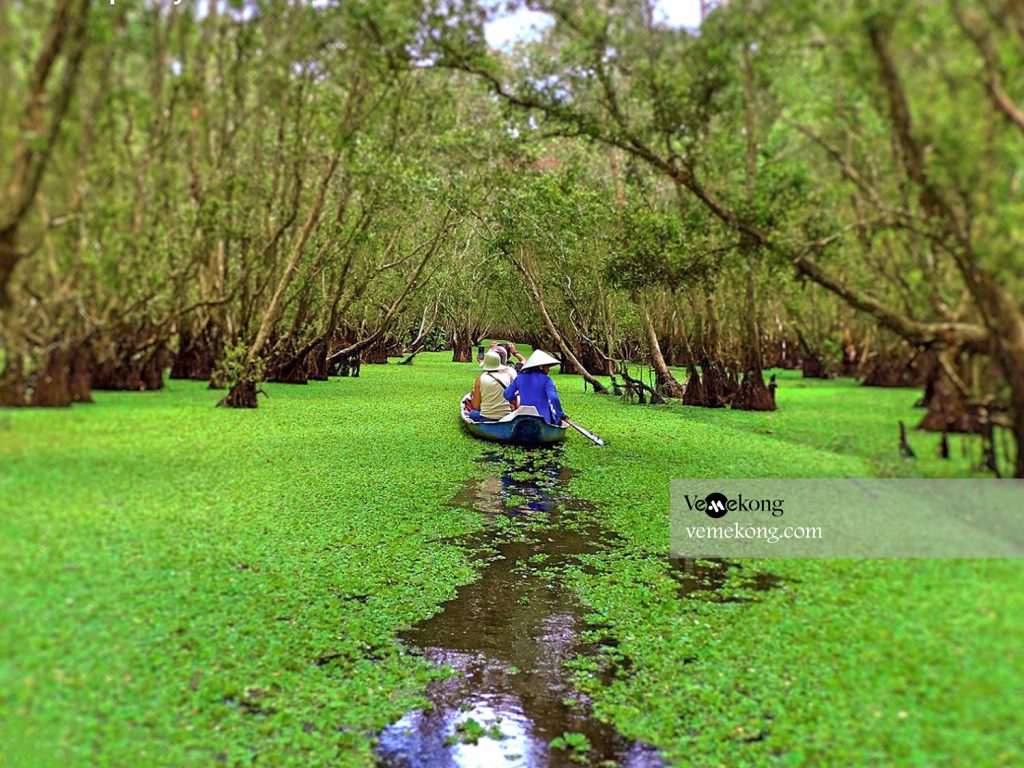 8. Chau Doc Floating Market Opens during Lunar New Year?
We do not think so! The local market is not too tourism yet, so it does not run during the traditional Tet Lunar New Year, but the Calendar New Year is fine. Top tip: If you make a visit to this market one week before Lunar New Year, you win! The best time for all.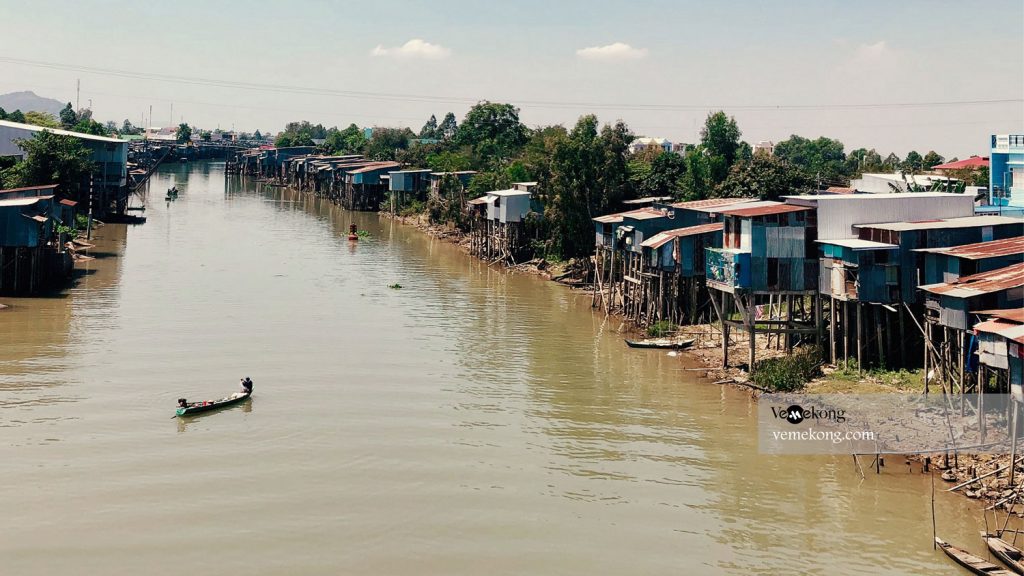 9. The Solo Travel Guide to Chau Doc Floating Market & canals
Yeah, you can do it by yourself. Vietnamese are friendly and used to with foreigner tourists, so that you are fine to bargain and make a deal with them. Remember responsible travel please, bargain for fun and willing to help the local and its destination. Top tip: Get to Chau Doc riverside park, where basa fish sculpture is, to find local boats and hire it from there. Make sure you have a life jacket equipped on the boat. Or you can hire a boat from vemekong.com/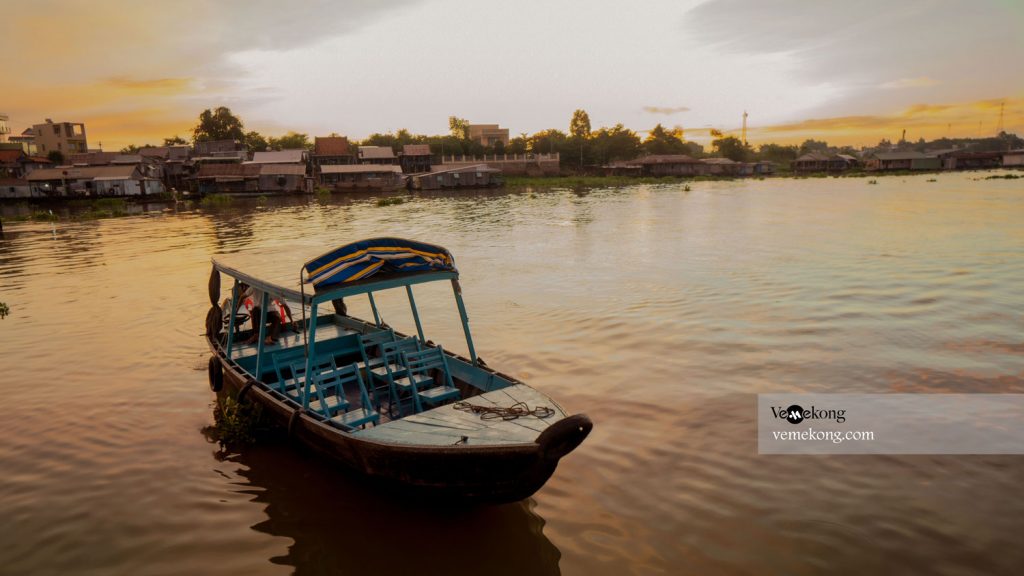 10. The Cheapest Way to Visit Chau Doc Floating Market and Surroundings
Join Chau Doc daily group tours for the best solution about boat, time, pick-up and drop-off, information, fun, great memory, responsible travel and safety at vemekong.com. Top tip: Hire a bike for the afternoon adventure and off the beaten tracks in Chau Doc rice fields and many unlock villages.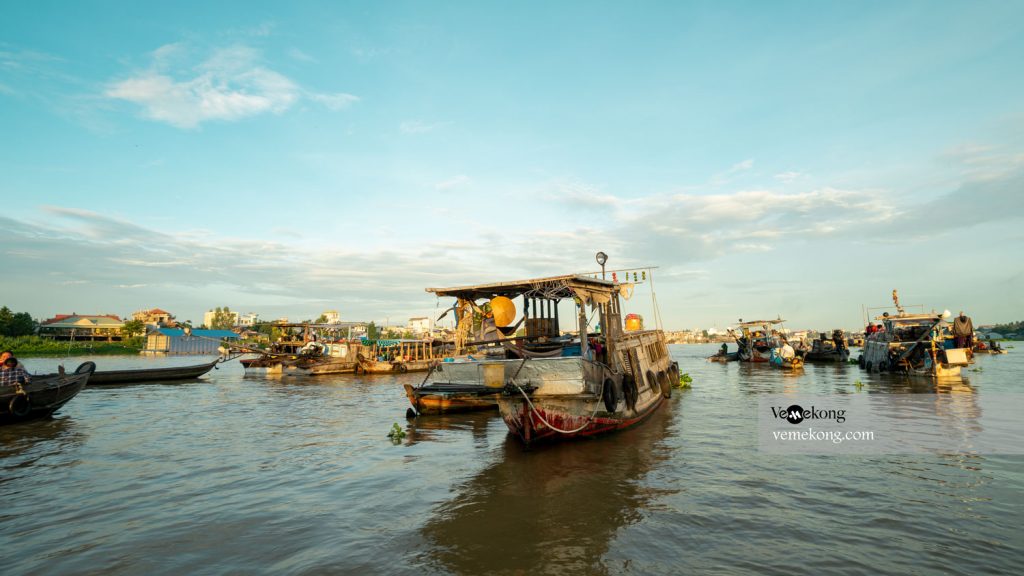 11. Responsible Travel and Advice to Do any Chau Doc River Tour
It is always good to repeat "responsible travel" over and over. River itself is facing so many challenges from chemical and human waste and modern life with high-tech. We do appreciate any of you who do respect and take good behavior about the river and its protection. Top tip: Chau Doc River Tour is a kind of responsible tour in Chau Doc.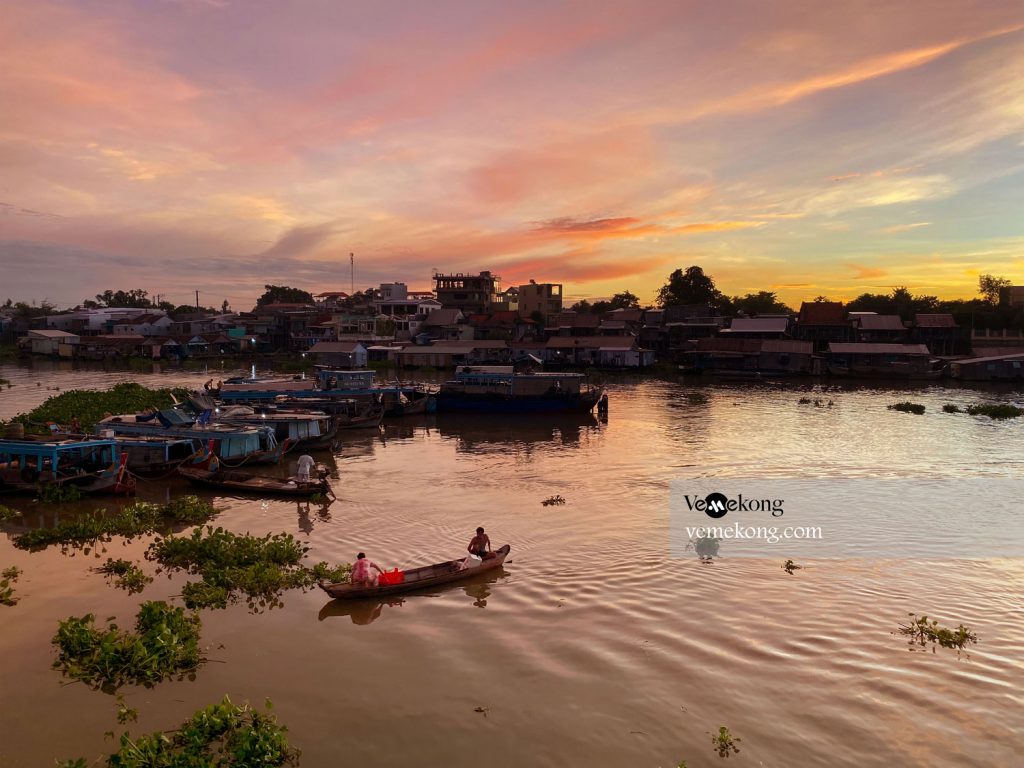 Pro tips:
Bring your hat, sunglasses, and sunblock.
If you plan to extend your tour to Tra Su forest, do not forget to bring mosquito repellent cream.
When visiting the Chau Doc city or doing any customized tours, choose reputable providers and boats equipped with lifebuoys and jackets. Safety is a priority!
Chau Doc is magnificent itself, but if you have enough time, don't forget to put other places onto your bucket lists such as rice fields, flooding fields, sugar palm fields, small ethnic groups villages…
Bring the raincoat if you travel to Chau Doc in the rainy season, as Chau Doc always looks fantastic in the full rain and full sun.
Hopefully, the above tips will help you to come up with a great plan for your adventure in Chau Doc, An Giang province. Have a safe trip!
"Sleep less, travel more, respect more" – Thomas Vietnam and Thank You!!