Tuc Dup Hill – An Giang's Secret and Hidden Gem
Nowadays, with beautiful natural wonders and an illustrious reputation, the sacred Tuc Dup hill is very attractive to tourists from all over the world to visit and enjoy, especially those who like to immerse themselves in the space of historical nostalgia.
By Thomas Vietnam at vemekong.com | Official Chau Doc Visitor Guide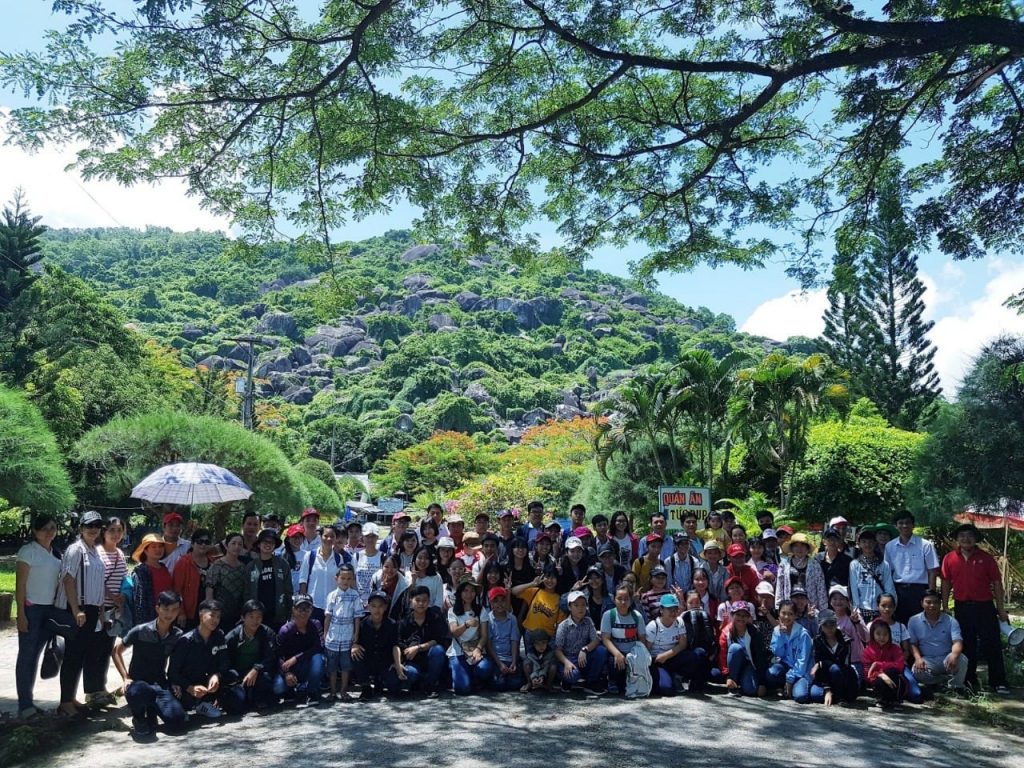 1. Better to Know as a Tourist
Ticket: 20,000 VND
Spend-time: One and a half hour (approx)
Hours: Dawn – dusk
Food: Yes
Shop: Yes
Parking lot: Yes
Blog: https://vemekong.com/tuc-dup-hill-an-giang-secret-hidden-gem/
Address: Located in An Tuc commune, Tri Ton district, An Giang province.
Added values: Sitting on the back riding "Phoenix", just raise your hand to be able to "pick clouds", with an altitude of more than 216m, visitors can enjoy the scenery, watch the fresh green fields, the rolling mountains to catch the wind. In the distance, there are rows of tall palm trees that run endlessly. Visitors just want time to stop, to freely admire the peaceful and immense scenery of the bright countryside.
Nearby attractions and hidden gems: Looking for places to stop on your way to and from Tuc Dup Hill? Or maybe you found it too crowded here? We've got some ideas! Check out our list: Tra Su Cajuput Forest (31 km), Sam Mountain (32 Km), Cam Mountain – Forbidden Mountain (34 km), Chau Doc Floating Market (35 km), 30 Thang 4 Park in Chau Doc (34 km)…
2. Travel Guide to Tuc Dup Hill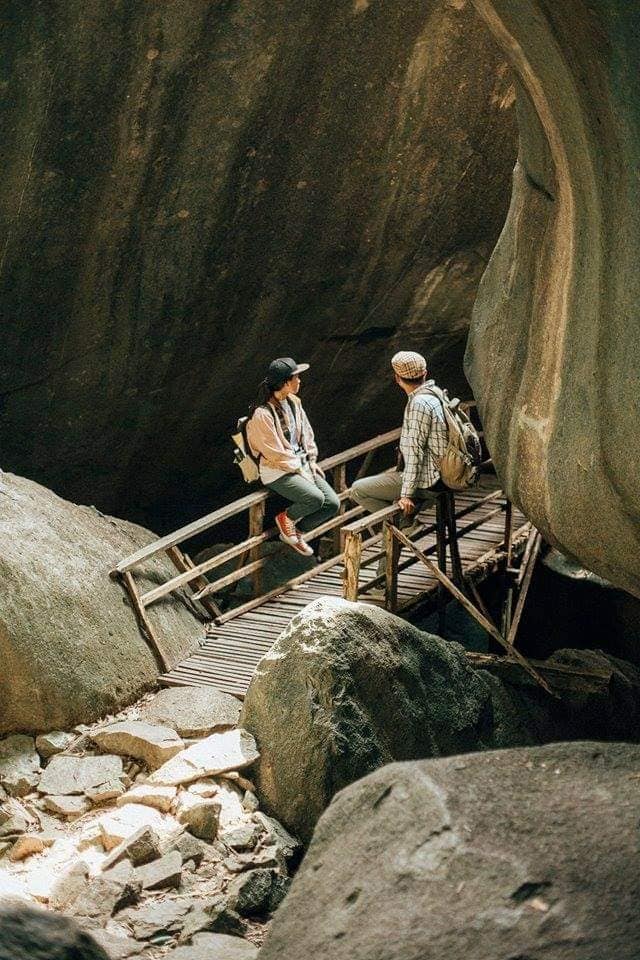 Tuc Dup Hill is praised as an "immortal fortress" with realistic and vivid material that recreates the fierce war in movies, and is the source of inspiration for poetic composition. The hill stands majestically, storing in it natural treasures such as mountain caves holding clouds, curving streams releasing pearls, huge cultural and historical treasures.
Mysterious openings such as skylights to get wind and natural light are created from different large and small rocks arranged in strange shapes, deep caves wriggle through very mysterious terrain. It is these openings that can be seen from the outside, on the contrary, from the outside looking in, we can only see a little bit of grass and trees, thickly covered with moss, so this place becomes a "secret" agency. Using advanced weapons, chemical poisons with the ambition to turn the hill into a desert, the US army attacked many times but received all failures. The immortal hymn of patriotism resounded during the 128-day offensive, but could not penetrate our defenses. Although the duel was disproportionate, with the steadfast and indomitable spirit of our troops, the battle of Tuc Dup opened and ended with the admission of the enemy's defeat. Tuc Dup is the pride of An Giang people, existing as a legend because it is associated with countless legends of spiritual miracles that are difficult to describe, handed down to posterity. There, we can see that "historic" and "legendary" are intertwined, creating a strange, attractive, vivid and colorful attraction.
3. What to Do –See – Eat at Tuc Dup Hill
The treasure trove of war treasures is increasingly enriched by donations from people and veterans – invaluable assets displayed and preserved according to specialized principles at Tuc Dup. With a macro vision, a sustainable tourism approach based on historical values, promoting the intrinsic strength of tradition and national identity, thereby raising the level to suit current tourist tastes. One of the places that owns rare artifacts and documents that are qualified for scientific research, archaeology, geology, education…With brilliant lines written in peacetime, Tuc Dup today is famous for its "multi-experience" tourism that pleases visitors. From adventure in the longest and most beautiful natural granite cave in Vietnam, came to conquer the "two million dollar hill", proudly like a general who set foot in the place where the flag of decisive victory was planted. There are also surprisingly beautiful and attractive check-in points: Dream Hill, Magic Fish Stream, Fairy Stone Stream, Bamboo Bridge of Love, Zoo… Below is a shimmering lake bed, lying peacefully. On the side of the mountain, the lake's green water looks like a cool giant "marble" face. The sunset is a moment of transfer like a strange miracle, the sacred hill is graceful in the beautiful red color, sparkling in each golden sunshine. When the afternoon blue smoke spread from the country kitchens, crept through the roof of the thatched cottage, the smoke drifted up to paint a few patterns.
4. Free Itineraries from VeMekong
As a local travel expert, we have some ideas for you to think about.
From Chau Doc city center:
Route 1:
Route 2:
Route 3:
If you do not have much time left, it is easy to check out spots in one full day by boat or with bike or with motorbike and car. But there are much more than tourist sites like these in An Giang. Make sure you have more time to feel and explore more about the hidden gems and the culture, food, night life, wildlife and forest as well. Top tip: Stay in a homestay nearby, so you have more chances to visit it and surroundings. If you are looking for the package An Giang day tour with local, you can contact www.vemekong.com or Hotline/WhatsApp/WeChat/Zalo +84939888559; email: hello@vemekong.com
5. Google Maps of Tuc Dup Hill
Google Maps made a name for itself helping people travel from one place to another, avoid traffic (You probably know the route from your hotel to the gas station by heart, but what you can't be sure about is gridlock), measure a distance, get back to the hotel on time, share the location…
Embedded slot
6. Visit Tuc Dup Hill by yourself
Solo traveller? Travelling on your own means you will get out of any difficult situations by yourself. This, in turn, leads to more satisfying travel experiences and helps you improve your problem-solving skills. These days we rarely get the chance to sit with ourselves and simply be. That's why you should consider the time you spend alone on your trip as a gift.
It is possible for solo travellers to use google maps and do it alone. But sometimes they need to update local maintained roads and bridges which close and lead you a longer road than the road from google maps. It is just about the time. It takes more time to find the correct garden to come. Adventure is always fun. Wifi is strong in An Giang village! The locals find it hard to speak English as well. Top tip:Sticking to one canal and keeping going along it which gives you more things to see and avoids getting lost. Contact vemekong.com to hire a car, scooter with English-speaking-guide or cycling tours in An Giang
7. Responsible Travel and Advice Tuc Dup Hill
Don't get us wrong. But we assure you that you totally agree with us. "Do not give candy and things to the children when you plan to visit any local villages", the kids will leave the school and follow the sweets and later they find some things to give you or sell to you. The garden is a little forest, don't pick and touch the flowers or fruits without the local's smiles. We deal with traveling green and leaving green behind, not plastic. Top tip:Can Tho River Tour and Vemekong.com are some of the companies that care a lot about responsible travel and local respectation.
8. Amazing Video flycam/drone of Tuc Dup Hill (4k)
If a picture says a thousand words, it stands to reason that the video says many times more.
9. Incredible Tips for Photography, Specialists, KOLs, Media and Influencers
To get the best of the best for your unique writing, featuring, photo, video and insider's stories. We do recommend you to have a local travel expert, the one who always gets more ground information and makes sure every single element is solved perfectly. The Vemekong (very exclusive Mekong) team is your priority choice. Email and have a private talk with them to customize your journey smoothly, personal and the most ultimately amazing. You can contact www.vemekong.com or Hotline/WhatsApp/WeChat/Zalo +84939888559; email: hello@vemekong.com
10. Pro Tips
Best time to visit Chau Doc floating market, Long Xuyen floating market is from 5:30am-6:30am. I hope you have an amazing sunrise on the Mekong Delta river.
You can stay in a homestay which is near the floating market, this will help you out the best option. Then you can hire a scooter, car or bike and explore it by yourself, but you still need to hire a boat for the floating market tour.
If you plan to extend your travel to Chau Doc homestay, do not forget to bring mosquito repellent cream.
Visit Chau Doc or do any customized tours, please choose reputable providers with boat trips equipped with lifebuoys, jackets, motorcycle and cycling tours with the helmets and. Safety is a priority! Choose Chau Doc responsible tours which help you give back while traveling. It's a cliché, but it's true.
Chau Doc food & drink guide ranges from street food, authentic, fancy to fusion foods. As a tropical land of many fresh vegetables and homegrown gardens, which always make Chau Doc cuisines fresh, close to nature and very traditional. If you are a food lover, don't hesitate to put other bites onto your food lists such as Bun Ca Chau Doc (the soft noodle is cooked with fish), Banh bo cake of Chau Doc, Sugar palm fruit, Caramelized and Braised Catfish, Grilled Rice-field Rat with Salt and Chili, Long Xuyen Broken Rice, Nui Cam Pancake, O Thum's Chicken Grilled with Lime Leaves, Sour Soup with Siamese Mud Carp Soup & Sesbania Flower, Stir-fried Shrimp with Sesbania Flower, Phu Huong Beef Noodle Soup, Basa Fish Hotpot, Mam (Fermented Fish)…
Bring your hat, sunglasses, and sunblock, scarf to wear when visiting temples, pagodas, and the cathedral.
Bring the raincoat if you're planning a trip to Chau Doc in the rainy season, as Chau Doc always looks fantastic in the full rain and full sun.
Chau Doc tourist attractions are magnificent itself, but if you have enough time, don't forget to put other places onto your bucket lists such as Tra Su Cajuput forest & Birdwatching, Chau Doc Floating Village, Fish Farm & Cham Minority Village, Chau Doc floating market & small canal, Sam mountain, Tuc Dup hill, Chau Doc river tour, Chau Doc cycling tour, Chau Doc photography tour, Ta Pa Rice Fields, Vinh Te Canal, Seven-Mountain Ox Racing Festival, Tay An Pagoda, Chau Doc Market, The Lady Temple – The Ba Chua Xu Temple, Phuoc Dien Pagoda – Hang Pagoda, Thoai Ngoc Hau Tomb,
Hopefully, the above tips will help you to come up with a great plan for your adventure in Chau Doc, An Giang province, Mekong Delta, Vietnam. Have a safe trip!
"Sleep less, travel more, respect more" – Thomas Vietnam – Local travel expert.
Thank you