Visit Chau Doc – Official Chau Doc Travel Guide
Planning a holiday to Chau Doc? Discover top reasons to go, best time to visit, tours and free itineraries, history and hidden gems with the official guide! Find out what to do, where to go, where to stay and what to eat in Chau Doc from the local travel experts who know it best. If you're not able to visit just yet, plan ahead to make the most of your wish-lists.
By Thomas Vietnam at vemekong.com | Official Visitor Guide To Can Tho | Chau Doc | Soc Trang | Ben Tre | Cai Be | Vinh Long | My Tho | Tra Vinh | Sa Dec | Bac Lieu | Ca Mau | Hau Giang
Welcome to Chau Doc, Vietnam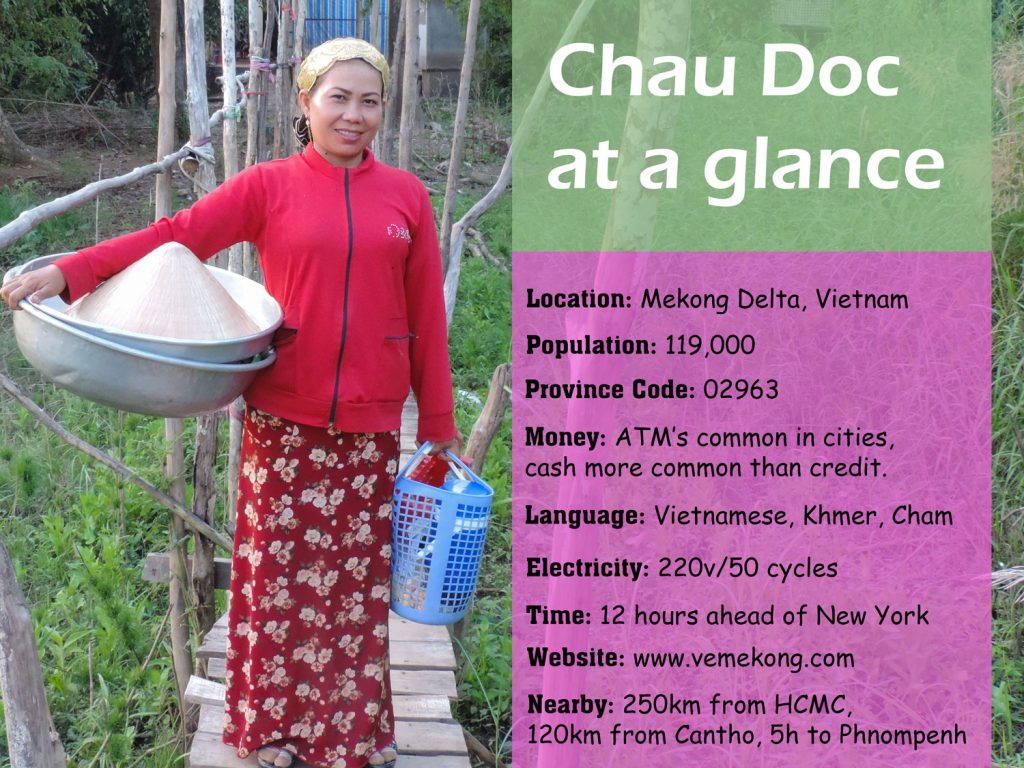 Chau Doc, a transit point to Cambodia, is located in the northwest part of the Mekong Delta, about 250 km west of Ho Chi Minh City and about 120 km from Can Tho City. All tourists who want to visit Vietnam's Mekong Delta and continue the trip to Phnom Penh without coming back to Saigon are highly recommended to stay at least one night in Chau Doc. Since the opening of the borders in 2000 there has been a real boom. Many visitors who travel from Vietnam to Cambodia pass through the nice city. From here, there are daily speedboats from/to Chau Doc to/from Phnompenh Cambodia (approx. 5h). Chau Doc also has Tinh Bien international border (on the mainland, easy for intl tourists to cross) gate to Cambodia as well. Such proximity to Cambodia has nurtured an eclectic mix of Cham, Khmer, Chinese and Vietnamese cultures and historical richness. The local minority groups add colour and variety to the area, this is most apparent in the traditional fabrics and clothes being worn as well as the local architecture. For traveling to Chau Doc, consider the highlights of the National Cultural Relic of The Lady Temple, Vinh Te Canal, Tay An Pagoda, Sam Mountain, Tra Su forest and the floating villages. Chau Doc is just perfect for a spiritual trip, ecotourism and photography tours.
Top Reasons to Go
Chau Doc is a transit point to Cambodia
Chau Doc borders Cambodia directly and therefore also shares a few border crossings that are popular for many travelers who want to visit both countries. Most travelers come from or go to Phnom Penh, which is a little bit more than 100 km from Chau Doc. This route can be done by bus as well as by daily speed boat. Vinh Xuong border crossing (Tan Chau District); Tinh Bien border crossing (Tinh Bien district); Khanh Binh border crossing (An Phu district); Vinh Hoi Dong border crossing (An Phu district). Top Tip: Keep in mind that when you travel from Cambodia to Chau Doc, you must already have a Vietnam visa. You cannot arrange this visa at land border crossings in Vietnam.
Mountain, Forest and Minority
With an area of about 280ha and moderate height of 241m, Sam mountain is a very popular tourist destination that anyone visiting Chau Doc has to visit. Tra Su forest is worth a visit because it is a surprisingly beautiful landscape around 25 kilometers from Chau Doc. Whether you are the person who is interested in watching the bird or just looking for a quiet time in a stunning natural setting. There are a handful of nature reserves and bird sanctuaries. Tra Su is home to a rich array of bird and other wildlife that lives among the canals and cajuput trees. Quietly draped on the banks of Hau River, Chau Giang village with white Mosques as a peaceful place in the opposite of Chau Doc. The Cham minority village named Chau Giang is the largest Cham community in An Giang.
Photography Tours
Chau Doc, An Giang is in the Mekong Delta region of Vietnam. The most interesting photography tour in Chau Doc is the shooting of the Ta Pa huge rice field, a lady with hand-rowing sampan in Tra Su forest, Khmer pagoda, Cham minority, the festival of cow racing in October, sugar palm field during the flood season and Chau Doc river life.
Mekong Delta Cruises
Chau Doc river or Bassac river is the meeting point of the river tributaries of the Mekong river from Cambodia to Vietnam. This town has many domestic and international cruises for tourists who are passionate about exploring nature and the majestic Mekong river. Mekong excursions can last for the day, overnight, or even cross-country between Vietnam and Cambodia and Laos. With the advantage of the mighty Mekong river, more and more tourists choose Chau Doc as the place to start the trip of a lifetime – the Mekong Delta expedition.
Getting here and around
Nowadays Chau Doc is getting easier for everyone to get there and get around. It also means that traveling to the town won't take much sweat, especially when you get here by public bus, car via the highway. We will break this down in detail, so check the information below to choose your best vehicle option.
Air travel: Currently, there aren't any direct flights to Chau Doc. The nearest one is Tan Son Nhat intl airport and Tra Noc intl (Can Tho) airport.
Bus travel: From Ho Chi Minh city to Chau Doc. The best bus company for getting from Saigon to Chau Doc is the Futa Bus Lines company. You can catch a bus from the Western bus station (address: 395 Kinh Duong Vuong, An Lac Ward, Binh Tan District, Ho Chi Minh City) with the time to travel to Chau Doc is 6 hours, to buy tickets or contact system of specialized vehicles running Saigon – Chau Doc route such as: Phuong Trang (futa bus lines), add in Saigon: 272 De Tham, District 1. Tel for booking ticket: 19006067. Once you've arrived at the Chau Doc Bus Station, take a taxi to your Chau Doc accommodation. Or, if taking the Futa bus line, take the complimentary transportation van which goes to certain areas in 10 km distance. For your return trip, you can pre-book your tickets or have your accommodation help reserve the tickets for you. If you choose to do the tour or homestay in Chau Doc, you'll want the bus driver to drop you off at the 30 Thang 4 Park where the catfish statue is and next to the Victoria Chau Doc hotel. The locals from the homestays will arrange to pick you up in a boat when you arrive at the harbor.
Bus travel: From Can Tho to Chau Doc. Take the public bus as Futa bus line. Super easy to have a ticket. This bus is great and new and AC and departs from Can Tho to Chau Doc everyday. The bus ticket is about 120,000 VND. It is about 3,5 hours drive including the rest stop.
Boat travel: Not a public boat yet.
Speed Boat travel: From HCMC to Chau Doc.
Speed Boat travel: From Can Tho to Chau Doc. The charter spped boat is available as a personal requested
Cruises: Many cruises from Chau Doc to My Tho, Can Tho, Phnompenh and upstream and downstream the Mekong river.
Train travel: Not yet.
Bicycle and motorcycle travel: While it's possible to rent a motorbike to explore the Chau Doc city, most visitors choose to utilize the free bicycles offered by most resorts and homestays. The roads are bumpy and occasionally muddy but the distances are relatively short. You'll notice that many of the locals opt to travel by bike as well so you'll be in good company. From HCMC you can find "Thanh Lam motorbike rental shop: Address at No. 17C Nguyen Thi Minh Khai Street, Ben Nghe Ward, District 1, contact: 0902 840 361" or "Style Motorbikes motorbike rental shop: Address at No.42/24 Tran Dinh Xu Street, Co Giang Ward, District 1, contact: 0915.139.796" and "Dragon Bikes motorbike rental shop: Address at No.182/5A De Tham Street, Cau Ong Lanh Ward, District 1, contact: 0909 283 280. Top Tip: Chau Doc has the most beautiful scenes in the Mekong Delta and they are still very original. Renting a bicycle and riding around the streets in the countryside is really an memorable experience.
Ferry travel:
Pedicab ride – Xe Loi ride
Pedicab (or Xe Lôi in Vietnamese): The pedicab service used to be the most common and famous mode of public transportation in the Mekong Delta. Consisting of a normal bicycle with a large two-wheeled trailer attached to it where passengers sit, it is locally known as Xe Lôi or Xe Đạp Lôi. But with the introduction of more modern and even cheaper vehicles for hire recently, the traditional service is in serious danger of being totally obliterated. Chau Doc is the only place to have a Xe Loi ride as a unique experience for both locals and tourists.
Best time to Visit Chau Doc
Chau Doc is located within the climate of a subsolar tropical area, with high and stable temperature as the typical characteristics of the Mekong Delta River climate. The weather is hot and humid throughout the year with an average temperature of 25oC – 29oC. The climate is divided into two distinct seasons: the rainy season from May to November coincides with the South West monsoon, the dry season from December to April next year coincides with the North East monsoon. Chau Doc welcomes you in any season all year round, each of which will certainly offer you specifically different types of pleasure and satisfaction. However, the best time to visit Chau Doc is from September to March. The weather is cool and pretty comfortable, so you can join any activity that you like.
Floating season (September – December): It is the best time to visit Chau Doc and the Mekong Delta region in general. You can go fishing in our traditional wooden boats, discover pristine nature and spend the best time in the amazing Tra Su forest.
Rainy season (May – October): It is not a bad choice when traveling to Chau Doc during rainy seasons since the rains are short and will not affect your trip.
Dry season (January – April): It is hot and dry during this time, however, it is harvesting time here and you can enjoy watching the harvest activities with the locals.
Chau Doc Tourist Attractions
Sam Mountain
With an area of about 280ha and moderate height of 241m, Sam mountain is a very popular tourist destination that anyone visiting Chau Doc has to visit. The mountain is covered with shady trees all year round. In the summer, Sam mountain with the red color of flamboyant flowers nestled among the winding canals around. Sam Mountain is a gathering place for a system of ancient temples, pagodas, and interesting caves, creating a scenic, charming setting in the fertile plains… Read more info & pictures
Tra Su Cajuput Forest
Tra Su Protected and conserved Melaleuca Forest is located in Van Giao Commune, Tinh Bien District, An Giang Province, about over 20km from Chau Doc Town (around 45') and 10km from the Cambodia border, 124km from Can Tho City. To get to Tra Su Cajuput Forest, first go to Chau Doc Town and then turn left about 17km to Nha Bang Town in Tinh Bien District. From there it is only 4km to Cam Mountain, which is right next to the Tra Su Cajuput Forest. Top tip: Most tourists stay overnight in Chau Doc for the following morning on a speed boat to upstream to Phnompenh Cambodia, or they can do the Tra Su forest tour from Can Tho in one day. The best way to experience the key sites of the forest is by using a motor-boat and a sampan (dinghy) as they weave through the forest. It permits a leisurely trip of all the significant sites throughout the ecological forest where have many lotuses, water lilies and water hyacinths…and woo to listen to the magical music as performed by the birds (cormorant, stork, bittern…) of the forest and other jungle insects. Furthermore, passengers also see the stunning duckweed (water lettuce) that blankets the water's surface which looks like an enormous emerald-green. Sometimes, the rowing sampan pauses the boat and shows tourists some huge honey bee hives that rest on the branch of the tree. After a short walk in the middle of the forest there is a 23m bird-watching tower equipped with a telescope. From the tower, visitors see a vast green spread of cajeput trees, birds perched on trees and Sam mountain as well. Top tip: Make sure you visit the forest at the right time, rowing sampan service and lunch are optional and feel free to unuse. Prepare small changes for the telescope if needed. Top Tip: A lady with the hand-rowing sampan in Tra Su forest is the postcard typical image of the Mekong Delta, so be sure to have your camera at the ready… Read more info & pictures
The boat ride from/to Phnom Penh to/from Chau Doc
While there are the obvious environmental benefits of not flying, it's also a much more tranquil way to travel and means you can explore the beautiful greens and river villages of Southern Vietnam, that you might end up skipping if you were to fly straight into slightly further north Ho Chi Minh City. There are a couple of different boat operators serving this route, which takes around five hours. The speed boat leaves just after lunch from Phnompenh (leave at 7am from Chau Doc), with the departure being from the main 'Passenger and Tourist Terminal' in the Phnompenh city (Con Tien ferry station in Chau Doc VietNam), as it's named on Google Maps. Tickets can be purchased at the terminal, or from basically any tourist agent in the city. Booking in advance is highly advisable while the prices are fixed.
Getting a visa for the Phnom Penh to Chau Doc boat crossing
To enter Vietnam from Cambodia on the Phnom Penh to Chau Doc route you'll need to ensure you have your Vietnam visa before departure. The border point on the river is called Vinh Xuong and also Song Tien Landport, as it's a river, but the boats actually rest up at a pier and you walk on land to the check-point to be stamped in – it's Song Tien that is stamped into your passport. There is a small coffee shop here, with a money exchange (don't expect the best rate!). The process is fairly quick, and you are off at once to do this following the stamping out of Cambodia at their Khoorm Som Nor check-point.
The Lady Temple – The Ba Chua Xu Temple
Ba Chua Xu Temple – Located at the foot of Sam Mountain – the main attraction in Chau Doc. The temple was established at the beginning of the 19th century in Vinh Te Hamlet, Chau Doc Town. At first, the temple was made of bamboo. In 1962, it was roofed with double tiles. Then in 1972, it was rebuilt (except the 10 meter-long stone wall at the back, which was the old platform of the tower). The monument was completed in 1976. Ba Chua Xu Temple Festival is held from 23 to 27 of the 4th lunar month. Thousands of pilgrims come to the festival to attend the washing of the statue, to burn joss-sticks, to offer flowers, and to pray for health and luck… Read more info & pictures
Tay An pagoda
Tay An Pagoda is an ancient pagoda with a mixture of Vietnamese and Asian architectural styles in Chau Doc. Lying on one side of Sam Mountain, under the lights looking like a monk dressed in yellow and heading towards the town with a quiet and peaceful atmosphere, Tay An pagoda is really a beautiful sight. The pagoda was constructed in 1847 and has been renovated and repaired many times. In 1958, it was completely upgraded to a total area of 1,250 m2 with nearly 200 statues. The main temple has more than 100 statues each representing the power of Buddhism; the most highlighted statue is a Buddha sitting on the Lotus Tower. It can be said that the solemnity and holiness of Tay An pagoda has become an invisible power, attracting a great number of monks and pilgrims. But the solemn and ancient style of the pagoda and peaceful space are what visitors will never forget… Read more info & pictures
Thoai Ngoc Hau tomb
Thoai Ngoc Hau Tomb is located in front of Ba Chua Xu Temple, which is the biggest monument at the foot of Sam Mountain, 5 kilometers south-west of Chau Doc. The worshiped person, originally named Nguyen Van Thoai (1761 – 1829), was the first man from this area to exploit the virgin soil, establish living settlements, and dig Vinh Te and Thoai Ha channels. He was buried there along with his two wives and a temple in his honor was built in the 1930s. Thoai Ngoc Hau Tomb is a great piece of art of ancient architecture… Read more info & pictures
Phuoc Dien Pagoda – Hang Pagoda
One of the highlights of the tour to Chau Doc – An Giang is climbing over 400 stairs to Phuoc Dien Pagoda which is also Hang Pagoda (Cave Pagoda) on Sam Mountain. The main sanctuary features the statues of A Di Da (the Buddha of the Past) and Thich Ca Buddha (Sakyamuni, the Historical Buddha), while in the caverns and grottoes you'll find a host of deities, including a 1000-arm and 1000-eye Quan Am. There's also a mirror room of Buddhas and an effigy of Bodhidharma, the founder of Zen Buddhism. Hang Pagoda is a community of relics with beautiful architecture, representing the imbuement of the traditional cultural identity of the nation. Carrying the beauties of the ancientness, the seriousness and the majesty, many visitors are impressed and curious because the attachment with the name of Hang Pagoda is a natural cave with many legends transmitted orally in many generations… Read more info & pictures
Vinh Te canal
Vinh Te Canal is an 87-kilometers-long which is the longest and the most important location canal in the southern border of Vietnam during the Nguyen Dynasty, designed to connect two famous tourist spots in the west, Chau Doc city – An Giang province and Ha Tien town – Kien Giang province. This is a significant work in the field of economics and defense, associated with the name of Thoai Ngoc Hau – the worshiped person in the above tomb… Read more info & pictures
Tra Su Bird Sanctuary
Tra Su Bird Sanctuary is worth a visit because it is a surprisingly beautiful landscape around 25 kilometers from Chau Doc. Whether you are the person who is interested in watching the bird or just looking for a quiet time in a stunning natural setting. There are a handful of nature reserves and bird sanctuaries. Tra Su is home to a rich array of bird and others wildlife that lives among the canals and cajuput trees… Read more info & pictures
Tinh Bien Market
Tinh Bien market is a Cambodian/Vietnamese border market in Chau Doc. Goods here are mostly imported goods, the most are goods imported from Thailand and prices are relatively cheaper than goods from many places in the country. On Saturdays and Sundays visitors increase much more, mainly of them are from the Eastern provinces, Ho Chi Minh City and provinces of the Mekong Delta following spiritual tourism, mountainous and border tourism. From Chau Doc Town, it takes about 30 minutes to get to Nha Bang Town. From there, move on about 10 kilometers heading to Xuan To Town to get to the Tinh Bien border gate market… Read more info & pictures
Cam Mountain – Forbidden Mountain
Addressed at An Hao ward, Tinh Bien District, An Giang province, Cam Mountain locates an elevation of 705m above the sea level with a panoramic view on the top. Cam Mountain is considered as a Dalat (a famous highland resort) in the Mekong Delta with such spectacular mountainous terrain. The Great white sitting Buddha statue is the most impressive symbol of the Cam Mountain area. The mountain has a cool climate year-round, original natural sights associated with interesting, heart-warming stories that attract numbers of tourists and vacationers. Cam Mountain cable car has become a new remarkable thing for An Giang tourism and also been a pride of people here. As one of the most expensive tourist destinations of Chau Doc, Cam Mount annually welcomes thousands of tourists to visit. Since it is channeled more capital to the cable car, Cam Mount has become an extremely crowded and attractive destination of the region… Read more info & pictures
Cham Minority Village
Quietly draped on the banks of Hau River, Chau Giang village with white Mosques as a peaceful place in the opposite of Chau Doc. The Cham minority village named Chau Giang is the largest Cham community in An Giang. From Chau Doc city, just over 5 minutes by ferry you are in Chau Giang village. The Cham religion of the coastal Cham is influenced by Hinduism. Beside The Cham people around Chau Doc, represent the mixture between a rustic form of Sunni Islam, due to being come by seafaring Muslim traders in the late 10th and early 11th centuries and immigrated of Muslim Chams from Cambodia to the Mekong Delta in the mid-19th century. Chau Doc is home to diverse ethnic and religious communities where Cambodian Buddhists, Vietnamese Buddhists, ethnic Chinese and Muslim Cham living peacefully side by side… Read more info & pictures
Amazing Chau Doc Mosques
There are many beautiful mosques in the Cham village.
Murabak Mosque: Located in Tan Chau Township, Mubarak Mosque is near Chau Doc City and can be reached by the river. After some minutes on Chau Giang ferry, tourists will see the onion-shaped peak in the distance and crescent moon patterns in – a typical feature of Muslim architecture.
Masjid Jamiul Ahza Mosque: Masjid Jamiul Azhar is one of the oldest and most fabulous mosques in An Giang province, located in Chau Phong commune, Tan Chau town, An Giang province. The Masjid Jamiul Azhar mosque was built in 1959 and upgraded in 2012, and is now under construction and officially opened on 3 August 2014.
Masjid Al Ehsan Mosque: Masjid Al Ehsan was built in 1937. The canals that flow quietly alongside the border town of Chau Doc, are all tributaries which feed the Mighty Mekong River. The Cham Muslim people have made these backwaters their home. The Masjid Al Ehsan lies riverside, the treasured heart of their community. White domed and marble tiled tranquility offers respite from the heat and bustle of the thronging markets that lie on the shores nearby. Masjid Al Ehsan, through whose arched windows one can stare off into the marshy fields of the Mekong, is a destination most worthy!
Chau Doc Floating Market
One of the best highlights to see and do in Chau Doc town is the authentic Chau Doc floating market and hidden gems – small canals. It is just about the traditional and cultural river life in the Mekong Delta now and then. Boat trip is the only way to reach the floating market located in the middle of the Chau Doc river (Bassac river). No worry, it is a very central distance from your hotel. Firstly, you get to Chau Doc riverside park, where basa fish sculpture is. Secondly, you take the boat trip from there, there are small sampan and big boats for a big group. The last, the boat trip, just takes you about 15 minutes from that boat station to the floating market. Top tip: You should hire a boat a day ahead at least, the next early morning is too dark and hurry to have a boat at 5am. As a local expert, we do know that the Chau Doc floating market will be no more after 7am and it is very small and very local, there are about more or less 20 boats and sampans at this market… Read more info & pictures
Chau Doc Floating Village & Fish Farm
Located to the west of Chau Doc city center, about 3 kilometers of riverway in the direction of upstream Mekong River in An Phu district, Chau Doc floating village is a freshwater fish farming village formed in the 60s of the last century. Since it is a tourist spot on the river, it is necessary to take a boat. Therefore, if you want to go to Chau Doc floating village, you must go to Chau Doc junction (about 500 meters from Chau Doc Victoria hotel) or Chau Giang wharf located across Chau Doc town to rent a boat. Boat rentals will have different price levels, depending on the visiting spots and the size of your group. Generally, you can be assured that the price is relatively reasonable. Top tip: Ask the hotel to help you out! If you hire a scooter or bicycle to get around and remember to reach Con Tien bridge which is a fantastic free spot to see the floating village from above… Read more info & pictures
30 Thang 4 Park in Chau Doc
Stretching from the main market to the Victoria Chau Doc Hotel, this park is the city's main promenading spot and a superlative area for river gazing. Sculptures and a fountain are framed by manicured lawns and paths, and if you're interested in getting river-borne, women may approach you here offering rides in small boats.
Chau Doc Cycling Tour
This is a favourite thing to do in Chau Doc, Mekong Delta. While biking or driving a scooter only induces panic and stress in Vietnam's big cities, the bicycle is actually enjoyable in Vietnam's small towns. Be sure to pin your hotel or homestay's location on your map when you embark on your journey: there are a lot of twists and turns to these roads that could get you confused. If you take a ferry to another village, don't be worried if your Google Maps feature just shows a block of green, without mapping any actual roads. Just learn or write down the phrase "Phà ở đâu?" (Where is the ferry?) Show someone this and give them the name and address of your accommodation; that will probably get you where you need to be.
Chau Doc Tours and Free itineraries
As a local travel expert in Chau Doc, here is some options for your Chau Doc discovery:
Itinerary 1: Tra Su Forest Tour From Chau Doc (half day)
Itinerary 2: Chau Doc Floating Market & Small Canals (Half day from Chau Doc)
Itinerary 3: From Chau Doc Tra Su forest tour & drop off Can Tho (full day)
Itinerary 4: Tra Su Forest and Chau Doc Floating Market (full day from Chau Doc)
Itinerary 5: Tra Su forest tour from Can Tho 1 (full day, drop off in Chau Doc)
Itinerary 6: Can Tho Chau Doc Phnompenh (2 days 1 night in Chau Doc and speed boat ticket to Phnompenh Cambodia)
Itinerary 7: Chau Doc Can Tho Vinh Long Cai Be HCMC (2 days 1 night in Can Tho)
If you do not have much time left, it is easy to check out spots in one full day by boat or with bike or with motorbike and car. But there are much more than tourist sites like these in Chau Doc. Make sure you have more time to feel and explore more about the hidden gems and the culture, food, night life, wildlife and forest as well. Top tip: Stay in a homestay nearby, so you have more chances to visit it and surroundings. If you are looking for the package Chau Doc daily tours with local, you can contact www.vemekong.com or Hotline/WhatsApp/WeChat/Zalo +84939888559; email: hello@vemekong.com
Chau Doc Homestays and Hotels
Hang Chau II Hotel, 10 Nguyen Van Thoai, ☏ +84 76 868891, +84 91 3970831, fax: +84 76 865 140, hangchau2agg@hcm.vnn.vn. Good budget option, within walking distance from the market and the river. It's a bit impersonal, with a lack of decorative touches throughout the building, but it also has a stately 1960s ambiance, and the rooms are big. Parking is available. It's a popular destination for tour groups, so check in early.
Trung Nguyen hotel, 86 Bach Dang. Great staff. Rooms are small but very clean, with hot water, a/c, and television.
Motel Number 6 Thanh Mai, 6 Phan Van Vang St, ☏ +84 76 867622. For a budget place, the atmosphere is clean and relaxing. Potential for bus station pick-up and Mekong slow boat/bus trip to Phnom Penh available.
Vinh Phuoc Hotel, 12-14 Quang Trung, ☏ +84 76 866242, +84 76 562265, vinhphuochotel@yahoo.com. A great budget deal, this place is run by an amiable Brit who is an excellent source of local travel information. Free wifi at reception.
Victoria Chau Doc Hotel – 4****, 32 Le Loi, ☏ +84 76 865010, fax: +84 76 865020. A luxury hotel where you'd least expect to find one, with no amenity left behind. Features 92 rooms, 4 suites, and total incongruity with its surroundings. Transfers to Phnom Penh via private speedboat are available. Rooms from USD99-155, river view suites USD144-220.
Victoria Nui Sam Lodge – 3***, Vinh Dong 1, Sam Mountain, Chau Doc City. Victoria Núi Sam Lodge is a beautiful hotel, with a tiered room system which means the views aren't obstructed. Surrounded by rice fields, the views are sublime, especially from the pool area which was the perfect thing to wake up too. Raised up on a hill, it's a truly spectacular setting, and well worth that tiny extra journey out of town. The restaurant was fantastic, as was the breakfast, all accompanied by amazing views – it's also a very reasonably priced hotel. A short journey up from the hotel was a lovely Buddhist temple, where we went to meditate both mornings – such a serene setting.
Murray Guesthouse, address: No.11-15 Truong Dinh Street, Chau Phu B Ward, Chau Doc City, An Giang Province. Located in the city center, Murray Guesthouse takes a 10-minute walk from the banks of the Bassac River. Throughout the house, free Wifi access is available, along with free motorbike parking. The room is simply furnished, which has air conditioning. The guest house is 800 m far away to 30/4 Park and 2 km to Chau Doc Bus Station.
Hung Cuong Hotel – 2**, address: No.96 Dong Da Street, Chau Doc City, An Giang Province. Hung Cuong Hotel is a modern hotel offering air-conditioned rooms with a view of Chau Doc River and offers free Wifi. The hotel has a restaurant, 24-hour reception, and free private parking. The hotel is 500 m away from Chau Doc Market and 84 km from Rach Gia Airport.
Chau Pho Hotel – 3***, address: 88 Trung Nu Vuong Street, Chau Doc City, An Giang Province. Chau Pho Hotel is located at the center of Chau Doc City, just 15 minutes' drive from Chau Pho Hotel to tourist sites and historical – cultural sites such as Sam Mountain, Thoai Ngoc Hau Tomb, Tay An Pagoda, Champa Village, Chau Pho is often chosen for budget foreign tourists for one night stay in Chau Doc.
Chau Doc Markets, Shopping and Souvenirs
Chau Doc Market
Located in Chau Phu A ward, Chau Doc city, An Giang province, Chau Doc market is a tourist destination not to be missed in An Giang traveling journey. The market has a lot of goods, the time to market from early morning to noon. The market is given the name "the kingdom of fermented fish" because half of the stalls in the market sell fermented fish. There are about 30 kinds of fermented fishes with delicious taste including catfish, snakeskin gouramis, snake-head fish, anabas, henicorhynchus and salted melon ones displayed on the counter. Besides the delicious fermented fish, dried fish with hundreds of species are also sold in Chau Doc Market. The famous here are dried catfish, snakes, snakeskin gouramis, loaches, mystuses. In addition to the famous specialties, Chau Doc Market also sells many other items for tourists such as clothes, shoes, hats, wallets, belts, backpacks, bags, masks, etc. You can find many other items if you have time walking around Chau Doc Market. Chau Doc Market is not only a busy market offering the necessary items to local people and tourists but also more meaning. This market is considered one of the tourist attractions in An Giang, attracting domestic and foreign visitors. Here, visitors learn about the culture, habits and ways of living of Chau Doc people in particularity and An Giang people in generality… Read more info & pictures
Mam
"Mam" is a kind of sauce made of fermented ingredients including fish or shrimp. Unlike the more familiar fish sauce, "mam" is powerfully pungent, similar to shrimp paste. Locals often eat "Mam" with rice, vegetables or use it to spice up some dishes. You should go to Chau Doc Market, the busy market with a variety of "mam" for you to choose from… Read more info & pictures
Sugar Palm Fruit
In the trip to Chau Doc, tourists should buy delicious Chau Doc palm sugar fruit as a special regional gift… Read more info & pictures
Tamarind and Rattan Fruit
In Chau Doc, tourists are easily "enchanted" by the fresh and delicious tamarind, which are sold everywhere. Along the roads to Chau Doc, visitors will encounter many fruit stalls selling rattan fruit (also known as Thai rattan), a rare fruit that is only popular in An Giang.
Chau Doc Food and Drink
Chau Doc town is pretty small and about 20 minutes walking to explore the riverside where you may be interested in some floating restaurants from Sunrise, Victoria, Con Tien, Be Noi floating restaurant…Top tip: Take your own insect repellent if you want to have food or drink at the local riverside. We recommend you have food near or in your hotel. Set up the alarm or hotel morning call for your early trip if needed… Read more info & pictures
Thanh Tinh restaurant
Thanh Tinh restaurant on 13 Quang Trung (close to the indoor market). 06:00-21:00. A nice and clean local restaurant that serves vegan food. Friendly and English-speaking staff. They can also prepare take-away meals.
Bay Bong restaurant
Bay Bong restaurant on 22 Duong Thuong Dang Le (with the indoor market on your right hand side, continue until you can only go left or right; go right there and you'll eventually see it on your left), ☏ +84 76 867 271. Good food with a very long menu; locals and visitors eat here. The atmosphere isn't particularly romantic.
Chau Giang Floating Restaurant
Chau Giang Floating Restaurant on Trần Hưng Đạo street. You can get a cheap drink with a great view of the river at the Chau Giang Floating Restaurant, on the pier at the opposite end to the Victoria Hotel, near the Hang Chau ferry office
Chau Doc Street Foods
Also like other cities in the Mekong River Delta area, Chau Doc also have its many different traditional and special food which is created and cooked directly by the locals at here, and arrival here we should not miss the dishes such as Com Tam (rice) this is one kind of rice but it is cooked very differently and specially, it is eaten with many different meats and vegetables, you should try this kind of food in Ly Tu Trong street because this street offer this kind of food is the most delicious. The second special food which we must list is Bun Ca (the soft noodle is cooked with fish), you should try this food at the area which is located nearby Bo De temple, this place offers the best of this kind of special food. Another famous food in this city, we also should try other dishes in this city such as Lau Mam, Lau Trau, Bo Bay Mon, Xoi Phong, Bun Nuoc Ken, Banh Bo….. Banh bo cake of Chau Doc is a mixture of flour, milk and sugar which is made from palm trees which help make a mouthwatering smell. The cake costs about VND 5000 (USD 0.2) per unit. The cake has a crispy outer ring and a soft inner layer. You should not miss this specialty during your trip to Chau Doc.
Ta Pa rice fields
Ta Pa huge rice fields are the most beautiful rice fields in the Mekong Delta. The palm trees that stand between the fields make this a beautiful and iconic image. You can find them about 40 kilometers from the city and can be perfectly combined with Sam Mountain and Tra Su which can be found along the way… Read more info & pictures
Long Xuyen floating market
The capital of An Giang Province is Long Xuyen, a town located nearly 60 kilometers from Chau Doc. Early every morning you will find the Long Xuyen floating market here, so if you want to visit it, it is best to be in this city the day before. Boat trip is the only way to reach the floating market located in the middle of the Long Xuyen river. No worry, it is a very central distance from your hotel. Firstly, you get to Long Xuyen market on the mainland, where O Moi ferry station is. Secondly, you take the boat trip from there, there are small sampan and big boats for a big group. The last, the boat trip, just takes you about 10 minutes from that boat station to the floating market. Top tip: You should hire a boat a day ahead at least, the next early morning is too dark and hurry to have a boat at 5am… Read more info & pictures
Tuc Dup Hill
For those interested in the Vietnam War, Tuc Dup Hill is worth a visit. It is also referred to as the 2 Million Dollar Hill because the Americans are said to have used $ 2 million in bullets and bombs to target this hill. This was because the Viet Cong fought heavily here during the American attack that lasted four months. There is little to see now, but near this hill you will find a cemetery and memorial… Read more info & pictures
Chau Phu Temple
Dinh Chau Phu (Chau Phu Temple) represents the essence and the typical architecture bearing a bold imprint of the Nguyen dynasty, and the traditional style of the communal village of South Vietnam. So, Chau Phu Temple was the decision of the Ministry of Culture to recognize national architectural monuments in 1988. Every year, the temple holds a ceremony on Nguyen Huu Canh death's anniversary on the 10th and 11th of May according to the lunar calendar and celebrates the death anniversary of Thoai Ngoc on June 6 of the lunar calendar. Every festival attracts crowds to worship. Dinh Chau Phu is on Tran Hung Dao – Nguyen Van Thoai Street (Chau Phu A Ward), worshiping Cardinal Nguyen Huu Canh. He was the one who made many great achievements and was conferred the title by the king dynasty: Admiral Marshal of the Spirit, Noble God, the Nation of the Gods and Feast.
Ba Chuc Tomb – Ba Chuc Crypt
Ba Chuc's memorial, 40 km south of Chau Doc, stands as a ghastly reminder of the horrors perpetrated by the Khmer Rouge. Between 18 April and 30 April 1978, the Khmer Rouge killed 3157 villagers here, leaving only two survivors. The memorial consists of two parts: the ossuary housing the skulls and bones of more than 1100 victims; and the memorial room next door, displaying wrenching post-massacre photos. Between 1975 and 1978 Khmer Rouge soldiers regularly crossed the border into Vietnam and slaughtered innocent civilians. Over the border, things were even worse, with nearly two million Cambodians killed during the period of Pol Pot's Democratic Kampuchea regime. In the ossuary, designed to resemble a flowering lotus, the skulls and bones are divided by age group (including the minute skulls of toddlers and babies) and gender. This collection resembles Cambodia's Choeung Ek killing fields, where thousands of skulls of Khmer Rouge victims are on display, but as it's clean, sterile and well lit, with a spot to leave offerings in the centre, it appears almost cheerful compared to what confronts you next door. The memorial room showcases the weapons used by the Khmer Rouge (knives, bayonets and cudgels) and sticks used for torture, particularly of women. Many of the Ba Chuc victims were tortured to death. The photos are for strong stomachs only. The bottoms of walls at the Phi Lai Tu Temple behind the memorial room are still stained dark with the blood of the slain; more than 300 villagers were slaughtered inside. The Vietnamese government might have had other motives for invading Cambodia at the end of 1978, but certainly outrage at the Ba Chuc massacre was a major one. Ba Chuc is 4km south of the road running parallel to the Cambodian border between Ha Tien and Chau Doc. The site was extensively renovated to mark the 40-year commemoration of the massacre in 2018… Read more info & pictures
Chau Doc History and Culture
Chau Doc History
Chau Doc Nightlife
Chau Doc Festivals, Sports and Outdoor Activities
Cow Racing Festival
If tourists visit Chau Doc in the period of Sene Dolta Day of Khmer People in Mekong Delta (from the 9th to the 10th day in Lunar Calendar), they can participate in the Cow Racing Festival. This festival has existed for a long time in the Seven Mountains Region of An Giang Province with the purpose of expressing gratitude toward ancestors. The unique and interesting point of cow racing is that two cows are tied by a special rake. After the signal whistle of the referee, the driver will hit into the cows' asses with a tow. However, this driver must be very skillful in hitting two cows with the same energy to make them run with the same speed. According to the rule, a pair of cows running out of the racing course must get out of the competition. In addition, the driver must stand steadily on the rake because falling out of the rake will be considered a loser. The pair of cows trampling on the rake of the front pair will be the winner. During the race, pairs of cows and their drivers are always encouraged and urged by the inspiring and exciting atmosphere of simmering cheers and applause. Coming to the Cow Racing Festival, tourists will experience unique cultural festivals which can only be seen in Vietnam's Mekong Delta… Read more info & pictures
Chau Doc Health and Safety
Dos and Don'ts for Your Trip to Chau Doc
Practical tips: Ways to save, Internet, Water, Learn a little Vietnamese and pro Tips
Ways to save:
Stay somewhere with free breakfast. Many budget hotels offer free breakfast to guests.
Eat street food. Food stalls are cheap and plentiful and are a great place to try regional specialities.
Travel by bicycle/motorbike. These two-wheeled bikes are among the cheapest ways to get around Can Tho and Mekong Delta region.
Stick to free attractions. If you're really tight for cash, attractions such as markets cost nothing.
Chau Doc group tours. If you want to see and learn as much as possible with your limited time.
Internet:
Free Wi-Fi can be found everywhere from hotels to coffee shops. If you are from the EU you should be able to use your own data plan too. Or contact the hotel for the sim card.
Water:
Tap water is supposed to be safe but I advise against drinking it. It's just not worth the risk. My advice is to use bottled water and save yourself from unexpected stomach problems.
Learn a little Vietnamese:
Sure, you can get by with just speaking English, but trying to speak the local language opens you up to much more polite & meaningful interactions with people. Even if you are not perfect or you make a mistake, your effort is appreciated. At a bare minimum: Hello = xin chao (sin chow), yes = dạ vâng, no = không (khom), thank you = cám ơn (kahm uhn), I'm sorry = tôi xin lỗi (toy sin loy), no problem/you're welcome = không có gì (khong koh zi), goodbye = tạm biệt (tarm byeet), I'm vegetarian = tôi ăn chay (toy an chayh), How much? = bao nhiêu? (baow nyew), spicy/hot (cay), Oh My God (ôi..choy…oi…).
Pro Tips:
Best time to visit Chau Doc floating market, Long Xuyen floating market is from 5:30am-6:30am. I hope you have an amazing sunrise on the Mekong Delta river.
You can stay in a homestay which is near the floating market, this will help you out the best option. Then you can hire a scooter, car or bike and explore it by yourself, but you still need to hire a boat for the floating market tour.
If you plan to extend your travel to Chau Doc homestay, do not forget to bring mosquito repellent cream.
Visit Chau Doc or do any customized tours, please choose reputable providers with boat trips equipped with lifebuoys, jackets, motorcycle and cycling tours with the helmets and. Safety is a priority! Choose Chau Doc responsible tours which help you give back while traveling. It's a cliché, but it's true.
Chau Doc food & drink guide ranges from street food, authentic, fancy to fusion foods. As a tropical land of many fresh vegetables and homegrown gardens, which always make Chau Doc cuisines fresh, close to nature and very traditional. If you are a food lover, don't hesitate to put other bites onto your food lists such as Bun Ca Chau Doc (the soft noodle is cooked with fish), Banh bo cake of Chau Doc, Sugar palm fruit, Caramelized and Braised Catfish, Grilled Rice-field Rat with Salt and Chili, Long Xuyen Broken Rice, Nui Cam Pancake, O Thum's Chicken Grilled with Lime Leaves, Sour Soup with Siamese Mud Carp Soup & Sesbania Flower, Stir-fried Shrimp with Sesbania Flower, Phu Huong Beef Noodle Soup, Basa Fish Hotpot, Mam (Fermented Fish)…
Bring your hat, sunglasses, and sunblock, scarf to wear when visiting temples, pagodas, and the cathedral.
Bring the raincoat if you're planning a trip to Chau Doc in the rainy season, as Chau Doc always looks fantastic in the full rain and full sun.
Chau Doc tourist attractions are magnificent itself, but if you have enough time, don't forget to put other places onto your bucket lists such as Tra Su Cajuput forest & Birdwatching, Chau Doc Floating Village, Fish Farm & Cham Minority Village, Chau Doc floating market & small canal, Sam mountain, Tuc Dup hill, Chau Doc river tour, Chau Doc cycling tour, Chau Doc photography tour, Ta Pa Rice Fields, Vinh Te Canal, Seven-Mountain Ox Racing Festival, Tay An Pagoda, Chau Doc Market, The Lady Temple – The Ba Chua Xu Temple, Phuoc Dien Pagoda – Hang Pagoda, Thoai Ngoc Hau Tomb,
Hopefully, the above tips will help you to come up with a great plan for your adventure in Chau Doc, An Giang province, Mekong Delta, Vietnam. Have a safe trip!
"Sleep less, travel more, respect more" – Thomas Vietnam – Local travel expert.
Thank you