Tra Su Cajuput Forest Vietnam – Chau Doc Travel Guide
Endowed with not only natural beauty but one of the area's most peaceful spots which belongs to the national specialized forest system in Southern Vietnam. In the Mekong Delta, Tra Su cajuput forest Vietnam is an ideal destination for ecological and scientific researchers, nature lovers and those who love wild animals thanks to its wonderful diverse wildlife.
By Thomas Vietnam at vemekong.com | An Giang Travel Guide
1. Best months to Visit Tra Su Melaleuca Forest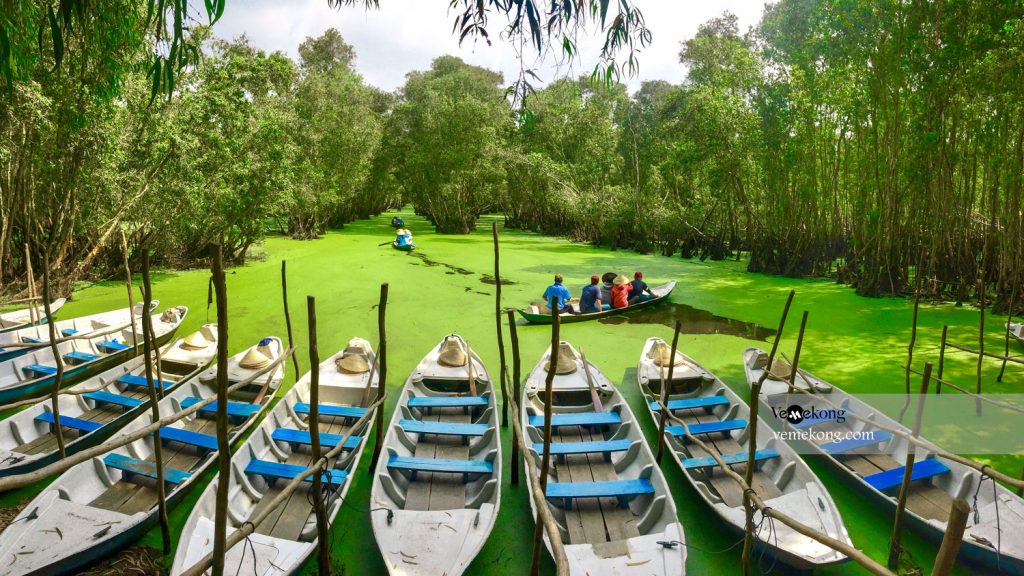 It is a great time between September and November during the annual flood season in the Hau River, a tributary of the Mekong (Cuu Long) River to visit the Tra Su cajuput forest which is 845ha submerged forest. When water covers the whole area of the forest, this gives this destination such unforgettable landscapes. For other times of the year, especially during the dry season, visitors can only access a few sites of the forest and there are strict rules for fire prevention… Since 1999 the forest has attracted tourists. However, it wasn't until 2005 tourism activities officially took place. Every year, the forest welcomes thousands of visitors. Top tip: The first week of November is top-notch.
2. Is Tra Su Forest on the way to Can Tho, Ha Tien, Chau Doc, Combodia?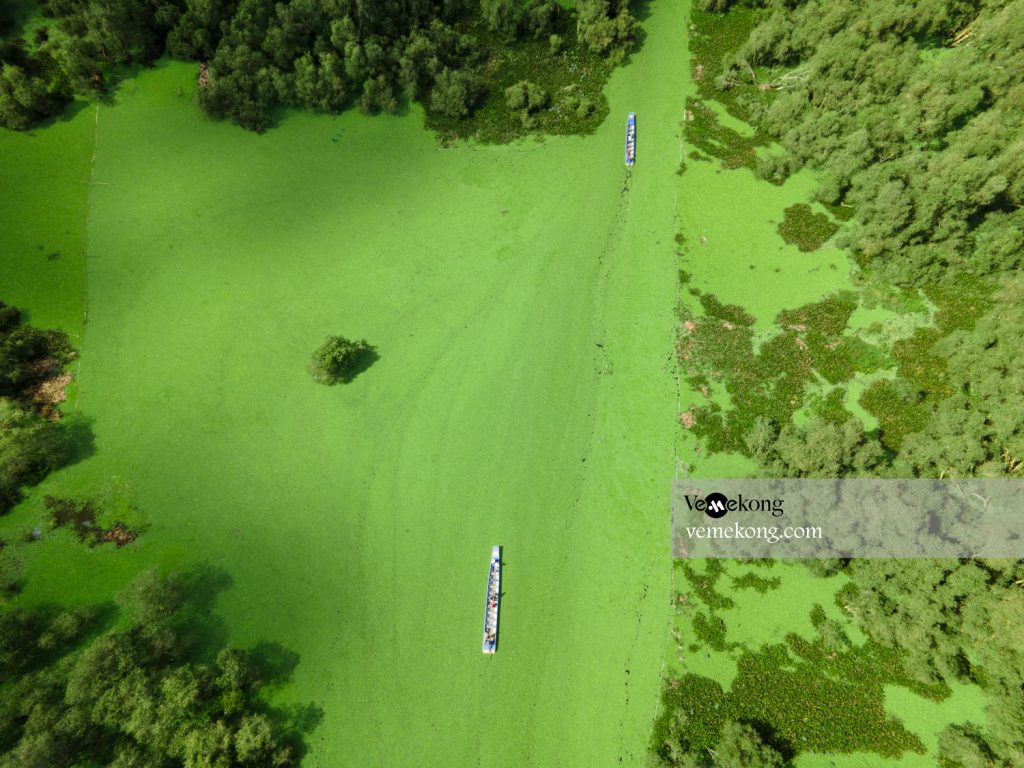 Tra Su Protected and conserved Melaleuca Forest is located in Van Giao Commune, Tinh Bien District, An Giang Province, about over 20km from Chau Doc Town (around 45') and 10km from the Cambodia border, 124km from Can Tho City. To get to Tra Su Cajuput Forest, first go to Chau Doc Town and then turn left about 17km to Nha Bang Town in Tinh Bien District. From there it is only 4km to Cam Mountain, which is right next to the Tra Su Cajuput Forest. Top tip: Most tourists stay overnight in Chau Doc for the following morning on a speed boat to upstream to Phnompenh Cambodia, or they can do the Tra Su forest tour from Can Tho in one day.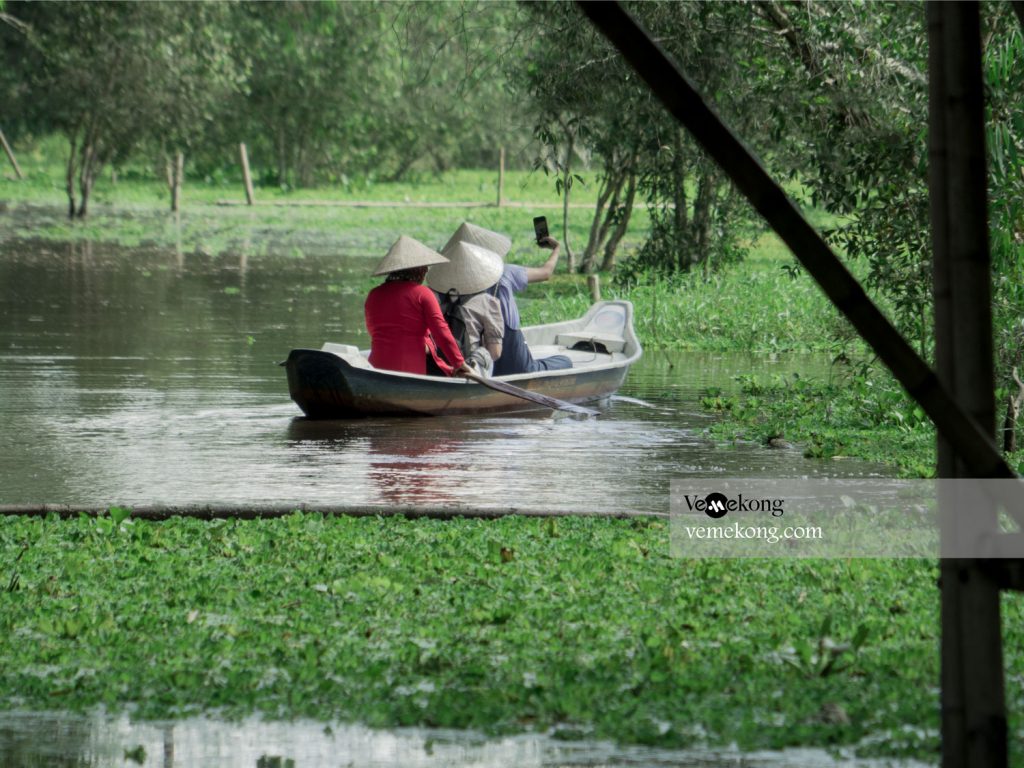 3. Tra Su Travel Blog and Helpful Tips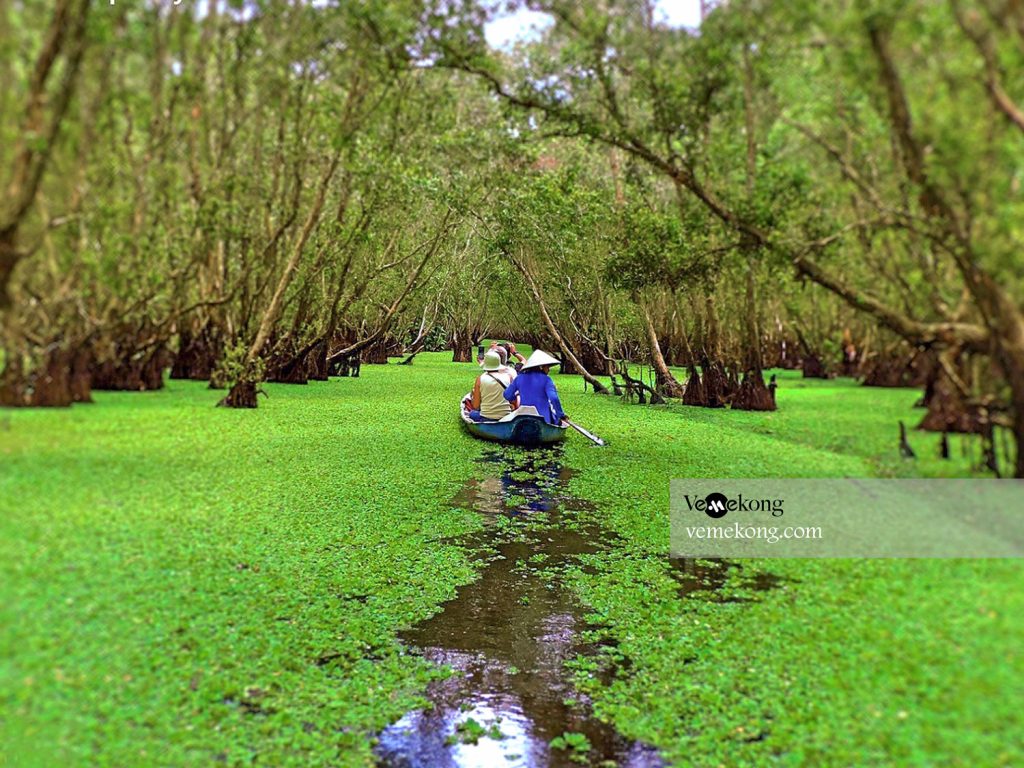 Book Chau Doc Daily Tours:

Tra Su Forest Tour from Chau Doc half day

Tra Su Forest & Chau Doc Floating Market

Chau Doc Floating Market & Small Canal

Tra Su Forest Tour from Chau Doc & Drop off in Can Tho

Tra Su Forest Tour from Can Tho & Drop off in Chau Doc or Can Tho

Hotline/WhatsApp/WeChat/Zalo +84939888559

hello@vemekong.com
The best way to experience the key sites of the forest is by using a motor-boat and a sampan (dinghy) as they weave through the forest. It permits a leisurely trip of all the significant sites throughout the ecological forest where have many lotuses, water lilies and water hyacinths…and woo to listen to the magical music as performed by the birds (cormorant, stork, bittern…) of the forest and other jungle insects. Furthermore, passengers also see the stunning duckweed (water lettuce) that blankets the water's surface which looks like an enormous emerald-green. Sometimes, the rowing sampan pauses the boat and shows tourists some huge honey bee hives that rest on the branch of the tree. After a short walk in the middle of the forest there is a 23m bird-watching tower equipped with a telescope. From the tower, visitors see a vast green spread of cajeput trees, birds perched on trees and Sam mountain as well. Top tip: Make sure you visit the forest at the right time, rowing sampan service and lunch are optional and feel free to unuse. Prepare small changes for the telescope if needed.
4. Amazing Video flycam/drone of Tra Su Forest (4k)
If a picture says a thousand words, it stands to reason that the video says many times more.
Embedded slot
5. Worth Birdwatching in Tra Su Forest?
Birdwatching or birding in Mekong Delta, Tra Su forest is the most beautiful place for birding in the early morning and afternoon, in the dry and the wet season. Scientists estimate that it is home to over 70 species of birds, including 2 very rare species of Giang sen (Mycteria leucocephala) and the Dieng Dieng (Anhinga Melanogaster) and the most endemic species of any country in southeast Asia. Top tip: Contact vemekong.com for a perfect birdwatching tour.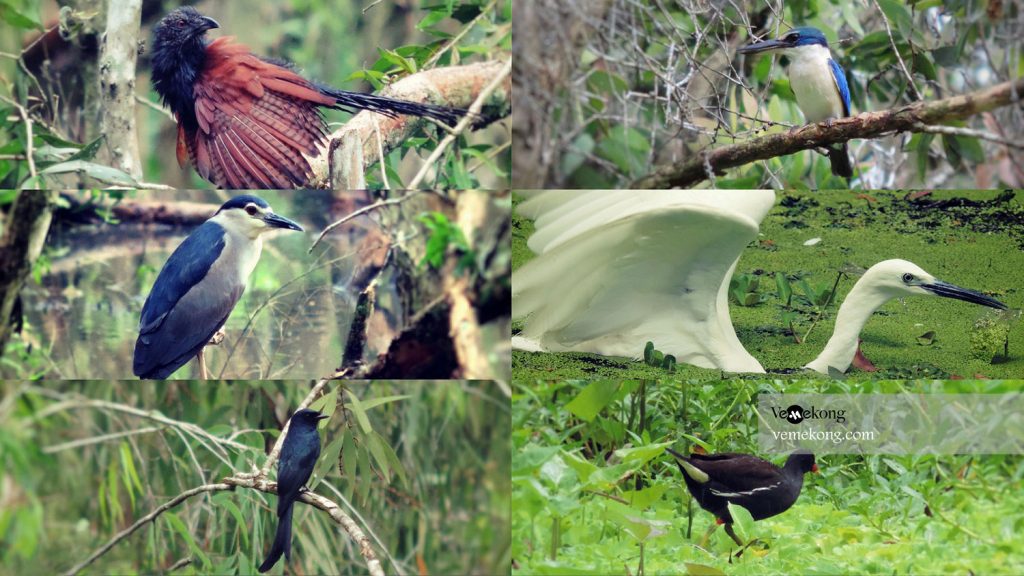 6. Google Maps of Tra Su Capujut Forest
Google Maps made a name for itself helping people travel from one place to another, avoid traffic (You probably know the route from your hotel to the gas station by heart, but what you can't be sure about is gridlock), measure a distance, get back to the hotel on time, share the location…
Embedded slot
7. Hotels in Tra Su Forest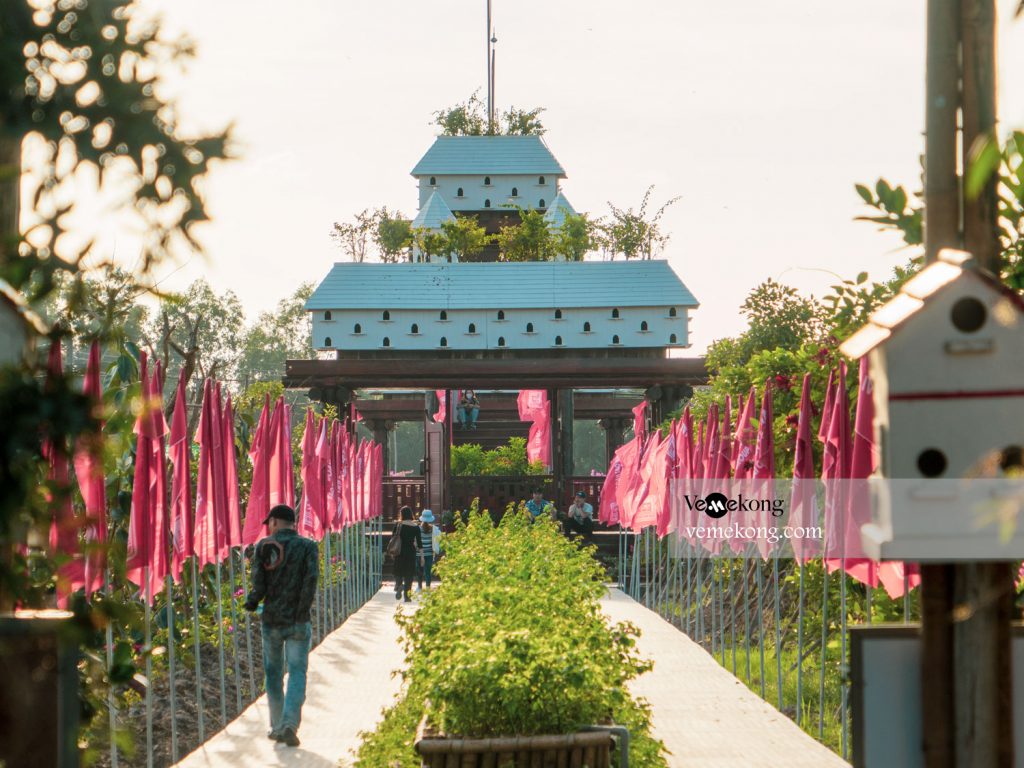 There are some local motels, guest houses in front of the entrance of Tra Su forest. You absolutely enjoy staying with locals, they are so sweet and hospitable, I mean the locals there are still not really about tourism yet! I love visiting the border agricultural market with them, i love the tasty fresh food as well which is from the garden, river and nature and local. Top tip: Not a fancy hotel in Tra Su forest yet. Just local guest houses. Bring your own insect repellent and cash.
8. Conquer the Longest Bamboo Bridge in Tra Su Forest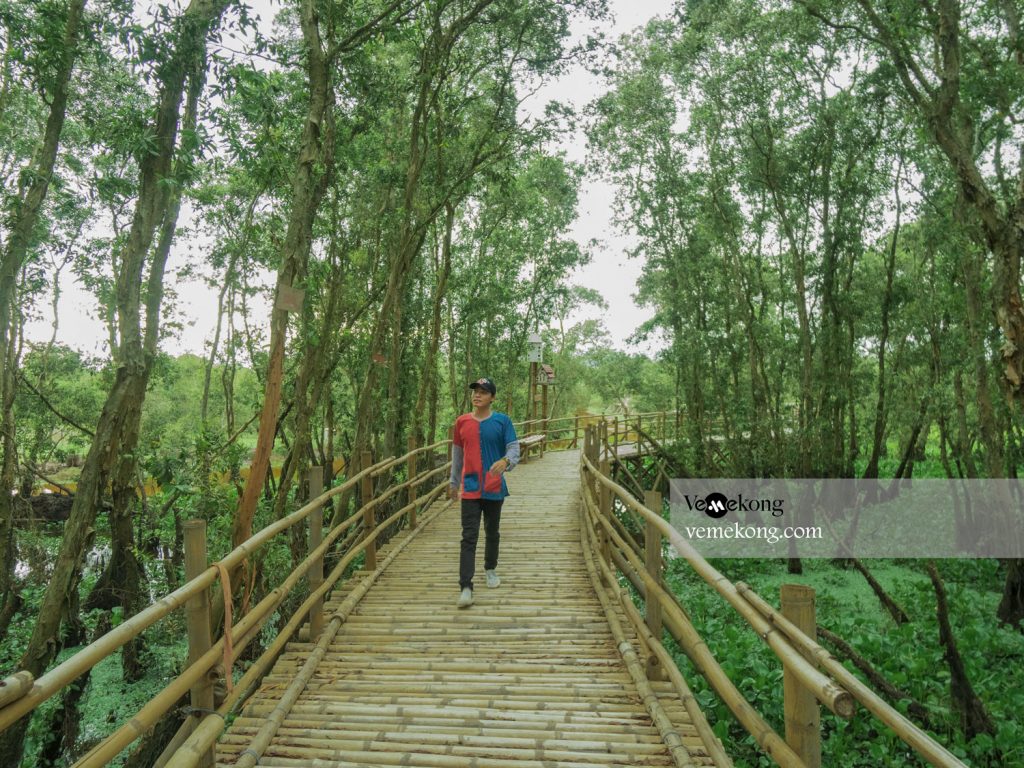 At the beginning of 2020, Tra Su forest officially offers the longest walking bamboo bridge in the forest in Vietnam which is about 45 minutes to an hour of one-way walking in the middle of nature. The bridge and the forest bring a super cool and beautiful experience to any visitors from 2020 with the ticket of VND 200.000pp (Entrance ticket: VND 100.000pp; Boat: VND 50.000pp; Rowing sampan: VND 50.000pp). Top tip: The one-way bridge, no exit. Take a poncho or umbrella in case of rain. The bridge is not for wheelchairs or strollers.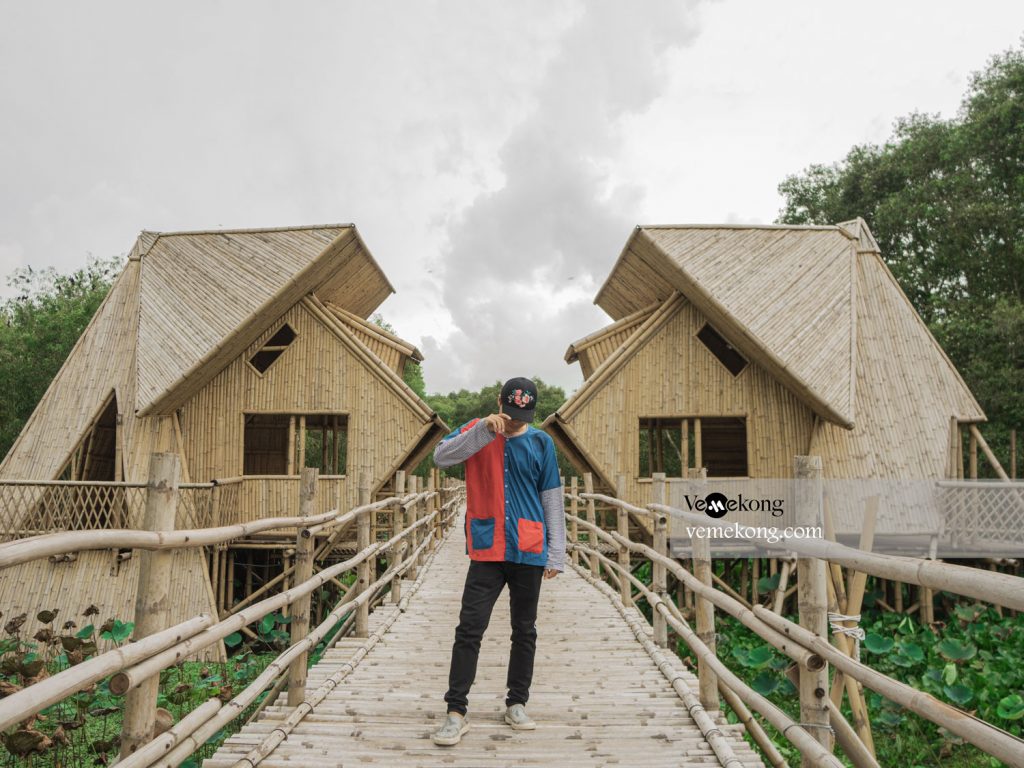 9. Tra Su Forest Tour from Can Tho or Chau Doc or Ha Tien
Book Chau Doc Daily Tours:

Tra Su Forest Tour from Chau Doc half day

Tra Su Forest & Chau Doc Floating Market

Chau Doc Floating Market & Small Canal

Tra Su Forest Tour from Chau Doc & Drop off in Can Tho

Tra Su Forest Tour from Can Tho & Drop off in Chau Doc or Can Tho

Hotline/WhatsApp/WeChat/Zalo +84939888559

hello@vemekong.com
If you have a limited time for the Mekong holiday, no time for the Chau Doc overnight tour. From Can Tho, you absolutely can take a day-trip-tour to Tra Su forest. Please, be aware that the 128km one-way drive may give you a consideration (about 3-3,5 hours). But if you have one full day to do and see in Mekong. Tra Su forest is a place worth visiting. Top tip: Saving time and Chau Doc hotel to do a day-round-trip from Can Tho is a great plan. Contact vemekong.com for more tour details and fantastic activities.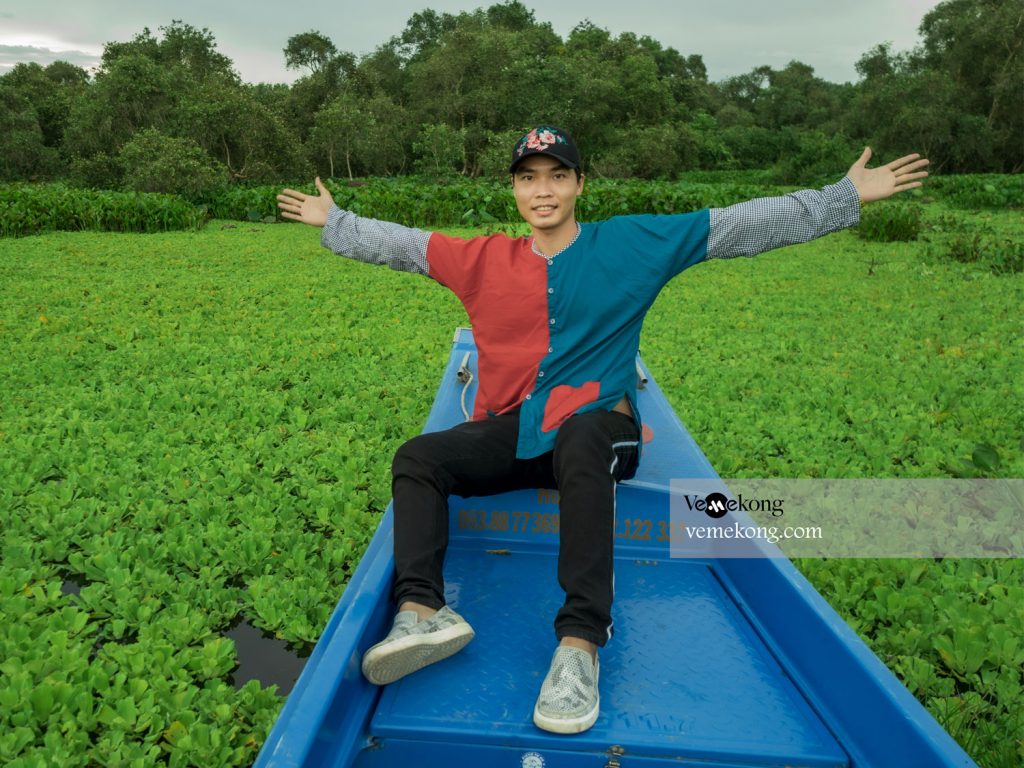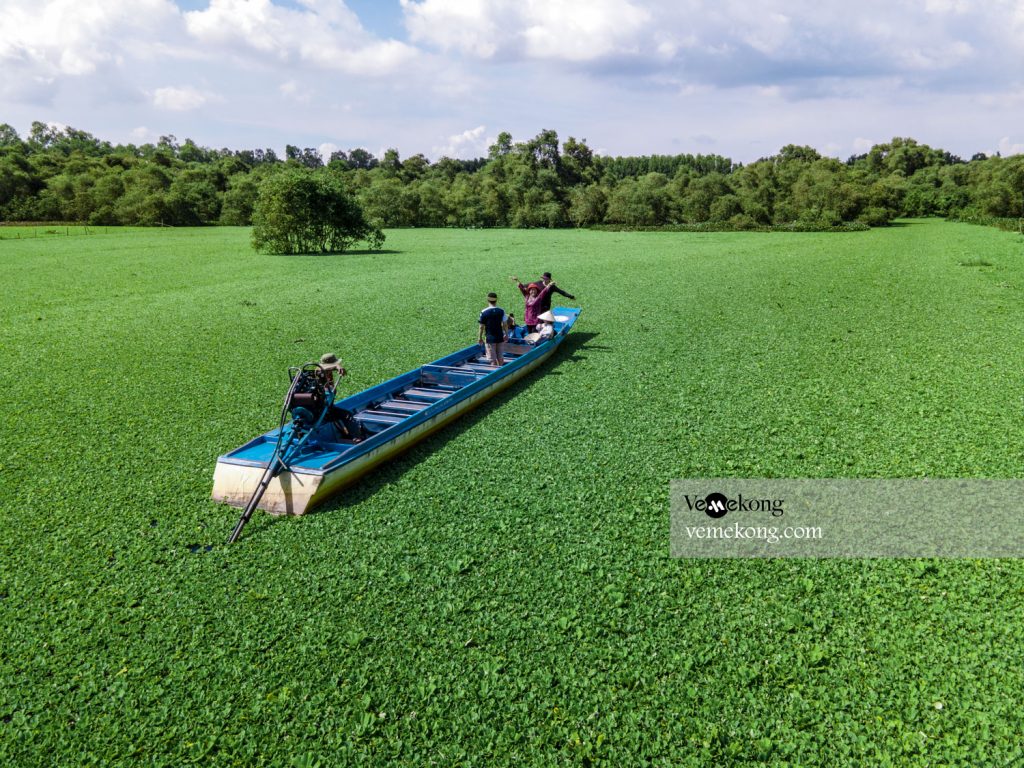 10. Is it safe to visit it during the wet season?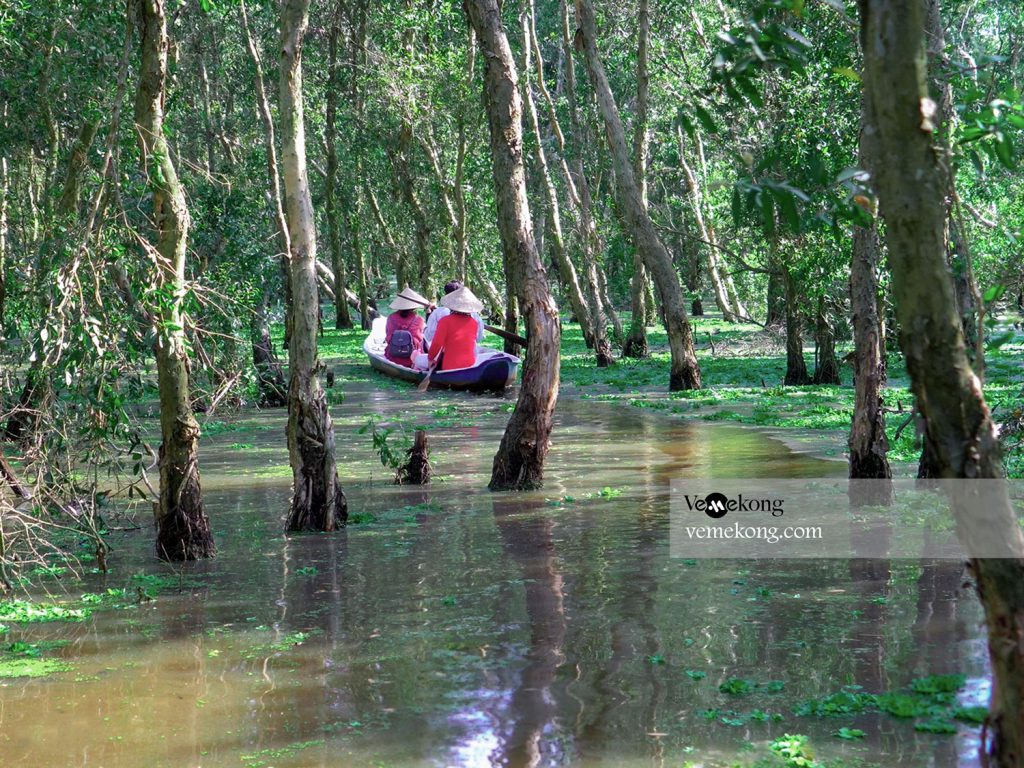 Totally fine! The forest opens all year round! There are even more elements to see during the wet time! As a real traveller, we believe that you will love nature at any time of the year. Top tip: Bring your camera and tele lens for some shots of local life during the flooding season.
11. The Solo Travel Guide to Tra Su Forest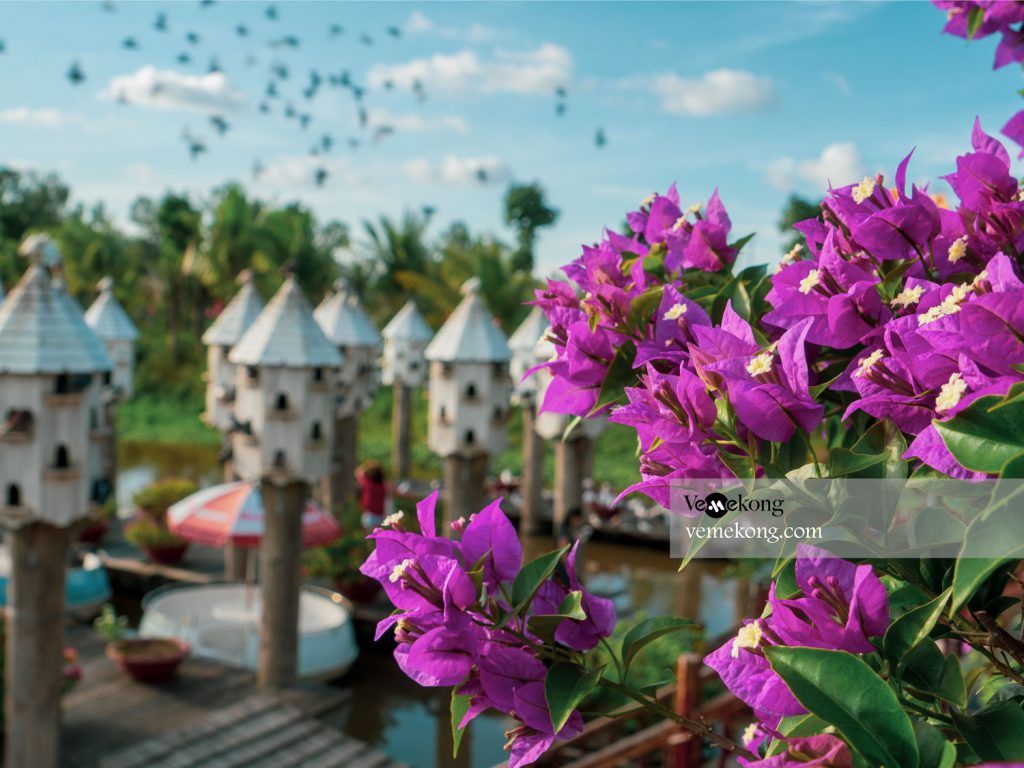 Visiting Tra Su forest by yourself is very ok. Budget travellers and adventure tourists can reach and visit the forest by motorbike as well. If you can, we do recommend doing so, because Chau Doc motorbike tours or Can Tho motorbike tours are very chill and off the beaten paths and can stop any time you want. You will enjoy it much more than other ways. Making it in the dry season will help more. If you have no guided tour, you are fine to explore Tra Su forest, get the ticket for entrance and follow the staff's advice. Sometimes it takes more time to work out how to spend time in each spot. We may share your our agenda like (1) buy the ticket at the main station, cross the entrance bridge and keep exploring the walking bamboo bridge, about 45 minutes to an hours, (2) arrive in the middle of the forest, up to the watching tower and take a rest there with panorama mountain and forest views, the local restaurant is next to the observation tower, (3) you may order food or drink there, lunch there, chill, restroom…(4) Experience the rowing sampan which give you a closer feeling of the nature, (5) take the boat trip back to the main station or take bamboo walking bridge again and enjoy more birding. Top tip: Have "english speaking" staff at every spot! Ask and smile and Thank You will help! The wifi and internet in the forest is not stable enough to use translation apps. Take some water if you want to walk all the time!
Book Chau Doc Daily Tours:

Tra Su Forest Tour from Chau Doc half day

Tra Su Forest & Chau Doc Floating Market

Chau Doc Floating Market & Small Canal

Tra Su Forest Tour from Chau Doc & Drop off in Can Tho

Tra Su Forest Tour from Can Tho & Drop off in Chau Doc or Can Tho

Hotline/WhatsApp/WeChat/Zalo +84939888559

hello@vemekong.com
12. The Cheapest Way to Visit Tra Su Forest from Chau Doc, Can Tho, Ha Tien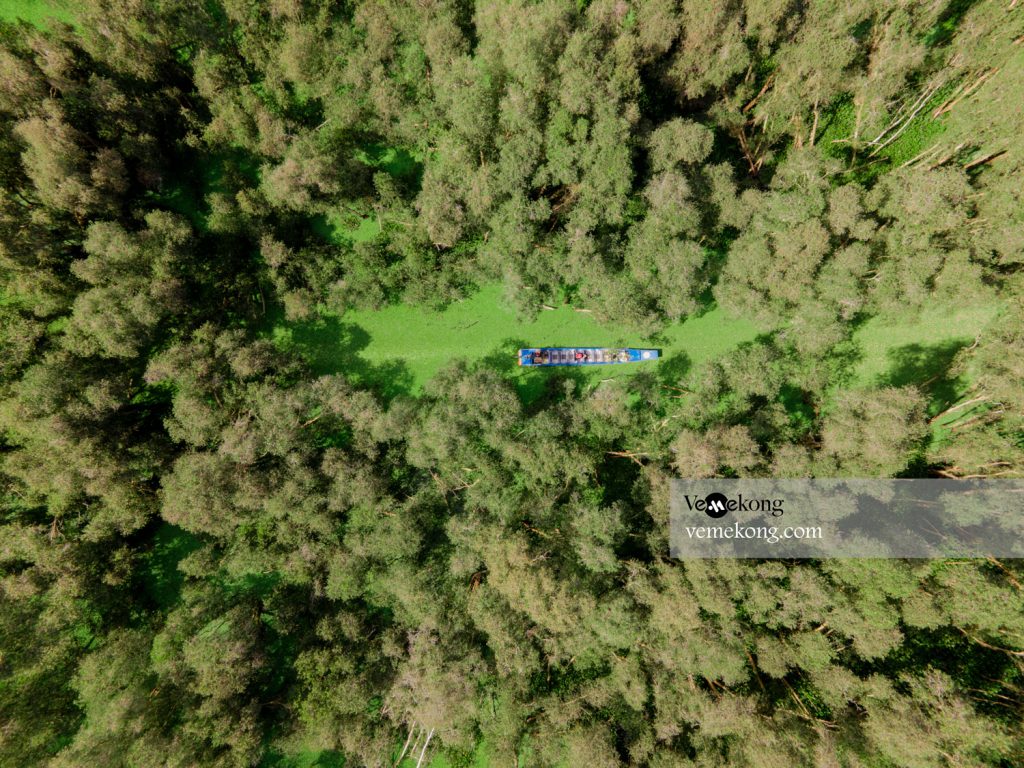 From Chau Doc. You can hire a bicycle or motorbike and get to the forest by yourself. With this way, you only pay for the Chau Doc bike rental and gas and forest entrance ticket. Or hire a car and driver to the forest for a half day trip. Or book a guided tour from Chau Doc town.
From Can Tho. You can hire a bicycle or motorbike and get to the forest by yourself. But it is 128km away. It is better to hire a car to visit the forest, this option is much cheaper than the guided tour from Can Tho, because of the long drive and full guided services.
From Ha Tien. If you plan to get to Can Tho from Ha Tien, then Tra Su is a must stop-over for you. Instead of hiring a private transfer, you should combine the Tra Su forest from Ha Tien to Can Tho City or the other way round.
Top tip: You should update and chat with free local advice at vemekong.com to maximize your travel plan cheaper, better and smarter.
13. What to see along the way to Tra Su Forest?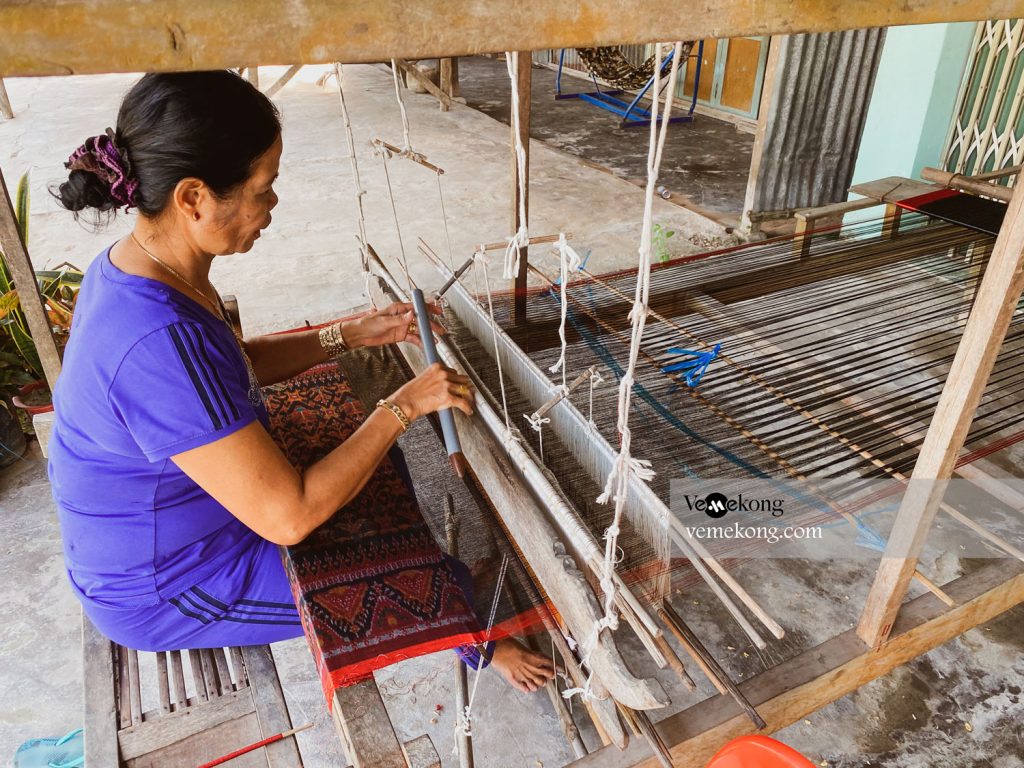 Depending on what means of transportation you have! You book a tour, then follow it. But if you hire your own car, motorbike. You may see something more.
From Can Tho to Tra Su forest, there are so many hidden gems to unlock. Binh Thuy ancient house, Bang Lang stork garden, Long Xuyen floating market, crocodile farm, Chau Doc fish farm, Cham ethnic village, hidden Khmer pagoda, Khmer villages, sugar palm farms and your time!
From Chau Doc to Tra Su forest, you can explore rice fields, dykes, Khmer minority and pagodas, local life, cave pagoda, Xu lady temple…
Top tip: The more you stop the more you love. Make sure you have time as well!
14. What to Eat, Drink and Shop in Tra Su Forest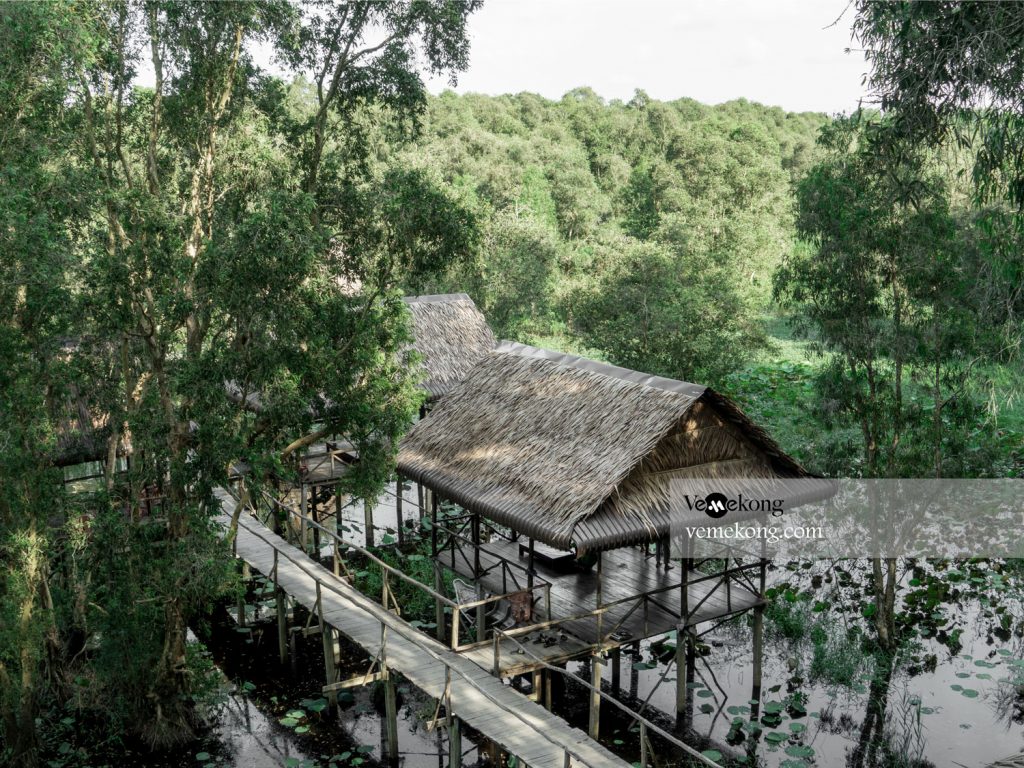 You will pass by many sugar-palm farms where the local and Khmer ethnic groups are. You can have a glass of sugar palm and interact with the locals too. The taste of sugar palm is like young and sweetie coconut flesh. On the way to the hidden Khmer pagoda, you will see Van Giao traditional brocade weaving village where you can take time to explore and shop and support the small ethnic. Basa fish, cat fish, Mekong River specialties, rice rats (taste like… rabbit?), snakehead fish, frog, sesbania sesban flower – bong dien dien, water lily, river morning glory…are some "wild" foods you may give a try at the local restaurant in Tra Su forest and nature. Top tip: We love fish and veggies and quite like fried frog legs. There is no power for a fan because of fire prevention rules, so you may find yourself a reason to love the natural winds while eating there.
15. What Should you Wear to the Tra Su Forest?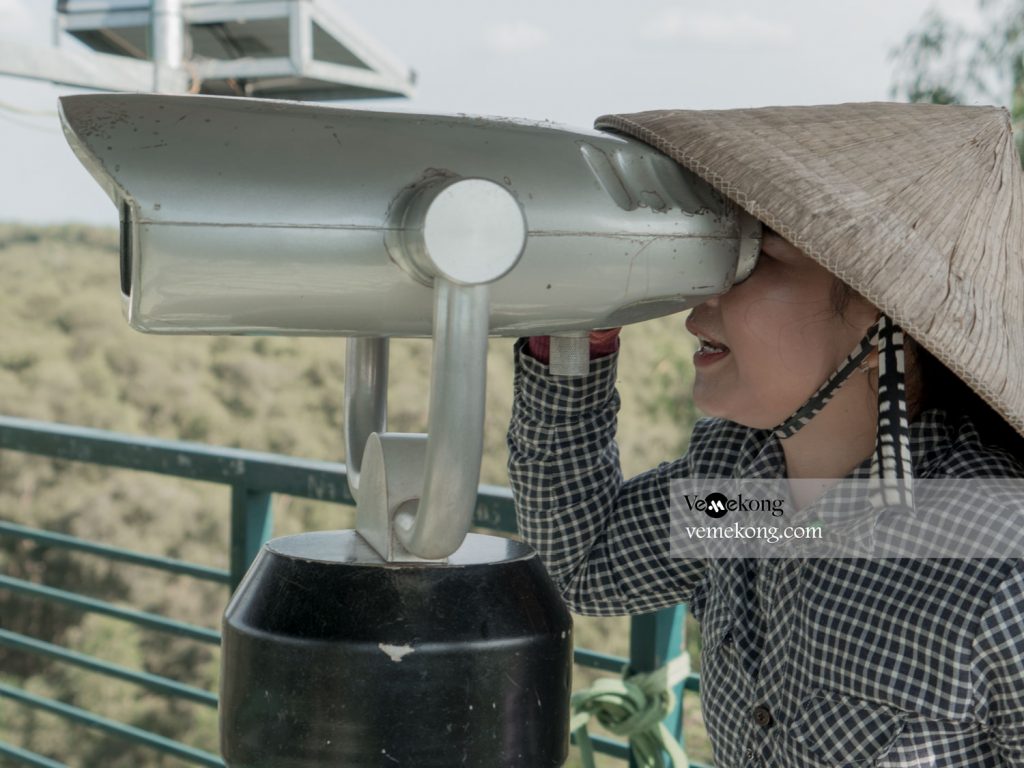 As a local expert and traveller. We may repeat your thoughts. Firstly, you should take long pants and use some repellents please, especially on rainy days. Secondly, hats and shoes are a priority. If you plan to visit any pagoda, please wear some things to cover your knees and shoulders. Top tip: Black color is "yummy" for mosquitos, and warm colors such as red, yellow, and orange may scare the wildlife.
16. Responsible Travel and Tour to Tra Su Forest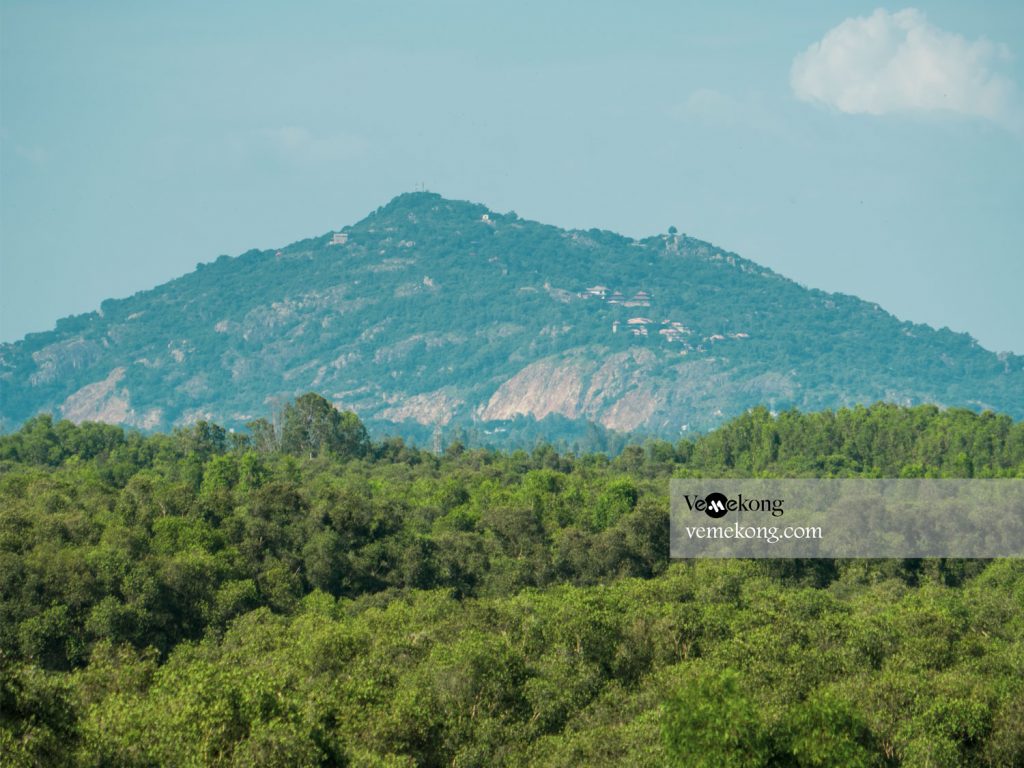 We are glad to see a lot of you and Vietnamese tourists paying a visit to this forest instead of the theme park or malls. Tra Su forest, itself means a lot for responsible behavior and nature values. As a local expert, we would take a friendly-reminding of you that "leave nothing but footprints, take nothing but pictures, kill nothing but time". Top tip: One of the first local travel companies in Mekong thinking, acting and running responsible travel is vemekong.com (very exclusive Mekong), feel free to support and book eco, responsible tours with them.
17. Incredible Tips for Photography, Specialists, KOLs, Media and Influencers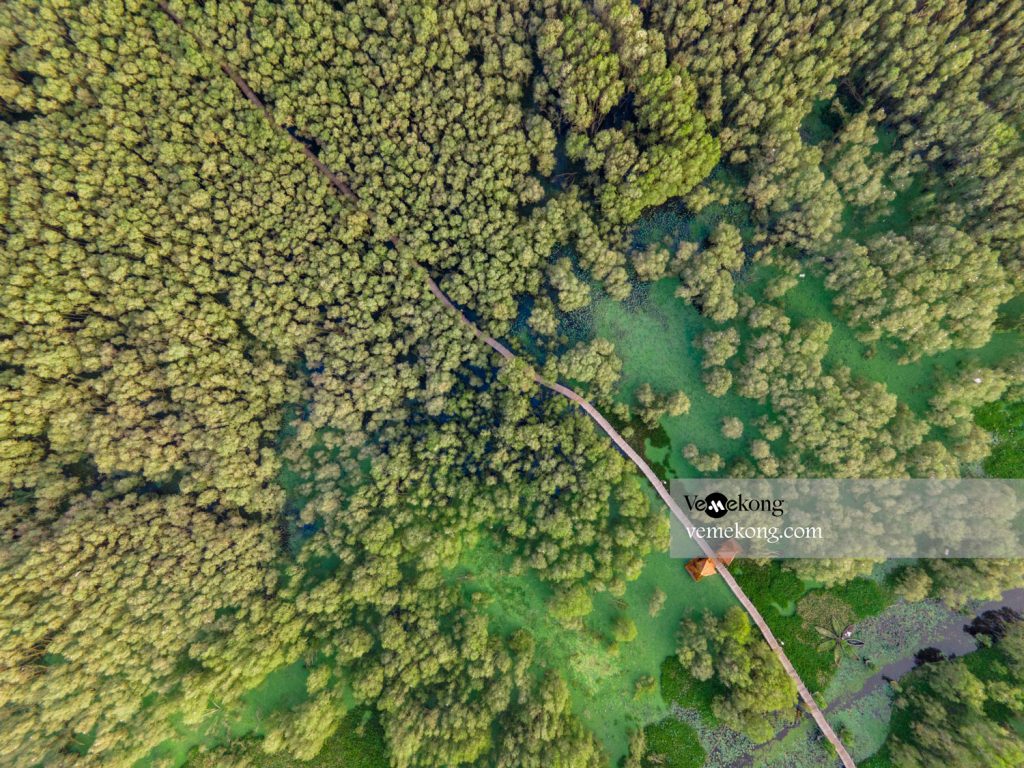 To get the best of the best for your unique writing and featuring. We do recommend you to have an expert the one who always gets more ground information and makes sure every single requestments is solved perfectly. Vemekong (very exclusive mekong) team is your priority choice. Email and have a private talk with them to customize your journey smoothly, personal and the most ultimately amazing.
Contact VeMekong for your travel preferences & wishlists

Hotline/WhatsApp/WeChat/Zalo +84939888559

hello@vemekong.com
18. Pro tips
Best time to visit Chau Doc floating market, Long Xuyen floating market is from 5:30am-6:30am. I hope you have an amazing sunrise on the Mekong Delta river.
You can stay in a homestay which is near the floating market, this will help you out the best option. Then you can hire a scooter, car or bike and explore it by yourself, but you still need to hire a boat for the floating market tour.
If you plan to extend your travel to Chau Doc homestay, do not forget to bring mosquito repellent cream.
Visit Chau Doc or do any customized tours, please choose reputable providers with boat trips equipped with lifebuoys, jackets, motorcycle and cycling tours with the helmets and. Safety is a priority! Choose Chau Doc responsible tours which help you give back while traveling. It's a cliché, but it's true.
Chau Doc food & drink guide ranges from street food, authentic, fancy to fusion foods. As a tropical land of many fresh vegetables and homegrown gardens, which always make Chau Doc cuisines fresh, close to nature and very traditional. If you are a food lover, don't hesitate to put other bites onto your food lists such as Bun Ca Chau Doc (the soft noodle is cooked with fish), Banh bo cake of Chau Doc, Sugar palm fruit, Caramelized and Braised Catfish, Grilled Rice-field Rat with Salt and Chili, Long Xuyen Broken Rice, Nui Cam Pancake, O Thum's Chicken Grilled with Lime Leaves, Sour Soup with Siamese Mud Carp Soup & Sesbania Flower, Stir-fried Shrimp with Sesbania Flower, Phu Huong Beef Noodle Soup, Basa Fish Hotpot, Mam (Fermented Fish)…
Bring your hat, sunglasses, and sunblock, scarf to wear when visiting temples, pagodas, and the cathedral.
Bring the raincoat if you're planning a trip to Chau Doc in the rainy season, as Chau Doc always looks fantastic in the full rain and full sun.
Chau Doc tourist attractions are magnificent itself, but if you have enough time, don't forget to put other places onto your bucket lists such as Tra Su Cajuput forest & Birdwatching, Chau Doc Floating Village, Fish Farm & Cham Minority Village, Chau Doc floating market & small canal, Sam mountain, Tuc Dup hill, Chau Doc river tour, Chau Doc cycling tour, Chau Doc photography tour, Ta Pa Rice Fields, Vinh Te Canal, Seven-Mountain Ox Racing Festival, Tay An Pagoda, Chau Doc Market, The Lady Temple – The Ba Chua Xu Temple, Phuoc Dien Pagoda – Hang Pagoda, Thoai Ngoc Hau Tomb,
Hopefully, the above tips will help you to come up with a great plan for your adventure in Chau Doc, An Giang province, Mekong Delta, Vietnam. Have a safe trip!
"Sleep less, travel more, respect more" – Thomas Vietnam – Local travel expert.
Thank you