Muoi Cuong Cacao Farm – Official Can Tho Visitor Guide
Cacao (scientific name: Theobroma cacao). Cacao has wild roots in the tropical forests of Central and South America. In Vietnam, Cacao was introduced very early, followed by Western missionaries. Currently, Cacao are widely planted in many places, particularly the Central Highlands is still considered as the most ideal conditions for Cacao development. A visit to Muoi Cuong Cacao Farm is both a fun and educational experience in Can Tho. Visitors can see and learn how fruit from a cacao tree becomes familiar cacao products such as cacao powder, butter…and of course pure chocolate in a manual way by the locals.
By Thomas Vietnam at vemekong.com | Official Can Tho Visitor Guide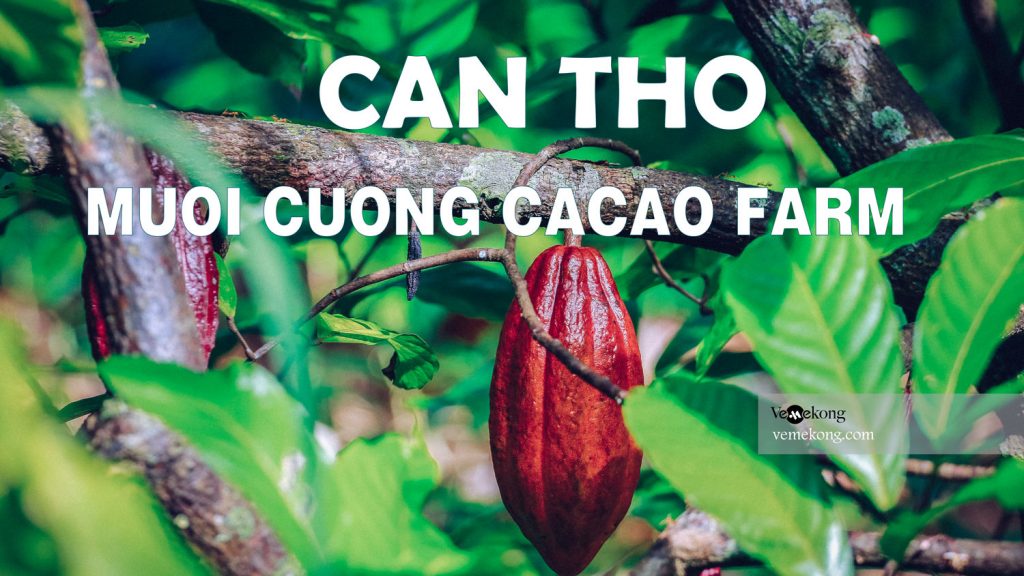 1. Better to Know as a Tourist
Ticket: 80,000VND
Spend-time: An hour (approx)
Hours: Daily 7 am to 12 pm
Food: Cacao drink, chocolate.
Shop: Yes
Parking lot: Yes for coach
Blog: https://vemekong.com/muoi-cuong-cacao-farm-can-tho/
Address: My Khanh, Phong Dien, Can Tho. About 12km from Can Tho city center.
Added values: Foreigners have learned about the stages of chocolate processing in factories a lot, but for manual processing they have never seen, so they want to learn very much by visiting villages.
Nearby attractions and hidden gems: Looking for places to stop on your way to and from Can Tho cacao farm? Or maybe you found it too crowded here? We've got some ideas! Check out our list: Cai Rang floating market (30 minutes away), Can Tho rice noodle factory (20 minutes away), Truc Lam Phuong Nam Zen monastery (5 minutes away).
2. Travel Guide to Muoi Cuong Cacao Farm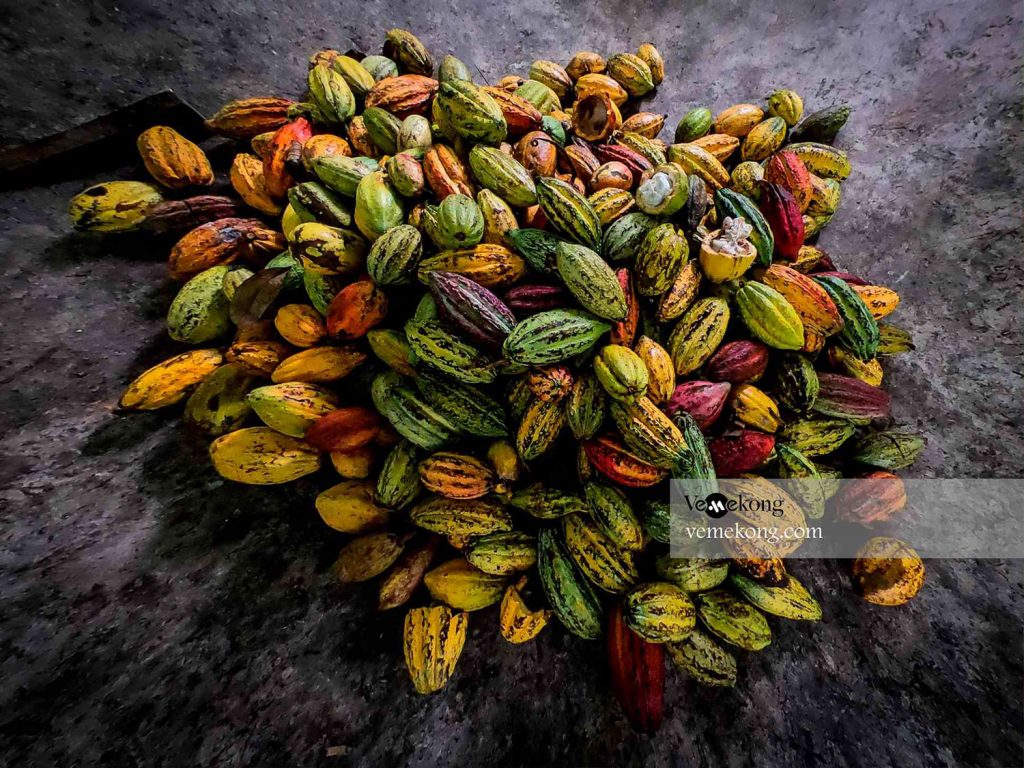 The Mười Cương Cacao Garden has an area of ​​1,2 hectares, planted with 2000 Cacao trees, was built in the 1960s and has been maintained until now. Cacao processing has been a traditional family business since 1960. In the beginning, Cương's father went to Malaysia to bring seeds to Vietnam and grew them. In his hometown, there has been more and more farmers growing after 3 years. When the trees were so fruitful, but the locals did not know how to use their fruits, they ruined all of them. Apart from Cuong's family, the father asked his children not to cut down trees and had his children find information from books and documents to know how to make chocolate, then they tried to make it from Cacao. At that time, Cuong came across a French book, his sister and he read and studied. Fortunately, they made excellent chocolate products (1963). He still holds the book until now. This family is one of the first families in Vietnam growing and processing Cacao.
People have given Cacao products good compliments, so they make chocolate from Cacao to welcome guests on every occasions such as Tet holiday.
3. What to Do – See – Eat at Muoi Cuong Cacao Farm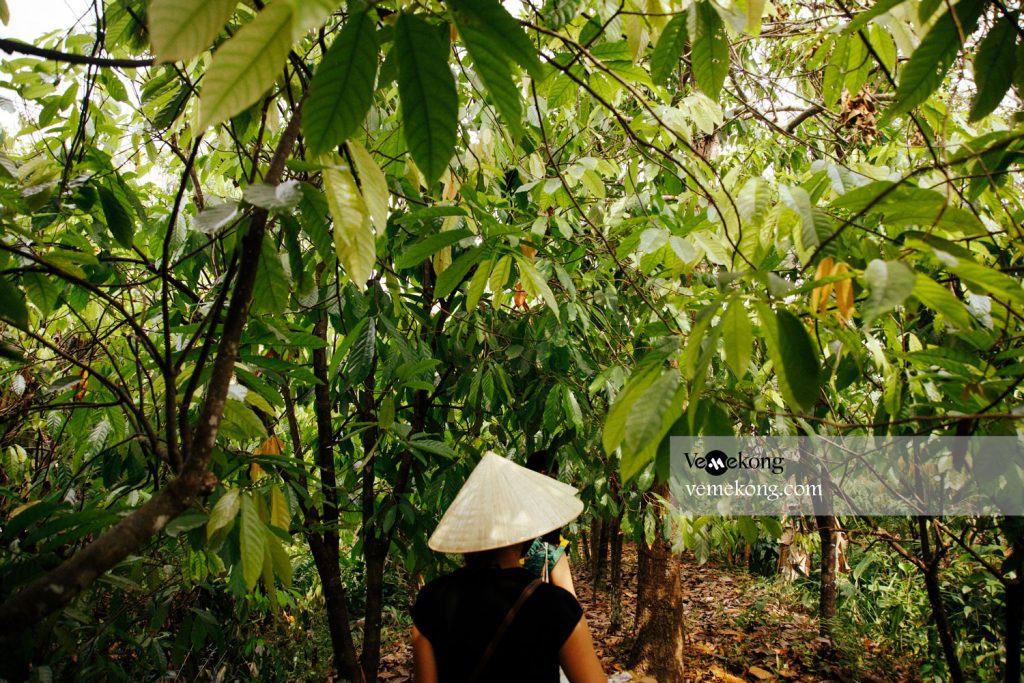 You will walk around the garden and listen to the owner's passion stories about cacao.
Book directly with local: Can Tho Daily Tours:

Can Tho Biking Tour & Cacao Farm (morning or afternoon secret tour)

Can Tho Floating Market & Cycling (morning tour)

Can Tho Cycling Tour 1 Day (floating market & lunch)

Can Tho Motorbike Countryside Tour with cacao garden

Hotline/WhatsApp/WeChat/Zalo +84939888559

hello@vemekong.com
There are two types of Cacao in Mr Cuong's garden: the species give green and red fruits, but both of them turn yellow when Cacao gets ripe. These trees give fruit all year around, and they are harvested once every 10 days. Cacao beans contain about 30 to 45 seeds. Dry Cacao beans are sold to foreign companies and chocolate companies in Saigon. His garden is a kind of organic and ecological garden, so he does not use pesticides or chemical fertilizers.
Products made from Cacao :
+ Cacao mass: 100% Cacao, bitter, used for all kinds of Cacao such as black chocolate, milk chocolate, peanut chocolate.
+ Cacao butter: Cacao contains oil, Cacao beans contain 30 to 40% of the oil, called Cacao butter for white chocolate, as a cosmetic (due to its high levels of collagen and vitamin E).
+ Cacao powder: 90% bitter Cacao powder, add sugar, milk or cake to drink.
+ Pre-mixed Cacao powder: 70% Cacao, 30% sugar, milk, used immediately after pouring hot water into the powder.
+ Cacao beans: seeds are roasted and peeled silk. The Germans enjoy it (they mix it with yogurt to eat). This type of product is also very popular in the United Kingdom, the United States and Canada.
+ Vang cacao: made from rice paper outside the seeds, they are fermented into wine, used as an aperitif, good for the digestive system.
The process of molding chocolate from Cacao:
To make a chocolate bar, there must be many stages, starting with the harvesting, processing of Cacao beans before they are delivered to the manufacturing plants.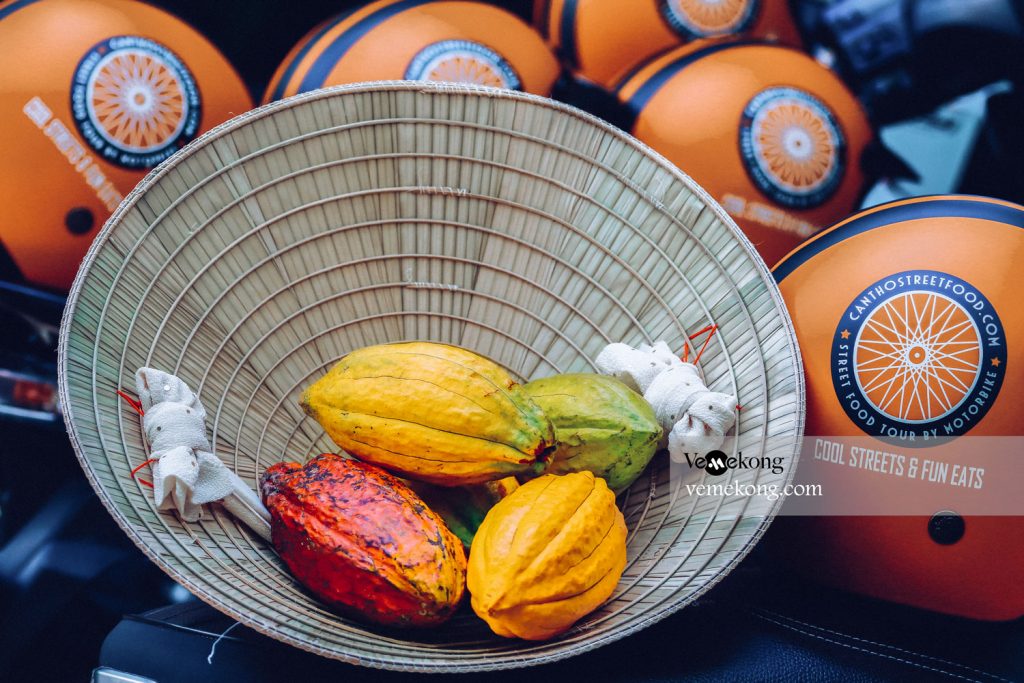 Harvesting of Cacao: the fruit is yellow or reddish orange depending on the variety, when fruits are ripe, it is easy to peel and at that time, Cacao beans have high avocado content and good aroma. In contrast, if the fruits are still green, it will be difficult to peel and when fermented, seeds will be in poor quality. If the harvest takes place late, the fruit is prone to damage due to pests, destructive squirrels or seeds sprouting in the fruit. The harvester uses a knife then pulls and gently slices the Cacao from the trunk, avoiding collision damage to the trunk and the remaining flowers for the next crop. 1-2 times per week when harvesting, the harvesters should harvest spoiled fruits to avoid spread of germs. Also, when transporting fruits, the harvesters should avoid fruit breakage, it will cause fermentation, rot, or germination, and quality deterioration. After harvesting, it is better to put them in a cool storage place for 3 to 6 days. The fruits should be left for about 5 days on a wooden floor, about 5cm from the ground.
Separating Cacao beans and outer shell: A Cacao can contain 45 to 50 Cacao beans. Cacao beans are not brown and do not have the sweetness of finished chocolate as many people think. Make sure to keep the grain of Cacao beans which is the fermenting agent for the grain.
Fermentation: Cacao beans are placed on the surface of the heated tray which is large and shallow and then covered with a layer of banana leaves. If the weather is favorable, Cacao beans can be fermented under the sun. The fermentation process occurs when the seed turns brown like chocolate. This stage takes place from 4 to 5 days for the dry season, 5-6 days for the cold season. It takes 2 days to turn the seeds once to make the fermentation process easier and when the seeds are spinning, the temperature will be higher (about 45 – 50 degrees) and make sure the bottom of Cacao beads run out.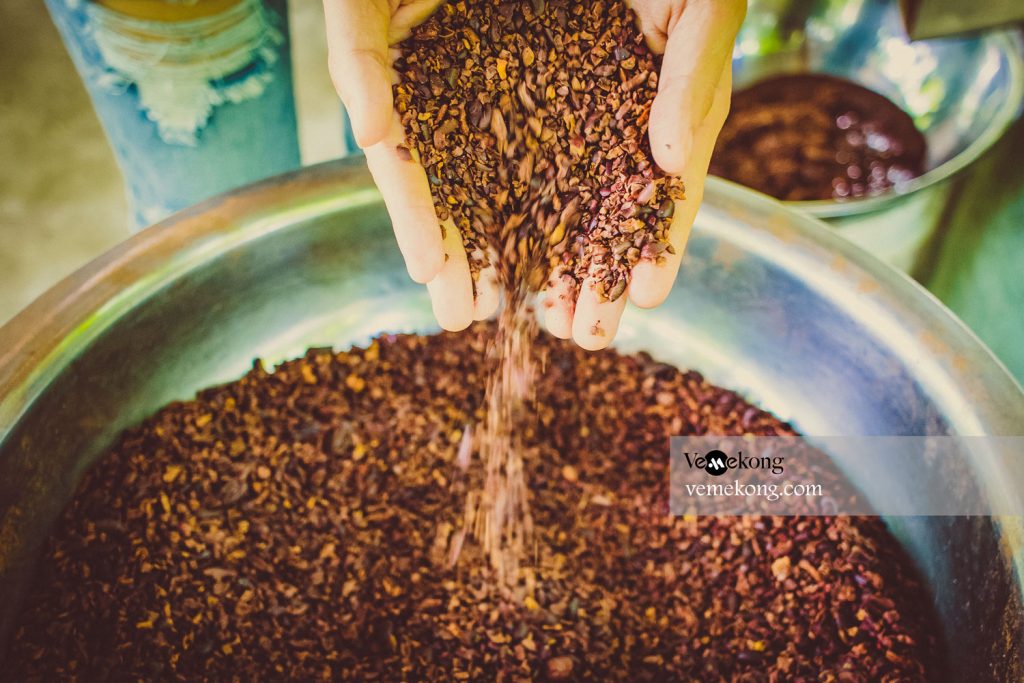 Drying process: After fermentation, the beans must be dried before they are put into sacks and transported to chocolate factories. The peasants only spread the beans on the tray and dried in the sun. This process usually takes about a week. When being dried, the grain weighs only half that of its original weight. After drying, all the grain fermentation process will end when all the seeds turn brown. However, in the rainy season, the beans are dried by the kiln, at a temperature of about 50 degrees Celsius. The producers note that when drying, they try to avoid the seeds smelling smoky and having a strange smell. When moisture reaches 6-7%, it is crispy and brittle.
Cacao roasting and selecting the stage. Cacao beans are first roasted to give color and flavor to the taste of the consumer. Seeds are put into large roasting drum machines. Depending on the type of Cacao, beans are roasted at 250 to 350 degrees Celsius for 30 minutes to two hours. Subsequently, the beads are screened for removal of the outer shell. Cacao pods can be sold as food for both humans and cattle.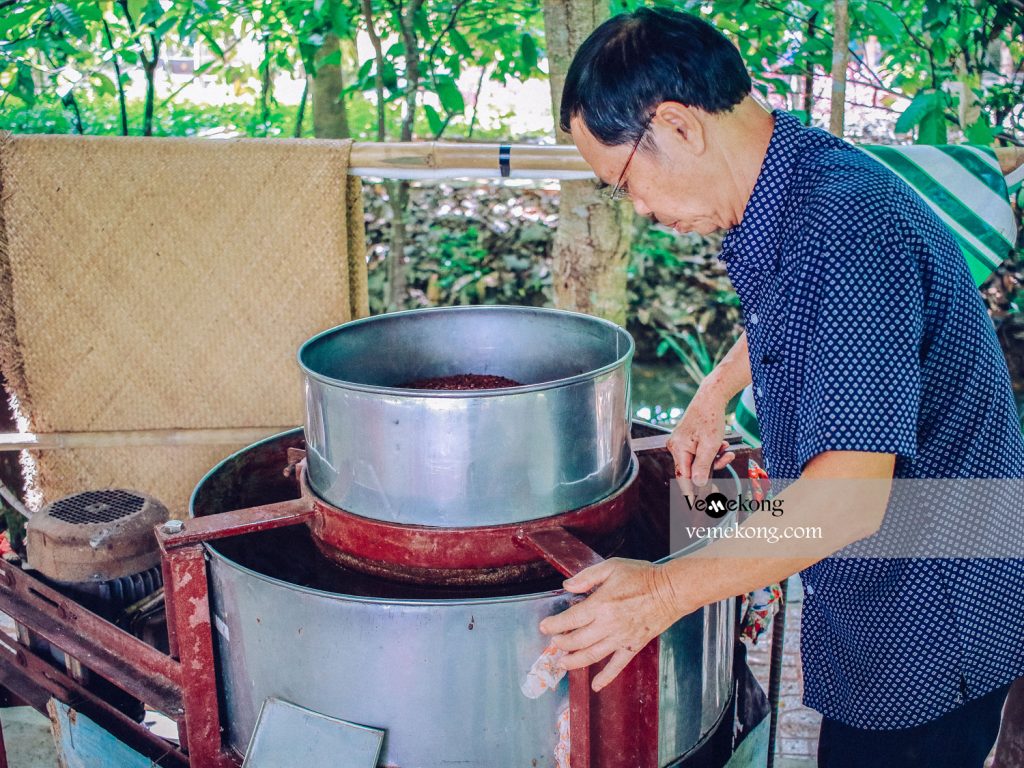 Crushing Cacao. After removing the crust, the Cacao kernel is put into the crusher until a liquid mixture is produced from the Cacao butter exuded from the core. Although it does not contain alcohol, this mixture is called "Cacao alcohol". Cacao is treated with alkaline solution, which helps the mixture not dry back into powder. Then Cacao liquor is mixed with Cacao butter and sugar. If it is milk chocolate, mix fresh milk and condensed or powdered milk, depending on the recipe of each manufacturer.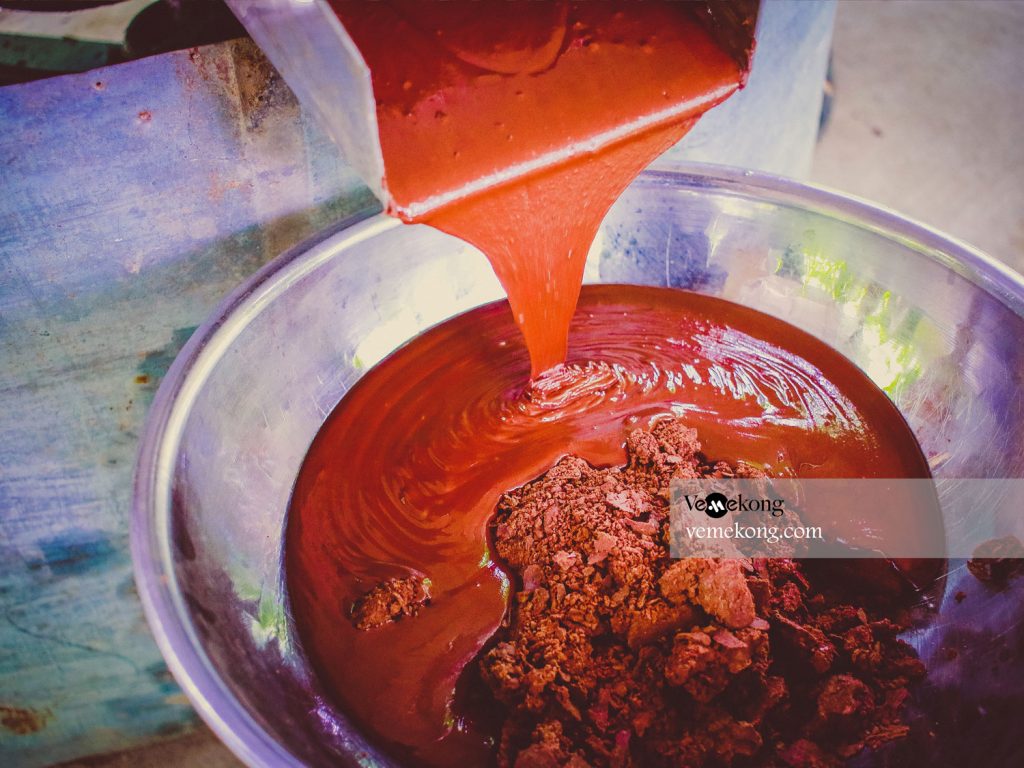 The penultimate stage is to mix Cacao. Cacao alcohol continues to be mixed and processed so that after adding milk, sugar, the mixture will reach the desired fineness. The basic formulation of milk chocolate consists of sugar, milk or milk powder, Cacao powder, Cacao liquor, lecithin and vanilla. White chocolate contains sugar, milk or milk powder, Cacao liquor, Cacao butter, lecithin and vanilla. Pure black chocolate including Cacao powder, Cacao liquor, sugar, lecithin and vanilla.
Then the mixture continues to be blended between large steel rollers. The process of mixing the fluid is heated and continuously stirred is called "conching". High quality chocolate will take days to undergo the conching process, while low quality chocolate will take a few hours.
Final process: chocolate molding. The chocolate mixture is poured into the mold and cooled until solid in various shapes. Then, they are packaged and distributed to the store.
4. Free Itineraries from VeMekong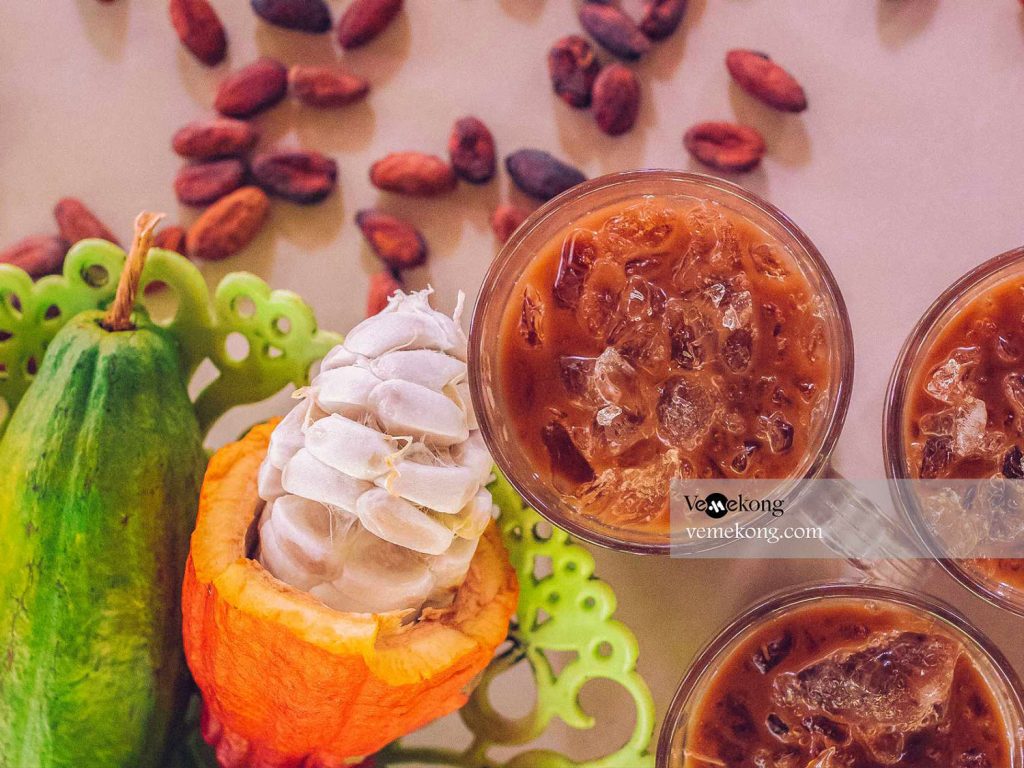 As a local travel expert, we have some ideas for you to think about.
From Can Tho city center:
Route 1: Hotel in Can Tho center – boat station – floating market – rice noodle factory – cacao farm – hotel in Can Tho center [half day]
Route 2: Hotel in Can Tho center – boat station – floating market – rice noodle factory – biking in the village – cacao farm – hotel in Can Tho center [half day]
Route 3: Hotel in Can Tho center – boat station – floating market – rice noodle factory – biking in the village – organic cacao farm – Local lunch – hotel in Can Tho center [full day]
Book directly with local: Can Tho Daily Tours:

Can Tho Biking Tour & Cacao Farm (morning or afternoon secret tour)

Can Tho Floating Market & Cycling (morning tour)

Can Tho Cycling Tour 1 Day (floating market & lunch)

Can Tho Motorbike Countryside Tour with cacao garden

Hotline/WhatsApp/WeChat/Zalo +84939888559

hello@vemekong.com
If you do not have much time left, it is easy to check out spots in one full day by boat or with bike or with motorbike and car. But there are much more than tourist sites like these in Can Tho. Make sure you have more time to feel and explore more about the hidden gems and the culture, food, night life, wildlife and forest as well. Top tip: Stay in a homestay nearby, so you have more chances to visit it and surroundings. If you are looking for the package Can Tho day tour with local, you can contact www.vemekong.com or Hotline/WhatsApp/WeChat/Zalo +84939888559; email: hello@vemekong.com
5. Google Maps of Muoi Cuong Cacao Farm
Google Maps made a name for itself helping people travel from one place to another, avoid traffic (You probably know the route from your hotel to the gas station by heart, but what you can't be sure about is gridlock), measure a distance, get back to the hotel on time, share the location…
Embedded slot
6. Visit Muoi Cuong Cacao Farm by yourself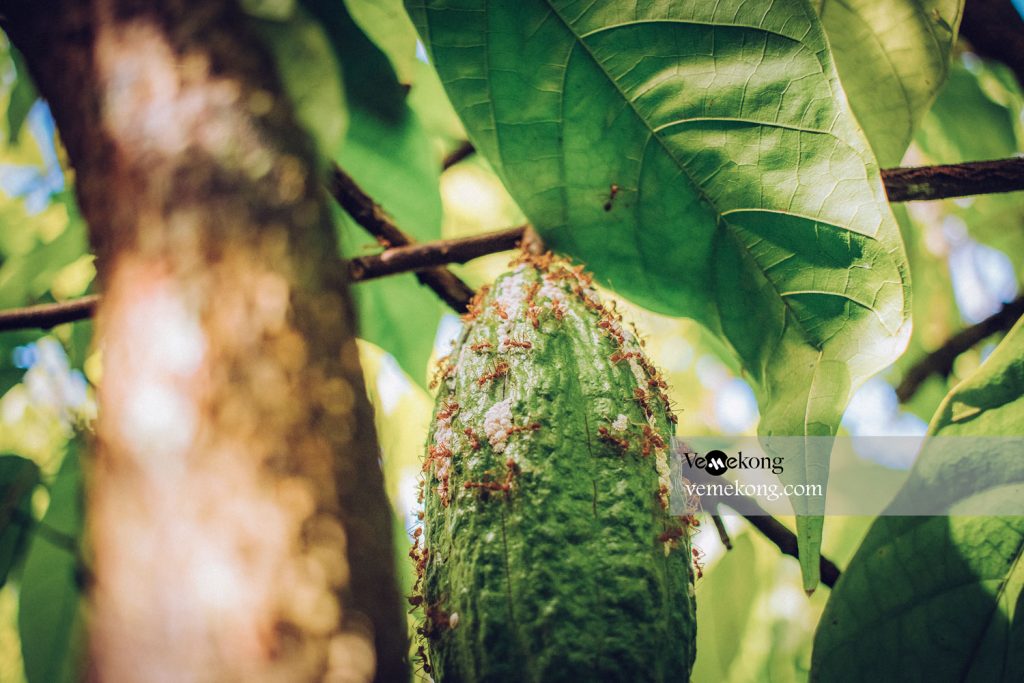 Solo traveller? Travelling on your own means you will get out of any difficult situations by yourself. This, in turn, leads to more satisfying travel experiences and helps you improve your problem-solving skills. These days we rarely get the chance to sit with ourselves and simply be. That's why you should consider the time you spend alone on your trip as a gift.
Visit Muoi Cuong Cacao Farm by yourself is very okay. Budget travellers and adventure tourists can reach and visit this attraction by motorbike as well. If you have no guided tour, you are fine to explore this place, use Google Maps to get there. Sometimes it takes more time to find it, so you can ask the locals. Top tip: The owner can speak English pretty well.
From 1975 to 1977, the Foreign Trade Department found some export commodities and when coming to this land, they found that there was a high economic value of Cacao, then they reported to the Central (Ha Noi). Since then, the Minister and high-ranking officials of the Ministry of Foreign Affairs have visited, explored and had a plan for planting this species. Each time having a study visit in Cacao gardens, the participants were up to 40 people including foreigners of the Soviet Union, Bulgaria, Hungary. Mr Cuong was the one who directly make chocolate to welcome guests, they gave good compliments for this chocolate and suggested him make product for sale. Therefore, from then on (1978 – 1980), Cuong combined with Can Tho University Agricultural Faculty to grow seedlings for farmers, the he bought fruits and processes, then sold finished products to tourism companies, vinacafe, Bien Hoa rice cake, Kinh Do cake and he has maintained his business until now. There was also a time of interruption (1990-1995), because there was no outlet, only home consumption, not enough quantity for export. And partly because of the closed economy, people around the world did not know much about this product. Until 2000, the American Farmers' Association, the Swiss and Dutch organizations supported the Vietnam Department of Agriculture and facilitated Vietnam's Cacao cultivation. The Ministry of Agriculture has just brought down the University of Agriculture and Forestry Thu Duc nursery and propagation. After that the University successfully researched 15 varieties of TD1-TD15 and there were 4 varieties recognized by the Ministry of Agriculture. Also, Can Tho University selected varieties CT1 – CT6 in the garden of Mr Cuong. Currently Cacao is being grown in Ben Tre, Ba Ria Vung Tau, Gia Lai, Kom Tum, which is used as fruitful breeds of Thu Duc University. Particularly in Mr Cuong's garden, breeds are imported from Malaysia, grown in the seed, not the same as that of grafted trees. Because Cacao trees are easy to separate (changing root characteristics), seed multiplication is not exactly the same as that of the mother plant, so the tower or extract will provide more assurance. His garden grows all with seeds, he keeps the good trees, and cuts down the bad ones. Maintaining cultivation and production to this day is a traditional family business. This is also a point of purchase of all Cacao of Cần Thơ and Hậu Giang, processed and sold to foreign companies.
In 2012 supported by the Embassy of Denmark, the ambassador visited the garden several times and suggested helping the locals how to make homestay. At that time the local government was building new countryside, so they integrated tourism development to improve the economy, locals' life, poverty reduction and joined the Danida programme (Denmark support).
7. Responsible Travel and Advice to Visit Muoi Cuong Cacao Farm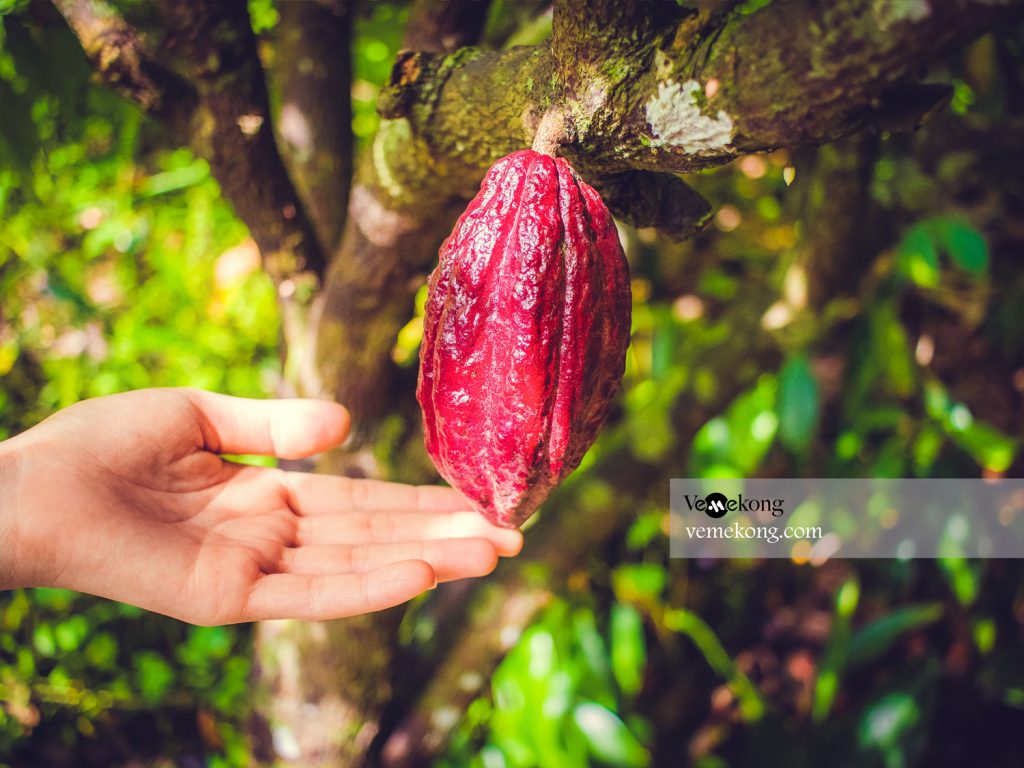 It is always good to repeat "responsible travel" over and over. Traditional cuisine and home-made chocolate itself is facing so many challenges from fast foods and fusion foods. We do appreciate any of you who do visit and take good behavior to this local village and this organic cacao farm. Top tip: There are less and less organic local farms like this in Vietnam because of modern life and high tech factories.
8. Incredible Tips for Photography, Specialists, KOLs, Media and Influencers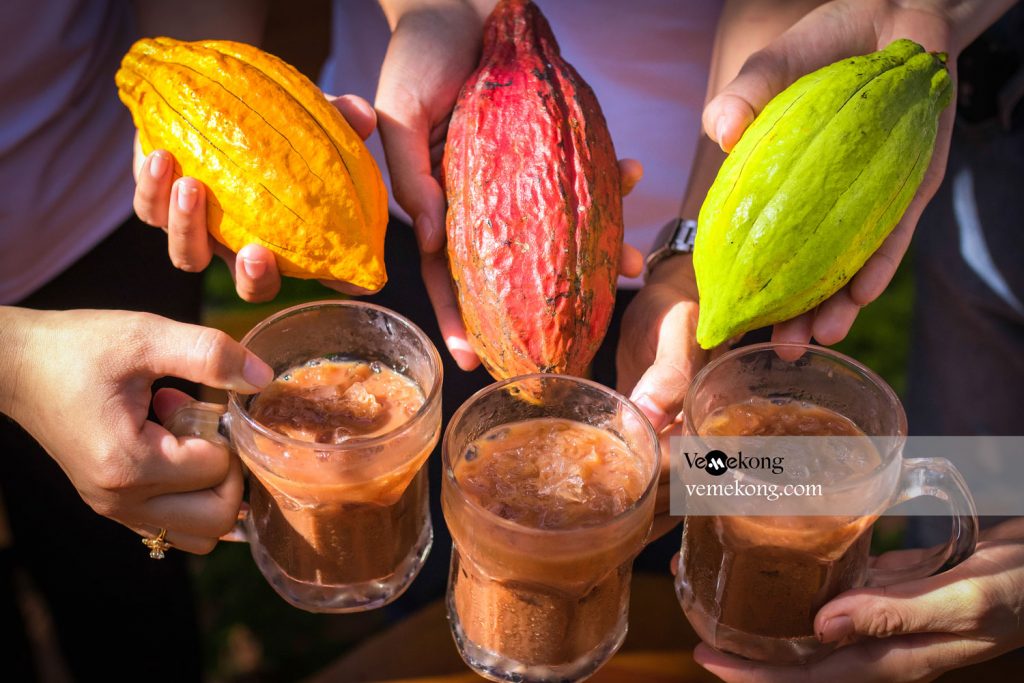 To get the best of the best for your unique writing, featuring, photo, video and insider's stories. We do recommend you to have a local travel expert, the one who always gets more ground information and makes sure every single element is solved perfectly. Vemekong (very exclusive Mekong) team is your priority choice. Email and have a private talk with them to customize your journey smoothly, personal and the most ultimately amazing. You can contact www.vemekong.com or Hotline/WhatsApp/WeChat/Zalo +84939888559; email: hello@vemekong.com
9. Pro Tips
If you plan to extend your travel to Can Tho homestay, do not forget to bring mosquito repellent cream.
Visit Can Tho or do any customized tours, please choose reputable providers with boat trips equipped with lifebuoys, jackets, motorcycle and cycling tours with the helmets and. Safety is a priority! Choose Can Tho responsible tours which help you give back while traveling. It's a cliché, but it's true.
Can Tho food & drink guide ranges from street food, authentic, fancy to fusion foods. As a tropical land of many fresh vegetables and homegrown gardens, which always make Can Tho cuisines fresh, close to nature and very traditional. If you are a food lover, don't hesitate to put other bites onto your food lists such as Cong cake in Can Tho, Ut Dzach Fine Rice Vermicelli…
Bring your hat, sunglasses, and sunblock, scarf to wear when visiting temples, pagodas, and the cathedral.
Bring the raincoat if you're planning a trip to Can Tho in the rainy season, as Can Tho always looks fantastic in the full rain and full sun.
Can Tho tourist attractions are magnificent itself, but if you have enough time, don't forget to put other places onto your bucket lists such as Can Tho Wildlife & Forest, Binh Thuy Ancient House, Can Tho Floating Markets, Can Tho Small Canals & Sampan Ride, Can Tho Fruit Garden, Can Tho Paddy Rice Fields, Can Tho Giant Ficus Tree – Secret VC base, Can Tho Rice Noodle Factory, Cai Rang floating market, Can Tho Old Market, Phong Dien floating market, Truc Lam Phuong Nam Zen Monastery, Can Tho to Con Dao – Express boat, Son Islet – Community-based Tourism…
Hopefully, the above tips will help you to come up with a great plan for your adventure in Can Tho, Mekong Delta, Vietnam. Have a safe trip!
"Sleep less, travel more, respect more" – Thomas Vietnam – Local travel expert.
Thank you