Can Tho Motorcycle Travel Guide - Join a Tour, Rent or Go Alone
Welcome to the Can Tho Motorcycle Travel Guide! Here's everything you need to know about motorcycle touring in Can Tho. You'll find information on our in-depth guides, info on roads, paperwork, tips, tricks and loads more. Generally speaking, there is no unsuitable motorcycle, no unsuitable time of year and no unsuitable level of experience but instead a matter of motivation and will. However, good planning is essential for a successful and safe journey.
By Thomas Vietnam at vemekong.com | Official Can Tho Visitor Guide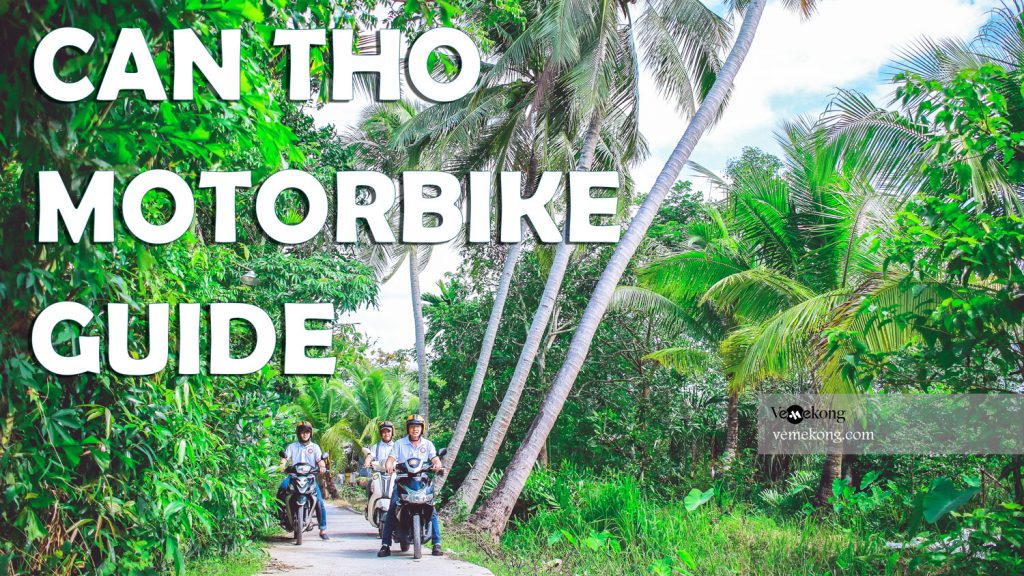 1. Can Tho Motorcycle Tour and Travel Guide
Like when cruising on Can Tho sampan, getting around by motorcycle enables you to experience Can Tho city and the elements in a much different way than if you're sitting inside a vehicle. With the two wheels you can explore every corner of Can Tho from the floating market in the countryside to the forests, from the paddy rice fields to the secret VC base, from the village to the hidden village and all Mekong paths and tributaries. Can Tho is also home to many homestay's gardens that you can easily reach by motorcycle.
2. Motorcycle Paperwork in Can Tho, Vietnam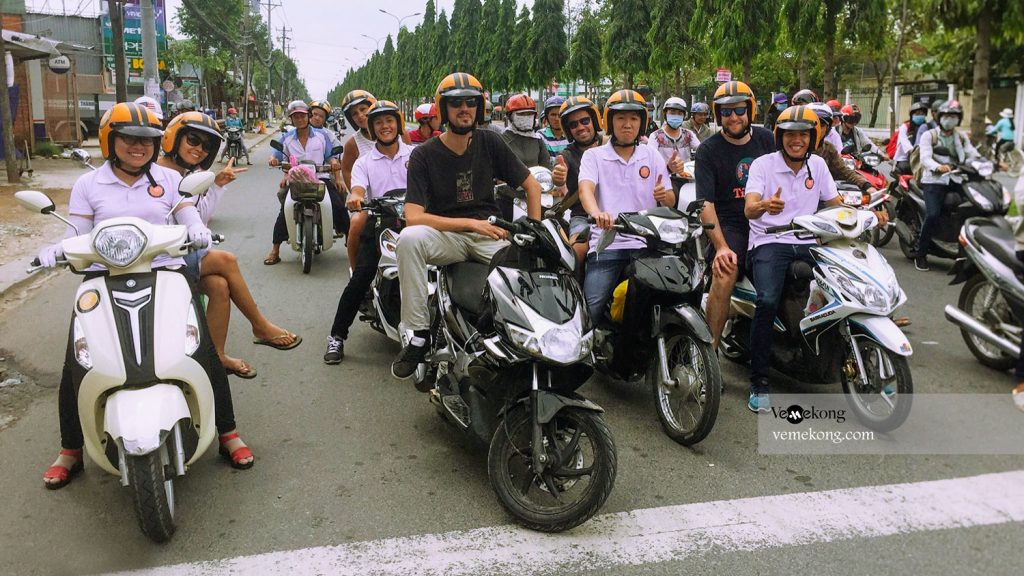 Vietnamese driving licences are mandatory for all drivers of motor vehicles as well as for riders of motorcycles with a capacity of over 50cc. Non-Vietnamese citizens are only permitted to drive in Vietnam if they hold a temporary Vietnamese driver's licence. To convert an international driving licence into a temporary Vietnamese driver's licence, the applicant must hold a valid Vietnamese residence permit of at least three month's validity.
In Hanoi, applications for temporary driver's licences should be directed to the Hanoi Urban Transport Management and Operation Centre, 16 Cao Ba Quat street, telephone (024) 3747 0029, fax (024) 3747 0024, website address: http://tramoc.com.vn/index.php?newlang=english; In Ho Chi Minh City, applications should be directed to the following link; Add: 252 Ly Chinh Thanh, Ward 9, District 3, Ho Chi Minh City. In provincial areas, travellers should consult local police authorities to determine what action is required to obtain a temporary driving licence in the province where the applicant resides.
3. How to Get To Can Tho with two wheels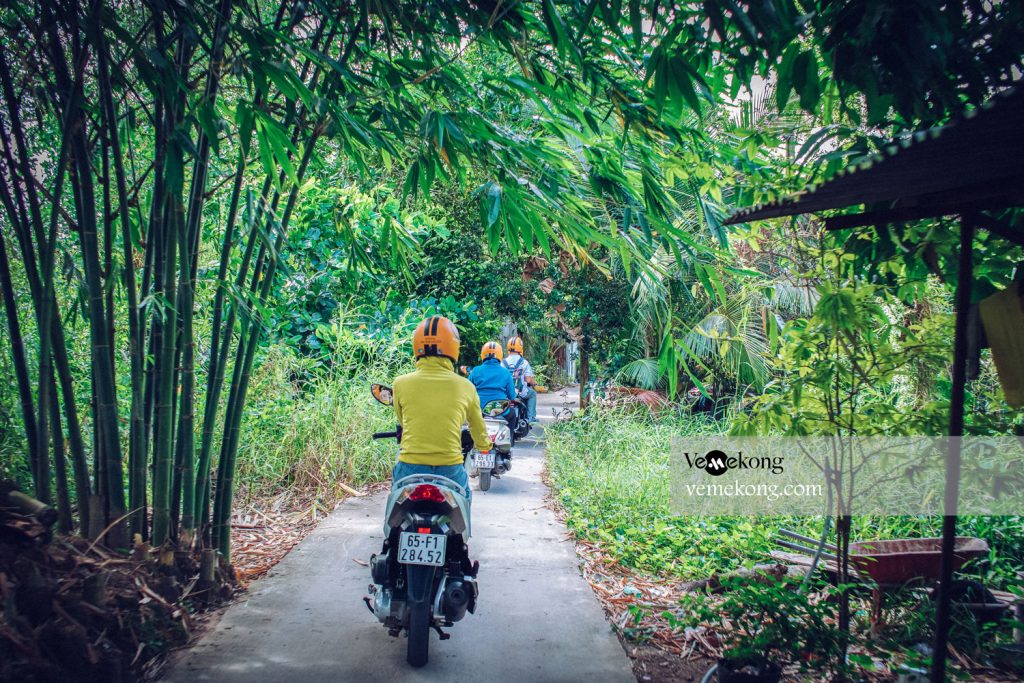 From the HCMC you follow the national road 1A. If you're coming from Con Dao island, you just put your motorbike on the speed boat of Mailinh Express which goes directly from Con Dao to Can Tho. From Ha Tien, Rach Gia or Chau Doc, you can easily find good road maps to reach Can Tho city. From Cambodia to Can Tho by motorbike is quite common for adventurous travelers to do so.
4. Can Tho rain and flooding season?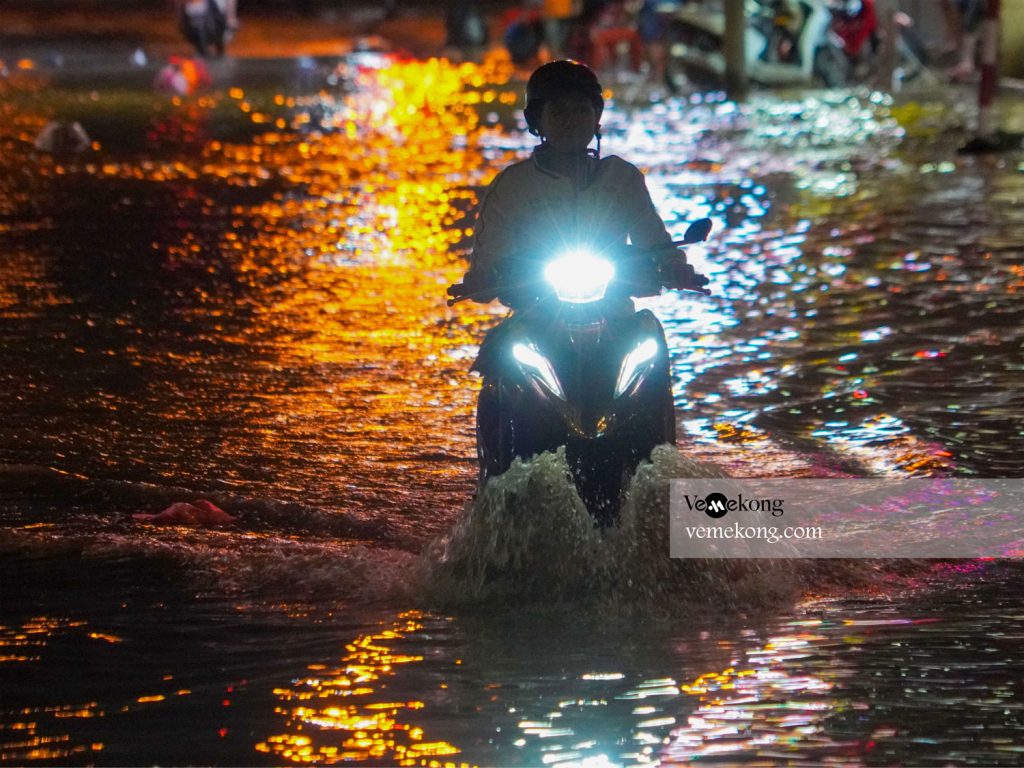 In Can Tho, It is best visited between December and February when it is cool and dry at night, while monsoon rains saturate the place between July and November. If you don't like excessive heat, avoid March to June. Therefore, it doesn't really matter when you visit, as the Mekong Delta looks fantastic in full sun and full rain. Travel companies may list tours for the rainy period, but plan your trip dates carefully or your trip may be a washout. Being in southern Vietnam, Can Tho has a tropical climate and three seasons – dry, rainy and flooding. Rainy season in Can Tho lasts from May to November; dry season from December to April. There are no typhoons in Can Tho, but annual flooding. It starts from mid-August to October. The total number of sunny hours is 2,561 hours per year (source: Vietnam Institute for Building Science and Technology). Average humidity per month is 86.6%. The least humid month is March (78.3% relative humidity), and the most humid month is September (87.9%). Wind in Can Tho is usually calm. The annual average rainfall is 1,946 mm with 189 rainy days per year.
5. The Best Can Tho Motorcycle Routes and Itineraries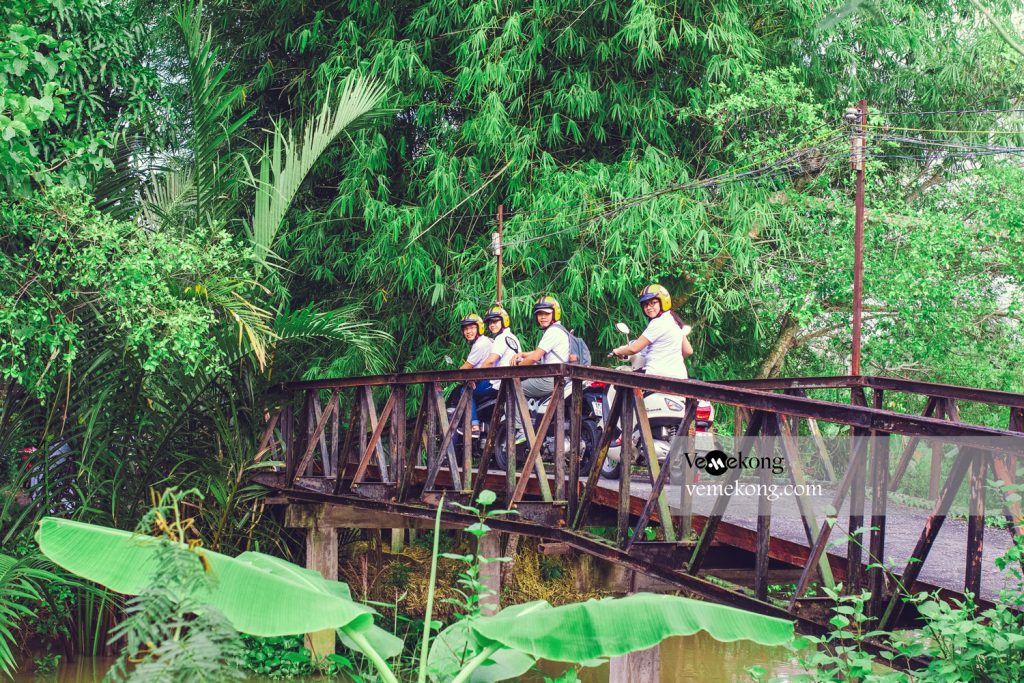 There are some tastes for all motorcyclists of different levels to unlock Can Tho city.
Can Tho scooter & city center route o1 about 10km: Can Tho city and all tourist destination spots in the center like Ninh Kieu riverside park, Ong pagoda, Can Tho old market, Can Tho fish market, Can Tho ion market for motorbikes, Can Tho museum and many Can Tho hidden authentic coffee shops and Can Tho food and drink, Can Tho roof tops, Can Tho by night…all you can go with your baby – the motorcycle!
Can Tho scooter & suburban route 02 about 20km: From Ninh Kieu district – the center of Can Tho, you can go to Cai Rang and Phong Dien district for taking the boat for the floating markets, the traditional home-made noodle factory, cacao farm, and and tropical fruit garden, heritage tree, rice fields, local ferries, and a lot more.
Can Tho scooter & long-distance route 3 about 40km: From Ninh Kieu district – the center of Can Tho, you can go to Binh Thuy district for the ancient house, the Son islet, then keep going to Thot Not district for Bang Lang stork garden as a bird sanctuary, rattan and bamboo craft village and more.
Can Tho scooter & wildlife route 4 about 40km: From Ninh Kieu district – the center of Can Tho, you can go to Hau Giang province for the amazing Hau Giang Outdoor Farmers Market, Lung Ngoc Hoang Forest & Nature's Smile and Truc Lam Phuong Nam Zen Monastery – the largest monastery in Can Tho.
Can Tho scooter & Soc Trang Khmer Pagodas route 5 about 60km: From Ninh Kieu district – the center of Can Tho, you can go to Soc Trang province for the Khmer minority and its worthy-exploration and uniqueness such as: Nga Nam non-touristy floating market, Bat pagoda (Chua Doi), Som Rong pagoda (famous for the largest reclining Buddha statue in Vietnam) and more. From Soc Trang city, you can catch the ferry at Tran De boat station for Con Dao island.
Can Tho scooter & whole Mekong Delta route! We will update you with another post.
6. Join a Motorbike Tour, Rent or Go Alone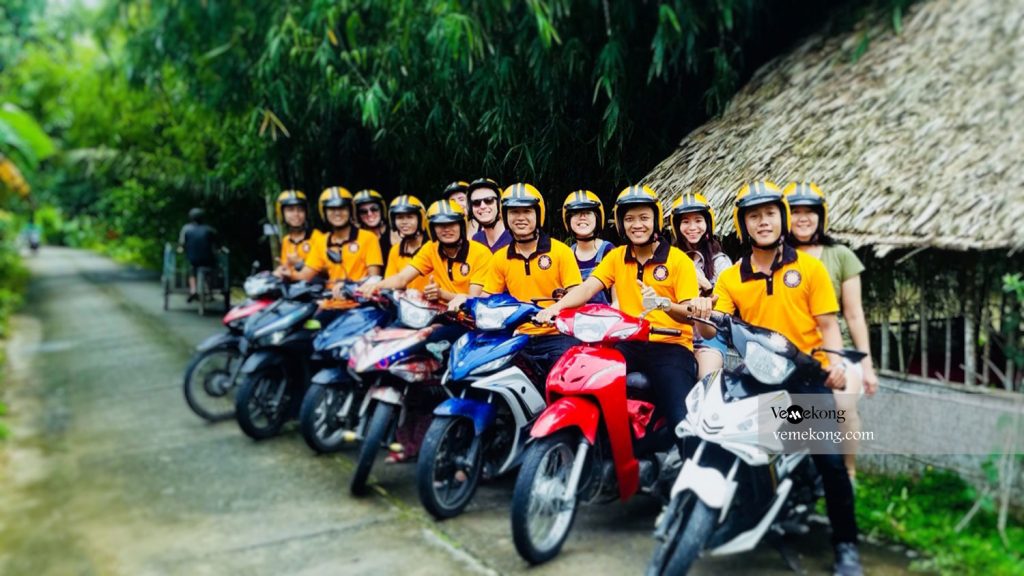 This one is down to personal preference. Luckily, Can Tho is built for all three options. There are some fantastic, extremely well-run tour and rental companies in Can Tho. And if you want to go it alone with your own bike, then Can Tho is one of the easiest places to ride in the Mekong Delta!
Joining a motorcycle tour
It might be your first time abroad, or you could be strapped for time or maybe you just don't want to sit there for days planning a trip. If so, then jumping on a pre-arranged tour is a fantastic option. You've got the benefit of an experienced tour guide who knows the routes and country like the back of their hands. All hotels, stops, lunches, paperwork and the bike are taken care of. All you have to do is turn up and ride.
There's also the option to go for a self-guided tour where everything is laid out exactly the same as a guided-tour: your hotels, route, stops etc are all planned out. The only difference is that you're on your own with a detailed itinerary and the route on google maps.
Can Tho Motorcycle rental
Perhaps you don't like the idea of riding with others and want to do your own thing. All the hassle of getting your bike to your destination country is saved. This is a great option when you have limited time, know you want to explore a specific spot and don't want to waste valuable days of your holiday getting there and back.
Motorbikes can be hired from virtually anywhere, including cafes, hotels and travel agencies. Some places will ask you to keep your passport until you return the bike. Try to sign some sort of agreement, clearly stating what you are hiring, how much it costs, the extent of compensation and so on. Many rental places will make you sign a contract agreeing to a valuation for the bike if it is stolen. Use guarded parking where available.
If you fancy a guided motorcycle tour or want to rent a bike instead, check out Vemekong.com company.
Going it alone
Perhaps you're an experienced motorcycle traveller or you just want to give it a go on your own bike. Great! Can Tho is incredibly easy to get to and navigate – "it's just like riding in my home town"!
7. Accommodation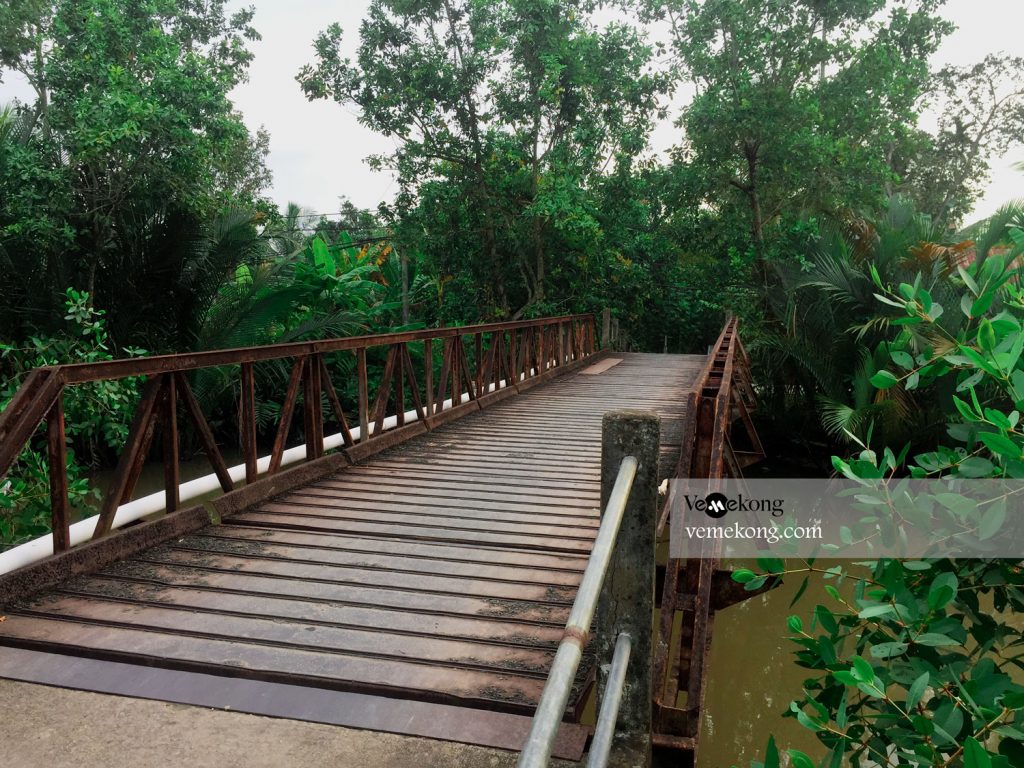 There's plenty of accommodation and it's easy to find and book for bikers. How you find it depends on your style of travel. If you're on a short tour then you may want to book everything while at home – but this gives you a tight schedule and no room for error. Other people find the hotels they'd like to stay in and pin them on a map with backup hotels if they want to cover more or less miles.
8. Helmet Law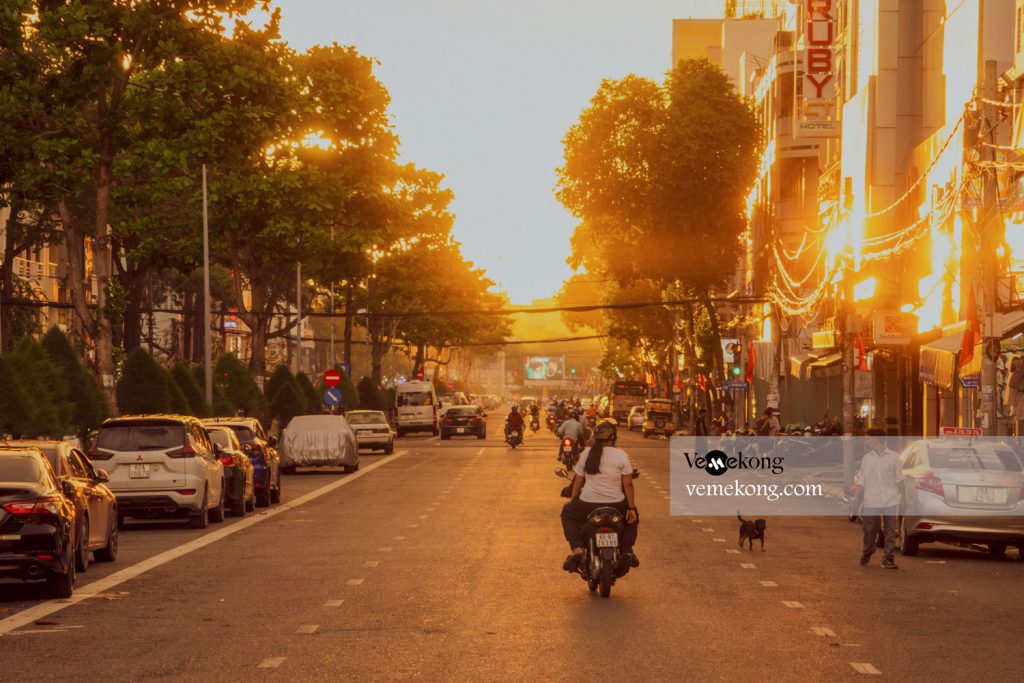 It is compulsory to wear a helmet when riding a motorbike in Vietnam, even when travelling as a passenger. Consider investing in a decent helmet if you are planning extensive rides as the local eggshells don't offer much protection. Better-quality helmets are available in major cities from US$35.
9. Pro Tips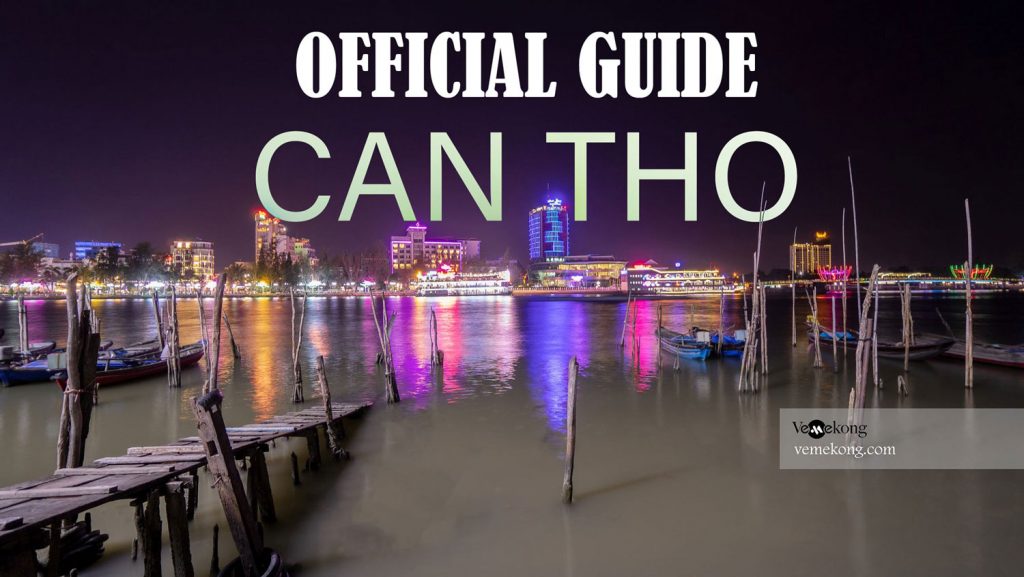 It's important to remember motorcycling rules and to wear a helmet.
Google Maps is a good starting point when planning a motorbike route.
Carry spares and a few tools to perform basic tasks like fixing punctures.
Travel insurance is essential if you're planning to travel by motorbike. However, check your policy carefully as some exclude cover for two-wheeled travel. The cost of treating serious injuries can be bankrupting for budget travellers.
Research the destinations you're visiting and plot a rough route. It will stop you from missing out on spectacular roads and sights and also avoid any unwanted surprises like toll roads.
It's also a good idea to take a mobile phone with you in case you get stuck.
Always carry enough gear for the conditions including waterproofs and extra gloves.
Get your bike serviced before you go. Are your tyres on the way out? Brakes good? Chain set correctly? Due to an oil change?
Remember: you are a stranger. Away from home, vigilance must stay high to balance your lack of local knowledge, including road conditions and potentially hazardous traffic areas. Relax and enjoy the sights, but maintain your usual level of alertness (or better).
Extra Tips:
If you plan to extend your travel to Can Tho homestay, do not forget to bring mosquito repellent cream.
Visit Can Tho or do any customized tours, please choose reputable providers with boat trips equipped with lifebuoys, jackets, motorcycle and cycling tours with the helmets and. Safety is a priority! Choose Can Tho responsible tours which help you give back while traveling. It's a cliché, but it's true.
Can Tho food & drink guide ranges from street food, authentic, fancy to fusion foods. As a tropical land of many fresh vegetables and homegrown gardens, which always make Can Tho cuisines fresh, close to nature and very traditional. If you are a food lover, don't hesitate to put other bites onto your food lists such as Cong cake in Can Tho, Ut Dzach Fine Rice Vermicelli…
Bring your hat, sunglasses, and sunblock, scarf to wear when visiting temples, pagodas, and the cathedral.
Bring the raincoat if you're planning a trip to Can Tho in the rainy season, as Can Tho always looks fantastic in the full rain and full sun.
Can Tho tourist attractions are magnificent itself, but if you have enough time, don't forget to put other places onto your bucket lists such as Can Tho Wildlife & Forest, Binh Thuy Ancient House, Organic Cacao farm, Can Tho Floating Markets, Can Tho Small Canals & Sampan Ride, Can Tho Fruit Garden, Can Tho Paddy Rice Fields, Can Tho Giant Ficus Tree – Secret VC base, Can Tho Rice Noodle Factory, Cai Rang floating market, Can Tho Old Market, Phong Dien floating market, Truc Lam Phuong Nam Zen Monastery, Can Tho to Con Dao – Express boat, Son Islet – Community-based Tourism…
Hopefully, the above tips will help you to come up with a great plan for your adventure in Can Tho, Mekong Delta, Vietnam. Have a safe trip!
"Sleep less, travel more, respect more" – Thomas Vietnam – Local travel expert.
Thank you