Official Guide to Can Tho Giant Ficus Tree – Secret VC base
By Thomas Vietnam at vemekong.com | Official Can Tho Visitor Guide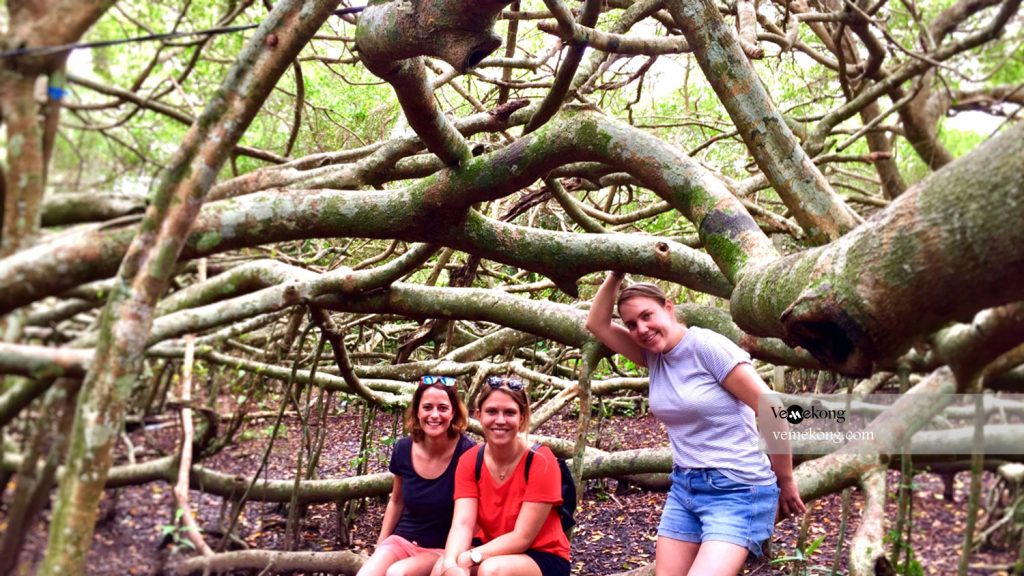 Mieu Ba Co Hi temple, also known as the historical site of Gian Gua Can Tho or Can Tho giant ficus tree, is located in Nhon Khanh hamlet, Nhon Nghia commune, Phong Dien district, Can Tho city. It is 14km ​​from the center of Can Tho city, there are 2 ways to get to Gian Gua historical site: one is to follow Vong Cung road in My Khanh commune, Phong Dien district, cross the ferry to Nhon Nghia commune, and then follow the signs; The second is to go from Can Tho to Hau Giang, turn onto National Highway 61B (Vi Thanh road), near the foot of Rach Sung bridge, turn left, there is a signboard to enter the monument.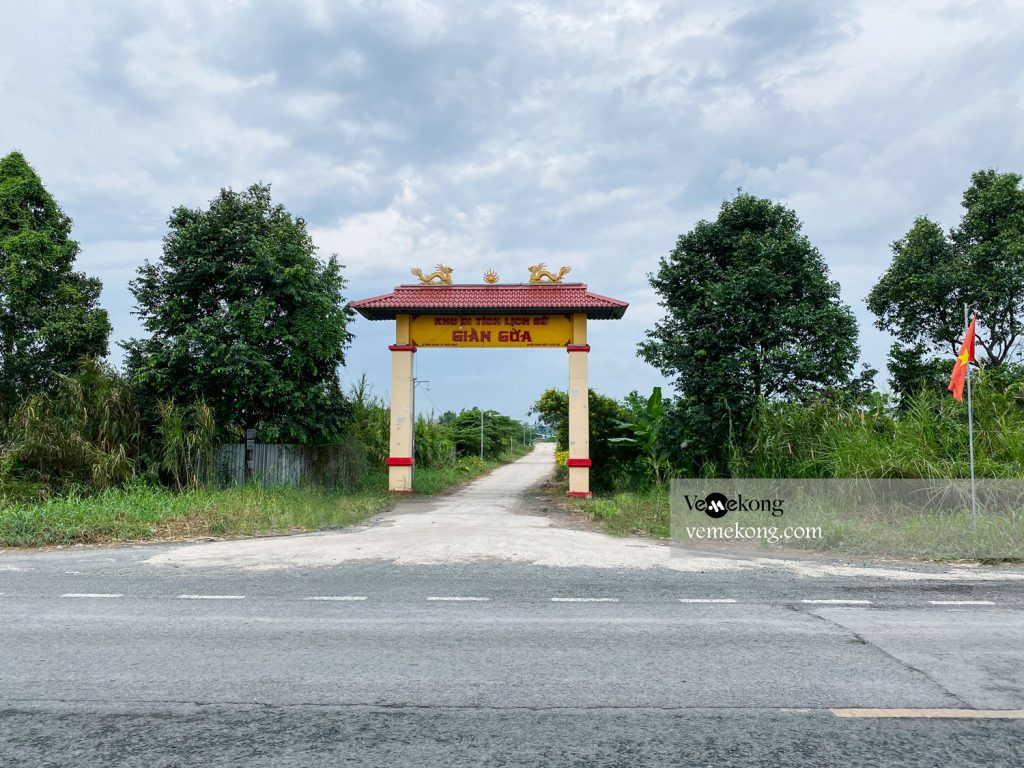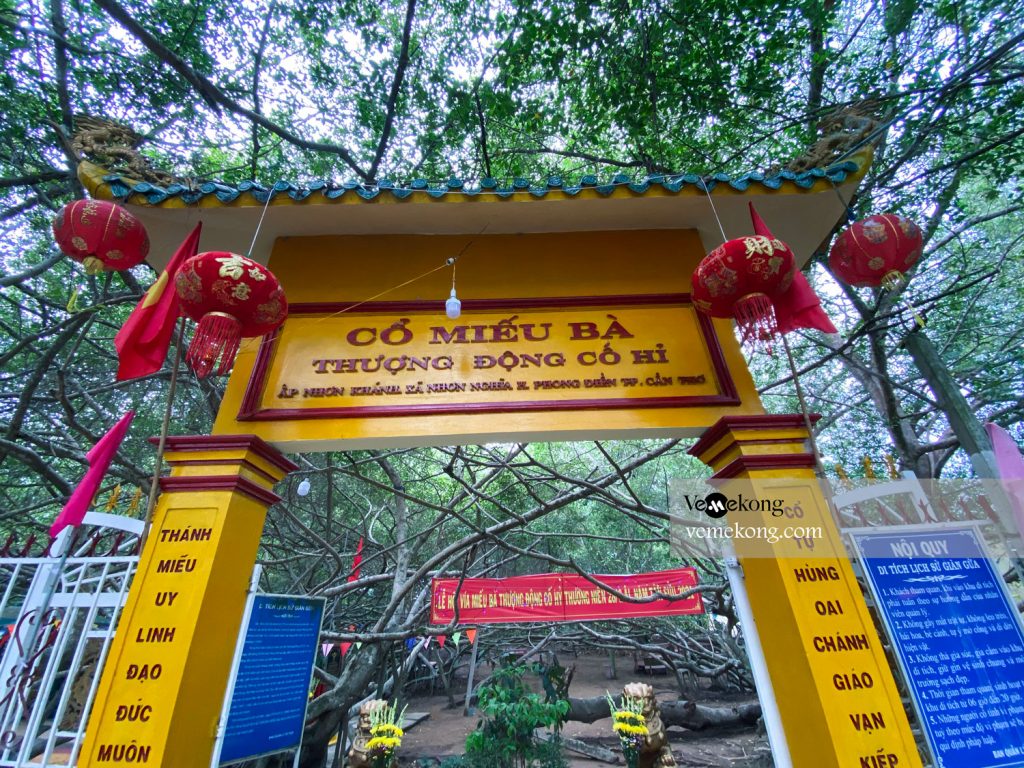 Can Tho people don't pay much attention to her origin – Mrs. Co Hi, but people only know that this is a goddess with full power in deciding happiness for people. The special feature of Ba Co Hi Temple in Can Tho is that the tablet in the shrine does not worship Ba Co Hi but the god of the country (Xu lady – Chua Xu). Thus, the people here did not consider Mrs. Co Hi as an evil god, but identified her with the Lord of the Land.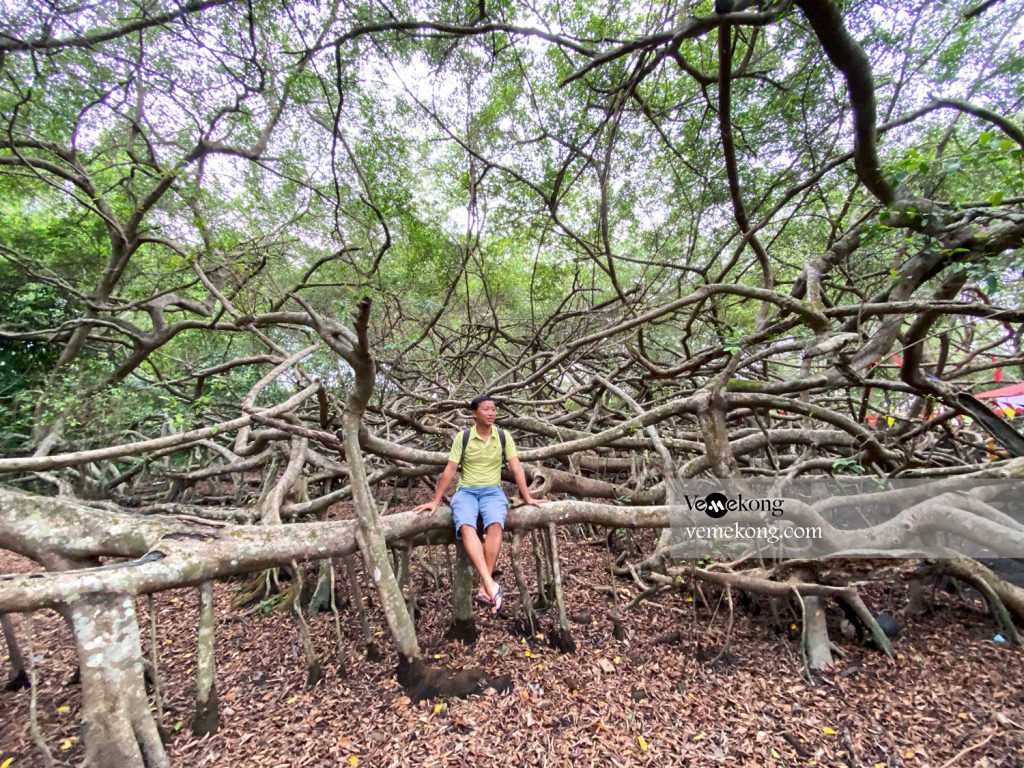 Book Can Tho Daily Tours:

Can Tho Biking Tour & Cacao Farm & Giant Ficus Tree (morning or afternoon secret tour)

Can Tho Cycling Tour 1 Day (floating market, giant tree & lunch)

Can Tho Motorbike Countryside Tour with the ficus tree

Hotline/WhatsApp/WeChat/Zalo +84939888559

hello@vemekong.com
The Gian Gua relic site, with its giant ficus trees over 100 years old, is a tree that represents the wetland ecology of the Mekong Delta. This site used to have a very large area, but due to the destruction of war bombs and the impact of the environment, now only about 2,700 m2. Coming to Gian Gua relic, visitors feel surprised and overwhelmed by a solid primeval rig, with many trees and branches interwoven and intertwined like a giant net, so sometimes the tourists don't know which is the root, where is the branch. There are branches still imprinted with traces of war with cuts and patches caused by bombs and bullets. However, with intense vitality, those ficus trees still sprout and stretch to radiate shade. This is probably the one-of-a-kind ficus giant tree in Vietnam. Currently, it has spread over an area of ​​about 4,000m2.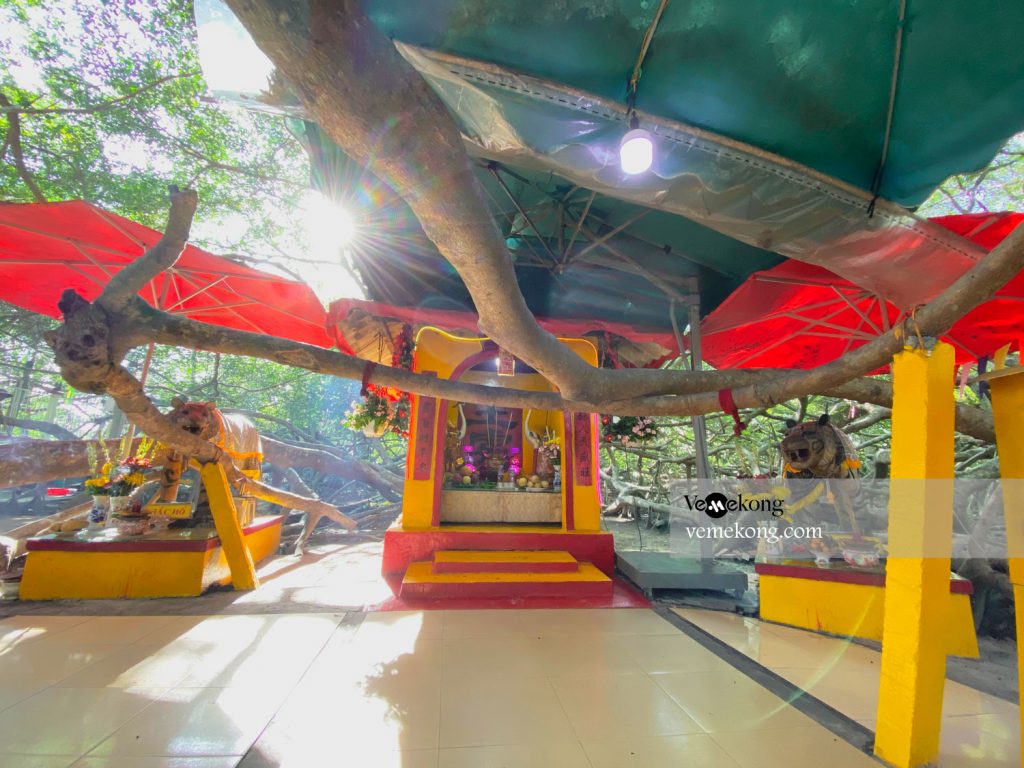 The Via Ba festival was held with many exciting activities to pay respects to Thuong Dong Co Hy, who is revered by the people as a benefactor of this homeland. Coming to the Gian Gua festival, you will have the opportunity to learn about the worshiping rituals, offerings to the Grand mother and the gods, especially the traditional dance and listen to don ca tai tu and enjoy the fruits.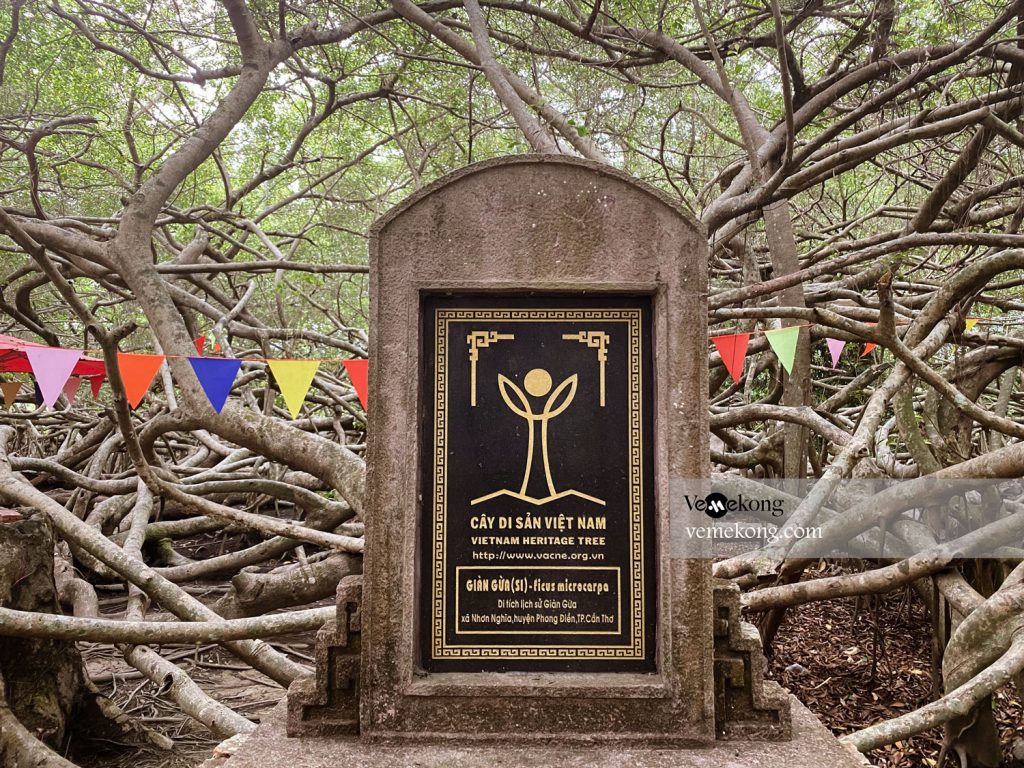 In particular, this place was also the site of revolutionary activities during the two periods of resistance against the French colonialists and the American empire. During the anti-American era, many meetings took place here to implement resolutions and directives of the Party Committee of the District and Provincial Party Committee; In 1961 – 1965, this site was a secret facility to open training courses, to train special forces in the inner city of Can Tho. Gian Gua Can Tho is also a place where weapons and ammunition are stored, contributing with the armed forces and the people to defeat the war strategies of the US.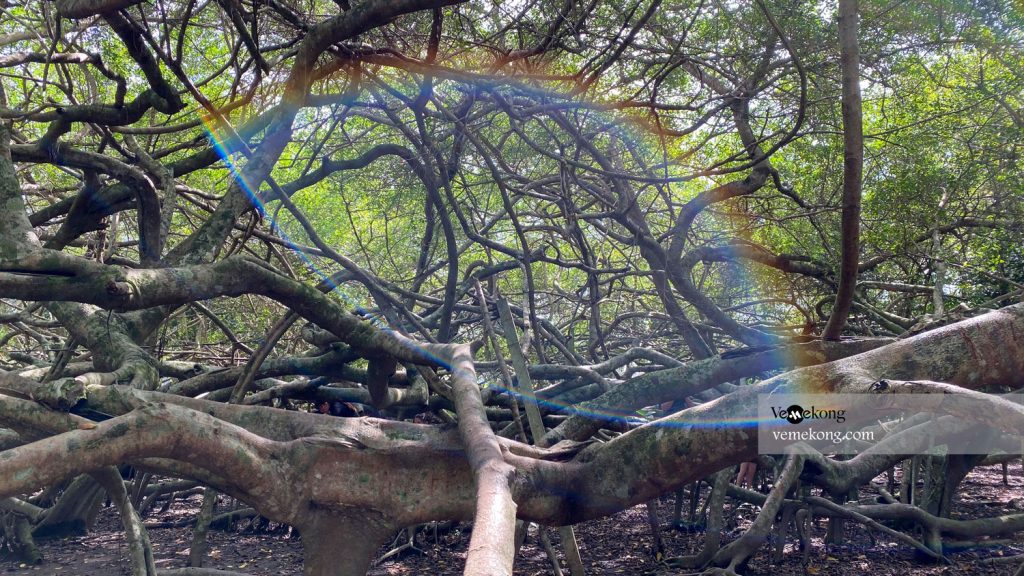 With the above values, on April 5, 2013, Can Tho City People's Committee signed Decision No. 1225/QD-UBND ranking Gian Gua as a city-level historical relic. And around this time, Vietnam Association for the Protection of Nature and Environment recognized the Gian Gua as a Vietnamese heritage tree on June 13, 2013. This is also the first heritage tree of the Mekong Delta and the only heritage tree of Can Tho city to be recognized.
Embedded slot
Pro Tips: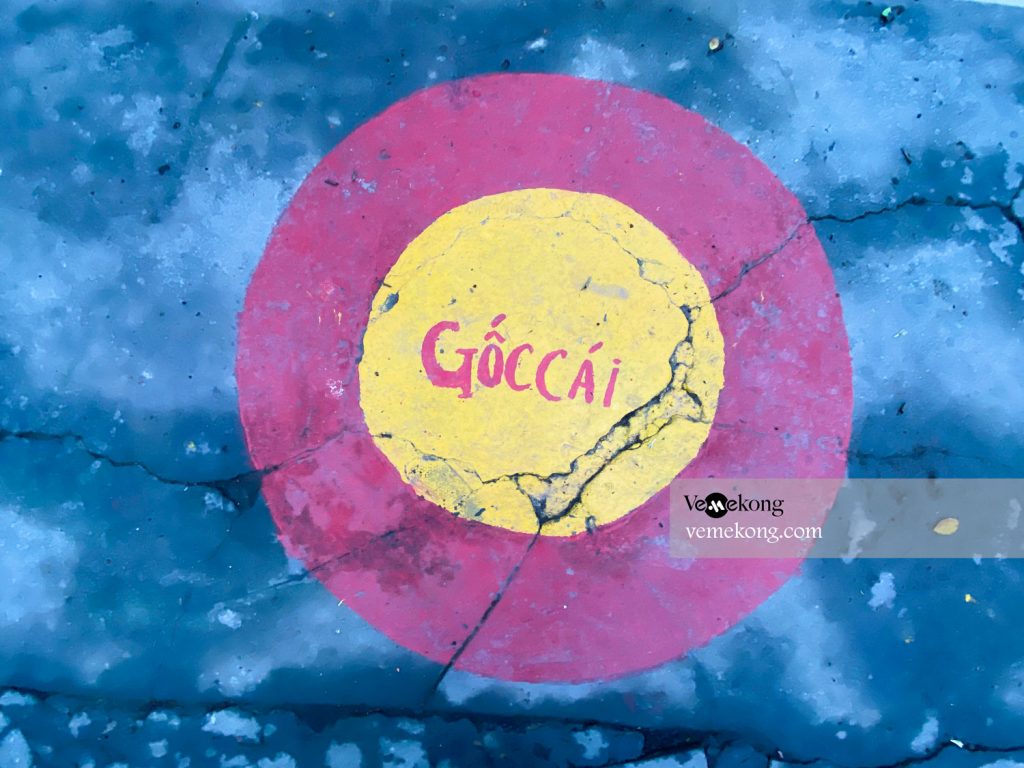 If you plan to extend your travel to Can Tho homestay, do not forget to bring mosquito repellent cream.
Visit Can Tho or do any customized tours, please choose reputable providers with boat trips equipped with lifebuoys, jackets, motorcycle and cycling tours with the helmets and. Safety is a priority! Choose Can Tho responsible tours which help you give back while traveling. It's a cliché, but it's true.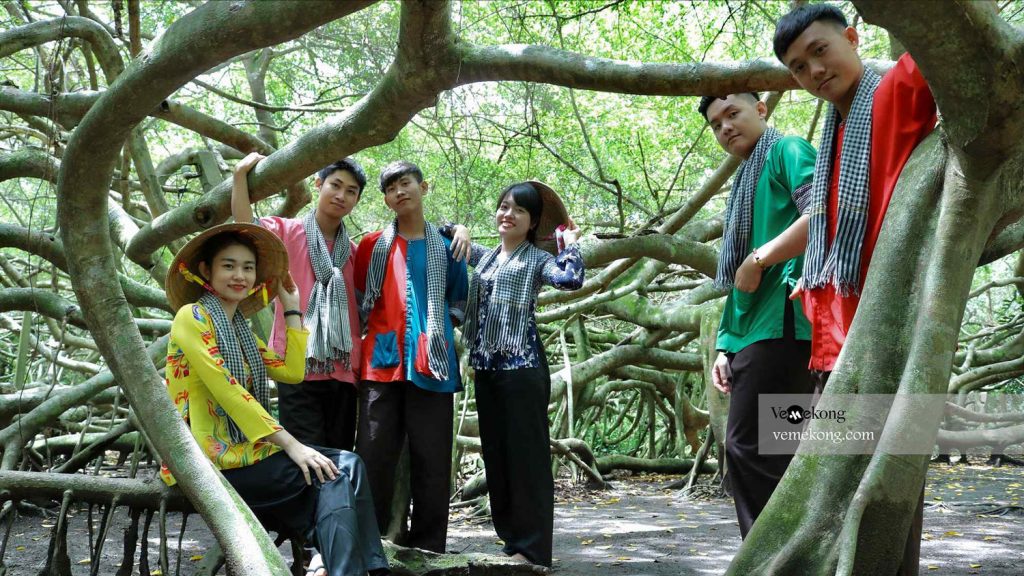 Can Tho food & drink guide ranges from street food, authentic, fancy to fusion foods. As a tropical land of many fresh vegetables and homegrown gardens, which always make Can Tho cuisines fresh, close to nature and very traditional. If you are a food lover, don't hesitate to put other bites onto your food lists such as Cong cake in Can Tho, Ut Dzach Fine Rice Vermicelli…
Bring your hat, sunglasses, and sunblock, scarf to wear when visiting temples, pagodas, and the cathedral.
Bring the raincoat if you're planning a trip to Can Tho in the rainy season, as Can Tho always looks fantastic in the full rain and full sun.
Can Tho tourist attractions are magnificent itself, but if you have enough time, don't forget to put other places onto your bucket lists such as Can Tho Wildlife & Forest, Binh Thuy Ancient House, Organic Cacao farm, Can Tho Floating Markets, Can Tho Small Canals & Sampan Ride, Can Tho Fruit Garden, Can Tho Paddy Rice Fields, Can Tho Rice Noodle Factory, Cai Rang floating market, Can Tho Old Market, Phong Dien floating market, Truc Lam Phuong Nam Zen Monastery, Can Tho to Con Dao – Express boat, Son Islet – Community-based Tourism…
Hopefully, the above tips will help you to come up with a great plan for your adventure in Can Tho, Mekong Delta, Vietnam. Have a safe trip!
"Sleep less, travel more, respect more" – Thomas Vietnam – Local travel expert.
Thank you