Son Islet – Community-based Tourism – Can Tho Visitor Guide
Are you looking for Son islet or Con Son islet in Can Tho City? In this article, we share everything about time, address, local route, itinerary, updated ticket price, self-travel experience, what's good along the way, food and drink, insight information, revealing unique and impressive experiences on Son islet – community-based tourism in Can Tho.
By Thomas Vietnam at vemekong.com | Official Can Tho Visitor Guide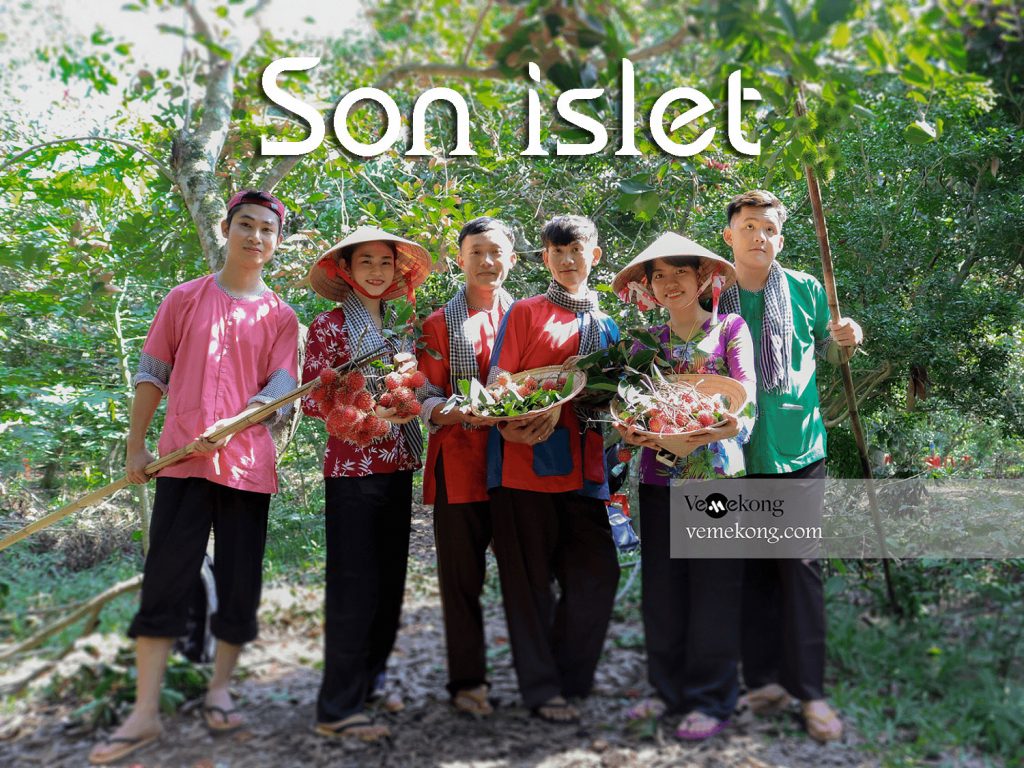 1. Better to Know as a Tourist
Ticket: From 20,000 VND for the ferry and 200,000 VND for a package.
Spend-time: 2 – 3 hours (approx)
Hours: Dawn – dusk
Food: Yes
Shop: Yes
Parking lot: Yes for coach
Blog: https://vemekong.com/con-son-islet-can-tho/
Address: Opposite Co Bac ferry station, Binh Thuy District, Can Tho City. Please Google Maps "Ben Pha Co Bac" for Son islet in Can Tho.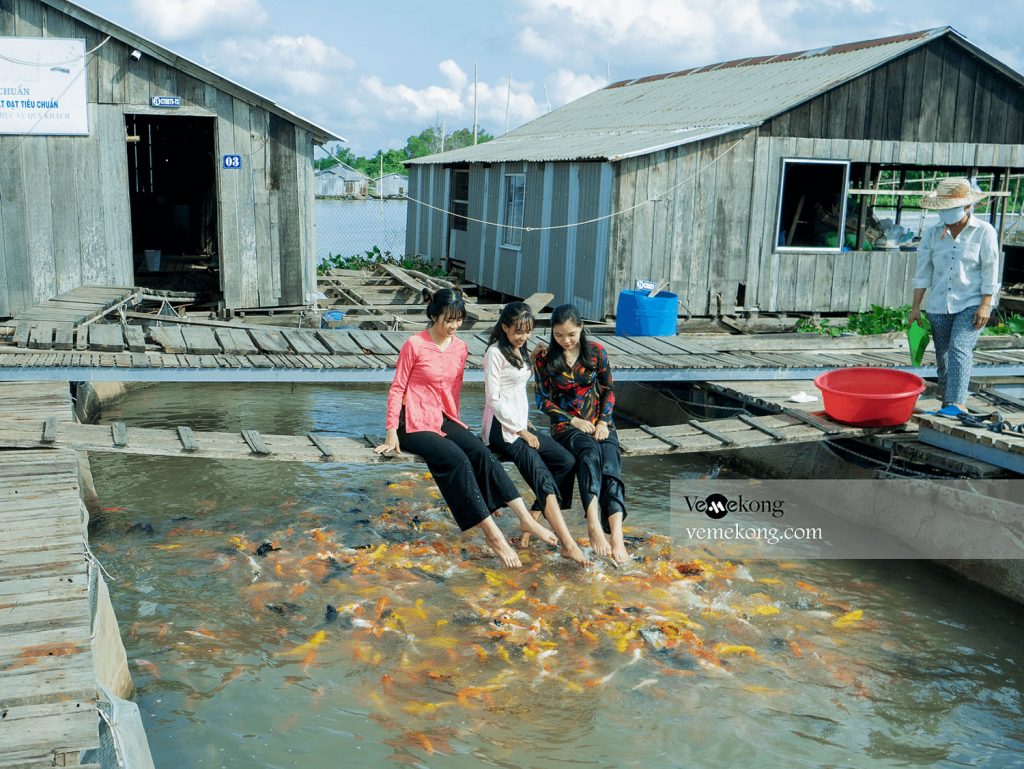 Added values: Like a miniature Can Tho space, Son islet is vividly shown with a very simple, rustic and cool place by fruit gardens all year round.
Nearby attractions and hidden gems: Looking for places to stop on your way to and from Son Islet and Ecotourism Village? Or maybe you found it too crowded here? We've got some ideas! Check out our list: Binh Thuy ancient house (15 minutes away), Bang Lang Stork Garden (1 hour away).
2. Son Islet a "Green Pearl" of Can Tho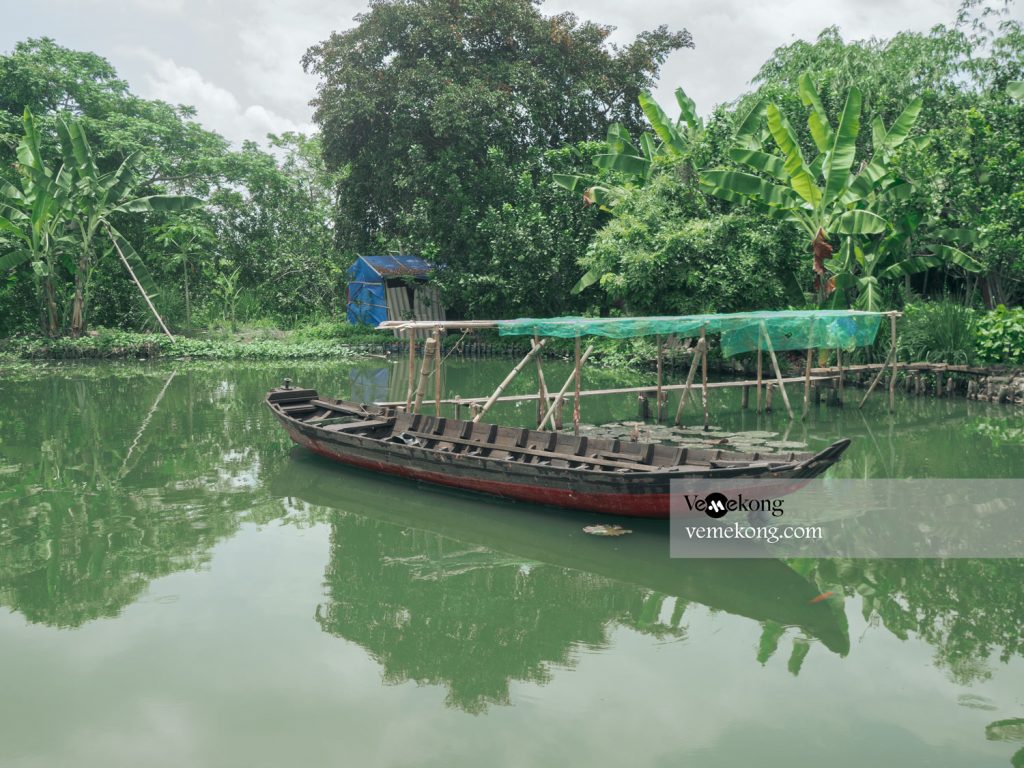 This islet emerges in the middle of Hau river above Khuong dune, opposite the river bank from Tra Noc down near Binh Thuy market. The old name was "Tra Noc islet", according to the French map of 1949-1950. According to some seniors and the book "Can Tho Now & Then", Con Son is also called "Con Linh – Linh islet". Later, on the islet, there were many Son trees, a type of tree with latex used to paint ships, boats, household items or used in lacquer art. Therefore, the name Con Linh was changed by folk to Con Son to this day.
3. Travel Guide to Son Islet – Community-based Tourism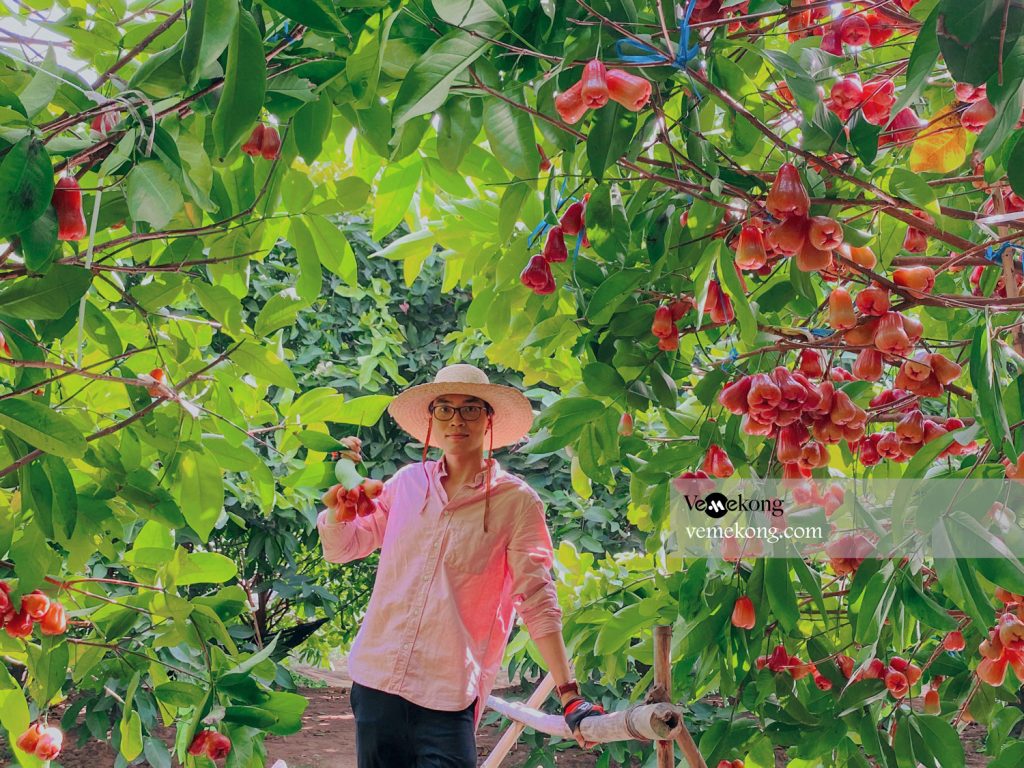 Book with local: Son Islet – Sustainable Can Tho Tour (Morning or afternoon tour)

Hotline/WhatsApp/WeChat/Zalo +84939888559

hello@vemekong.com
The first experience in Con Son is that you will visit a fish raft on the Hau River. It is not only a simple fish raft, but you also feel very indescribable and amazed by Uncle Bay's passion for collecting "dear all kinds of fish". Hear and learn his stories on how to train and raise the fish. Don't forget to check-in "Foot massage with Kol" – that's good.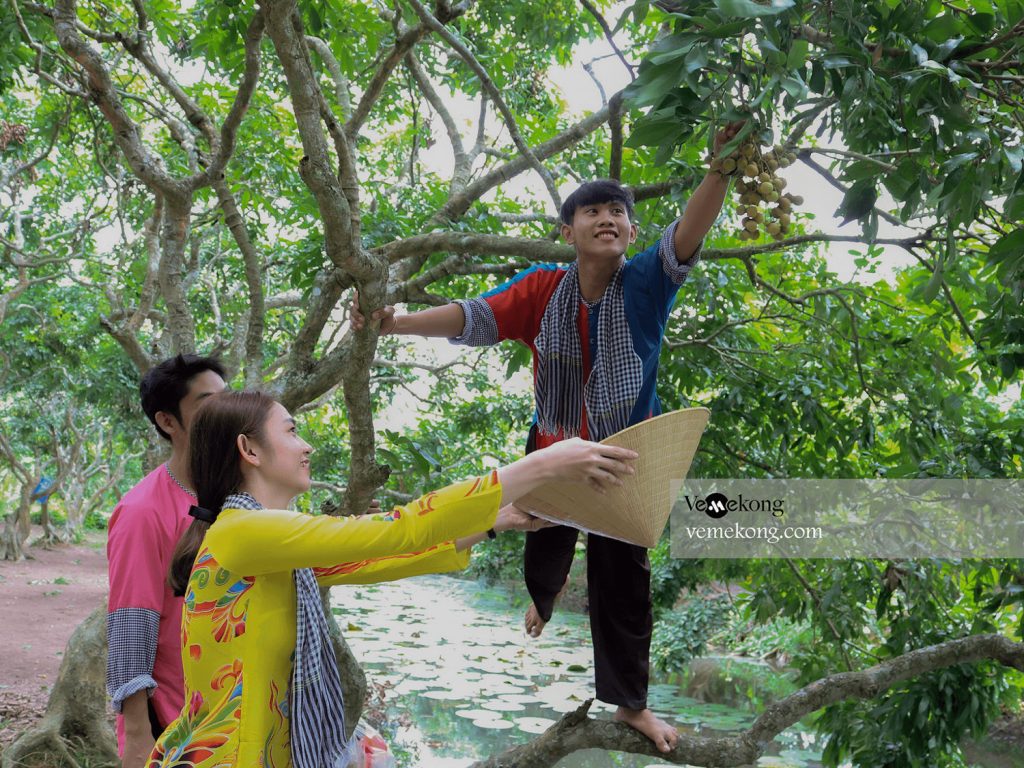 We would like to clearly describe this place as a fruit-picking experience, that is, you will enter the garden with the Con Son people to visit the garden and eat fruit in the garden. But not the type of climbing freely picking and eating. But Con Son still gives you a feeling of being picked and eaten right in the garden. Still quality and interesting because there are many other experiences waiting for you.
4. What to Do – See – Eat at Con Son Can Tho
With about 80 households on the Son islet, if you really understand the feeling of a homestay in the garden on the weekend, you will love Con Son the most. In the early morning, walking, enjoying the landscape of the garden, listening to the birdsong, the sound of leaves and dew drops, the sound of fish wagging their tails in the pond… At noon, lying in a swinging hammock, enjoying the cool river breeze, taking a nap in the middle of the day. In the afternoon, canoeing around the canals and gardens to visit fruit trees. After that, eat a delicious meal like "canal fish, homegrown vegetables and free range chicken", it's delicious! Top tips: you have to contact them in advance, because only a few households do homestays, but there are months off!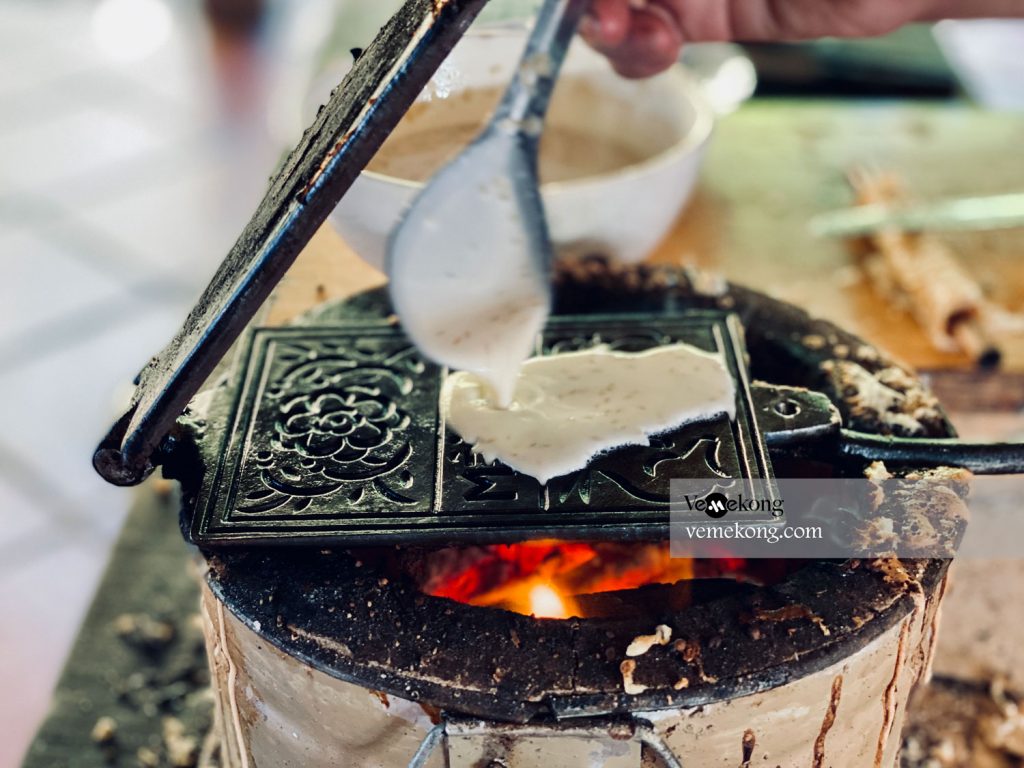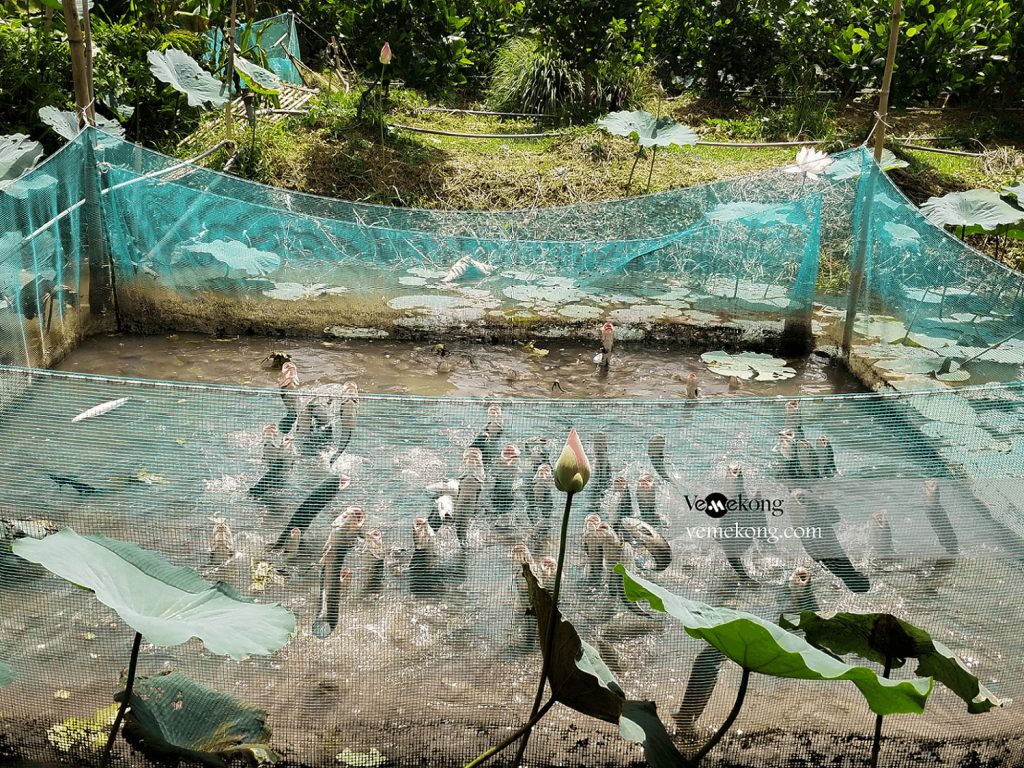 "Flying menu" is a unique style of Con Son, each family member will prepare one dish and serve it all to you, the benefits from community-based tourism will be shared and filled with Con Son people. It's a good idea and very meaningful, but we hope that one day everyone will have a place to cook and serve "stay menu" rather than "flying" from house to house, which is difficult and inconvenient in the wet season.
5. Free Itineraries from VeMekong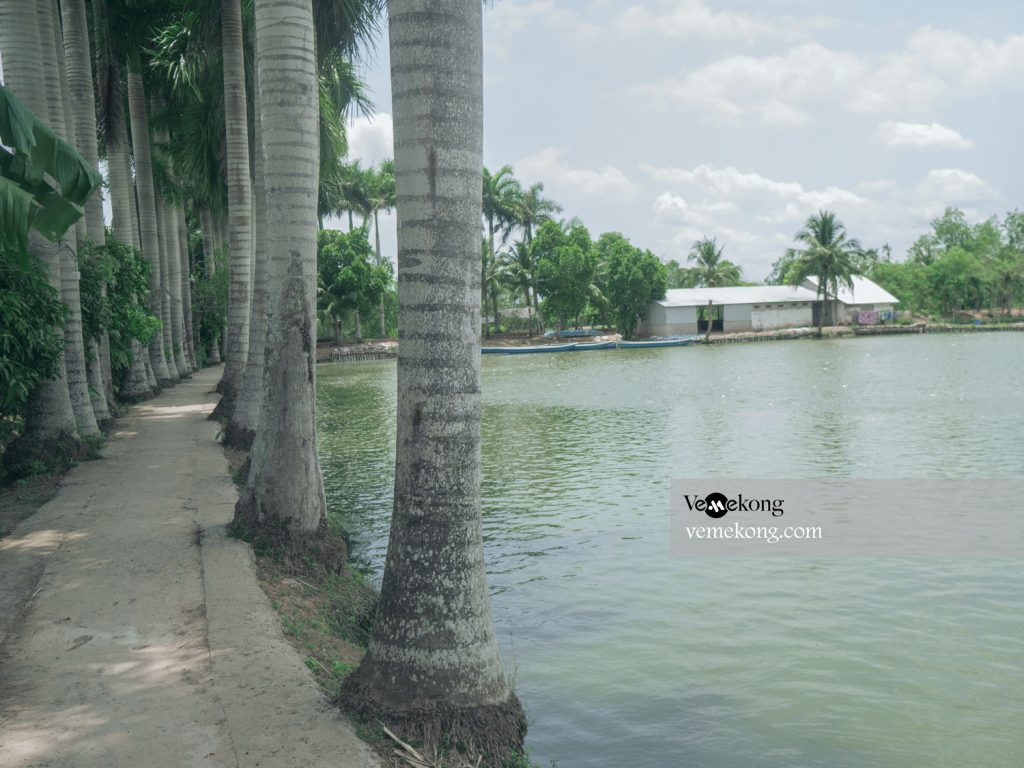 As a local travel expert, we have some ideas for you to think about.
From Can Tho city center:
Route 1: Hotel in Can Tho center – boat station – Son islet – hotel in Can Tho center [half day]
Route 2: Hotel in Can Tho center – Binh Thuy ancient house – Son islet – hotel in Can Tho center [half day]
Route 3: Hotel in Can Tho center – boat station – floating market – rice noodle factory – organic cacao farm – Local lunch – Binh Thuy ancient house – Son islet hotel in Can Tho center [full day]
Book with local: Son Islet – Sustainable Can Tho Tour (Morning or afternoon tour)

Hotline/WhatsApp/WeChat/Zalo +84939888559

hello@vemekong.com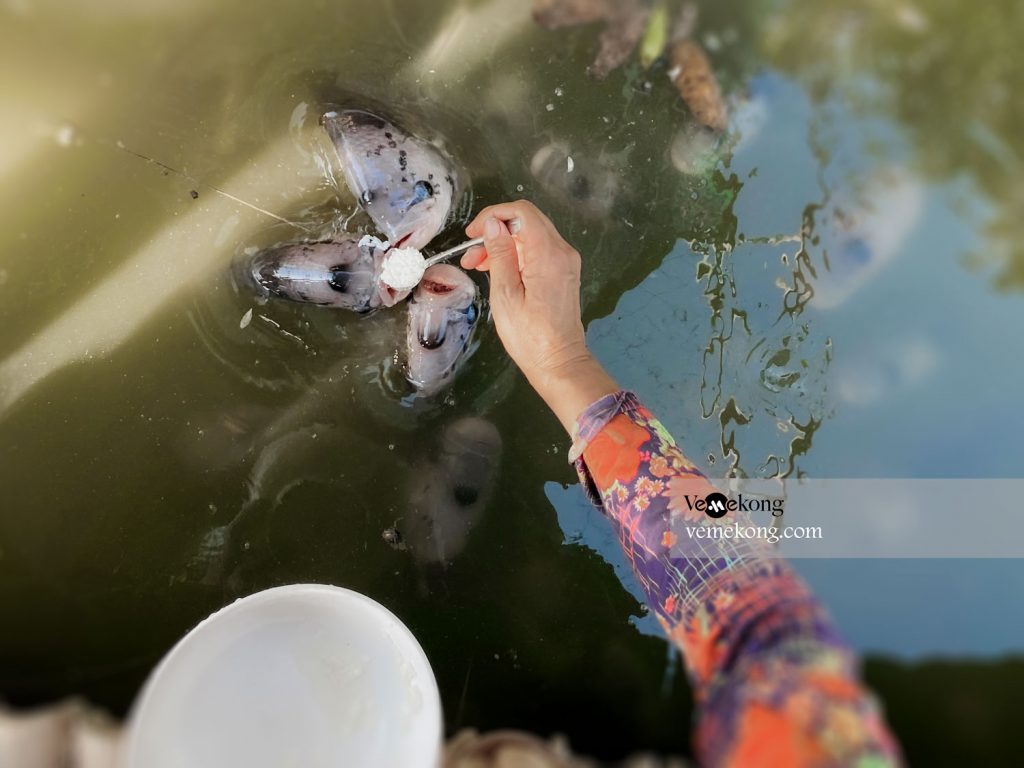 If you do not have much time left, it is easy to check out spots in one full day by boat or with bike or with motorbike and car. But there are much more than tourist sites like these in Can Tho. Make sure you have more time to feel and explore more about the hidden gems and the culture, food, night life, wildlife and forest as well. Top tip: Stay in a homestay nearby, so you have more chances to visit it and surroundings. If you are looking for the package Can Tho day tour with local, you can contact www.vemekong.com or Hotline/WhatsApp/WeChat/Zalo +84939888559; email: hello@vemekong.com
6. Visit Son Islet by yourself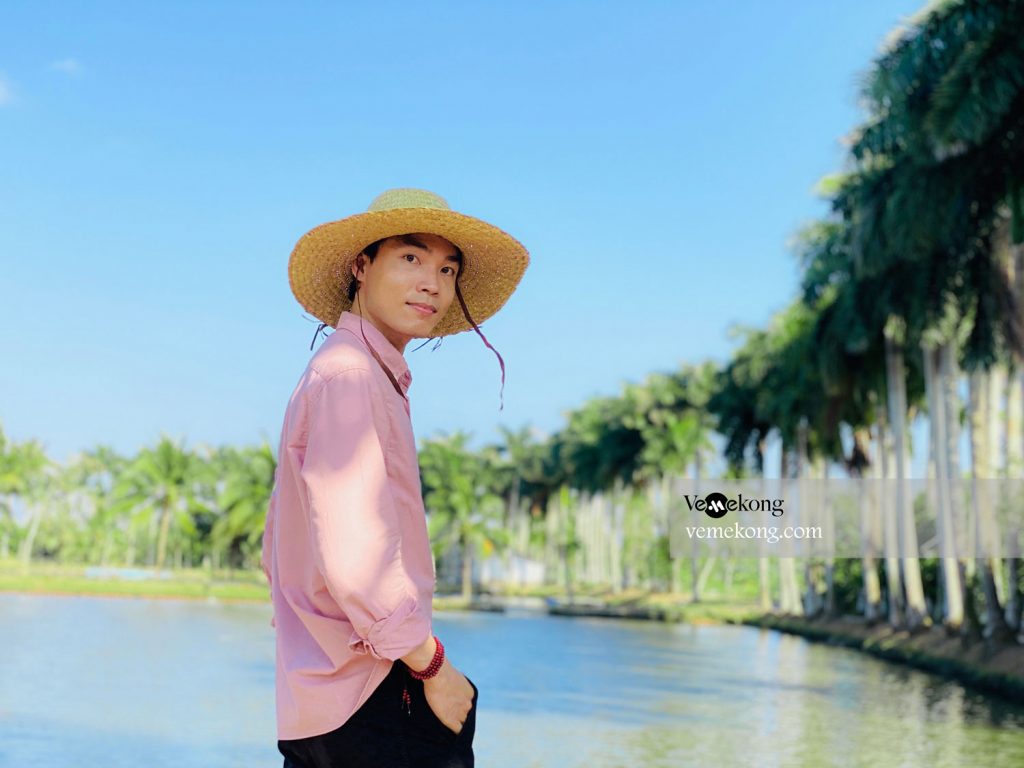 Solo traveller? Travelling on your own means you will get out of any difficult situations by yourself. This, in turn, leads to more satisfying travel experiences and helps you improve your problem-solving skills. These days we rarely get the chance to sit with ourselves and simply be. That's why you should consider the time you spend alone on your trip as a gift.
From Ninh Kieu wharf, you can go to Con Son by boat or car about 35 minutes (12km). Some solo travelers choose motorbikes. You just need to search Google maps "Bến đò Cô Bắc – bến tàu du lịch cồn Sơn" and that's it! When you arrive at the wharf, there will be someone there to guide you sincerely. It is the cheapest and most economical to buy the tickets from the locals. Please note that you can buy a combo ticket including: Con Son guide, ferry return-ticket, ticket to go fishing farm and other experiences on the islet. The total cost is about 250,000/person, depending on the quantity and the group size. Top tip: The locals can speak English a tiny bit, so you should prepare translation apps to make your vacation easier.
7. Google Maps of Son Islet Can Tho
Google Maps made a name for itself helping people travel from one place to another, avoid traffic (You probably know the route from your hotel to the gas station by heart, but what you can't be sure about is gridlock), measure a distance, get back to the hotel on time, share the location…
Embedded slot
8. Responsible Travel and Advice to Visit Son Islet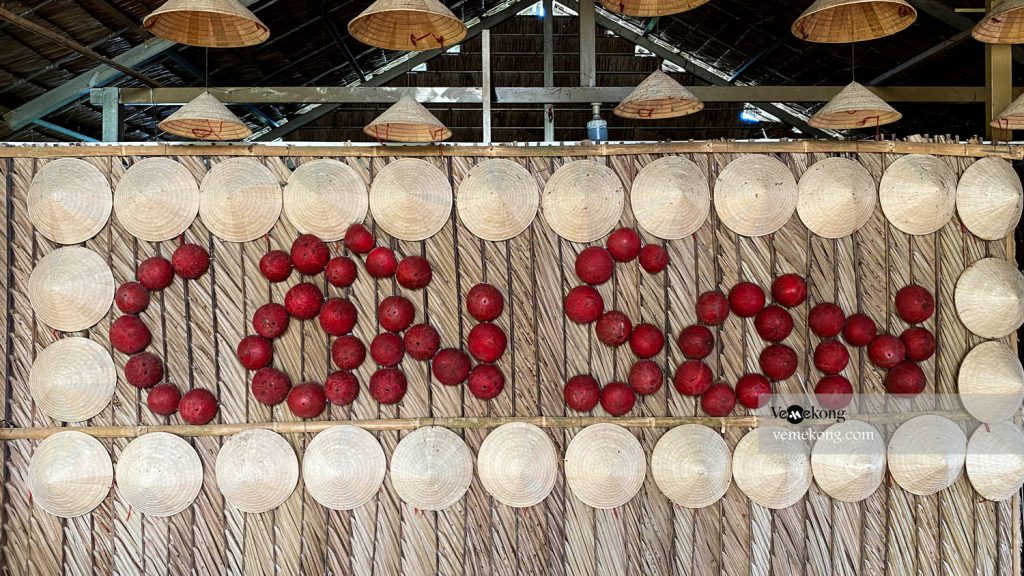 It is always good to repeat "responsible travel" over and over. The islet itself is facing land erosion, flooding as well as environmental pollution. More and more tourists come to enjoy the green Son islet. We do appreciate any of you who do visit and take good behavior to this local village and the environment. Top tip: There are less and less authentic places like this in Vietnam because of fast and morden life. And please take this note "be a part of the solution, not part of the pollution".
9. Incredible Tips for Photography, Specialists, KOLs, Media and Influencers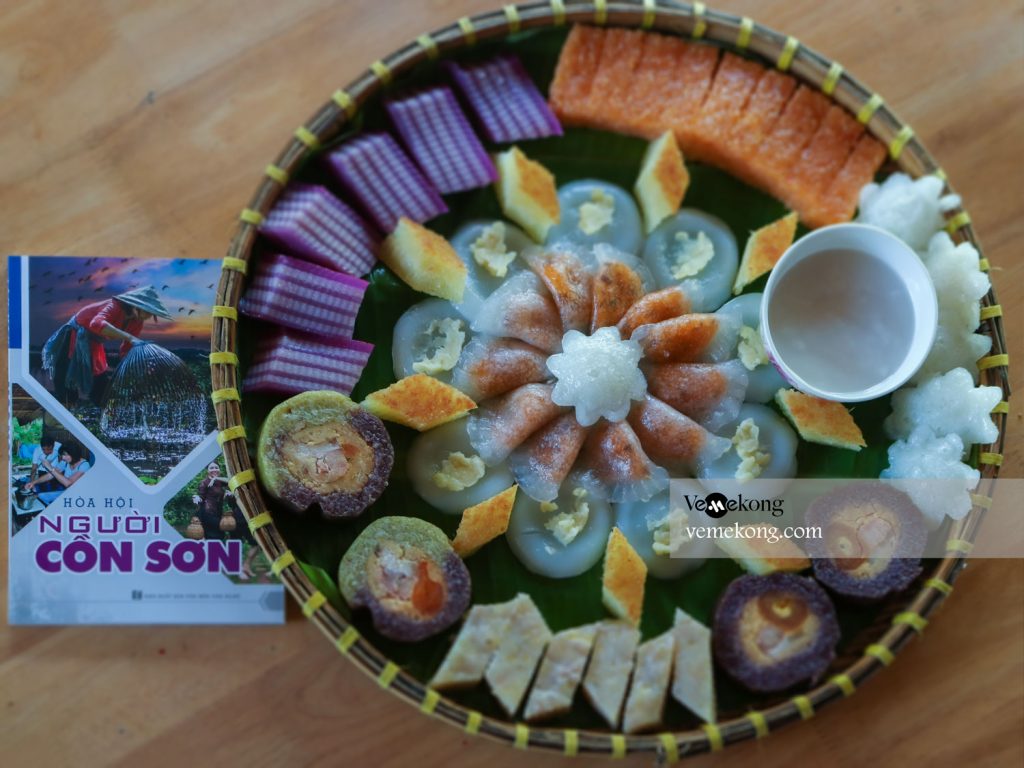 To get the best of the best for your unique writing, featuring, photo, video and insider's stories. We do recommend you to have a local travel expert, the one who always gets more ground information and makes sure every single element is solved perfectly. Vemekong (very exclusive Mekong) team is your priority choice. Email and have a private talk with them to customize your journey smoothly, personal and the most ultimately amazing. You can contact www.vemekong.com or Hotline/WhatsApp/WeChat/Zalo +84939888559; email: hello@vemekong.com
10. Pro Tips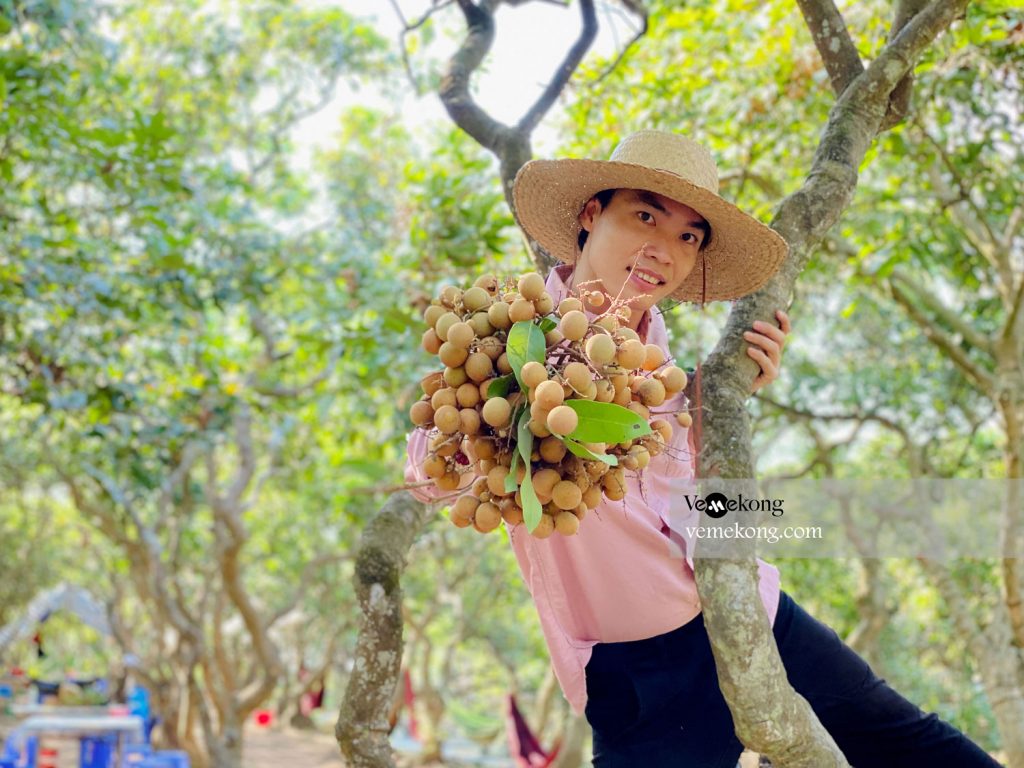 If you plan to extend your travel to Can Tho homestay, do not forget to bring mosquito repellent cream.
Visit Can Tho or do any customized tours, please choose reputable providers with boat trips equipped with lifebuoys, jackets, motorcycle and cycling tours with the helmets and. Safety is a priority! Choose Can Tho responsible tours which help you give back while traveling. It's a cliché, but it's true.
Can Tho food & drink guide ranges from street food, authentic, fancy to fusion foods. As a tropical land of many fresh vegetables and homegrown gardens, which always make Can Tho cuisines fresh, close to nature and very traditional. If you are a food lover, don't hesitate to put other bites onto your food lists such as Cong cake in Can Tho, Ut Dzach Fine Rice Vermicelli…
Bring your hat, sunglasses, and sunblock, scarf to wear when visiting temples, pagodas, and the cathedral.
Bring the raincoat if you're planning a trip to Can Tho in the rainy season, as Can Tho always looks fantastic in the full rain and full sun.
Can Tho tourist attractions are magnificent itself, but if you have enough time, don't forget to put other places onto your bucket lists such as Can Tho Wildlife & Forest, Binh Thuy Ancient House, Organic Cacao farm, Can Tho Floating Markets, Can Tho Small Canals & Sampan Ride, Can Tho Fruit Garden, Can Tho Paddy Rice Fields, Can Tho Giant Ficus Tree – Secret VC base, Can Tho Rice Noodle Factory, Cai Rang floating market, Can Tho Old Market, Phong Dien floating market, Truc Lam Phuong Nam Zen Monastery, Can Tho to Con Dao – Express boat…
Hopefully, the above tips will help you to come up with a great plan for your adventure in Can Tho, Mekong Delta, Vietnam. Have a safe trip!
"Sleep less, travel more, respect more" – Thomas Vietnam – Local travel expert.
Thank you