Can Tho Bike Travel Guide - Routes, Paths and Weather Advice
Getting around on two wheels is not only fun and educational but also for responsible travel and environmentally friendly of the destination you bike. Cycling holidays in Can Tho are suited to most everyone. Trust us: You don't need to be in perfect shape or have top-notch gear to have fun cycling in Can Tho. Our "Can Tho Bike Travel Guide – Routes, Paths and Weather Advice" will help you out!
By Thomas Vietnam at vemekong.com | Official Can Tho Visitor Guide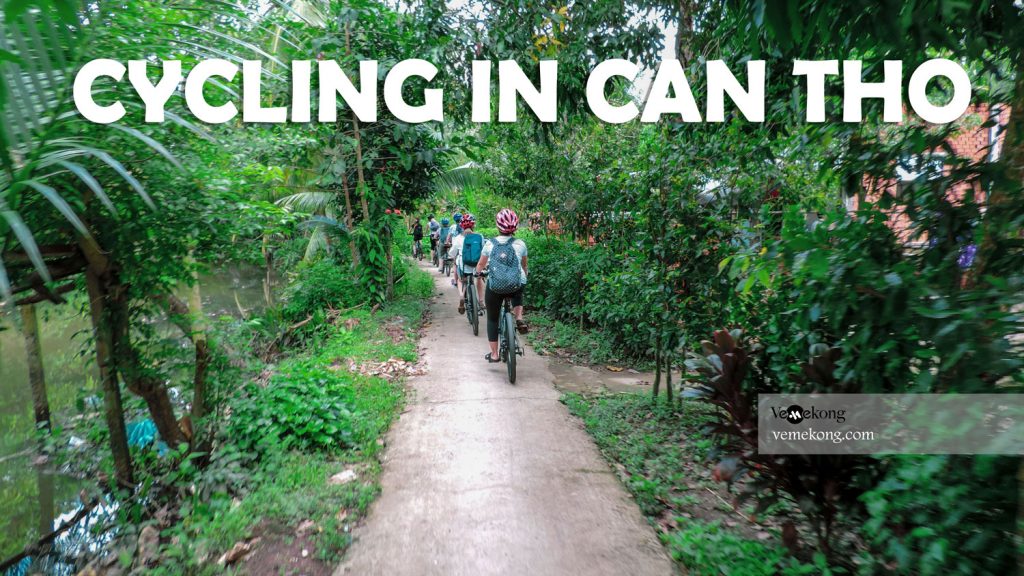 1. Can Tho cycling or not?
Can Tho city is great for biking along the Mekong River and hundreds of tropical fruit gardens and many hidden unlocked villages are only reached by bike or scooters. You can choose long-distance to bike and explore all Mekong regions, where you can bike hundreds of kilometres, or rugged mountain trails that will test your abilities in An Giang forests and mountains, Tra Vinh coastal paths, Ca Mau mangrove forests, Vinh Long isolated islands and thousand kilometers of paddy rice fields and farms.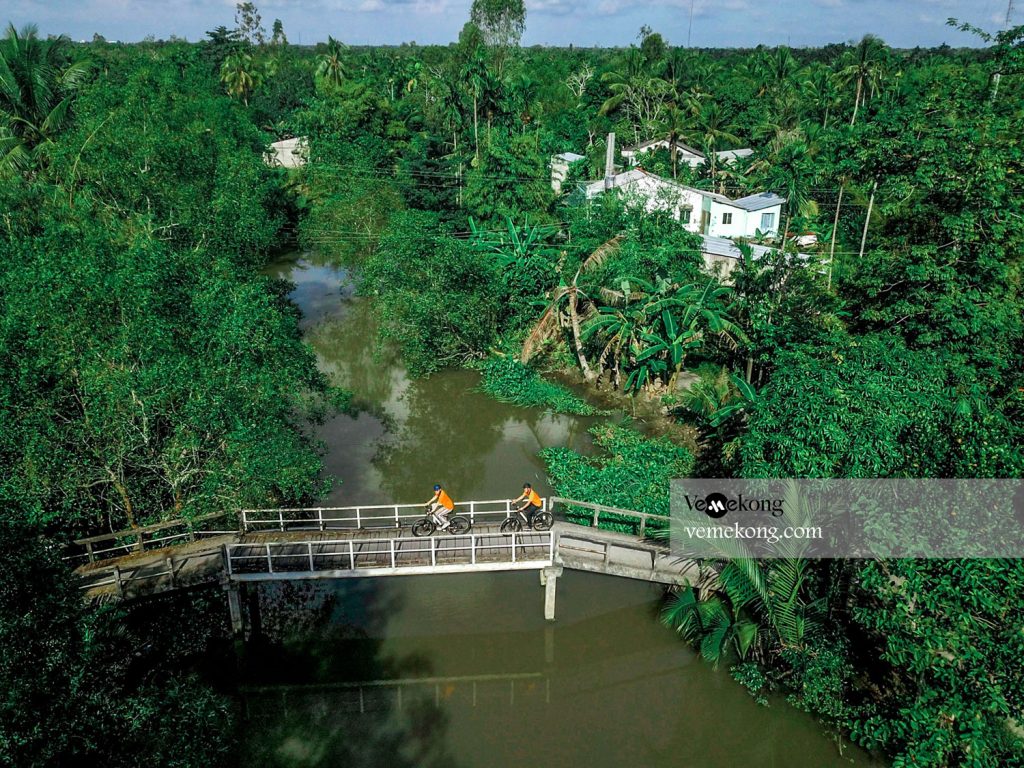 Can Tho's fascinating ciyt offer plenty of cycling villages in Cai Rang, Phong Dien, Thot Not where you can combine with the floating market, tropical farms and flower garden. As there are so many options available, finding the right cycling holiday in Can Tho won't be difficult, no matter if you're training for the Tour de France or are a family with small children.
2. How to prepare for your cycling holiday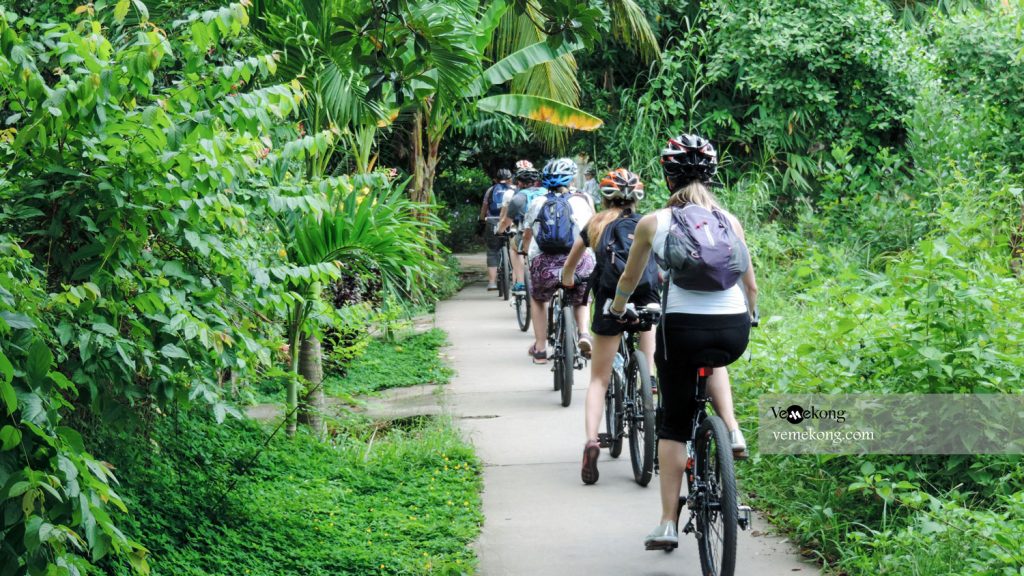 Bike rentals are widely available in Can Tho. In the city, you will find both private bike rental companies as well as bike rental hotels. Out in the countryside there are also plenty of bike rental companies, many of whom will deliver bikes to your location, as well as pick up the bike when you're done. Many also offer service packages, which come in handy if you get a flat tyre or run into other trouble. Some homestays also offer basic bikes for local exploration.
3. What kind of bike is also a consideration.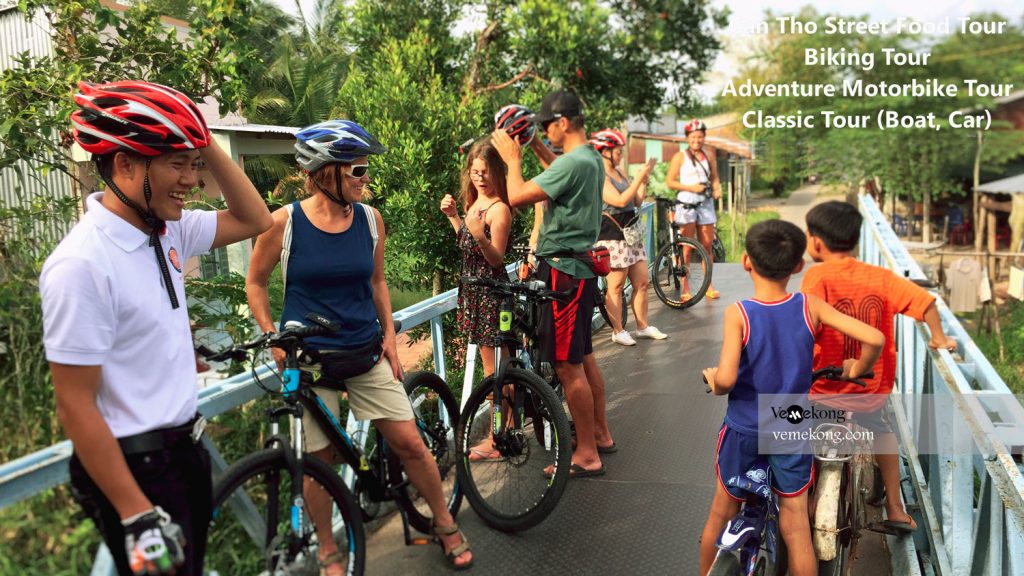 Electric bikes are increasingly popular in Can Tho but it is not for rent yet and while not all bike rental companies offer them. You can also rent mountain bikes, child bike seats, children's bikes, traditional city bikes, and much more. The best advice is to contact a bike rental company prior to your arrival to see what they offer and book in advance.
4. Explore on your own or take a guided tour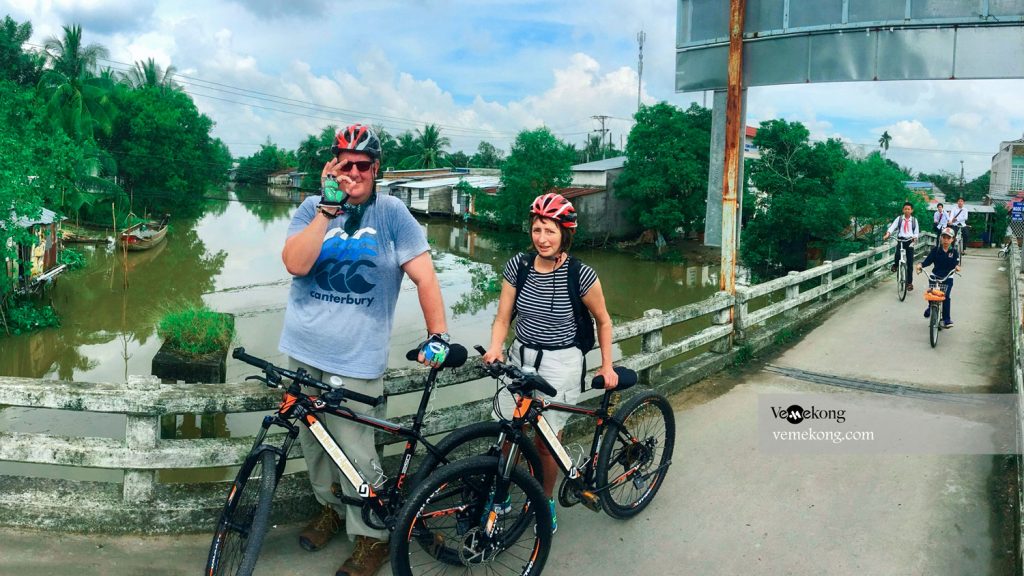 There are a number of cycling options when it comes to exploring Can Tho City where bike rentals are widely available. In this city, there are a number of companies offering various types of guided tours. Some will take you through particular neighborhoods, sites, giving you the history of the area as you explore the city center, while others are flexible and will accommodate your personal interests.
You can also mountain bike through the outskirts of the city. Outside the city you can also choose to have a guide with you. If you're interested in a multi-day guided cycling holiday in Can Tho and surroundings, Vemekong.com will not only provide you with a bike and a guide, but they will also book accommodation along the way.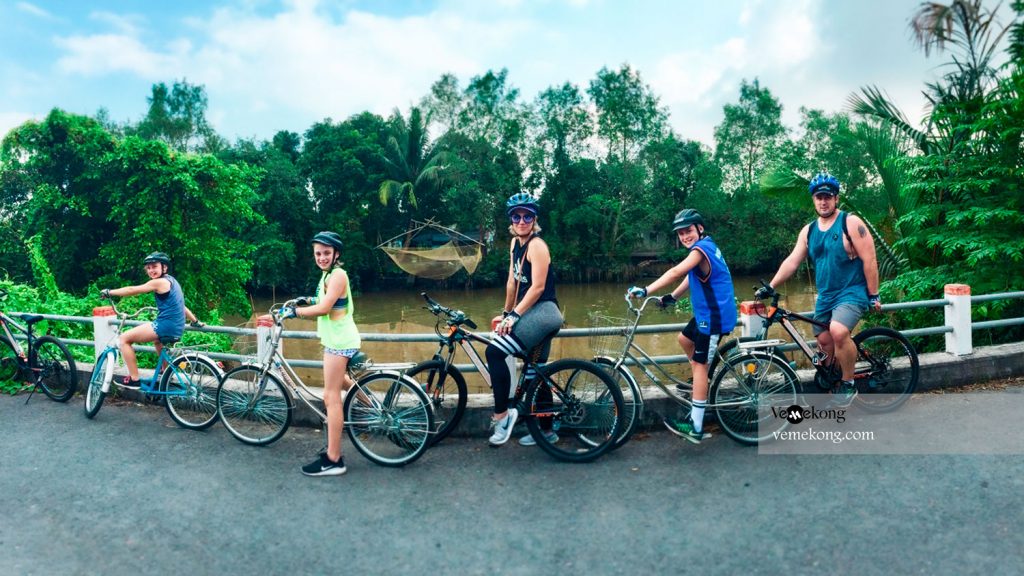 If you want to take a self-guided tour be sure to research prior to your trip, as Can Tho has a lot of ferries. Vemekong.com can provide both maps and excellent advice on where to go and what to see.
5. Long-distance touring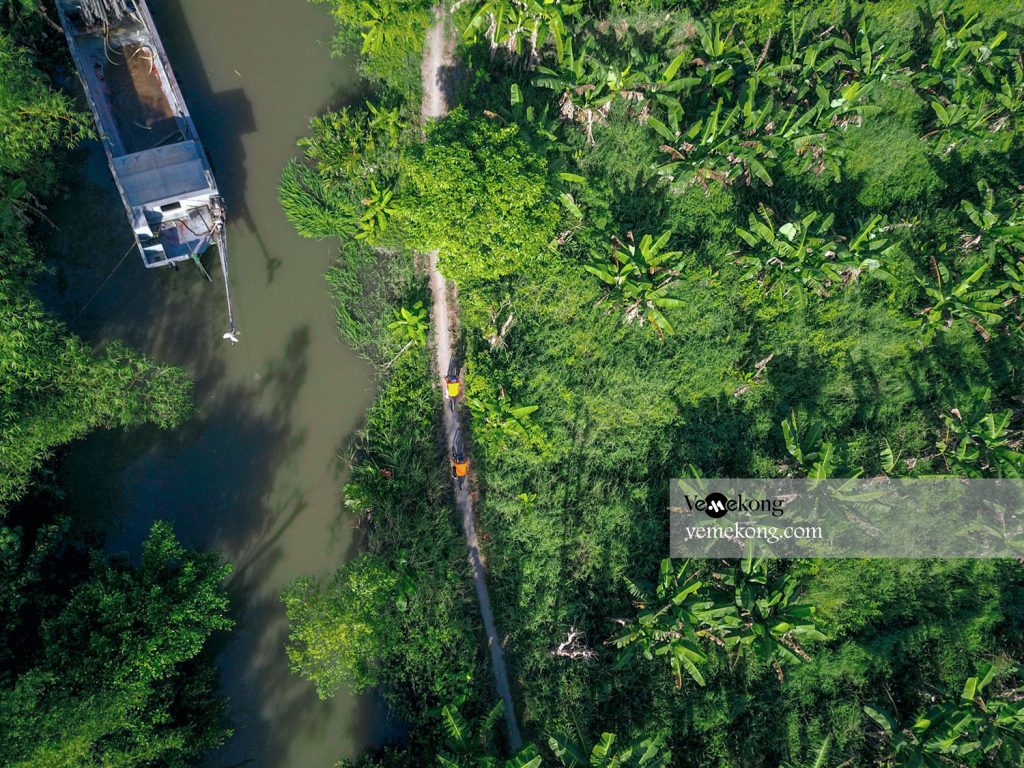 There are some long-distance touring routes spread across the Can Tho and its connected provinces. In the North of Can Tho, you can bike to Binh Thuy ancient house, Son islet, Bang Lang stork garden in Thot Not, paddy rice fields and Thot Not rattan and bamboo craft village and more…The 51 kilometers route is relatively easy going, so it's suitable for cyclists.
In the South of Can Tho, Cai Rang and Phong Dien districts, you will explore more traditional villages of rice noodle, organic cacao garden, Ut Dzach fine rice vermicelli, many tropical fruit gardens and local ferries… This 15 kilometers route and path is relatively very easy going, beautiful, educational and fun, so it's fine for cyclists of all skill levels with or without kids.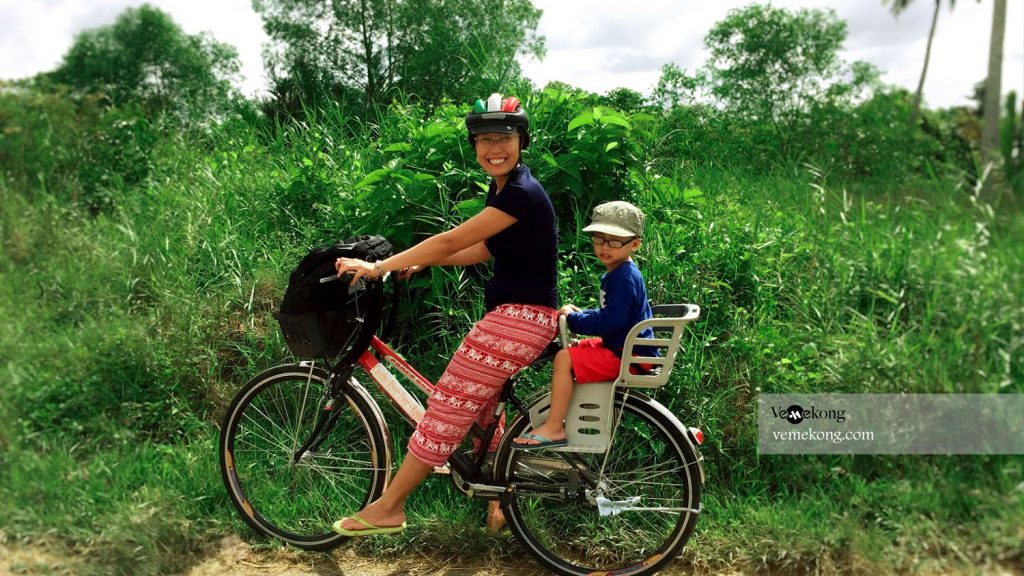 If you choose the long routes and stay overnight in Dong Thap (home to Sadec flower village), Vinh Long (home to islets and secret canals), Tra Vinh and Soc Trang (home to the Khmer minority), Chau Doc (for Tra Su forest and then leave the bike there and take the speed boat up to Phnompenh – the capital of Cambodia) which will give you so much more things to explore the real Mekong and the locals's values.
6. Can Tho cycling in the rain and flooding season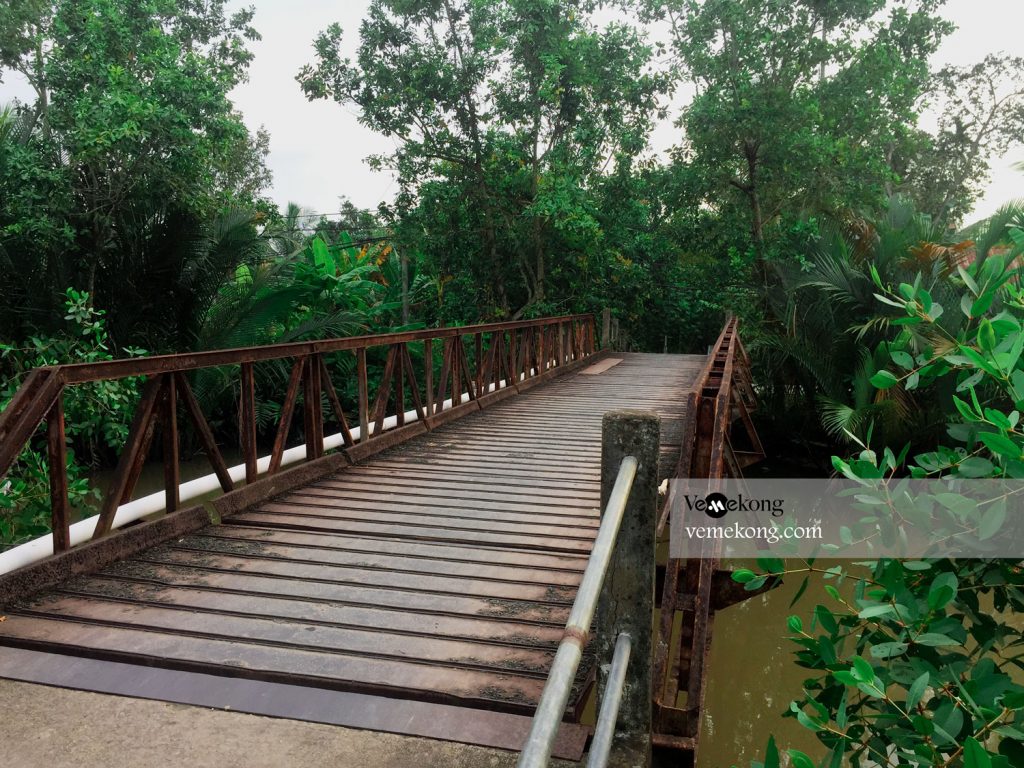 Can Tho rain and flood a lot? Well, it can be in the wet months of June, July, August, September and October. But by the summer and spring time rolls around, conditions are pretty much perfect for exploring by bike. The sunny days of November, December, January, February and March are wonderfully bright, and there's none of the oppressive heat that you get in the North. Even the shoulder months of April and May can be nice and mild.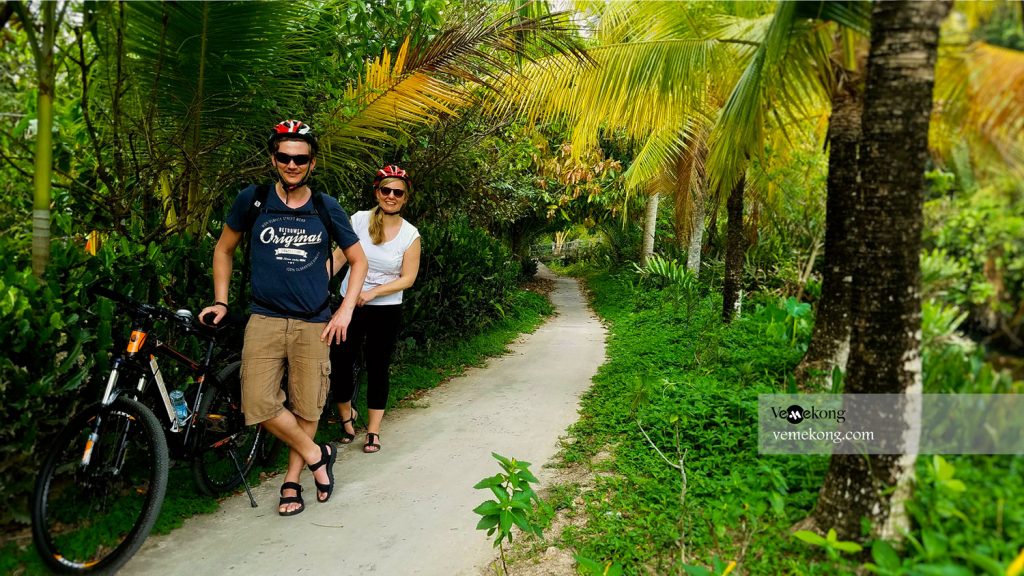 Many tourists refuse to pack their bikes away when the rain is getting heavy so why not make like a local? But if you do, be sure to wear appropriate gear, such as raincoat, plenty of layers, changes of clothing, and water and food. Also, make sure your bike is outfitted for rain riding – that means the right tyres and a good tune up before you arrive. Tropical rain? Yes. Freezing? Like tropical rain and cool. Fun? Absolutely.
7. Pro tips: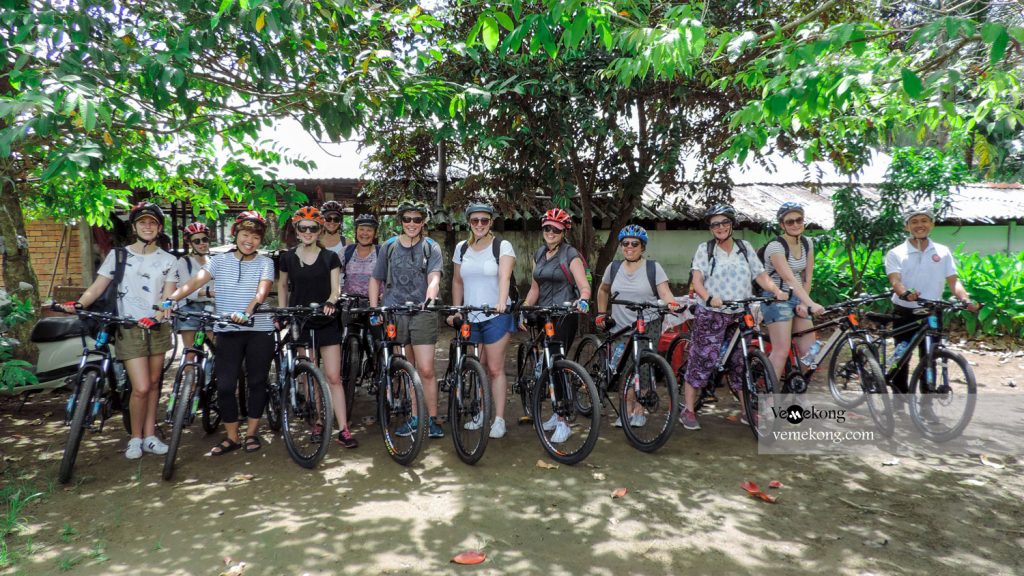 It's important to remember cycling rules and to wear a helmet.
Google Maps is a good starting point when planning a bike route.
You'll find repair shops in most towns and cities, but if you're heading out into the countryside you'll want to pack a few tools – the distances between villages can be huge. It's also a good idea to take a mobile phone with you in case you get stuck.
If you'd rather not go it alone there are a couple of companies offering cycle holidays in Can Tho. Some provide tour guides and others will simply hook you up with gear and support.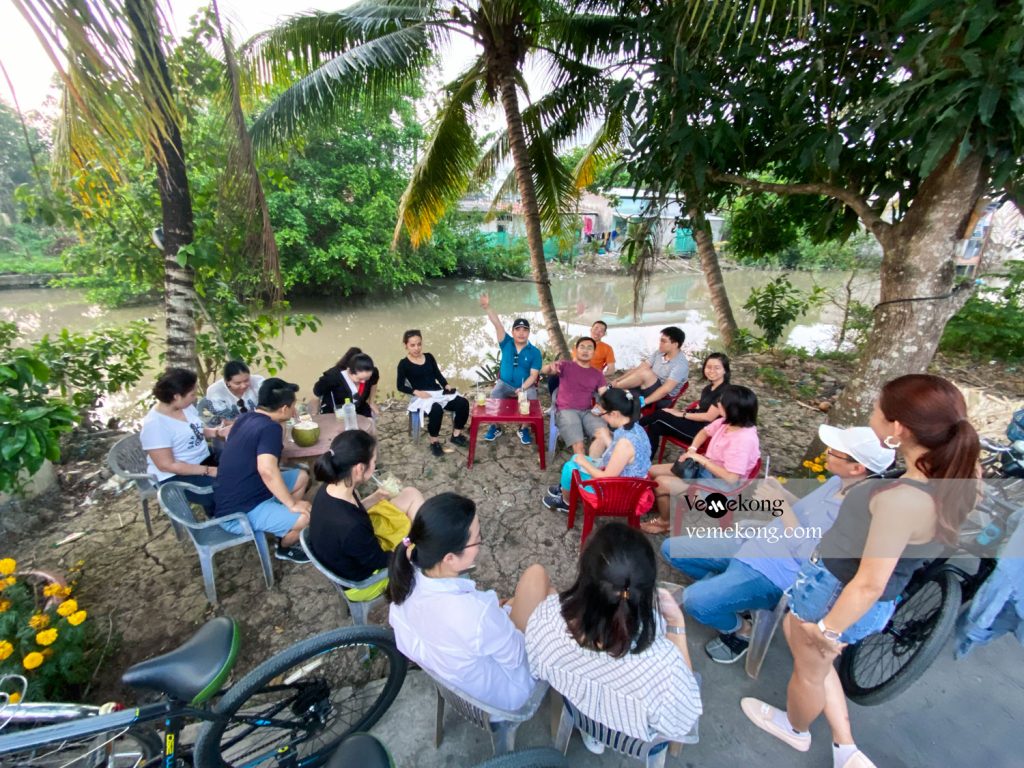 Extra Tips:
If you plan to extend your travel to Can Tho homestay, do not forget to bring mosquito repellent cream.
Visit Can Tho or do any customized tours, please choose reputable providers with boat trips equipped with lifebuoys, jackets, motorcycle and cycling tours with the helmets and. Safety is a priority! Choose Can Tho responsible tours which help you give back while traveling. It's a cliché, but it's true.
Can Tho food & drink guide ranges from street food, authentic, fancy to fusion foods. As a tropical land of many fresh vegetables and homegrown gardens, which always make Can Tho cuisines fresh, close to nature and very traditional. If you are a food lover, don't hesitate to put other bites onto your food lists such as Cong cake in Can Tho, Ut Dzach Fine Rice Vermicelli…
Bring your hat, sunglasses, and sunblock, scarf to wear when visiting temples, pagodas, and the cathedral.
Bring the raincoat if you're planning a trip to Can Tho in the rainy season, as Can Tho always looks fantastic in the full rain and full sun.
Can Tho tourist attractions are magnificent itself, but if you have enough time, don't forget to put other places onto your bucket lists such as Can Tho Wildlife & Forest, Binh Thuy Ancient House, Organic Cacao farm, Can Tho Floating Markets, Can Tho Small Canals & Sampan Ride, Can Tho Fruit Garden, Can Tho Paddy Rice Fields, Can Tho Giant Ficus Tree – Secret VC base, Can Tho Rice Noodle Factory, Cai Rang floating market, Can Tho Old Market, Phong Dien floating market, Truc Lam Phuong Nam Zen Monastery, Can Tho to Con Dao – Express boat, Son Islet – Community-based Tourism…
Hopefully, the above tips will help you to come up with a great plan for your adventure in Can Tho, Mekong Delta, Vietnam. Have a safe trip!
"Sleep less, travel more, respect more" – Thomas Vietnam – Local travel expert.
Thank you