Ong Pagoda - Official Can Tho Visitor Guide
Also called Quang Trieu Hoi Quan, Ong pagoda has been located in Ninh Kieu quay for 100 years without change. Because of the Chinese special architecture style, it attracts a large number of tourists from other parts of Vietnam or foreigners. They visit this pagoda to pray for peace, sentiment or success. Ong pagoda is dedicated to Chinese military leader Kuang Kung (known as Quan Cong in Vietnam).
By Thomas Vietnam at vemekong.com | Official Can Tho Visitor Guide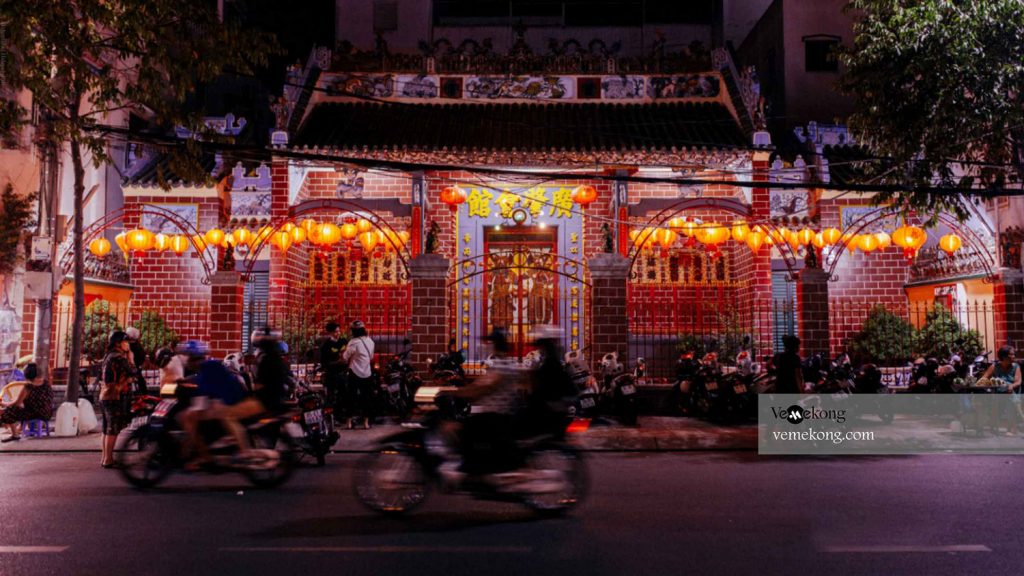 1. Better to Know as a Tourist
Ticket: Free
Spend-time: Half an hour (approx.)
Hours: Daily from 7 am to 9 pm
Food:
Shop:
Parking lot: Yes
Blog: https://vemekong.com/ong-pagoda-can-tho/
Address: 32, Hai Ba Trung street, Ninh Kieu District, Can Tho City. Right across from the temple is the Ho Chi Minh statue which you can visit at any time of the day.
Recognition(s): As a place carrying historical and architectural values, the Ong pagoda was recognised as a cultural historical relic by the Ministry of Culture and Information (MOCI) on June 21st 1993.
Added values: Local devotees come to this small pagoda to pray in front of Than Tai, God of Fortune, and Quan Am, Goddess of Mercy.
Nearby attractions and hidden gems: Looking for places to stop on your way to and from Ong pagoda? Or maybe you found it too crowded here? We've got some ideas! Check out our list: Can Tho prison (5 minutes away), Munirangsyaram pagoda (10 minutes away), Can Tho museum (15 minutes away), Tarot museum (15 minutes away).
2. Travel guide to Ong pagoda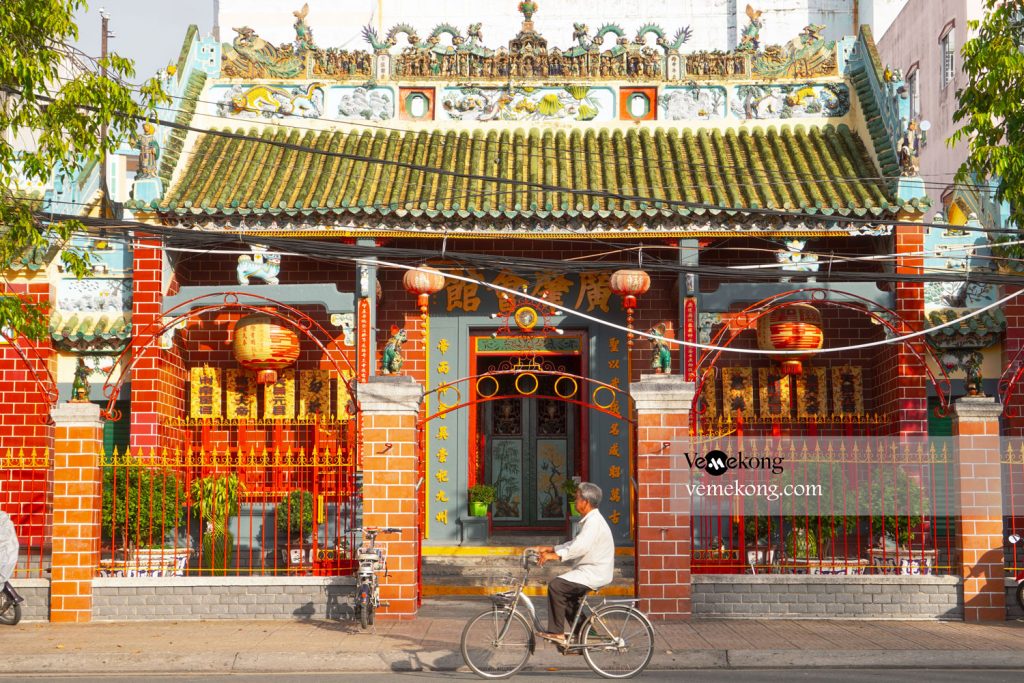 Ong pagoda, 532 sq.m, was established by efforts of a segment of Hoa people in two chief towns Quang Chau and Trieu Khanh of Quang Dong, China in 1894 – 1896 for worshiping Quan Cong. In respect of architecture, it deeply carries out Chinese architecture since almost all elements consisting of stone pillars, underpinning, purling, etc., were brought from Wangdoung. It's shaped as a "Quoc" character (old Han script), including closed ranges of apartments located quadrate one another and a space in the center called Thien Tinh (open well).
The pagoda's most important apartment leaves in sanctum where main duty staying in worshiping Quan Cong in the main altar (in the midst), respecting Tho Dia (God of the soil) and Thien Hau Thanh Mau on the right, as well as Dong Vinh first doctorate candidate and Tai Bach Tinh Quan on right hand additionally. In front of sanctuary are six incense-tables including three grind-stone tables built in 1974 carrying bronze urns dated 1896 and three relief characters "Hiep thien cung" written in Han script; the rear row lays three wood-framed and glass-surfaced tables kept gold-plated relievo. The rest rows perform adoring Goddess of Mercy and receiving guests of the pagoda's administrative section.
Despite the unique and gaudy appearance, the Ong pagoda is deep in ancient property. Factually, sophisticated carving items place the pagoda to be both solemn and bright. Moreover, the relic is put in celebrated quality through its great arts and religious value through calligraphy in the model of "Trien" and "Thao" engraved in horizontal lacquered boards, pots, urns, bronze bells, etc. Top tip: Inside the temple has hundreds of coiled incense hanging from the ceiling. If you're sensitive to smoke, you may want to avoid this place as it is smoky from the incense.
In respect of faith and religion, the faith stands out more frequently than the religion. Personalities given adoration become various as if "mishmash-like modern popular religion reality" in the book "Hoa people in South Vietnam" by Tsai-Maw-Kuey. The Ong pagoda brings not only religious services but also cultural and educational doings of the Hoa for sustaining traditional cultural values like wood sculpture and calligraphy.
With regards to historical meanings, in the war against the American troops, it is in the pagoda the Hoa gave cover to revolutionary soldiers whose secret deeds were done in the city. Obviously, that precious assistance has helped tighten the Hoa – Viet friendship in the struggle against national liberation and building.
Festivals in Ong pagoda. Of all festivals occurring all year round, Tet Nguyen Dan is the biggest-organized one. Besides, some other festivals are also held in Ong pagoda, as follows:
– Birthday of main deity Phuc Duc (sir Bon) occurring on 2nd of the second month every lunar year
– Birthday of Thien Hau Thanh Mau on 23rd of the third month every lunar year
– Birthday of Quan Cong on 24th of the sixth every lunar year
– Birthday of Tai Bach Tinh Quan (Deity Tai) on 22nd of the seventh month every lunar year
3. Pro Tips
If you plan to extend your travel to Can Tho homestay, do not forget to bring mosquito repellent cream.
Visit Can Tho or do any customized tours, please choose reputable providers with boat trips equipped with lifebuoys, jackets, motorcycle and cycling tours with the helmets and. Safety is a priority! Choose Can Tho responsible tours which help you give back while traveling. It's a cliché, but it's true.
Can Tho food & drink guide ranges from street food, authentic, fancy to fusion foods. As a tropical land of many fresh vegetables and homegrown gardens, which always make Can Tho cuisines fresh, close to nature and very traditional. If you are a food lover, don't hesitate to put other bites onto your food lists such as Cong cake in Can Tho, Ut Dzach Fine Rice Vermicelli…
Bring your hat, sunglasses, and sunblock, scarf to wear when visiting temples, pagodas, and the cathedral.
Bring the raincoat if you're planning a trip to Can Tho in the rainy season, as Can Tho always looks fantastic in the full rain and full sun.
Can Tho tourist attractions are magnificent itself, but if you have enough time, don't forget to put other places onto your bucket lists such as Can Tho Wildlife & Forest, Binh Thuy Ancient House, Organic Cacao farm, Can Tho Floating Markets, Can Tho Small Canals & Sampan Ride, Can Tho Fruit Garden, Can Tho Paddy Rice Fields, Can Tho Giant Ficus Tree – Secret VC base, Can Tho Rice Noodle Factory, Cai Rang floating market, Can Tho Old Market, Phong Dien floating market, Truc Lam Phuong Nam Zen Monastery, Can Tho to Con Dao – Express boat, Son Islet – Community-based Tourism…
Hopefully, the above tips will help you to come up with a great plan for your adventure in Can Tho, Mekong Delta, Vietnam. Have a safe trip!
"Sleep less, travel more, respect more" – Thomas Vietnam – Local travel expert.
Thank you