Visit Soc Trang: Attractions, Tourist Information, Tickets & Offers
Welcome to Soc Trang! Discover the best of Soc Trang with VeMekong, the ultimate guide to Soc Trang attractions, tourist information center, tickets & offers. In this guide, we will show you what to do and see in Soc Trang. If you're not able to visit just yet, plan ahead to make the most of your wish-lists.
By Thomas Vietnam at vemekong.com | Official Soc Trang Visitor Guide
1. What to Do in Soc Trang
Nga Nam Floating Market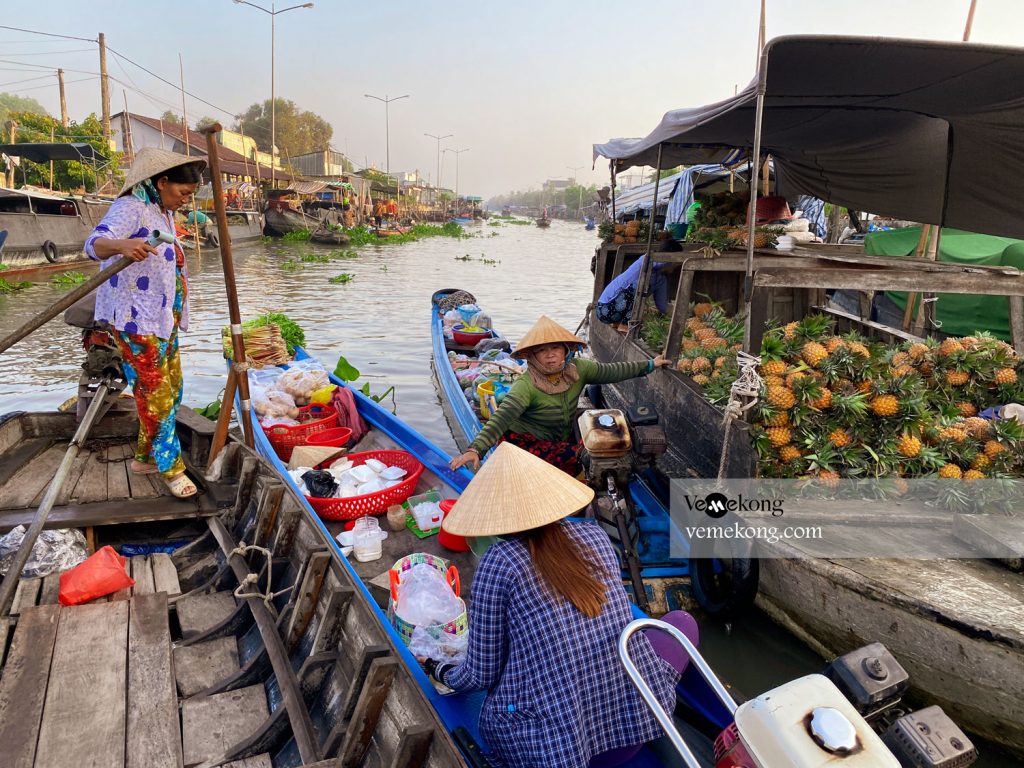 One of the best authentic things to see and do in Soc Trang is Nga Nam non-touristy floating market and the local villages. This market gives many visitors so much touching about the Mekong Delta floating market like 30 years ago because of its charmings, natural beauties, amazing sampan experiences and the stunning location. It is a must-see for those who want to know the real floating market of the local Vietnamese with the traditional and cultural river life on the Mekong River.
The first thing you need to know is that. This authentic market is for real and for the locals. That is why it is not located in the center where there is much noise, huge traffic and malls nearby. Nga Nam floating market, Soc Trang province, is in the town of the same name as the market. The market is both on the mainland and on the Nga Nam canal, so that you can see the market with or without the sampan ride. But the absolute sampan ride gives you a unique experience to explore other sides of Nga Nam (Nga Nam means 5 tributaries/canals) canals.
Firstly, you get to Nga Nam market and its riverside, where there are so many local sampan ferries. Secondly, you take the hand-rowing sampan from there, there are small sampan and big boats for a big group, so it depends on your group. The last, the boat trip, just takes you about 15 minutes from that boat station to explore all 5 canals of Nga Nam floating market. Top tip: You should hire a boat a day ahead at least, the next early morning is too dark and hurried to have a boat at 5am… Read more
Som Rong pagoda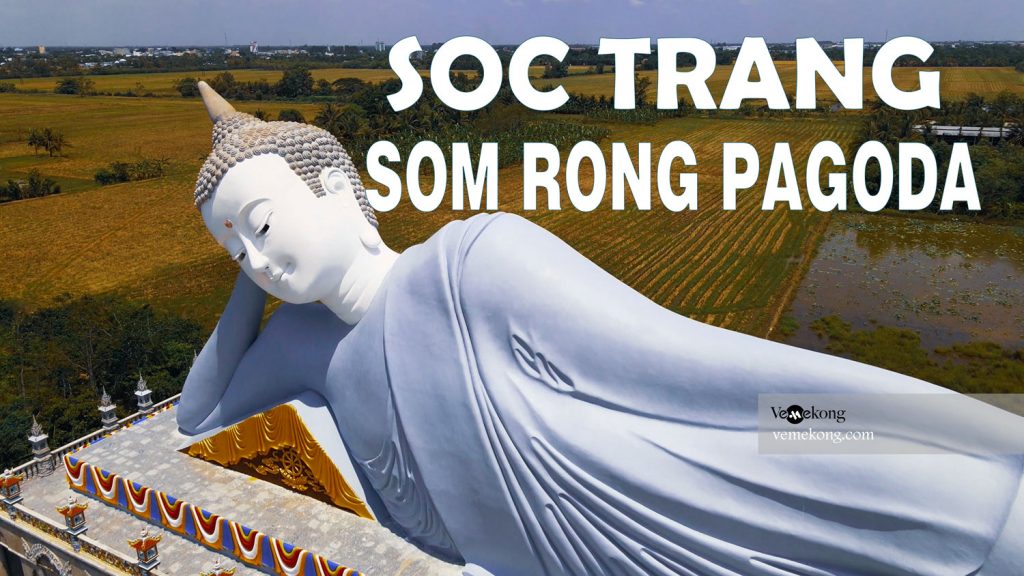 Ticket: Free
Spend-time: Half an hour (approx)
Hours: Dawn – dust
Address: 367 Ton Duc Thang Street, Ward 5, southern Soc Trang Town, Mekong Delta, Vietnam
Som Rong pagoda is home to the largest giant reclining Buddha statue in Vietnam that was just inaugurated in 2020, with a length of 63m, a height of 22.5m and a weight of 490 tons. From hundreds of metres away, visitors can see the majestic statue of the Buddha Shakyamuni Buddha. This is the highlight, creating a harmonious beauty in the overall architecture of the Somrong pagoda.
Som Rong Pagoda, sometimes also called Patum Wongsa Som Rong pagoda, was built in 1785s following Khmer traditional architectural practice and has been repaired many times. It is widely known as Som Rong pagoda, because there have been many local Som Rong trees for a long time in this area.
The stupa is located right in the entrance to the pagoda, parallel to the main hall, built on an area of 100 m2, 25 m high and is the place to keep more than 400 jars of ashes of the monks, vows and temple abbot. Instead of the traditional yellow color, the gray painted tower looks majestic and ancient as carved from monolithic rock. Four-sided tower with four paths representing love, compassion, joy, discharge, carved many delicate Khmer patterns. The entrance to the stupa is a statue of Naga snake God. On the tower is a statue of Gautama Buddha meditating.
This is also the very hot check-in point of Som Rong pagoda. The Stupa towered on a strangely beautiful image, radiating a mystical spiritual atmosphere. Many young people choose to check-in at sunset when the orange sunlight turns to a fanciful purple color coating each pattern. If you catch the moment when the pigeons flutter their wings on the top of the tower, you will get an image with a beautiful background that vibrates… Read more
Soc Trang Museum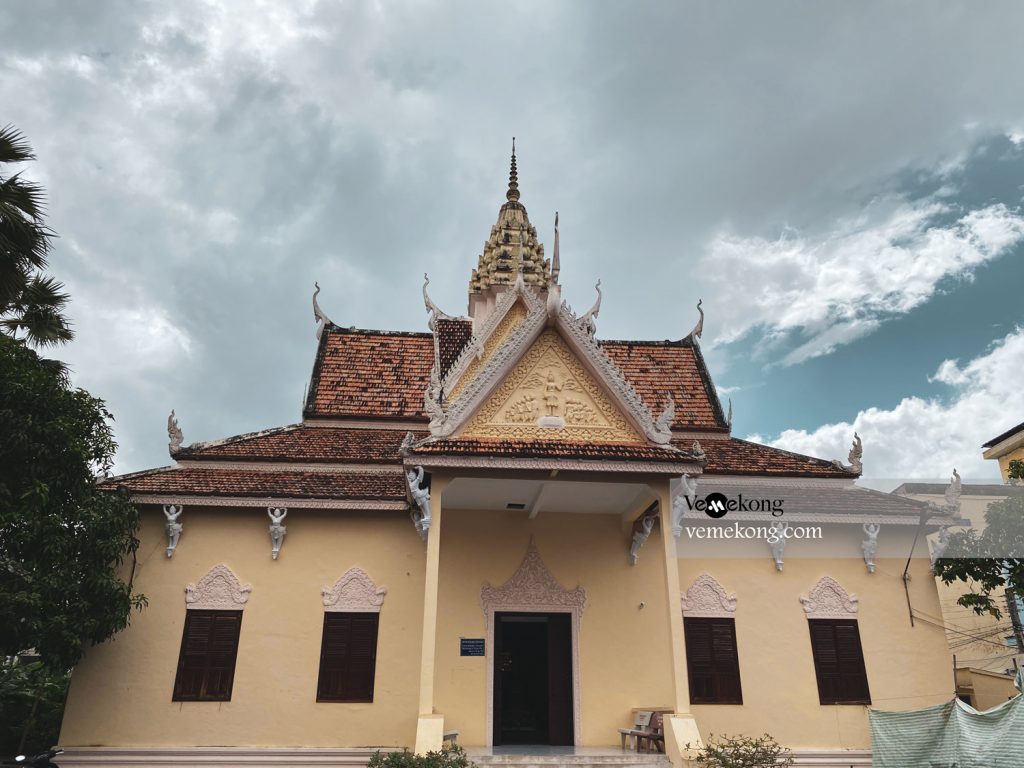 Ticket: Free
Spend-time: Half an hour (approx)
Hours: From Tuesday to Saturday, 7:30-11:00, 13:30-17:00
Address: 04 Hung Vuong Street, Ward 6, Soc Trang City.
Soc Trang Provincial Museum was established in 1992, invested and built in early 2006 and completed in 2007, opened to serve visitors from November 18, 2010, displaying more than 1,000 images, documents and artifacts. Currently, the Museum is storing and displaying many artifacts of 3 ethnic groups: Kinh – Khmer – Hoa and artifacts during the resistance war. These artifacts are displayed under different themes such as:
The first floor displays natural resources, the history of the land of Soc Trang; Cultural characteristics and traditional occupations, religions and beliefs of the three ethnic groups Kinh – Khmer – Hoa are displayed alternately.
The second floor displays the history of the resistance war against foreign invaders of the Soc Trang Party Committee and army and people… Read more
Clay Pagoda (Chua Dat Set)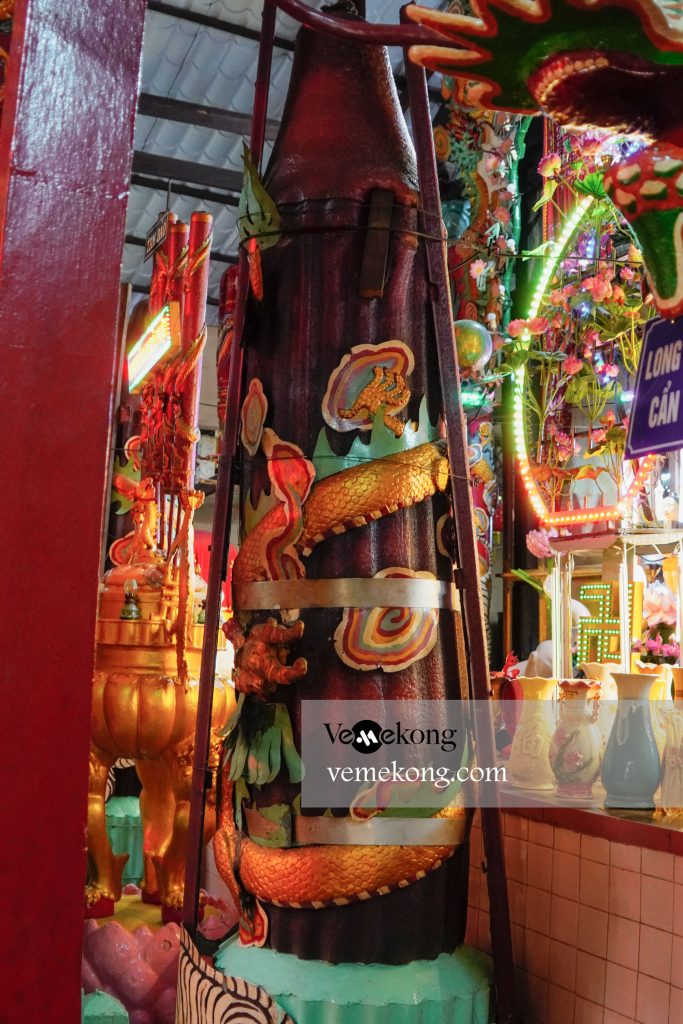 Ticket: Free
Spend-time: Half an hour (approx)
Hours: Dawn – dust
Address: It is located in the center of Sóc Trăng City, Mekong Delta, Vietnam
Recognition(s): as a historical and cultural relic of the Mekong Delta Province of Soc Trang.
Site beauties: The pagoda is also well-known for having four pairs of giant candles, each of which can be as heavy as 200kg and as tall as 2.6m, 200 animal statues, along with other worshipping items made of clay by Mr. Ngo Kim Tong during his 42 years of life.
The pagoda's real name is Buu Son Tu, but pilgrims usually call it Chua Dat Set (Clay Pagoda). Clay Pagoda was built of wood as a small temple to pray at home by Ngo ancestry in the 20th century. In 1928, the pagoda was enlarged and built newly with bricks by Mr. Ngo Kim Tong (Mr. Nam Tong). The pagoda is also well-known for having four pairs of giant candles. These candles were made in 1940. Two of the candles have burned continuously since the death of head priest of the pagoda, Ngo Kim Tong, in 1970. The pagoda patrol said that each candle will take about 70 years to burn… Read more
2. What to See in Soc Trang
Bat pagoda (Chua Doi)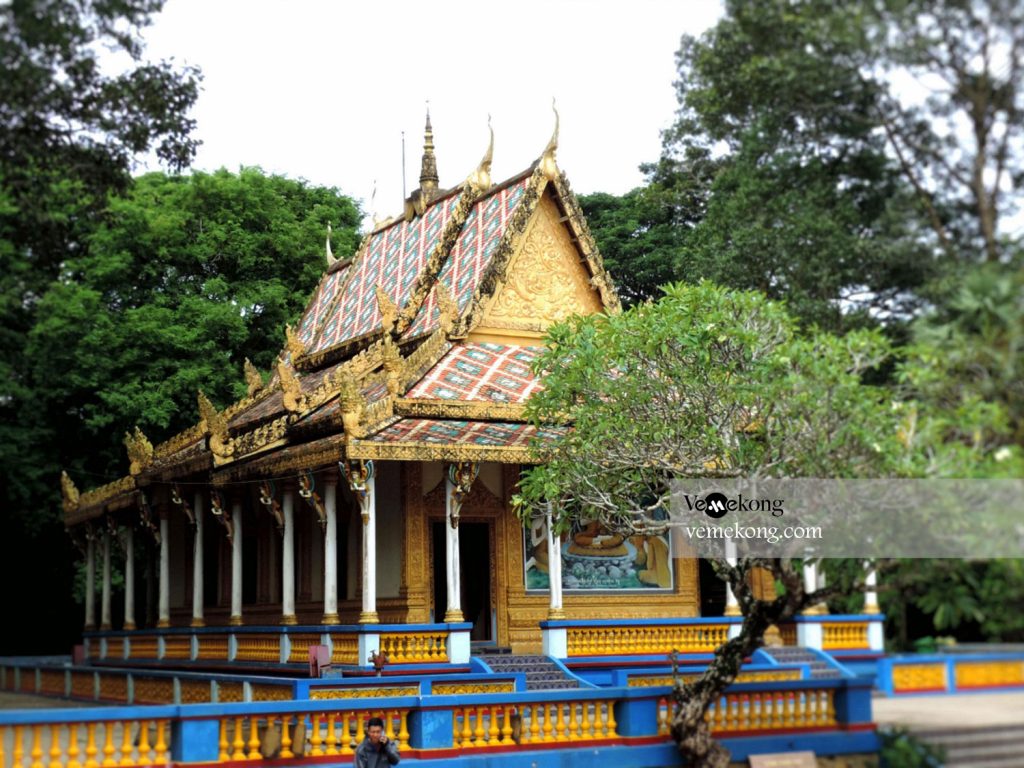 Ticket: Free
Spend-time: Half an hour (approx)
Hours: Dawn – dust
Address: It is located approximately 3 km southeast of Sóc Trăng City, Mekong Delta, Vietnam
Recognition(s): Since 1999, Doi pagoda has been recognized as a national relic for architectural art by the Ministry of Culture, Sports and Tourism.
Site beauties: There are many charming Khmer people selling their own farm products in this area. And perhaps, the most special thing in Bat Pagoda is the bats. Any traveler after visiting the temple, listening to music, also focused on the backyard of the pagoda to look at a lot of bats. Occasionally, bats spread their wings to fly from branch to another branch.
One of the oldest Khmer temples to see in Soc Trang city is Bat pagoda – A beautiful Soc Trang Khmer pagoda in Mekong Delta Vietnam. This 452-year-old pagoda is not only famous for its mysterious landscape sheltering colonies of bats but also for its unique and majestic architecture.
Dơi pagoda's architecture exhibits both Vietnamese and Cambodian features. It was initially named "Serây tê chô mahatúp", which means a blessing of good virtue. It was called Mã Tộc by the local. The pagoda is commonly known as "Dơi means Bat" because it is home to a big colony of bats. According to the bibliography, this is one of the most intact examples of pagodas in the Mekong Delta.
The pagoda courtyard is shaded by ancient trees. There are several stupas and a stilt house where monks rest and study. The eye-catching brown and black bats which live in the pagoda weigh about 1.5 kilograms each with an average wingspan of 1.5 meters, the fastest cruising speed is from 50-60 km/h. They hang up-side-down from the trees during the daytime and look like clusters of ripe fruit. It's still mysterious why the bats live here. Some people think the reasons may include the nearby fruitful gardens, the high ancient trees, and the peaceful atmosphere of Dơi Pagoda… Read more
Bowl (Chen Kieu) Pagoda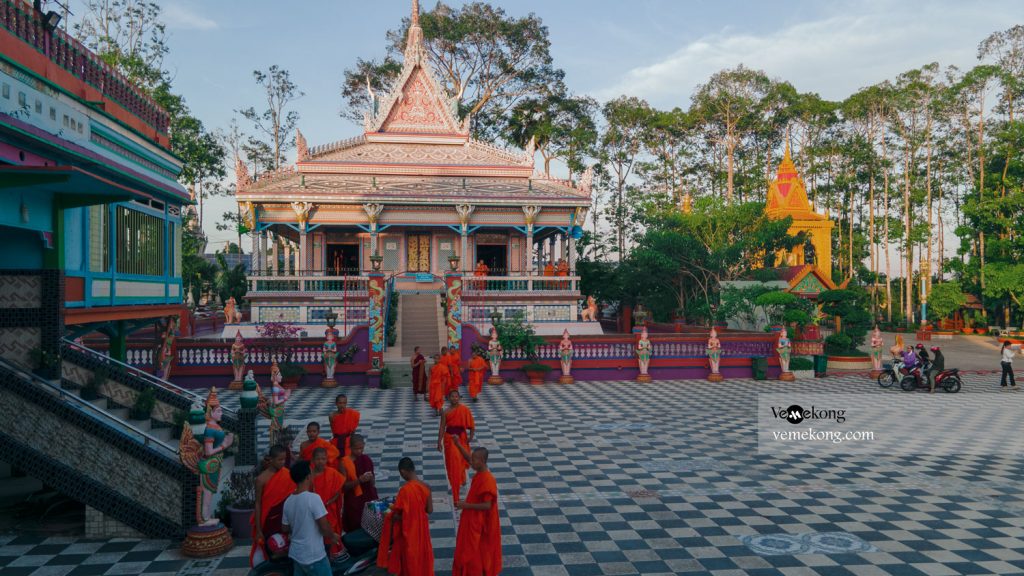 Ticket: Free
Spend-time: Half an hour (approx)
Hours: Dawn – dusk
Address: Dai Tam Commune, My Xuyen District, Soc Trang Province. About 10km from SocTrang city center, the pagoda is on the way from SocTrang to Bac Lieu province, about 230 km from Ho Chi Minh City.
Recognition(s): was recognised as a province-level historical and cultural relic in 2012.
Site beauties: There are many charming Khmer people selling their own farm products in this area. Real local life of the Khmer!
Wherever there are Khmer people, there are Khmer pagodas. One of the best pagodas to see in Soc Trang city is Bowl (Chen Kieu) pagoda – A colorful Soc Trang Khmer pagoda in Mekong Delta Vietnam. Chen Kieu Pagoda (also known as Sa Lon Pagoda) is one of ancient pagodas with the most unique architecture in Soc Trang Province.
According to a member of the pagoda's management board, the pagoda was erected in 1815 in a spacious area with lots of trees. It was damaged at war. During the rebuilding, due to a lack of construction materials, monks came up with the inspiration of calling for donations of bowls and plates from local people for use in decorating the main building. The name of "Chen Kieu" pagoda originated from the monks tiled old "Porcelain" bowls, plates to the pagoda's walls, stairs and many other locations to create extremely impressive motifs during the process of pagoda reconstruction in 1969.
To the Khmer, pagodas are similar to communal houses in northern Việt Nam or longhouses in the Central Highlands, but their bond with the local community is even closer. They are also schools teaching Buddhist principles and the Khmer language to local people. Khmer male youngsters often spend a couple years in the pagodas to be recognised by society. Their first school is the pagoda. These pagodas have stood the test of time, showing their beauty and supporting the local communities… Read more
Khleang Khmer Pagoda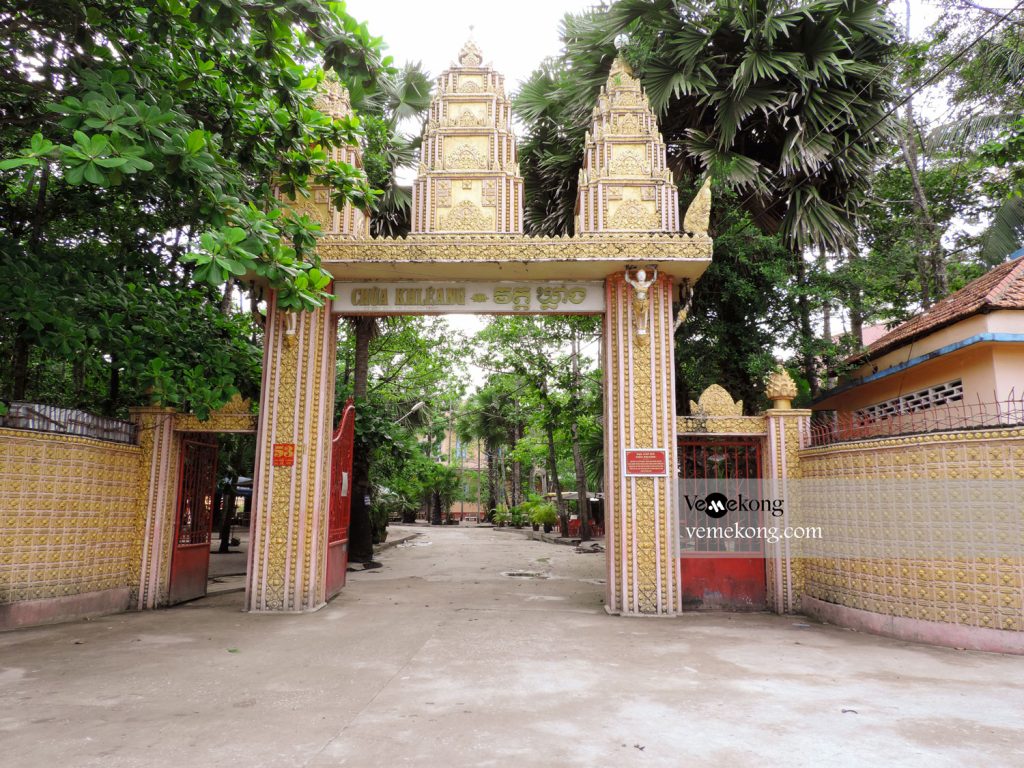 Ticket: Free
Spend-time: Half an hour (approx)
Hours: Dawn – dusk
Address: 53 Ton Duc Thang Street, Ward 6, Soc Trang, Mekong Delta, Vietnam
Recognition(s): In 1990, Khleang pagoda was recognized as a national cultural historical relic by the Ministry of Culture, Sports and Tourism and it is an attractive destination for domestic and foreign visitors.
Site beauties: There are many charming Khmer people and the Pôthi school for teaching the Khmer language.
Kh'Leang pagoda is a notable Theravada Buddhist pagoda in Sóc Trăng, a town in the Mekong Delta region of southern Vietnam. With a large ethnic Khmer population in the town, Khleang pagoda is the most well-known Khmer pagoda which features an architectural style similar to the pagodas of Cambodia. Built in 1533, it was originally made of wood with a roof thatched with palm leaves. Since it's construction up to now, Khleang pagoda has been restored for two times in 1963 and 1994. The pagoda was later reconstructed with brick, and the roof was covered with tiles. The pagoda lies on an area of 3,800m² with a lot of sugar palm trees. a range of wooden stilt-houses and some architectural works.
The pagoda remains to store 70 sprayer-books named Tam Tạng, about 120 books of Pali language, some bibles written in buông leaf… Currently, it still keeps documents copied from Khmer old bibliography telling about the construction origin of the temple and other sites in Sóc Trăng.
In festival days, Khleang pagoda is always a destination of many visitors when they come to Sóc Trăng – a region converging three cultures: Khmer – Hoa – Việt. Khleang pagoda is a place for the faithful, cultural and spiritual activities of Khmer people in Sóc Trăng. It is also the place for holding solemn rituals in the traditional festivals such as Chol Chnam Thmay Festival, Dolta Festival, Ooc Om Boc Festival…Besides traditional harvest time festivals… Read more
Phat Hoc 2 Pagoda (Buddhist Pagoda 2)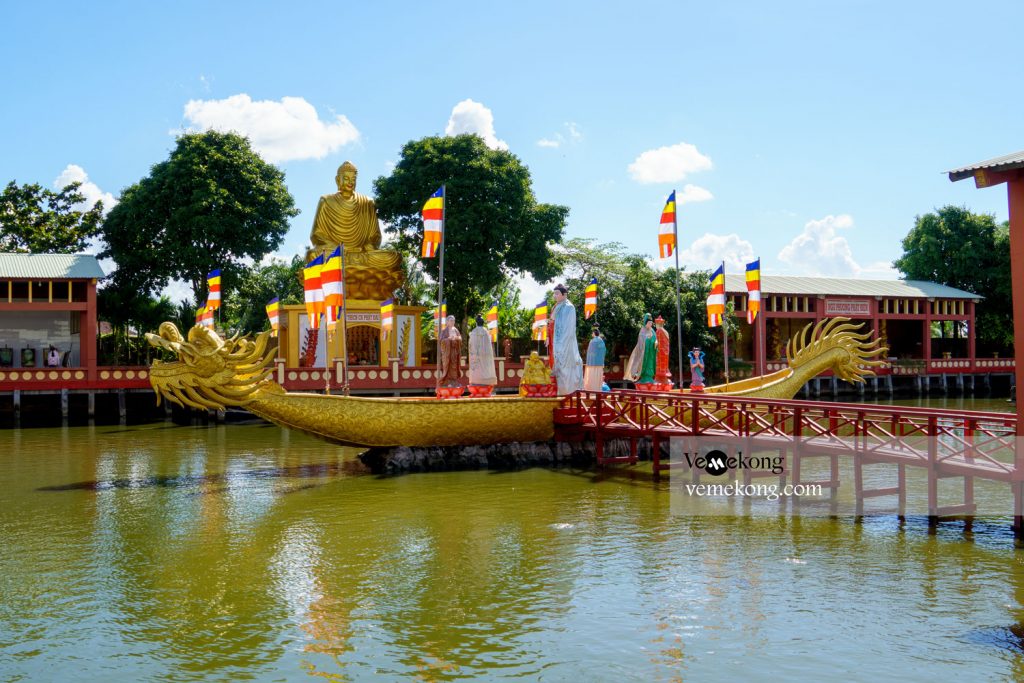 Ticket: Free
Spend-time: Half an hour (approx)
Hours: Dawn – dust
Address: Buddhist Pagoda 2 (Phat Hoc 2 Pagoda) also known as Quan Am Linh Ung Pagoda, is located in Ward 8, Soc Trang City, about 5km from the city center.
Phat Hoc 2 pagoda (Buddhist Pagoda 2) or Soc Trang Buddhist Charity Cultural Center is a structure in the largest campus in Soc Trang province up to the present time. In 2011, Phat Hoc 2 Pagoda started construction with an initial area of ​​1.5 hectares, now it has been expanded to 8.5 hectares, including works with massive items such as garages for thousands of vehicles, many living rooms equipped with air-conditioner, hundreds of hammocks are arranged under the trees. The green garden is always ready to serve guests with a peaceful lunch break.
The first impression of visitors when arriving at this temple must be the quietness and coolness because the temple space is very large. Visiting the Buddhist Temple 2, visitors will be able to see the majestic beauty of the statue of Shakyamuni Buddha in a sitting position with a height of 7m; In addition, there is a statue of Buddha attesting to Nirvana with a length of 17m; 20 incarnations of Buddha Guanyin.
On the large pond arranged in the center of the temple, visitors can see the bottomless bowl of wisdom boat, which carries 8 Buddhas in the middle of the sea, saving sentient beings from the cycle of reincarnation. The design is quite sacred as a typical highlight of the project. People also listen to the gentle relaxation when feeding thousands of iridescent fish in the pond with their own hands. Watching them splash on the water is like a peaceful and compassionate dance.
Not only that, the pagoda is also a free treatment facility for the poor named Tue Tinh Duong with spacious and clean facilities. Every day, this place receives many cases. Patients who live far away are also arranged to eat and stay for free on the spot. Some people have volunteered to stay at the temple when they have recovered from their illness to do good deeds and accumulate virtue for their children and grandchildren. The pagoda also adopts children who are wandering, orphaned, orphaned… Read more
3. What to Eat in Soc Trang
Cong Cake (Banh Cong)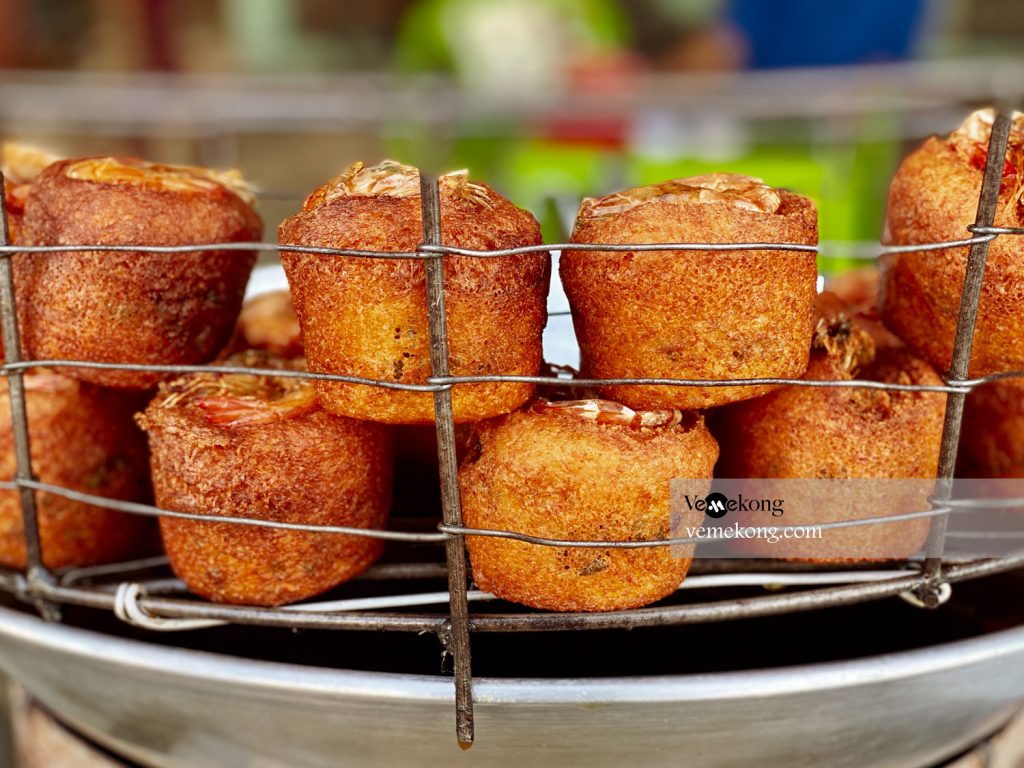 Find them: Dai Tam Commune, My Xuyen District, Soc Trang City
Best time: After 2pm
Don't miss: Bun nuoc leo cay me
Local's pick: Banh Cong vendors, 500m from Bowl pagoda
Tourist's pick: Many Cong cake local restaurants in Soc Trang city center.
One of the best Soc Trang Street Foods is definitely Cong Cake (Banh Cong). It is a hot, crispy drain cake with the greasy meat, shrimps and the green beans served with sweet and sour sauce and vegetable
It's called "Banh Cong" because people use a "Cong" to cook. A "Cong" has a long handle and looks like a small metal milk bottle. In the Mekong Delta, people still use "Cong" as a unit of measures in dealing at the market. "Cong" has many sizes: ½ "xị", 1 "xị" (4 "xị" equal to 1 liter), ½ liter, 1 liter and the biggest size is 2-liters Cống.
Banh Cong is made with rice flour mixed with wheat flour to keep Banh Cong soft and crispy. You can use rice flour or soak rice then grind to make Banh Cong. Rice flour grinded is always better than buying rice flour from the market because it keeps the fragrant flavor. If you don't know how to select rice flour at the market you can easily get old, moudy flour and make your cake sour and bitter.
Banh Cong is always served with sweet-sour fish sauce, lime and minced chili. Fish sauce adds more shredded cucumber, carrot and radish. Aromatic herbs are fish mint, lettuce, basil, herb mint… Read more
Bun Nuoc Leo Soc Trang's Noodle Soup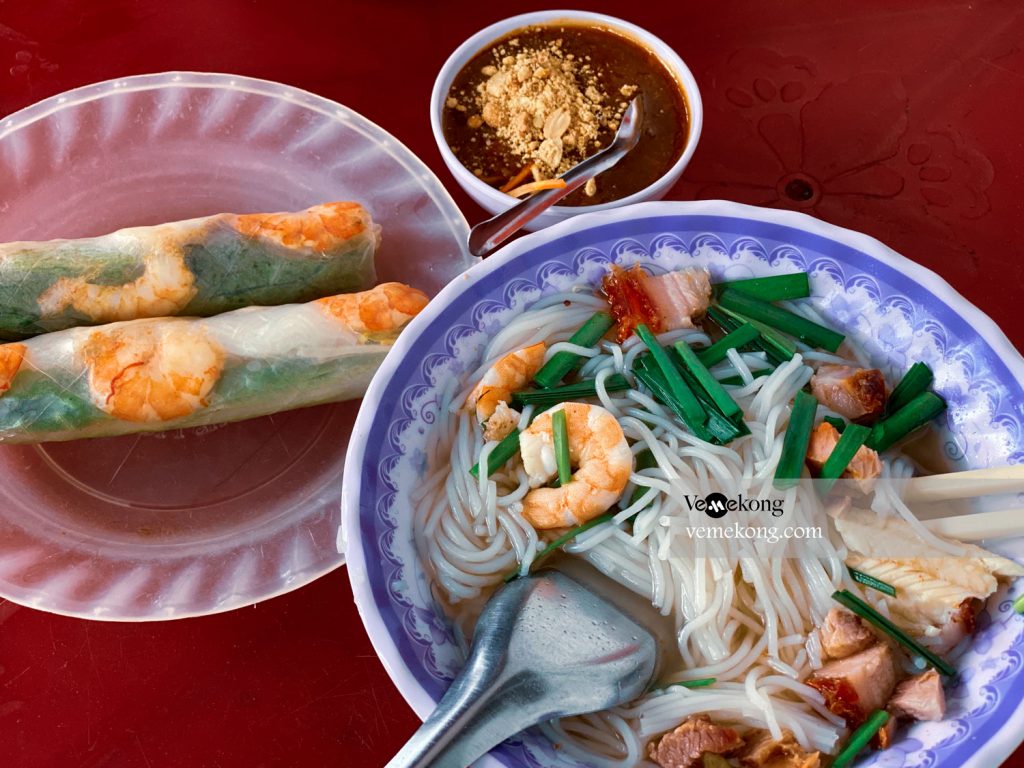 Find them: In the center of Soc Trang City
Best time: After 2pm
Don't miss: Bun nuoc leo and spring roll
Local's pick: Bun Nuoc Leo Cay Me (search this name on Google maps)
Tourist's pick: The visitors will see many Bún Nước Lèo Sóc Trăng local restaurants along the national road No 1A in Soc Trang city. There are many street foods in Soc Trang for the locals, expats and tourists to give a try.
Soc Trang is considered by food connoisseurs to be the "old capital" of Bun Nuoc Leo noodle soup of Mekong Delta, Vietnam.Bun nuoc leo is a kind of rice noodle/ vermicelli with soup. People call Soc Trang noodle soup as a dish of solidarity, because the dish is the quintessential combination of Kinh – Khmer – Hoa ethnic groups, shown in each dish ingredient is typical of 3 ethnic groups. The "soul" of the broth is a blend of lemongrass, fish sauce and ngai bun – a turmeric-like tuber, slightly darker than turmeric. Accordingly, commonly used fish sauce is locally available such as: three-spot- gourami fish sauce (mắm cá sặc), especially Khmer people often cook with mắm bò hóc, ngải bún; lemongrass to eliminate fishy smell and create fragrance. Therefore, even if you are a poor eater, afraid of the fishy smell, you have to move your chopsticks to enjoy the steaming bowl of noodle soup with a distinctive scent. At Bun Nuoc Leo Soc Trang's restaurants, there are 3 types of fish sauce combined: mắm bò hóc, mắm cá sặc and mắm nêm when cooking the broth.
The feat in the broth pot is like that, but it is not enough, but the vegetables and accompanying ingredients for the "perfect" bowl of noodle soup are also meticulously prepared. The usual accompanying vegetables include: bean sprouts, chives, grated morning glory, grated banana, with a little more herbs for flavor. As for the ingredients, there are 3 main things… Read more
4. What to Buy in Soc Trang
Pia Cake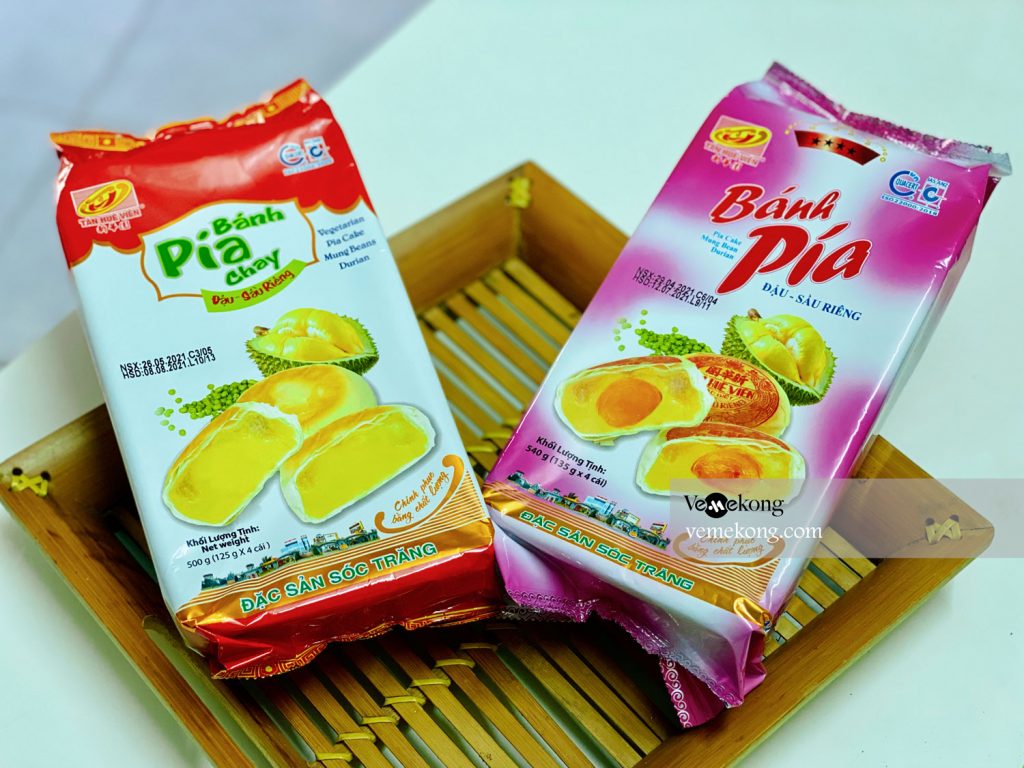 Pia cake is a unique product of Soc Trang. Enjoying a few cakes with a sip of ginger tea, sharing a couple of stories will warm the hearts of tourists. And it is a pity for anyone who comes here to miss the opportunity to taste these small but long-lasting cakes.
Pia cake has many fillings, durian, taro, green bean, salted egg and even vegetarian pia cake.
Coming to Soc Trang, you not only can enjoy the beautiful scenery of ancient pagodas or participate in joyful and colorful festivals with the identity of the three ethnic groups Kinh, Hoa and Khmer, visitors also enjoy delicious cakes of this place. The most special thing to mention is the Pia cake, the sweet taste and pure aroma of durian fruit, a specialty of the Soc Trang, Mekong Delta, Vietnam.
According to local people, from the 17th century, Pia cake appeared here. It is a type of cake brought by Han Chinese immigrants to Vietnam. However, over time, pia cake has been modified and changed according to Vietnamese taste and has become a specialty of the Mekong Delta region.
It can be said that to have standard pia cakes, one has to go through a lot of meticulous steps from making dough to baking. Pia cake has 2 parts, the filling and the shell. The filling is made from taro, green beans, and eggs. Treated green beans, peeled taro, washed all, put in a steamed pot and then pureed. Then continue to stir-fry with sugar, durian in the right proportion. Let the mixture cool, one by one wrap the filling around each duck yolk. In addition, if you want to increase the rich flavor, you can add pork to the filling… Read more
5. Free and Fun Things to Do in Soc Trang
Ghe Ngo Boat Race Festival in Soc Trang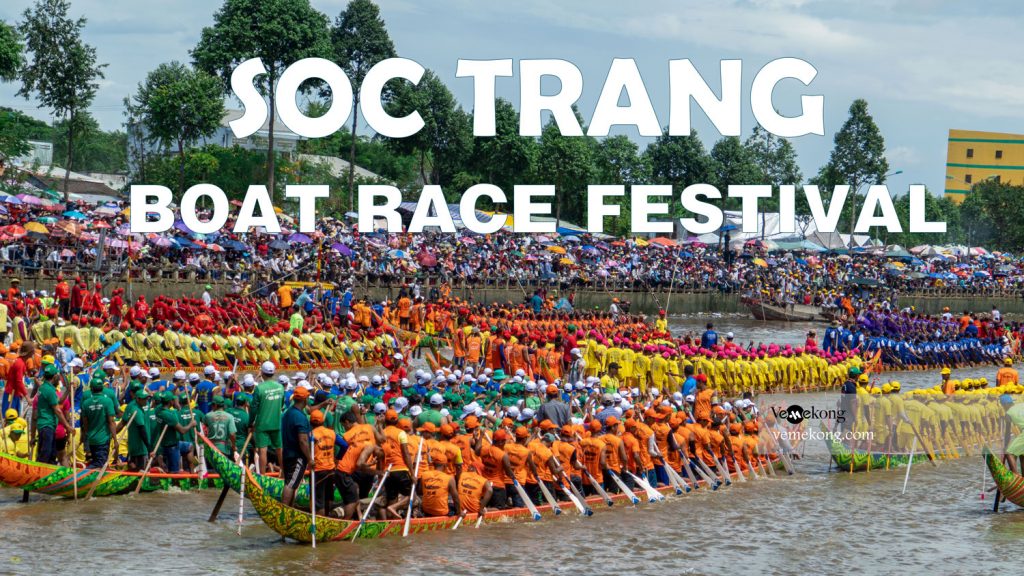 The most anticipated race in Soc Trang, Mekong Delta, this vibrant and thrilling boat race is part of the traditional Khmer Festival, Ooc Om Boc. The festival pays homage to the moon and serves as a celebration for the end of the year in the Khmer calendar. The Ghe Ngo race involves about 48 groups of racing traditional Khmer boats in time with the sounds of gongs and cheers from the large audience along both sides of Maspero river. Top tip: 31st Oct is the best day to see the boat racing festival in Soc Trang province… Read more
Pink Trumpet Tree Road in Soc Trang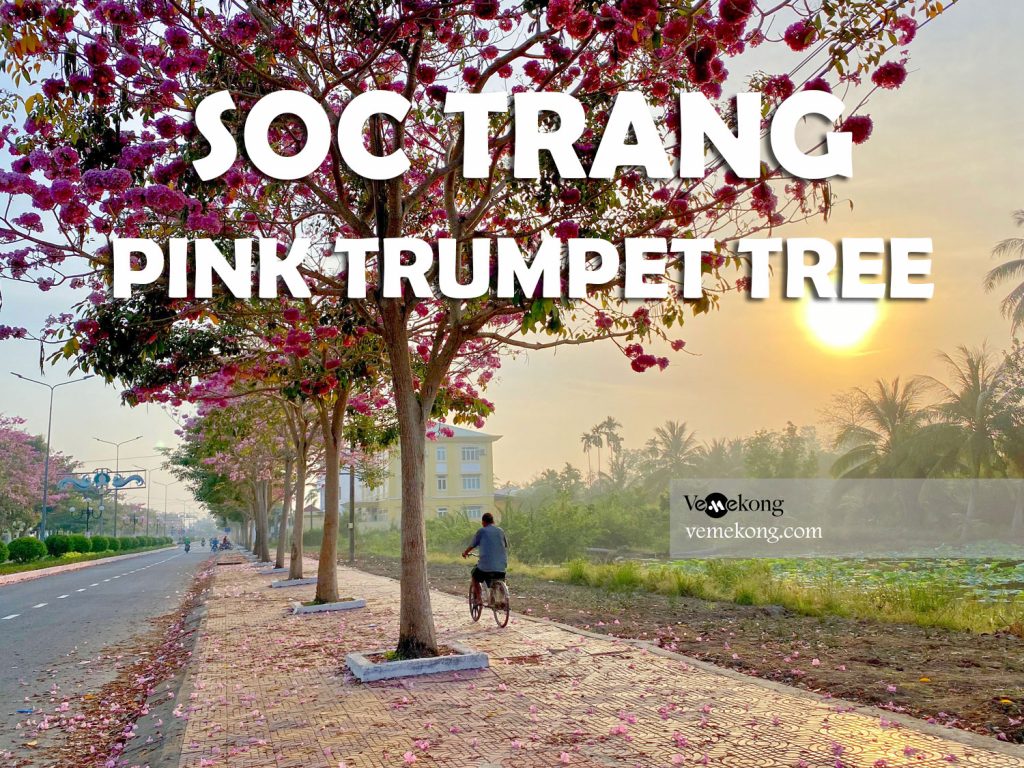 Tabebuia trees (pronounced 'tab-eh-boo-ya'), also known as pink trumpet trees, which are native to Central and South America, are around 25 to 30-feet tall. Most tabebuias are deciduous or partly deciduous, losing their leaves as the tropical dry season sets in. In March and April, pink trumpet trees produce a stunning display of pink flowers with a tubular, bell-like shape similar to a trumpet. Recently, they're a reasonably popular tree along roadsides in Chau Thanh District, Soc Trang province where there is full sun and tropical heat. Its bright blooms make this tree light up every spring, bringing colour and radiance to the sky and roads with a gentile pink color for several weeks. Pictures of the pink-blossomed trees planted along roadsides in Soc Trang, have gone viral on social media. Top tip: Make sure you visit on time for clusters of pink beauties! The best time to see them in March and April… Read more
Soc Trang Central Market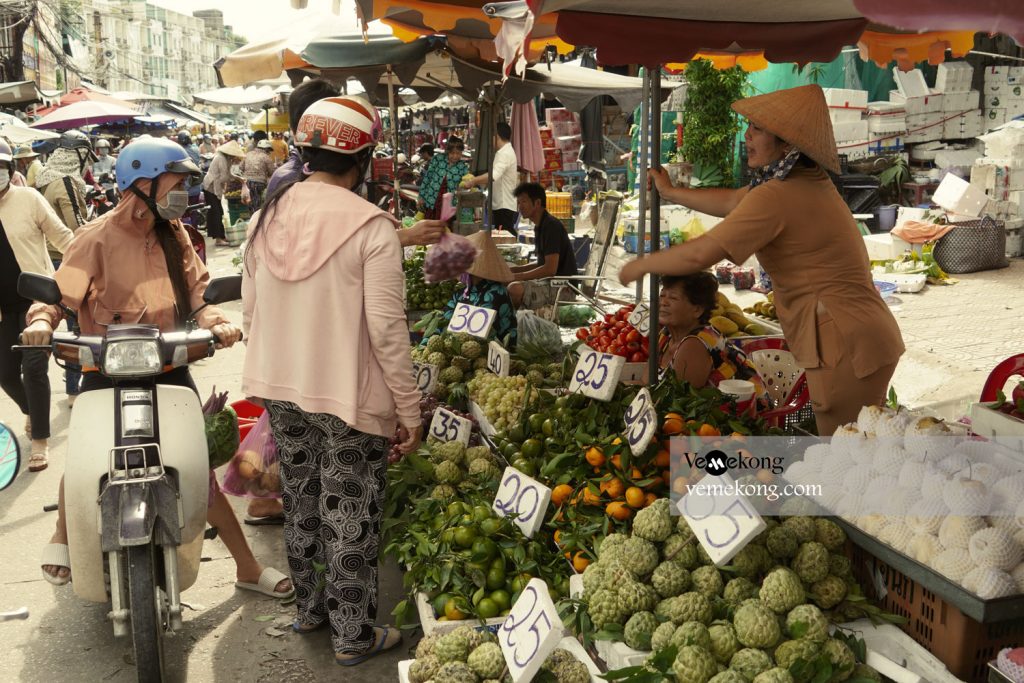 Spend-time: Half an hour (approx)
Hours: Dawn – dust
Address: Mac Dinh Chi street. Ward 4, Soc Trang city.
Site beauties: It's said that "to know a destination and real life, just explore the local market" from early morning will not be so hot and gives you all different charming beauties of 3 minorities Kinh – Cham – Khmer.
At Soc Trang central market, there are all kinds of goods of 03 ethnic groups: Kinh, Chinese, Khmer, including handicrafts, fresh seafood, vegetables, fruits and fish… to the dishes. Local specialties such as: Pia cake, sausages, sesame seeds, dried shrimp, dried fish, xá pấu… These are the indispensable gifts of tourists after their trip in this province.
At Soc Trang central market, there is a 4-wheel car parking lot that has just been put into use to ensure the parking needs of the locals. Because of the location and its reputation, the number of traders and consumers coming to buy and sell are quite large. In addition, the Hai Ba Trung street, next to the market, also has a shopping center for electrical appliances, electronics, refrigeration, gold, silver, gems and some other services. There are many hotels around this area as well…Read more
6. Pro Tips:
Soc Trang Khmer pagodas are solemn places, so you should choose beautiful clothes that are still polite and discreet. In the temple grounds, there are many animal statues such as elephants, snakes, etc. If you go with the children, please remind them not to climb because these are sacred symbols of the Khmer people.
The monks don't ask for money, although donations won't hurt.
Bring your hat, sunglasses, and sunblock, scarf to wear when visiting temples, pagodas, and the cathedral.
If you plan to extend your tour to Soc Trang homestay, do not forget to bring mosquito repellent cream.
When visiting the Soc Trang or doing any customized tours, choose reputable providers with boat trips equipped with lifebuoys, jackets, motorcycle and cycling tours with the helmets. Safety is a priority!
Soc Trang tourist attractions are magnificent itself, but if you have enough time, don't forget to put other places onto your bucket lists such as Bat pagoda, Chen Kieu (Bowl) pagoda, Dung islet, Ghe Ngo boat race festival, pink trumpet tree road, Clay pagoda (Chua Dat Set), Khleang pagoda, Nga Nam floating market, Phat Hoc 2 pagoda, Soc Trang central market, Soc Trang museum, Som Rong pagoda, popular and clean homestays and hotels in Soc Trang…
Soc Trang food & drink guide ranges from street food, authentic, fancy to fusion foods. As a tropical land of many fresh vegetables and homegrown gardens, which always make Soc Trang cuisines fresh, close to nature and very traditional. If you are a food lover, don't hesitate to put other bites onto your food lists such as Cong Cake, Pia Cake, Bun Nuoc Leo Soc Trang's Noodle Soup…
Bring the raincoat if you travel to Soc Trang in the rainy season, as Soc Trang always looks fantastic in the full rain and full sun.
Hopefully, the above tips will help you to come up with a great plan for your adventure in Soc Trang, Mekong Delta, Vietnam. Have a safe trip!
"Sleep less, travel more, respect more" – Thomas Vietnam – Local travel expert.
Thank you