Som Rong Pagoda – Soc Trang Khmer pagoda in Mekong Delta
One of the best highlight things to see and do in Soc Trang city is Som Rong pagoda – A Beautiful Soc Trang Khmer pagoda in Mekong Delta Vietnam. The pagoda is not only famous for the reclining Buddha statue and the stupa but also for its striking architacture.
By Thomas Vietnam at vemekong.com | Official Soc Trang Visitor Guide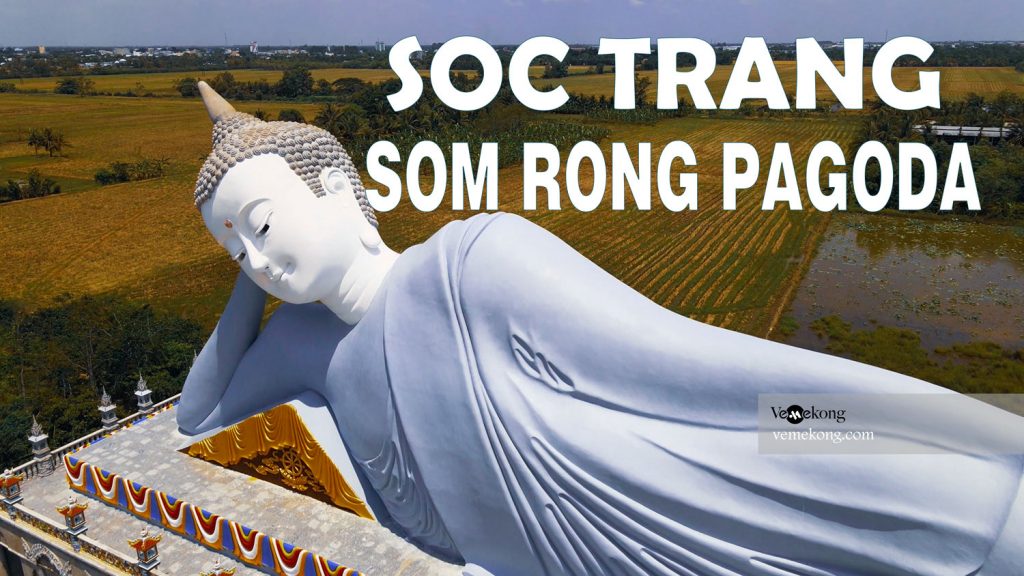 1. Better to know as a tourist
Ticket: Free
Spend-time: Half an hour (approx)
Hours: All day
Address: 367 Ton Duc Thang Street, Ward 5, southern Soc Trang Town, Mekong Delta, Vietnam
2. Travel guide to Som Rong Pagoda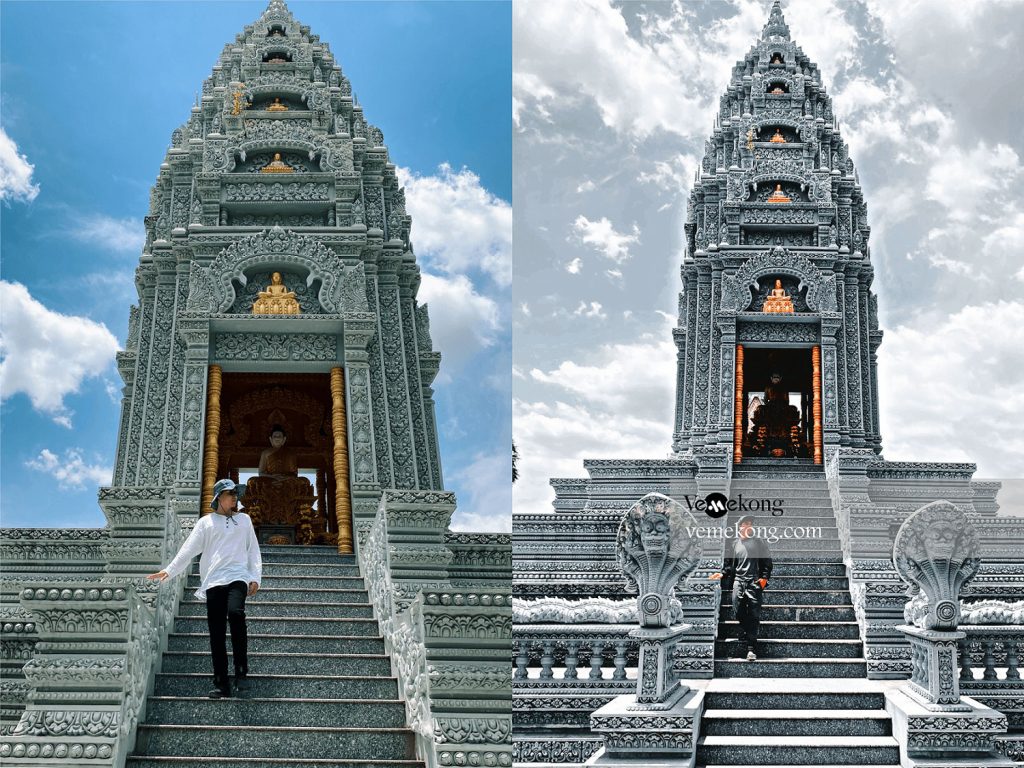 Som Rong Pagoda, somtines also called Patum Wongsa Som Rong pagoda, was built in 1785s following Khmer traditional architectural practice and has been repaired many times. It is widely known as Som Rong pagoda, because there are many local Som Rong trees for long time in this area. The two-tiered roof of the pagoda is decorated with coloured tiles and adorned with sculptures in the shape of Naga, a devine snake from Khmer cultural tradition, with masterful skills. On the top of the pagoda is a pionted tower. Each pillar supporting the pagaoda features a nymph named Kemnar, clasping her hands to welcome visitors.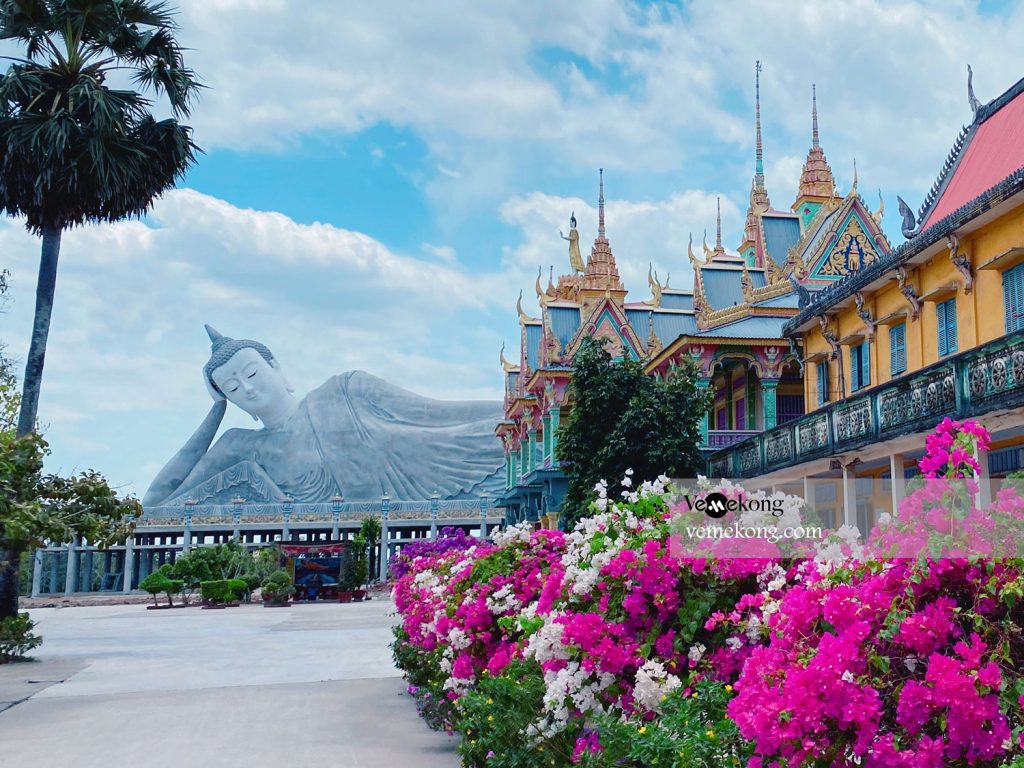 The sanctuary of the pagoda is devoted to a two-metre high stone staue of Buddha Shakyamuni sitting atop a lotus pedestal of about 2m high. Another special feature is the relief decoration, rounded statues or carving of Goddness Reahu (tiger-face design), fairy Kayno (Apsara), sacred bird Krud (Garuda) and the Ogre (Yeak) depicted in the external of the pagoda. The motifs of these external decorations reflect the traces of primitive religions and Brahmanism, which have existed since before Buddhism in the spiritual life of the Khmer.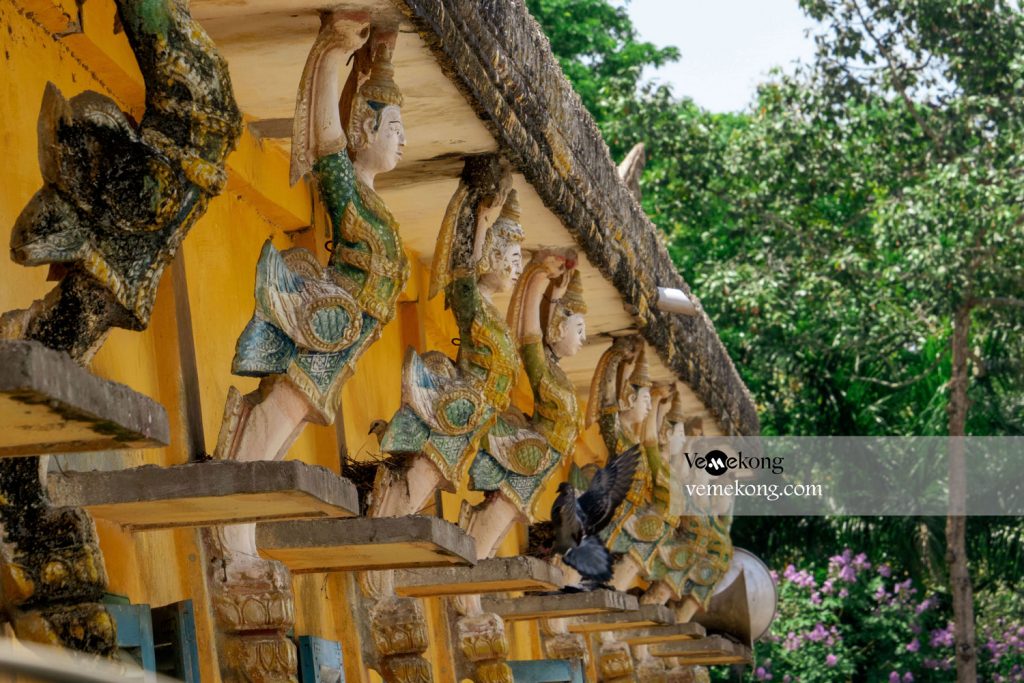 The stupa is located right in the entrance to the pagoda, parallel to the main hall, built on an area of 100 m2, 25 m high and is the place to keep more than 400 jars of ashes of the monks, vows and temple abbot. Instead of the traditional yellow color, the gray painted tower looks majestic and ancient as carved from monolithic rock. Four-sided tower with four paths representing love, compassion, joy, discharge, carved many delicate Khmer patterns. The entrance to the stupa is a statue of Naga snake God. On the tower is a statue of Gautama Buddha meditating.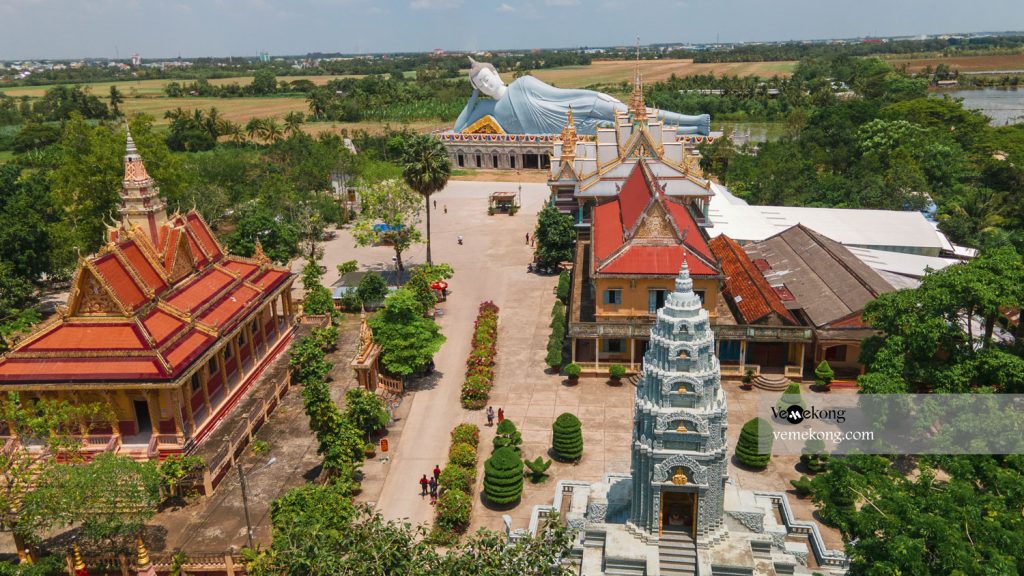 This is also the very hot check-in point of Som Rong pagoda. The Stupa towered on a strangely beautiful image, radiating a mystical spiritual atmosphere. Many young people choose to check-in at sunset when the orange sunlight turns to a fanciful purple color coating each pattern. If you catch the moment when the pigeons flutter their wings on the top of the tower, you will get an image with a beautiful background that vibrates.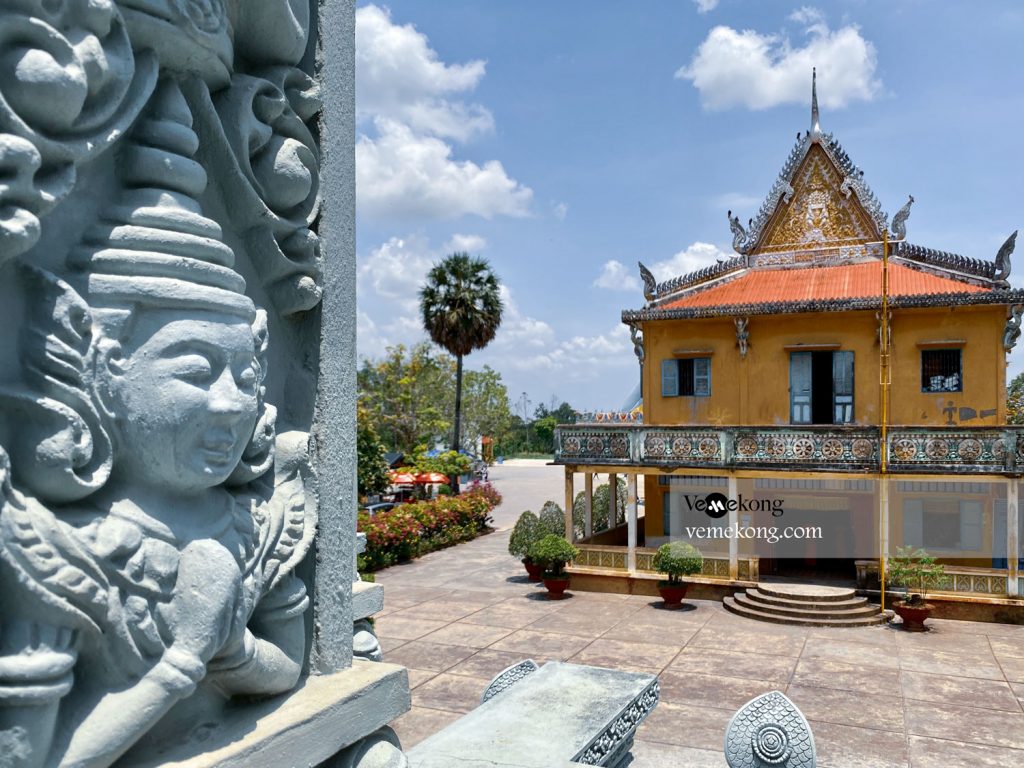 Som Rong pagoda is home to the largest giant reclining Buddha statue in Vietnam that was just inaugurated in 2020, with a length of 63m, a height of 22.5m and a weight of 490 tons. From hundreds of metres away, visitors can see the majestic statue of the Buddha Shakyamuni Buddha. This is the highlight, creating a harmonious beauty in the overall architecture of the Somrong pagoda.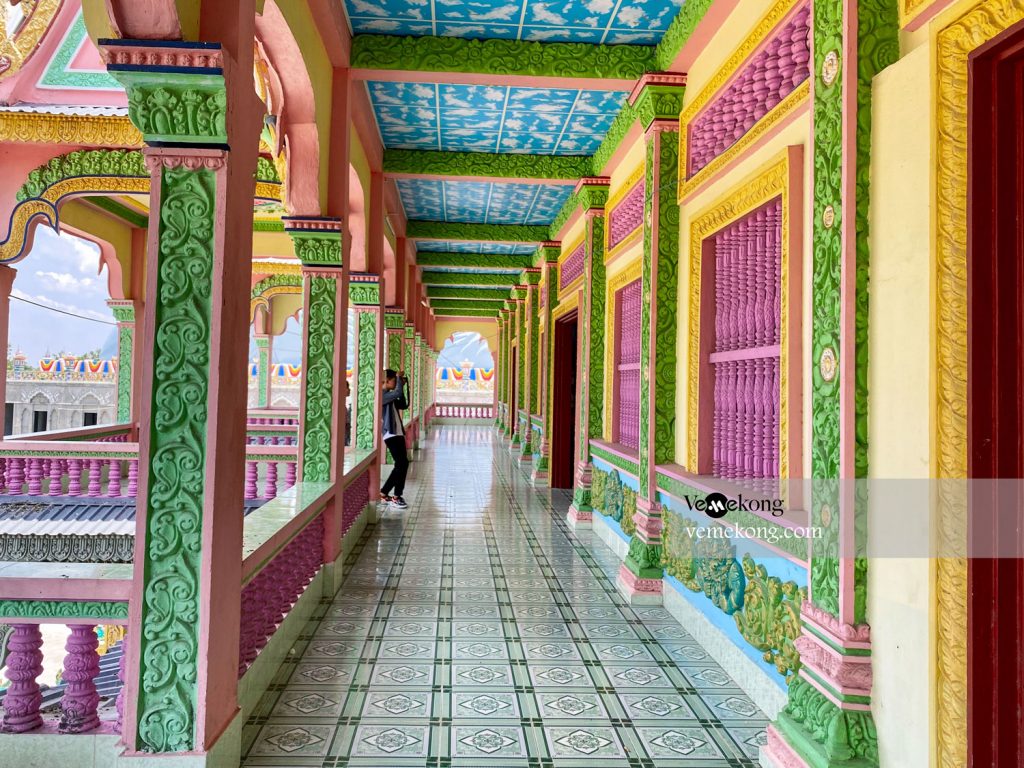 The sala house is the lecture hall and monkhood of Som Rong pagoda, inaugurated in 2017 with an area of more than 1 ha and a total budget of nearly 16 billion. The sala house is a specialized place to receive guests, organize offerings and great traditional ceremonies. It is an indispensable part of the architectural complex of traditional Khmer temples.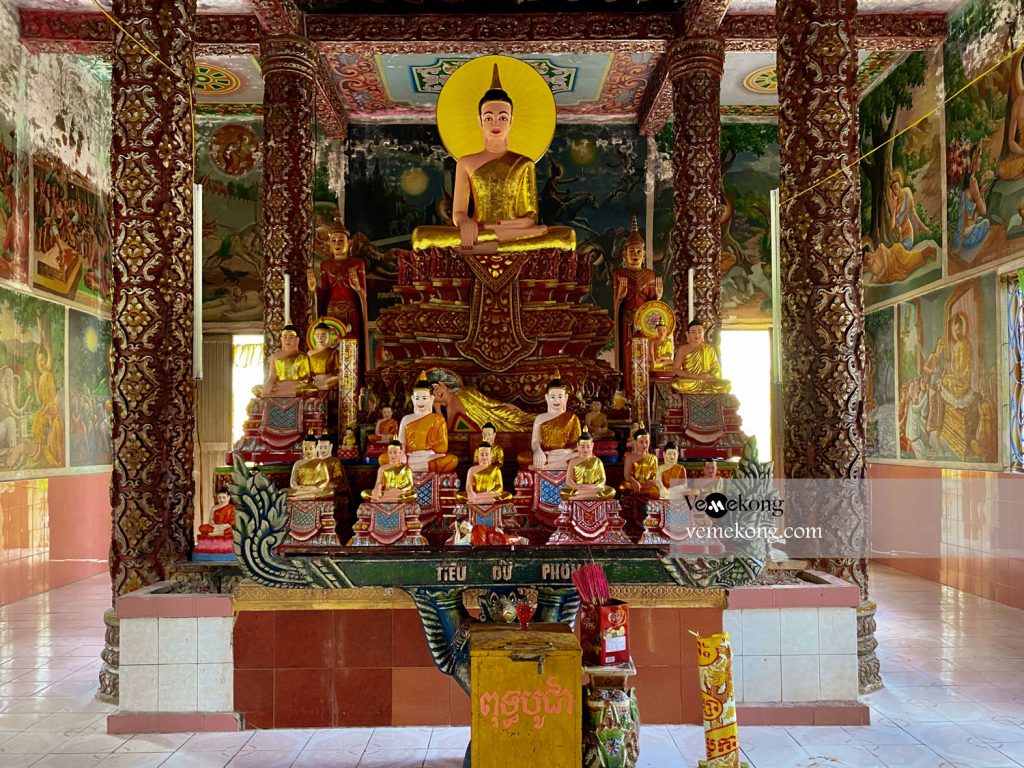 3. Better to go with google maps of Som Rong pagoda
Embedded slot
4. Better to see our short latest video in advance (4k)
Embedded slot
5. Pro tips:
Som Rong Soc Trang Pagoda is a solemn place, so you should choose beautiful clothes that are still polite and discreet. In the temple grounds, there are many animal statues such as elephants, snakes, etc. If you go with the children, please remind them not to climb because these are sacred symbols of the Khmer people.
The monks don't ask for money, although donations won't hurt.
Bring your hat, sunglasses, and sunblock, scarf to wear when visiting temples, pagodas, and the cathedral.
If you plan to extend your tour to Soc Trang homestay, do not forget to bring mosquito repellent cream.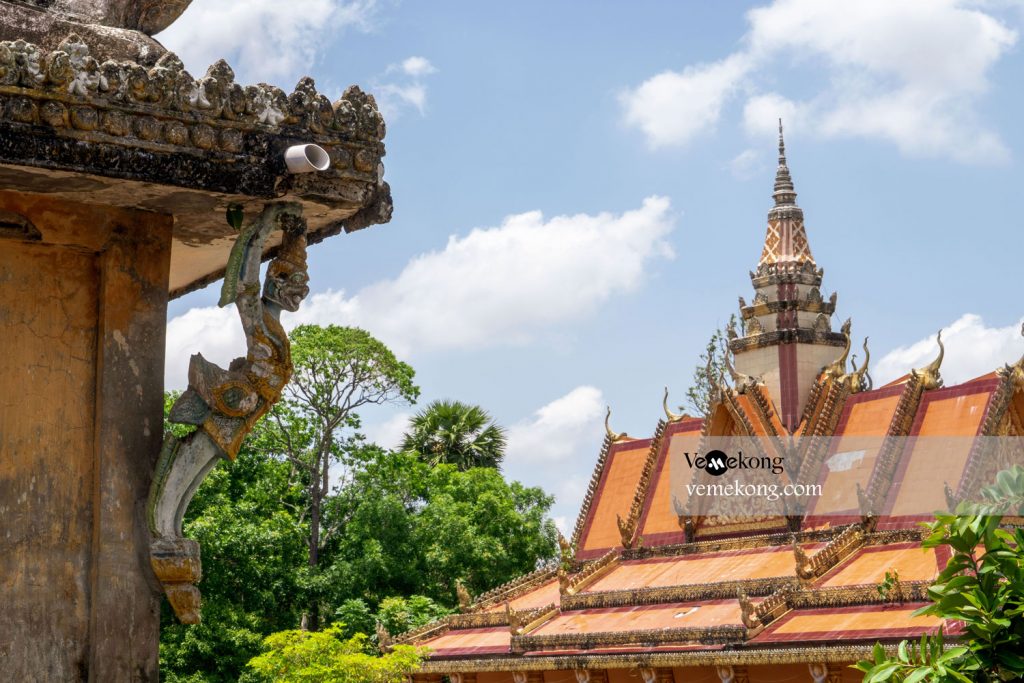 When visiting the Soc Trang or doing any customized tours, choose reputable providers with boat trips equipped with lifebuoys, jackets, motorcycle and cycling tours with the helmets. Safety is a priority!
Soc Trang tourist attractions are magnificent itself, but if you have enough time, don't forget to put other places onto your bucket lists such as Bat pagoda, Chen Kieu (Bowl) pagoda, Dung islet, Ghe Ngo boat race festival, pink trumpet tree road, Clay pagoda (Chua Dat Set), Khleang pagoda, Nga Nam floating market, Phat Hoc 2 pagoda, Soc Trang central market, Soc Trang museum, Som Rong pagoda, popular and clean homestays and hotels in Soc Trang…
Soc Trang food & drink guide ranges from street food, authentic, fancy to fusion foods. As a tropical land of many fresh vegetables and homegrown gardens, which always make Soc Trang cuisines fresh, close to nature and very traditional. If you are a food lover, don't hesitate to put other bites onto your food lists such as Cong Cake, Pia Cake, Bun Nuoc Leo Soc Trang's Noodle Soup…
Bring the raincoat if you travel to Soc Trang in the rainy season, as Soc Trang always looks fantastic in the full rain and full sun.
Hopefully, the above tips will help you to come up with a great plan for your adventure in Soc Trang, Mekong Delta, Vietnam. Have a safe trip!
"Sleep less, travel more, respect more" – Thomas Vietnam – Local travel expert.
Thank you