Kittyd & Minnied Amusement Park - Things to do in Hau Giang
Kittyd & Minnied Park is known as the most unique entertainment paradise in Hau Giang, like Disneyland, attracting many young people to check-in.
By Thomas Vietnam at vemekong.com | Official Hau Giang Visitor Guide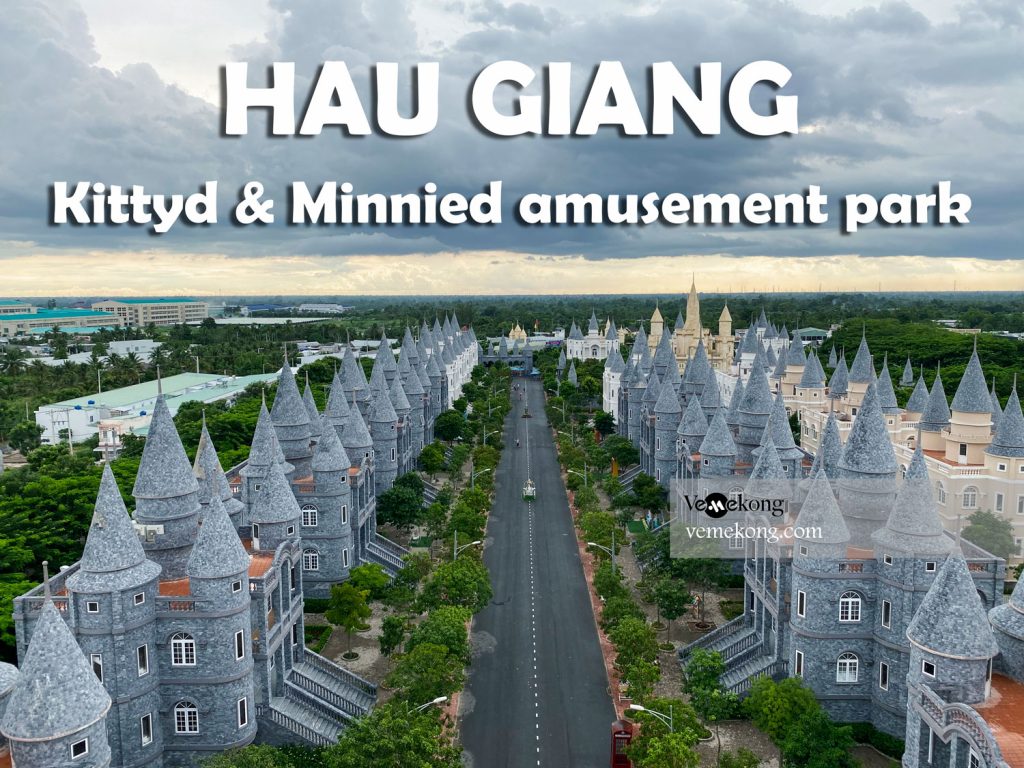 1. Better to Know as a Tourist
Ticket: 60,000 VND – 80,000 VND (Game fees are not included)
Spend-time: One hour (approx)
Hours: Dawn – dusk
Food: Yes
Shop: Yes
Parking lot: Yes, for coach
Blog: https://vemekong.com/kittyd-minnied-amusement-park-hau-giang-vietnam/
Address: National Highway 1A, Tan Phu Thanh commune, Chau Thanh A, Hau Giang.
Added values: Visiting here, you will admire the magnificent castles, immerse yourself in the European-style scenery and experience countless exciting entertainment games.
Nearby attractions and hidden gems: Looking for places to stop on your way to and from Kittyd & Minnied Amusement Park? Or maybe you found it too crowded here? We've got some ideas! Check out our list: Lung Ngoc Hoang Forest & Bird Sanctuary (36 km), Truc Lam Zen Monastery Hau Giang (35 km), Vi Thanh Outdoor Farmers Market (46 km), Xa No Park in Hau Giang (44 km), Cau Duc Pineapple Fields (57 km),…
2. Travel Guide to Kittyd & Minnied Amusement Park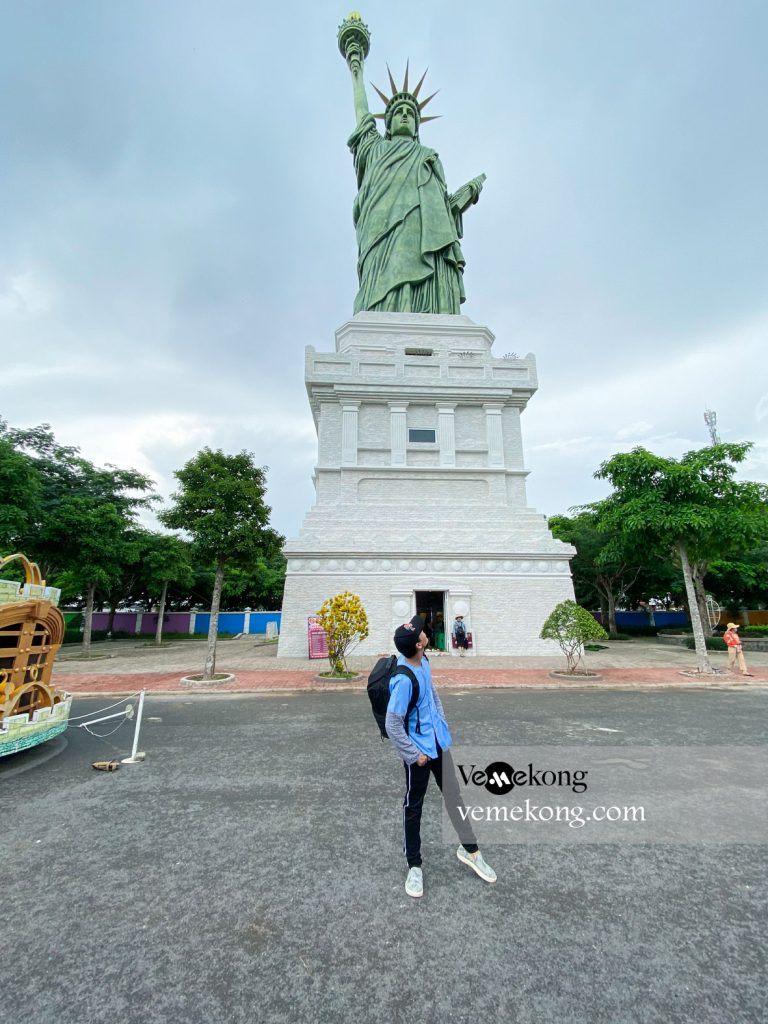 Kittyd & Minnied Park in Hau Giang is designed according to the largest European architecture in the Mekong Delta, open to welcome guests from February 2018. The park is a fancy highlight in the tourist colors of the West River. .
The park is spread over an area of ​​20 hectares of the campus of Vo Truong Toan University, designed according to a modern park model with many visitor areas suitable for many ages. In general, the park is divided into 3 main areas: a walking square with super beautiful European castles, a water park and an area with diverse sports and adventure games suitable for many ages.
If you come to Can Tho, you can choose to go to an amusement park if you are bored with ecotourism in fruit gardens and floating markets. Although the park is located in Hau Giang, it is only about 12km from Can Tho city, the road is easy to go, so you can come here to visit easily. Choose the right vehicle according to your preferences.
3. What to Do – See – Eat at Kittyd & Minnied Amusement Park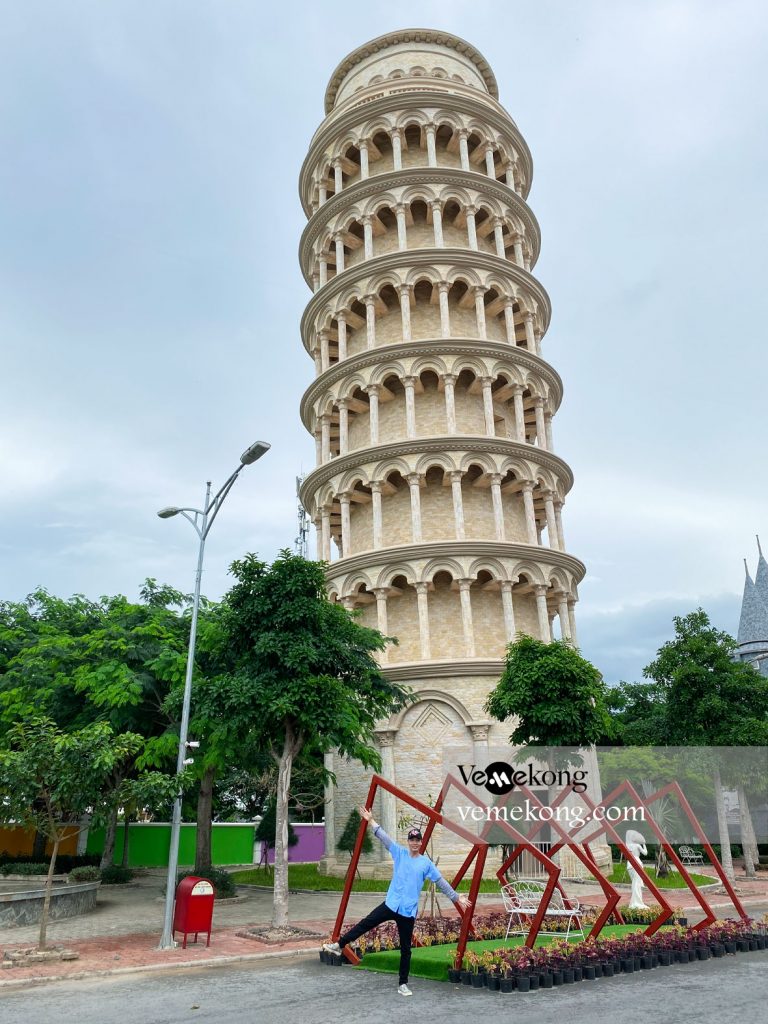 When entering the inner campus, visitors will be amazed at an extremely large park divided into many areas.
At the Walking Street named after Olympus Street (Olympus Street), you can visit and shop for souvenirs with the characteristics of Kittyd & Minnied Amusement Park. The pedestrian zone is also a place where visitors can immerse themselves in the fairy-tale space with many special performances: street parades (re-enactment of fairy-tale characters such as Snow White, Cinderella, Beauty and the Beast, etc.) Mermaid, Aladdin, Cloud-haired Princess, …), aerial statue performance, mascot performance, …
At Eros Square, you can mingle, watch, have fun and admire the statue of the cupid. Young people in love can send their eternal love by carving their beloved's name on beautiful keychains to stay at this square for a long time.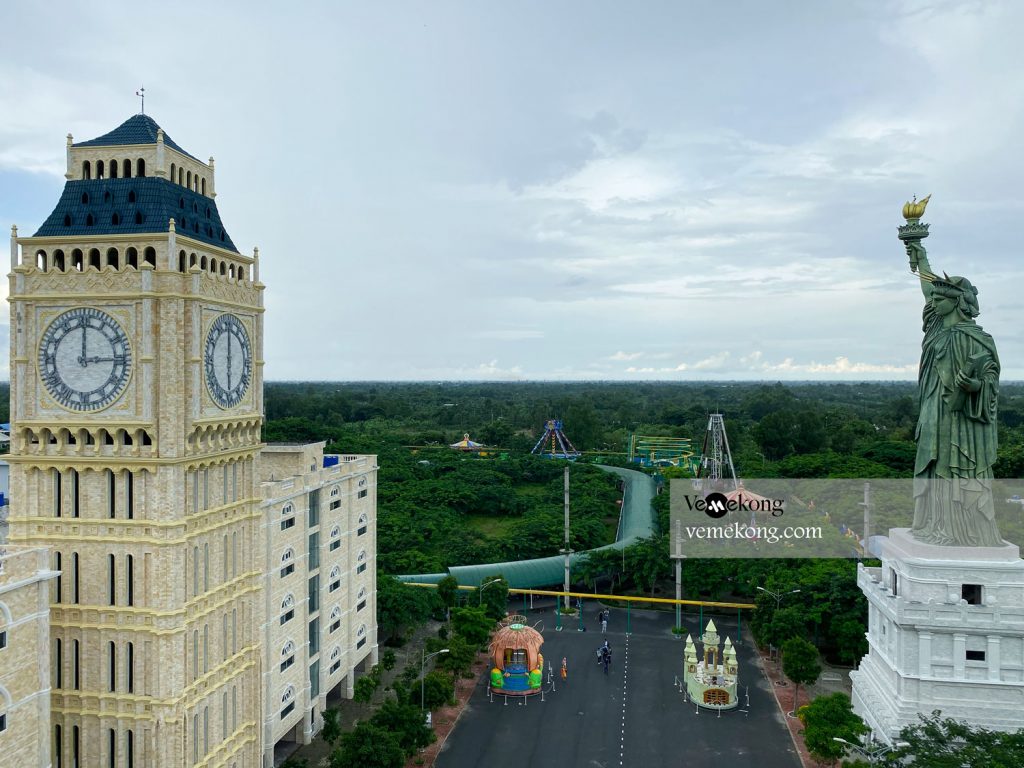 The highlight of the Kittyd & Minnied theme park is the Coeus Castle (Coeus Castle) with a population of ancient Greek mythological statues, surrounded by solid walls and royal-style interior design. . Coeus Castle is also the place to host special performances every night, you can immerse yourself to bring the feeling of the fairy-tale world.
In addition to buildings with European architecture, fresh air suitable for resort tourism, Kittyd & Minnied Amusement Park is also particularly attractive to visitors by its modern game system and thrills as standard. international. For those who are adventurous and looking for thrills, surely the 360o Roller Coaster, Pendulum Game or Viking Pirate Ship will delight you.
For those of you who have not dared to challenge with thrilling games, games such as Horse Riding Ferris Wheel, Ocean Jellyfish, Space Bike or indoor games will also bring you moments of entertainment. very comfortable.
If you are a fan of Sasuke's motion TV game show or simply love movement games, you cannot ignore the Sports area with many attractive games: Dragon Snake Swing, Rope Tower Swing, Eagle's Nest, … This is an adventure game area that has never been seen in other parks in Vietnam.
Located in a high-class, modern entertainment complex, Water Park with modern, thrilling and latest water games of the world such as Cyclone Trough, "Round of Rage" slide. … will bring many unique experiences to visitors.
4. Free Itineraries from VeMekong
As a local travel expert, we have some ideas for you to think about.
From Hau Giang center:
Route 1:
Route 2:
Route 3:
If you do not have much time left, it is easy to check out spots in one full day by boat or with bike or with motorbike and car. But there are much more than tourist sites like these in Hau Giang. Make sure you have more time to feel and explore more about the hidden gems and the culture, food, night life, wildlife and forest as well. Top tip: Stay in a homestay nearby, so you have more chances to visit it and surroundings. If you are looking for the package Hau Giang daily tour with local, you can contact www.vemekong.com or Hotline/WhatsApp/WeChat/Zalo +84939888559; email: hello@vemekong.com
5. Google Maps of Kittyd & Minnied Amusement Park
Google Maps made a name for itself helping people travel from one place to another, avoid traffic (You probably know the route from your hotel to the gas station by heart, but what you can't be sure about is gridlock), measure a distance, get back to the hotel on time, share the location…
Embedded slot
6. Visit Kittyd & Minnied Amusement Park by yourself
Solo traveller? Travelling on your own means you will get out of any difficult situations by yourself. This, in turn, leads to more satisfying travel experiences and helps you improve your problem-solving skills. These days we rarely get the chance to sit with ourselves and simply be. That's why you should consider the time you spend alone on your trip as a gift.
It is possible for solo travellers to use google maps and do it alone. But sometimes they need to update local maintained roads and bridges which close and lead you a longer road than the road from google maps. It is just about the time. It takes more time to find the correct garden to come. Adventure is always fun. Wifi is strong in Hau Giang village! The locals find it hard to speak English as well. Top tip: Sticking to one canal and keeping going along it which gives you more things to see and avoids getting lost. Contact vemekong.com to hire a car, scooter with English-speaking-guide or cycling tours in Hau Giang.
7. Responsible Travel and Advice to Visit Kittyd & Minnied Amusement Park
Don't get us wrong. But we assure you that you totally agree with us. "Do not give candy and things to the children when you plan to visit any local villages", the kids will leave the school and follow the sweets and later they find some things to give you or sell to you. The garden is a little forest, don't pick and touch the flowers or fruits without the local's smiles. We deal with traveling green and leaving green behind, not plastic. Top tip: Vemekong.com are some of the companies that care a lot about responsible travel and local respectation.
8. Amazing Video flycam/drone of Kittyd & Minnied Amusement Park (4k)
If a picture says a thousand words, it stands to reason that the video says many times more.
9. Incredible Tips for Photography, Specialists, KOLs, Media and Influencers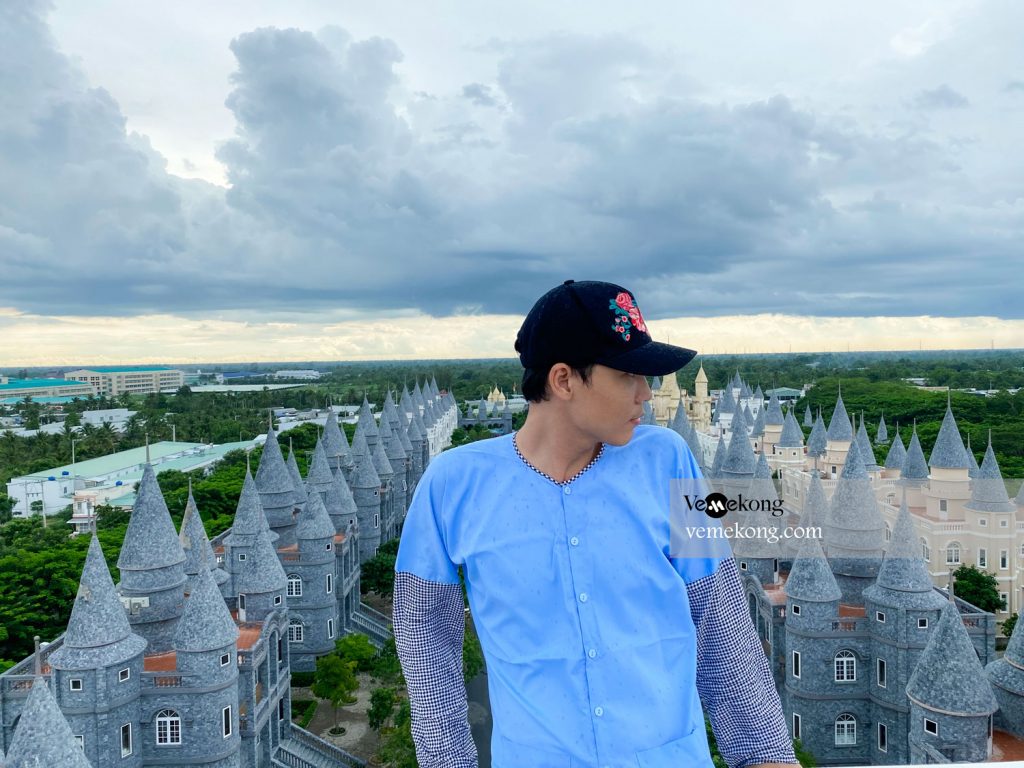 To get the best of the best for your unique writing, featuring, photo, video and insider's stories. We do recommend you to have a local travel expert, the one who always gets more ground information and makes sure every single element is solved perfectly. Vemekong (very exclusive Mekong) team is your priority choice. Email and have a private talk with them to customize your journey smoothly, personal and the most ultimately amazing. You can contact www.vemekong.com or Hotline/WhatsApp/WeChat/Zalo +84939888559; email: hello@vemekong.com
10. Pro Tips
You can stay in a homestay which is near the riverside, this will help you out the best option. Then you can hire a scooter, car or bike and explore it by yourself and I hope you have an amazing Mekong Delta river sunrise.
If you plan to extend your travel to Hau Giang homestay, do not forget to bring mosquito repellent cream.
Visit Hau Giang or do any customized tours, please choose reputable providers with boat trips equipped with lifebuoys, jackets, motorcycle and cycling tours with the helmets and. Safety is a priority! Choose Hau Giang responsible tours which help you give back while traveling. It's a cliché, but it's true.
Hau Giang food & drink guide ranges from street food, authentic, fancy to fusion foods. As a tropical land of many fresh vegetables and homegrown gardens, which always make Hau Giang cuisines fresh, close to nature and very traditional. If you are a food lover, don't hesitate to put other bites onto your food lists such as Cau Duc pineapple, Hau Giang's Bronze Featherback Fish Cake, Cai Tac's Pork Organs Porridge…
Bring your hat, sunglasses, and sunblock, scarf to wear when visiting temples, pagodas, and the cathedral.
Bring the raincoat if you're planning a trip to Hau Giang in the rainy season, as Hau Giang always looks fantastic in the full rain and full sun.
Hau Giang tourist attractions are magnificent itself, but if you have enough time, don't forget to put other places onto your bucket lists such as Lung Ngoc Hoang Forest, Nature Reserve & Bird Sanctuary, Kittyd & Minnied Amusement Park, Truc Lam Zen Monastery Hau Giang, Vi Thanh Outdoor Farmers Market, Bo Tum Vong Say Khmer Pagoda, Like Coffee Shop in Hau Giang, Phung Hiep Bamboo and Rattan Craft Village, Tu Sang Bamboo Garden Hau Giang, Cau Duc Pineapple Fields, Tam Vu ecotourism area, Long My Stork Garden,Ba Bai Base, Chuong Thien Cultural & historic site, Vi Hung Church, Xa No Park – Xa No Canal…
Hopefully, the above tips will help you to come up with a great plan for your adventure in Hau Giang province, Mekong Delta, Vietnam. Have a safe trip!
"Sleep less, travel more, respect more" – Thomas Vietnam – Local travel expert.
Thank you