Vietnam coconut Kingdom – A Must-See in Ben Tre
Ben Tre is known as the land of coconuts or the land of three green coconut islands. Coconut trees, one of the perennial industrial trees, can be seen among the crops grown on the land in Ben Tre leading in terms of arable land in the country.
By Thomas Vietnam at vemekong.com | Official Ben Tre Visitor Guide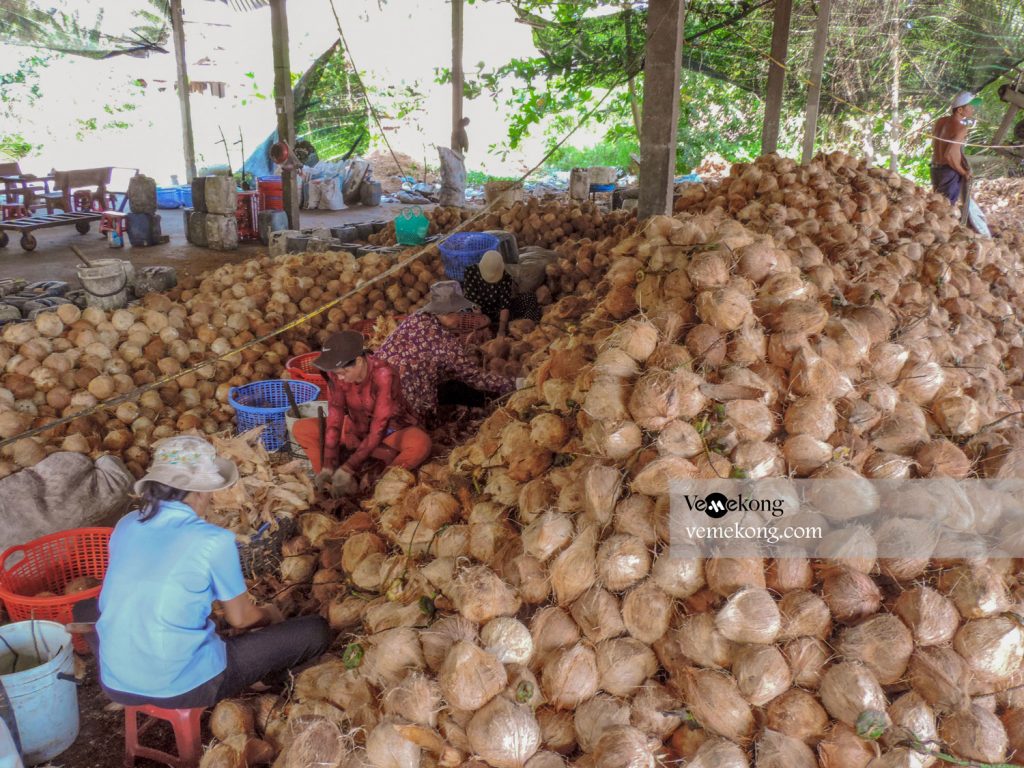 1. Better to Know as a Tourist
Ticket: Free
Spend-time: One or two days (approx)
Hours: Dawn – dusk
Food: Yes
Shop: Yes
Parking lot: Yes
Blog: https://vemekong.com/vietnam-coconut-kingdom-ben-tre/
Address: Located in the center of Ben Tre city, Ben Tre province
Added values: The coconut tree in the process of developing on the land of Ben Tre island has been associated with the daily life of the people, contributing to the cultural identity of the land and the people of Ben Tre. Today's Ben Tre coconut garden is generally developing in the direction of an ecological garden associated with a variety of crops, giving high efficiency and attracting tourists when coming to Ben Tre coconut garden.
Nearby attractions and hidden gems: Looking for places to stop on your way to and from Vietnam coconut Kingdom in Ben Tre? Son Doc Rice Paper Village (7 km), Dong Khoi Guerrilla Village (3 minutes), Ben Tre Brick Factory (5 km), Thoi Son Island (15 km), Cho Lach Flower Village (26 km), Ben Tre Coconut Candy (13 km),…
2. Travel Guide to Vietnam coconut Kingdom in Ben Tre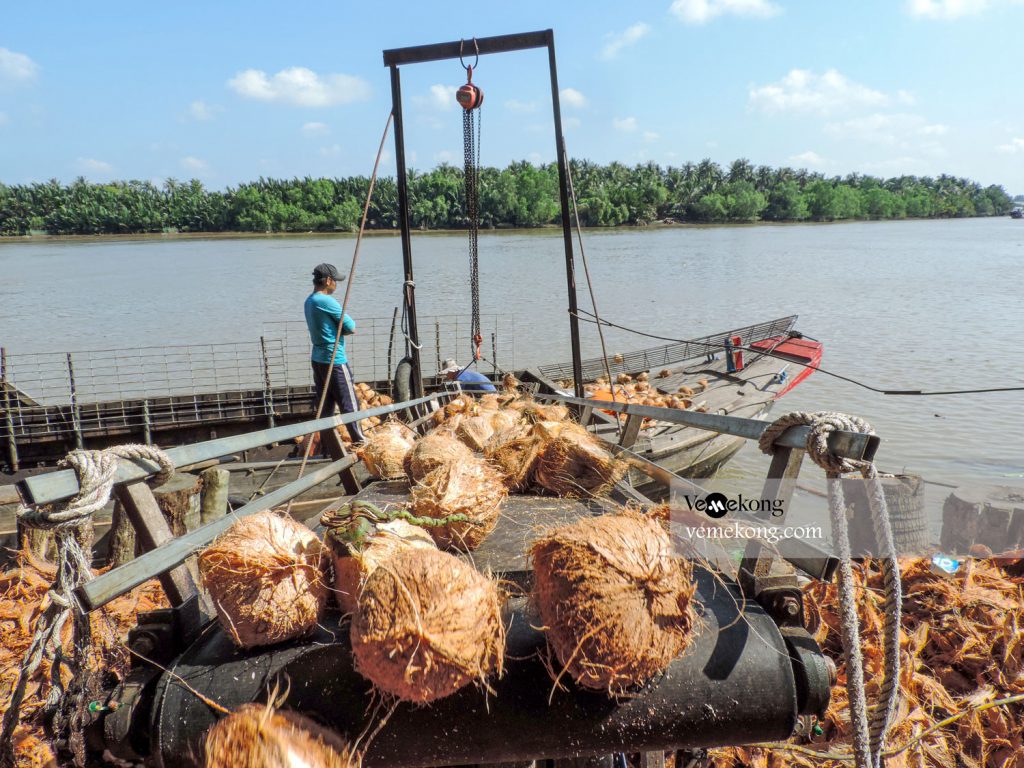 In Ben Tre, immense coconut groves are concentrated in the western districts such as Chau Thanh, Cho Lach, Mo Cay, and Giong Trom. The province has more than 70,000 hectares of coconut land, yielding nearly 600 million fruits per year, leading the country. The coconut processing industry in Ben Tre has developed quite quickly with diverse products, consuming about 85% of the total amount of coconut harvested in the area. Returning to Ben Tre, coconut and coconut products are present throughout the villages.
Coconut trees not only bring economic benefits, increase income for Ben Tre people from coconuts and other materials, coconut tree trunks are also the main wood not only used to build houses, make beds, and make household goods & bridging because coconut wood is strong and not inferior to other woods. Coconut wood can be used for up to several decades. Today, coconut wood also creates hundreds of handicraft products and household goods sold to tourists and exports. Coconut leaf stalks… if in the past it was only to light a fire or to sweep the house with a bunch of brooms, today fresh coconut leaves are used to knit flower baskets, gift baskets; bamboo shoots braided knitting all kinds of lanterns for interior decoration… Coconut shells make activated carbon and are raw materials for making many kinds of handicrafts. Currently, coconut trees are exploited very thoroughly, contributing to increasing income, improving people's lives, and creating jobs for workers in Ben Tre.
Coconuts for fighting against the enemy and keeping the village:
During the wars against France and the United States, coconut tree trunks were an important material used in the construction of bomb shelters in Dong Khoi's hometown. After Dong Khoi in 1960, the people's armed forces of Giong Trom district used to use many coconut tree trunks over 10 meters long to form rafts, float down the river, knock down Binh Chanh bridge, cut off the traffic artery on provincial road 26. Ben Tre town to Giong Trom – Ba Tri district (now provincial road 885), preventing and slowing the enemy's advance from Ben Tre town to sub-regions 1 and 2 of Giong Trom district and Ba Tri district. The old coconut tree was used as a guard station for the enemy, as a pole to hang the flag of the National Front for the Liberation of South Vietnam. Under the flagpole, the flagpole had exploded – dropped an American helicopter, etc.
In the early years of the re-establishment of peace, although coconut was sometimes treated "badly", or "neglected", but in general, coconut still holds the leading position in crops and especially, in the history of the land. Coconut trees are not only pride, but also always occupy an important position in the minds of generations of Ben Tre people.
3. What to Do –See – Eat at Vietnam coconut Kingdom in Ben Tre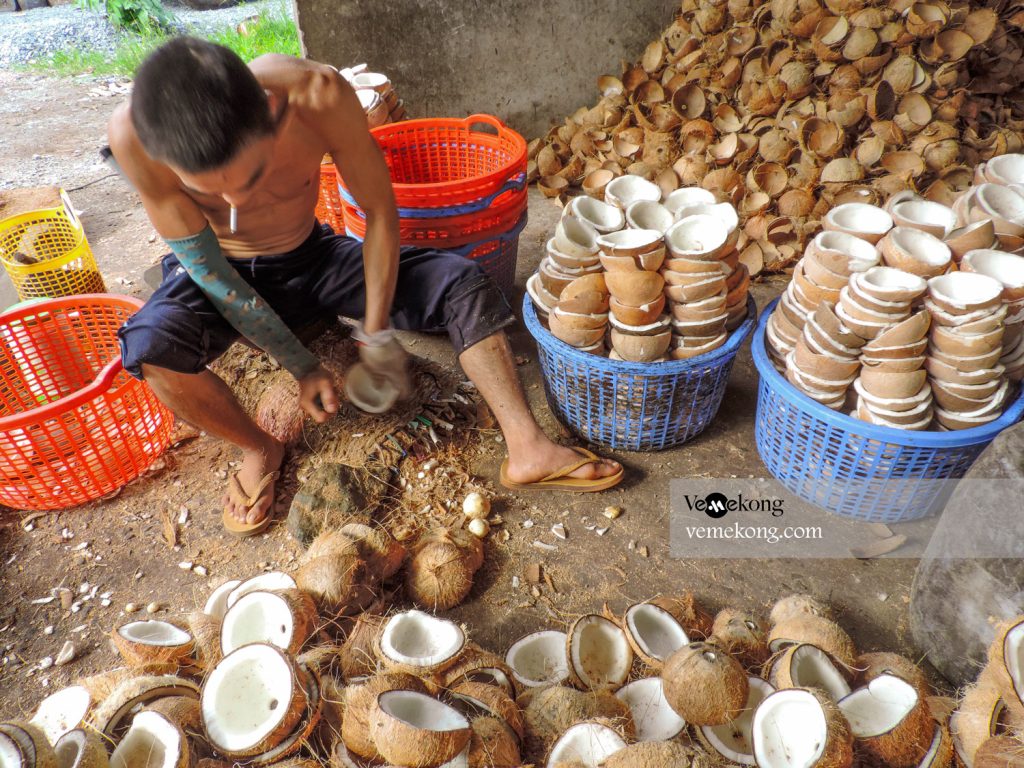 In folklore, coconut is often divided into two names: Vietnamese (The local coco) coconut and Siamese coconut. The local coconut is the native coconut variety with large fruit, copra is the main ingredient; Siamese coconut (Thailand) is a coconut variety of imported origin, small fruit, green shell, mainly used for refreshment. In addition to Siamese coconut, Tam Quan coconut, small fruit, yellow shell, water are not only ingredients for refreshment, but also used as a medicinal decoction to treat many incurable diseases. As for the soft coconut, the fruit is smaller than Siamese coconut, Tam Quan coconut, gray brown or green shell.
Every month, when it comes to breaking coconuts (also known as coconut litter), the gardener hires workers to snatch coconuts (also known as coconut breakers) to pick up dried coconuts and brown coconuts. Tanned coconut is a type of coconut that is still green on the outside, but the inside of the coir is golden brown, shake it vigorously with your hands to hear the water "creaking", this type of coconut is classified as a dry coconut.
4. Free Itineraries from VeMekong
As a local travel expert, we have some ideas for you to think about.
From Ben Tre city center:
Route 1:
Route 2:
Route 3:
If you do not have much time left, it is easy to check out spots in one full day by boat or with bike or with motorbike and car. But there are much more than tourist sites like these in Ben Tre. Make sure you have more time to feel and explore more about the hidden gems and the culture, food, night life, wildlife and forest as well. Top tip: Stay in a homestay nearby, so you have more chances to visit it and surroundings. If you are looking for the package Ben Tre daily tour with local, you can contact www.vemekong.com or Hotline/WhatsApp/WeChat/Zalo +84939888559; email: hello@vemekong.com
5. Google Maps of Vietnam coconut Kingdom in Ben Tre
Google Maps made a name for itself helping people travel from one place to another, avoid traffic (You probably know the route from your hotel to the gas station by heart, but what you can't be sure about is gridlock), measure a distance, get back to the hotel on time, share the location…
Embedded slot
6. Visit Vietnam coconut Kingdom in Ben Tre by yourself
Solo traveller? Travelling on your own means you will get out of any difficult situations by yourself. This, in turn, leads to more satisfying travel experiences and helps you improve your problem-solving skills. These days we rarely get the chance to sit with ourselves and simply be. That's why you should consider the time you spend alone on your trip as a gift.
It is possible for solo travellers to use google maps and do it alone. But sometimes they need to update local maintained roads and bridges which close and lead you a longer road than the road from Google maps. It is just about the time. It takes more time to find the correct garden to come. Adventure is always fun. Wifi is strong in Ben Tre village! The locals find it hard to speak English as well. Top tip: Sticking to one canal and keeping going along it which gives you more things to see and avoids getting lost. Contact vemekong.com to hire a car, scooter with English-speaking-guide or cycling tours in Ben Tre.
7. Responsible Travel and Advice Vietnam coconut Kingdom in Ben Tre
Don't get us wrong. But we assure you that you totally agree with us. "Do not give candy and things to the children when you plan to visit any local villages", the kids will leave the school and follow the sweets and later they find some things to give you or sell to you. The garden is a little forest, don't pick and touch the flowers or fruits without the local's smiles. We deal with traveling green and leaving green behind, not plastic. Top tip: Vemekong.com are some of the companies that care a lot about responsible travel and local respectation.
8. Amazing Video flycam/drone of Vietnam coconut Kingdom in Ben Tre (4k)
If a picture says a thousand words, it stands to reason that the video says many times more.
9. Incredible Tips for Photography, Specialists, KOLs, Media and Influencers
To get the best of the best for your unique writing, featuring, photo, video and insider's stories. We do recommend you to have a local travel expert, the one who always gets more ground information and makes sure every single element is solved perfectly. The Vemekong (very exclusive Mekong) team is your priority choice. Email and have a private talk with them to customize your journey smoothly, personal and the most ultimately amazing. You can contact www.vemekong.com or Hotline/WhatsApp/WeChat/Zalo +84939888559; email: hello@vemekong.com
10. Pro Tips
You can stay in a homestay which is near the riverside, this will help you out the best option. Then you can hire a scooter, car or bike and explore it by yourself and I hope you have an amazing Mekong Delta river sunrise.
If you plan to extend your travel to Ben Tre homestay, do not forget to bring mosquito repellent cream.
Visit Ben Tre or do any customized tours, please choose reputable providers with boat trips equipped with lifebuoys, jackets, motorcycle and cycling tours with the helmets and. Safety is a priority! Choose Ben Tre responsible tours which help you give back while traveling. It's a cliché, but it's true.
Ben Tre food & drink guide ranges from street food, authentic, fancy to fusion foods. As a tropical land of many fresh vegetables and homegrown gardens, which always make Ben Tre cuisines fresh, close to nature and very traditional. If you are a food lover, don't hesitate to put other bites onto your food lists such as Cai Mon durian, Phu Le Rice Wine, coconut wine, coconut candy, coconut rice, snail pancake, elephant ear fish, Coconut Worm, Young Coconut Salad with Shrimp & Pork…
Bring your hat, sunglasses, and sunblock, scarf to wear when visiting temples, pagodas, and the cathedral.
Bring the raincoat if you're planning a trip to Ben Tre in the rainy season, as Ben Tre always looks fantastic in the full rain and full sun.
Ben Tre tourist attractions are magnificent itself, but if you have enough time, don't forget to put other places onto your bucket lists such as Ben Tre brick & pottery kiln, Coconut Candy Traditional Village & Small Canals, mighty Mekong river cruise, educational tour and community tour in Ben Tre, Ben Tre homestay 2D1N, cocohome homestay, Ben Tre cycling tours, Son Doc Puff Rice Paper Village, Dong Khoi Guerrilla Village, Vam Ho bird sanctuary, Cai Mon Ornamental Flower Village in Cho Lach, Ben Tre Museum, An Hiep Nhon Thanh Mat Weaving Villages, Ben Tre Night Market, Phung Island (Phoenix islet), Thoi Son Island, Turtle Islet (Con Quy)…
Hopefully, the above tips will help you to come up with a great plan for your adventure in Ben Tre province, Mekong Delta, Vietnam. Have a safe trip!
"Sleep less, travel more, respect more" – Thomas Vietnam – Local travel expert.
Thank you