Ben Tre Night Market – Thing to Learn in Ben Tre
Ben Tre's night market has become a new cultural feature that is a place of exchange and entertainment, serving shopping needs as well as highlighting the image of Ben Tre. This is one of the new attractions in Ben Tre that is very popular with tourists because the typical beauty of the night market has made the journey to visit Ben Tre richer.
By Thomas Vietnam at vemekong.com | Official Ben Tre Visitor Guide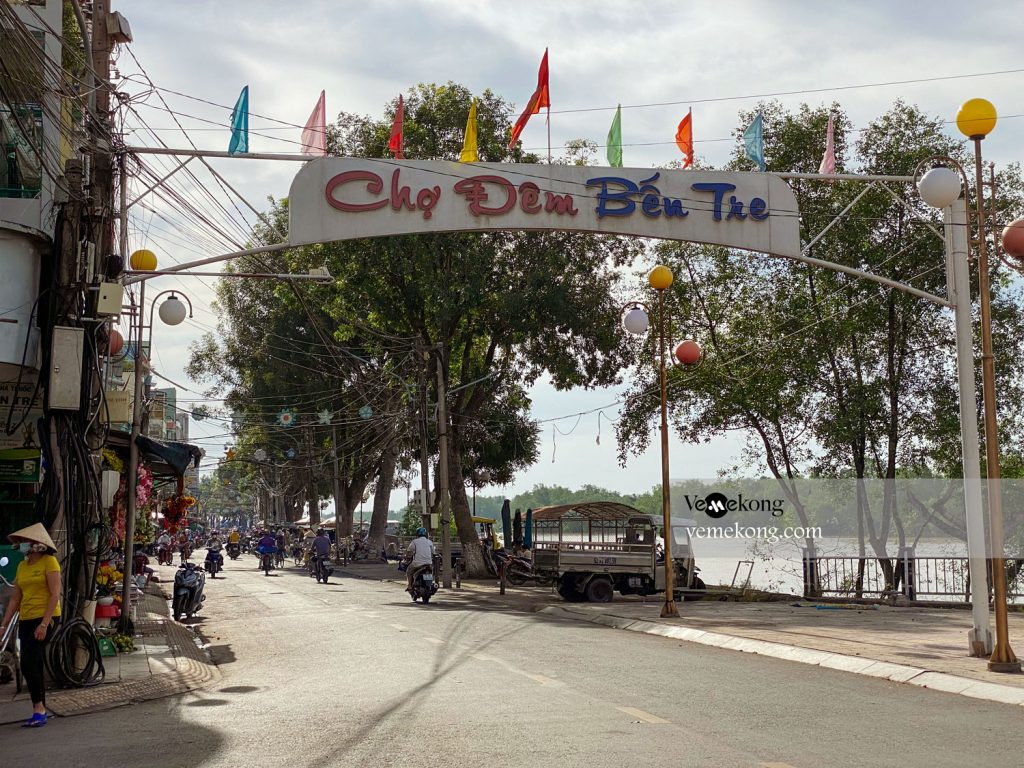 1. Better to Know as a Tourist
Ticket: Free
Spend-time: One hour (approx)
Hours: 5:00 PM – 10:00 PM
Food: Yes
Shop: Yes
Parking lot: Yes
Blog: https://vemekong.com/ben-tre-night-market-mekong-delta/
Address: Located on Phan Ngoc Tong and Hung Vuong streets (from Ben Tre 1 bridge to Nguyen Hue street), Ben Tre City.
Added values: If you have the opportunity to travel to Ben Tre, do not forget to visit the night market. Come to the market to feel how beautiful Ben Tre is at night, to enjoy delicious local cuisine, to buy some pretty gifts, and to see the western city with its sweet background, even at the quiet night.
Nearby attractions and hidden gems: Looking for places to stop on your way to and from Ben Tre Night Market? Or maybe you found it too crowded here? We've got some ideas! Check out our list: Ben Tre City Center (1o minutes), Son Doc Rice Paper Village (15 minutes), Dong Khoi Guerrilla Village (3 minutes), Ben Tre Brick Factory (8 minutes), Thoi Son Island (15 km), Cho Lach Flower Village (41 km), Ben Tre Coconut Candy (9 minutes),…
2. Travel Guide to Ben Tre Night Market
Meeting the needs of shopping, sightseeing, and enjoying nightlife as well as creating more tourism products to retain tourists when coming to Ben Tre; The night market has been organized and operated by the industry and trade industry since 2012. The location of the market is located at an extremely convenient place for business, food, and night excursions located at the end of Hung Vuong Street, along the banks of the poetic Ben Tre river, behind Ben Tre Trade Center.
This place has more than 200 very bustling stalls including garments, souvenirs, fruits from the countryside, and a very diverse and rich dining area. This is a market where business households in Ben Tre City are encouraged by the state to develop services to serve people, especially tourists from all over the world coming to Ben Tre.
3. What to Do – See – Eat at Ben Tre Night Market
The market on the street has many restaurants – large hotels from one to four stars of Ben Tre such as Restaurant – hotel Ham Luong, Viet Uc, Hung Vuong, Dai An … and many other hotels in the city ​​center. These hotels are about a few hundred meters from the night market, so it is very convenient for tourists to walk for sightseeing and shopping. Besides, visitors can feel the beauty of the night by the shimmering lights on both sides of the river connected by the beautiful Ben Tre bridge, with both modern and poetic shapes; Visitors can take a walk on the bridge to see the night view of the city and breathe in the fresh air from the countryside, which will make visitors feel more relaxed and comfortable when staying in Ben Tre.
On the other hand, the tourist's hobby of going to the market is shopping, mainly getting the feeling of walking around and looking at the products from the people's lives here. With the hospitality of the shopkeepers, visitors can choose for themselves a souvenir to give to their loved ones or make a souvenir for themselves during a trip to the homeland of Ben Tre coconut. Or you can buy fruit from gardeners who bring it directly to the market for sale, which you can choose, enjoy on the spot or bring back to your hotel.
Many times, we encounter foreign guests entering these night market stalls to visit and shop; Although the language is different, the goods are described by hand, but with the mutual understanding and experience between tourists and sellers, they can also buy the items they like. They exchange information about goods and then how to calculate money is also quite interesting, only a Casio calculator and a few operations of addition, subtraction, multiplication, and division both parties understand exactly the amount to be paid and how much to give back. It's a fun transaction and creates scenes where tourists and locals both laugh back and forth so cutely and intimately.
In addition, tourists coming here can also rent bicycles at the hotel to freely roam around this fun shopping center and night market. Because this is a market area where trucks are not allowed, it is very safe for visitors, especially foreigners. A group of young people strolled together to buy fruits sold at the top of the market while walking, eating, talking and laughing happily, sometimes stopping by a shop to try on a shirt, or a hat or ask friends to take a photo. When walking to the end of the market, the legs also get tired, the food and beverage area at the end of the market will solve the empty stomach at night for visitors; This is a stop to enjoy specialty dishes amidst the noisy atmosphere of the market by the quiet space of the gently flowing Ben Tre River. How interesting it is!!!
Ben Tre night market is also a tourism product that serves both local people and tourists' entertainment and shopping from all over the world, which has further contributed to the development of tourism in the province, especially the preservation of tourism.
4. Free Itineraries from VeMekong
As a local travel expert, we have some ideas for you to think about.
From Ben Tre center:
Route 1:
Route 2:
Route 3:
If you do not have much time left, it is easy to check out spots in one full day by boat or with bike or with motorbike and car. But there are much more than tourist sites like these in Ben Tre. Make sure you have more time to feel and explore more about the hidden gems and the culture, food, night life, wildlife and forest as well. Top tip: Stay in a homestay nearby, so you have more chances to visit it and surroundings. If you are looking for the package Ben Tre daily tour with local, you can contact www.vemekong.com or Hotline/WhatsApp/WeChat/Zalo +84939888559; email: hello@vemekong.com
5. Google Maps of Ben Tre Night Market
Google Maps made a name for itself helping people travel from one place to another, avoid traffic (You probably know the route from your hotel to the gas station by heart, but what you can't be sure about is gridlock), measure a distance, get back to the hotel on time, share the location…
Embedded slot
6. Visit Ben Tre Night Market by yourself
Solo traveller? Travelling on your own means you will get out of any difficult situations by yourself. This, in turn, leads to more satisfying travel experiences and helps you improve your problem-solving skills. These days we rarely get the chance to sit with ourselves and simply be. That's why you should consider the time you spend alone on your trip as a gift.
It is possible for solo travellers to use google maps and do it alone. But sometimes they need to update local maintained roads and bridges which close and lead you a longer road than the road from google maps. It is just about the time. It takes more time to find the correct garden to come. Adventure is always fun. Wifi is strong in Ben Tre village! The locals find it hard to speak English as well. Top tip: Sticking to one canal and keeping going along it which gives you more things to see and avoids getting lost. Contact vemekong.com to hire a car, scooter with English-speaking-guide or cycling tours in Ben Tre.
7. Responsible Travel and Advice to Visit Ben Tre Night Market
Don't get us wrong. But we assure you that you totally agree with us. "Do not give candy and things to the children when you plan to visit any local villages", the kids will leave the school and follow the sweets and later they find some things to give you or sell to you. The garden is a little forest, don't pick and touch the flowers or fruits without the local's smiles. We deal with traveling green and leaving green behind, not plastic. Top tip: Vemekong.com are some of the companies that care a lot about responsible travel and local respectation.
8. Amazing Video flycam/drone of Ben Tre Night Market (4k)
If a picture says a thousand words, it stands to reason that the video says many times more.
9. Incredible Tips for Photography, Specialists, KOLs, Media and Influencers
To get the best of the best for your unique writing, featuring, photo, video and insider's stories. We do recommend you to have a local travel expert, the one who always gets more ground information and makes sure every single element is solved perfectly. Vemekong (very exclusive Mekong) team is your priority choice. Email and have a private talk with them to customize your journey smoothly, personal and the most ultimately amazing. You can contact www.vemekong.com or Hotline/WhatsApp/WeChat/Zalo +84939888559; email: hello@vemekong.com
10. Pro Tips
You can stay in a homestay which is near the riverside, this will help you out the best option. Then you can hire a scooter, car or bike and explore it by yourself and I hope you have an amazing Mekong Delta river sunrise.
If you plan to extend your travel to Ben Tre homestay, do not forget to bring mosquito repellent cream.
Visit Ben Tre or do any customized tours, please choose reputable providers with boat trips equipped with lifebuoys, jackets, motorcycle and cycling tours with the helmets and. Safety is a priority! Choose Ben Tre responsible tours which help you give back while traveling. It's a cliché, but it's true.
Ben Tre food & drink guide ranges from street food, authentic, fancy to fusion foods. As a tropical land of many fresh vegetables and homegrown gardens, which always make Ben Tre cuisines fresh, close to nature and very traditional. If you are a food lover, don't hesitate to put other bites onto your food lists such as Cai Mon durian, Phu Le Rice Wine, coconut wine, coconut candy, coconut rice, snail pancake, elephant ear fish, Coconut Worm, Young Coconut Salad with Shrimp & Pork…
Bring your hat, sunglasses, and sunblock, scarf to wear when visiting temples, pagodas, and the cathedral.
Bring the raincoat if you're planning a trip to Ben Tre in the rainy season, as Ben Tre always looks fantastic in the full rain and full sun.
Ben Tre tourist attractions are magnificent itself, but if you have enough time, don't forget to put other places onto your bucket lists such as Ben Tre brick & pottery kiln, Coconut Candy Traditional Village & Small Canals, mighty Mekong river cruise, educational tour and community tour in Ben Tre, Ben Tre homestay 2D1N, cocohome homestay, Ben Tre cycling tours, Son Doc Puff Rice Paper Village, Dong Khoi Guerrilla Village, Vam Ho bird sanctuary, Cai Mon Ornamental Flower Village in Cho Lach, Ben Tre Museum, An Hiep Nhon Thanh Mat Weaving Villages, Ben Tre Night Market, Phung Island (Phoenix islet), Thoi Son Island, Turtle Islet (Con Quy)…
Hopefully, the above tips will help you to come up with a great plan for your adventure in Ben Tre province, Mekong Delta, Vietnam. Have a safe trip!
"Sleep less, travel more, respect more" – Thomas Vietnam – Local travel expert.
Thank you