Tram Chim National Park (Birding tour) – Dong Thap Forest & Nature
Not only famous for the fields of fragrant lotus flowers, the poetic beauty of hundreds of flowers blooming all year round in Sa Dec flower village, the vast rice fields of storks flying straight… Dong Thap also has areas and spots. Eco-tourism experiences make tourists near and far. One of the outstanding Dong Thap tourist attractions is Tram Chim National Park – Ramsar site of international importance, ranked 2,000th in the world and 4th in Vietnam.
By Thomas Vietnam at vemekong.com | Official Sa Dec Visitor Guide
1. Better to Know as a Tourist
Ticket: 20,000 VND (not including boat tour)
Spend-time: A half day (approx)
Hours: Dawn – dusk
Food: Yes
Shop: Yes
Parking lot: Yes
Blog: https://vemekong.com/tram-chim-national-park-tam-nong-dong-thap/
Address: Located in the territory of 7 communes (Tan Cong Sinh, Phu Duc, Phu Tho, Phu Thanh A, Phu Thanh B, Phu Hiep), Tram Chim town in Tam Nong district, Dong Thap
Added values: With a beautiful and peaceful natural setting and a fresh and airy atmosphere, Tram Chim National Park attracts many tourists because of its beautiful natural landscape and rare red-crowned cranes with many other species of flora and fauna are listed in the Red Book.
Nearby attractions and hidden gems: Looking for places to stop on your way to and from Tram Chim National Park (Birding tour)? Or maybe you found it too crowded here? We've got some ideas! Check out our list: Huynh Thuy Le Ancient House (69 km), Xeo Quyt Forest – Xeo Quyt Relic Area (63 km), Thap Muoi Lotus Field in Dong Thap (37 km)…
2. Travel Guide to Tram Chim National Park (Birding tour)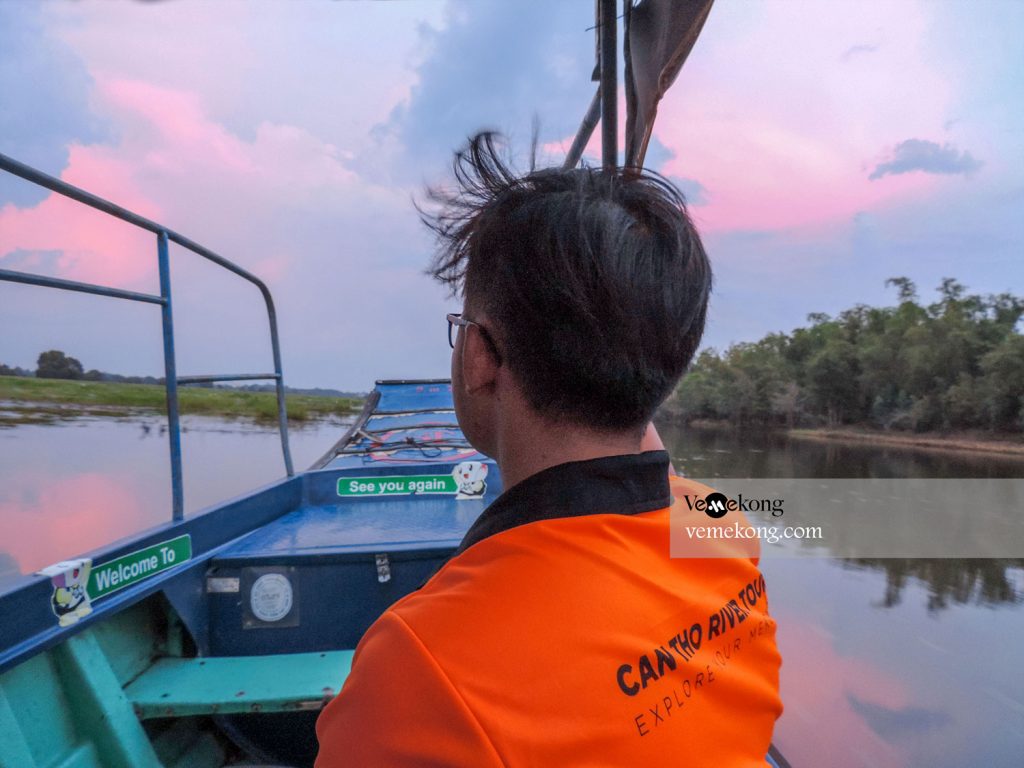 Tram Chim National Park with a total area of ​​more than 7500 hectares is a typical miniature model of the Dong Thap Muoi region, with a diverse ecosystem, where visitors can discover the characteristics of the West River.
This land of "six months of dry grass, six months of flooded fields" is the place where rich vegetation grows with more than 130 different species. The fauna here is outstanding with a rich waterfowl system consisting of 233 species, belonging to 25 genera, 49 families. Of which, 88% were found in the dry season, accounting for ¼ of the total number of bird species discovered in Vietnam. And especially the red-crowned crane, the largest in the family of cranes
– an invaluable natural asset of Tram Chim National Park in Dong Thap.
The fish system in Tram Chim National Park is equally rich, both playing the role of ecological balance and a source of food for birds. In which, there are some fish species listed in the Red Book of Vietnam.
Thanks to the sustainable exploitation of natural advantages in conservation, Tram Chim National Park has been increasingly attracting tourists from near and far, because of its beauty and many interesting activities. One thing is for sure, anyone who has come to Tram Chim will be forever impressed by the scenery of the river, the specialties and the love of the people here.
3. What to Do – See – Eat at Tram Chim National Park (Birding tour)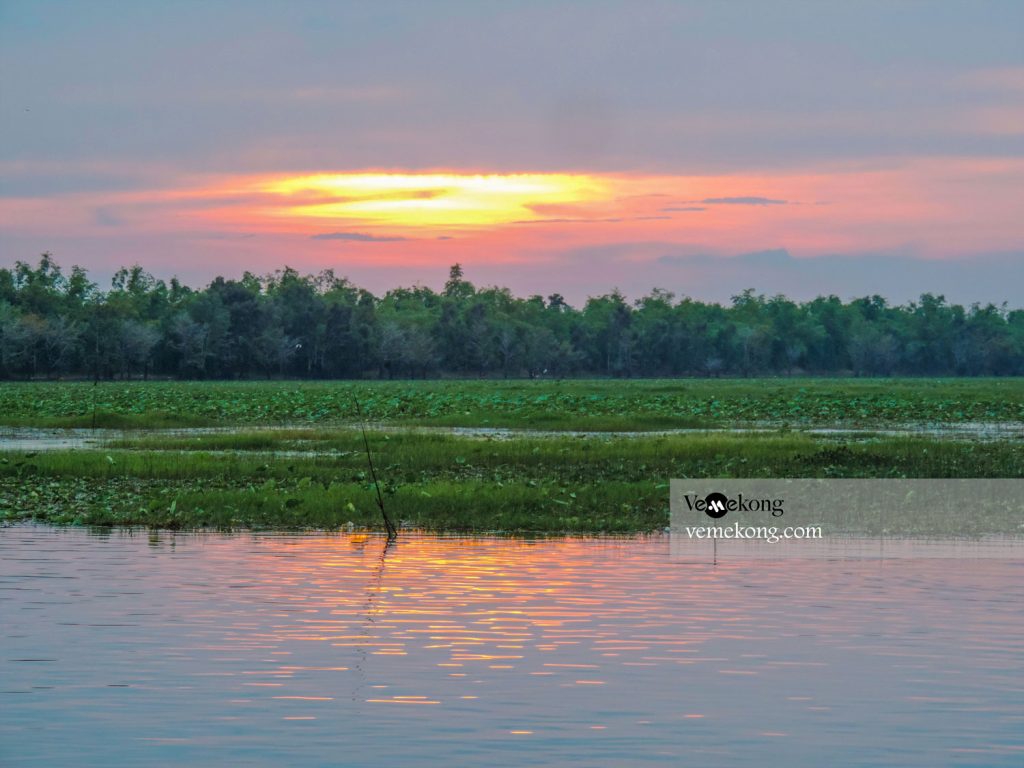 The floating season from August to November of the lunar calendar (about September to December of the solar calendar) is the tourist season of Tram Chim National Park. The landscape is flooded, lush green, dotted with the pink color of lotus flowers, and blooming water lilies. The source of produce became abundant and the birds seemed to gather here to feast.
This season is also an opportunity for you to participate in interesting activities such as Canoeing to experience the life in the wetlands, you will be able to manually perform the livelihoods of the residents of the flood area such as spreading nets, laying roofing, placing shelters, or trying their hand at fishing Tram Chim Tam Nong, especially having fun hunting field mice, a specialty of this country.
The canoe follows the water, taking you to admire the beauty of the fields of pink lotus, white lotus, sky rice, and metal … stretching out in the sun. A few herring birds, with bright red crests, dark green feathers, and fluttering tails, kept escaping and appearing in the clumps of grass as if they were playing hide and seek with tourists.
When reaching the observatory, the boat will stop completely for you to climb up to the high floor, enjoy the panoramic view of the immense green of Tram Chim National Park, let your soul follow the gentle breezes, and feel the closeness. with nature and feel strangely peaceful.
Another very interesting thing in Tram Chim is watching the sunset. The sun was like a silver ball surrounded by colorful halos, slowly sinking towards the horizon. The whole river area suddenly turned pink and radiant. In the afternoon, splashing on the water's surface the patchy colors by a multi-color, fanciful mixture: bright yellow, orange-pink, bright white, it is truly a masterpiece of nature.
After the journey to discover Tram Chim National Park, you will have the opportunity to sit on a cool leafy house in the middle of the forest or on floating rafts and enjoy delicious rustic dishes with country flavors such as grilled snakehead fish, and braised fish. water lily, steamed snails with pepper, field crab hotpot, deep-fried fish cakes, dried snakehead fish…If you have the opportunity to come here right in the lotus season, you will also have a chance to enjoy a lot of attractive dishes made from lotus.
4. Free Itineraries from VeMekong
As a local travel expert, we have some ideas for you to think about.
From Dong Thap city center:
Route 1:
Route 2:
Route 3:
If you do not have much time left, it is easy to check out spots in one full day by boat or with bike or with motorbike and car. But there are much more than tourist sites like these in Dong Thap. Make sure you have more time to feel and explore more about the hidden gems and the culture, food, night life, wildlife and forest as well. Top tip: Stay in a homestay nearby, so you have more chances to visit it and surroundings. If you are looking for the package Dong Thap daily tour with local, you can contact www.vemekong.com or Hotline/WhatsApp/WeChat/Zalo +84939888559; email: hello@vemekong.com
5. Google Maps of Tram Chim National Park (Birding tour)
Google Maps made a name for itself helping people travel from one place to another, avoid traffic (You probably know the route from your hotel to the gas station by heart, but what you can't be sure about is gridlock), measure a distance, get back to the hotel on time, share the location…
Embedded slot
6. Visit Tram Chim National Park (Birding tour) by yourself
Solo traveller? Travelling on your own means you will get out of any difficult situations by yourself. This, in turn, leads to more satisfying travel experiences and helps you improve your problem-solving skills. These days we rarely get the chance to sit with ourselves and simply be. That's why you should consider the time you spend alone on your trip as a gift.
It is possible for solo travellers to use google maps and do it alone. But sometimes they need to update local maintained roads and bridges which close and lead you a longer road than the road from google maps. It is just about the time. It takes more time to find the correct garden to come. Adventure is always fun. Wifi is strong in Dong Thap village! The locals find it hard to speak English as well. Top tip: Sticking to one canal and keeping going along it which gives you more things to see and avoids getting lost. Contact vemekong.com to hire a car, scooter with English-speaking-guide or cycling tours in Dong Thap.
7. Responsible Travel and Advice to Visit Tram Chim National Park (Birding tour)
Don't get us wrong. But we assure you that you totally agree with us. "Do not give candy and things to the children when you plan to visit any local villages", the kids will leave the school and follow the sweets and later they find some things to give you or sell to you. The garden is a little forest, don't pick and touch the flowers or fruits without the local's smiles. We deal with traveling green and leaving green behind, not plastic. Top tip: Vemekong.com are some of the companies that care a lot about responsible travel and local respectation.
8. Amazing Video flycam/drone of Tram Chim National Park (Birding tour) (4k)
If a picture says a thousand words, it stands to reason that the video says many times more.
9. Incredible Tips for Photography, Specialists, KOLs, Media and Influencers
To get the best of the best for your unique writing, featuring, photo, video and insider's stories. We do recommend you to have a local travel expert, the one who always gets more ground information and makes sure every single element is solved perfectly. Vemekong (very exclusive Mekong) team is your priority choice. Email and have a private talk with them to customize your journey smoothly, personal and the most ultimately amazing. You can contact www.vemekong.com or Hotline/WhatsApp/WeChat/Zalo +84939888559; email: hello@vemekong.com
10. Pro Tips
You can stay in a homestay which is in the Sa Dec flower village, this will help you have the best experience in Sa Dec, Dong Thap province. There are so many flower gardeners who are watering and gardening the Sadec flower farms in the early morning with the amazing Sa Dec sunrise.
If you plan to extend your travel to Sa Dec homestay, do not forget to bring mosquito repellent cream.
Visit Sa Dec or do any customized tours, please choose reputable providers with boat trips equipped with lifebuoys, jackets, motorcycle and cycling tours with the helmets and. Safety is a priority! Choose Sa Dec responsible tours which help you give back while traveling. It's a cliché, but it's true.
Sa Dec food & drink guide ranges from street food, authentic, fancy to fusion foods. As a tropical land of many fresh vegetables and homegrown gardens, which always make Sa Dec cuisines fresh, close to nature and very traditional. If you are a food lover, don't hesitate to put other bites onto your food lists such as Hu Tieu Sa Dec (Sa Dec noodle soup), Sadec Crab Hotpot, Nem Lai Vung (Vietnamese fermented pork roll in Lai Vung), Sa Giang shrimp chips, Lai Vung tangerine fruit…
Bring your hat, sunglasses, and sunblock, scarf to wear when visiting temples, pagodas, and the cathedral.
Bring the raincoat if you're planning a trip to Sa Dec in the rainy season, as Sa Dec always looks fantastic in the full rain and full sun.
Sa Dec tourist attractions are magnificent itself, but if you have enough time, don't forget to put other places onto your bucket lists such as Sa Dec Flower Village, Huynh Thuy Le ancient house, Tu Ton Rose Garden, Dong Thap Museum, Xeo Quyt forest – Xeo Quyt relic area, Gao Giong Ecotourism park (Cao Lanh), Lai Vung tangerine garden, Tram Chim National Park (Birding tour), Kim Hue Pagoda, Thap Muoi Lotus Field in Dong Thap, Dinh Yen Mat Making Village, Kien An Cung Pagoda, Phuong Nam Cultural Tourism Area, Phuoc Kien pagoda (lotus leaf pagoda), The Burial Place of Nguyen Sinh Sac, Sa Dec Town Park, Happy Land Hung Thy Tourist Area, date fruit garden, Sa Dec Market, Lai Vung Tangerine Garden
Hopefully, the above tips will help you to come up with a great plan for your adventure in Sa Dec, Dong Thap province, Mekong Delta, Vietnam. Have a safe trip!
"Sleep less, travel more, respect more" – Thomas Vietnam – Local travel expert.
Thank you