Hang Pagoda in Tra Vinh Hidden Gem
As a province with many Khmer ethnic people living, Tra Vinh has a distinct beauty expressed through unique architectural works. Among the famous landscapes and monuments in Tra Vinh, Hang Pagoda is one of Tra Vinh hidden gems worth visiting.
By Thomas Vietnam at vemekong.com | Official Tra Vinh Visitor Guide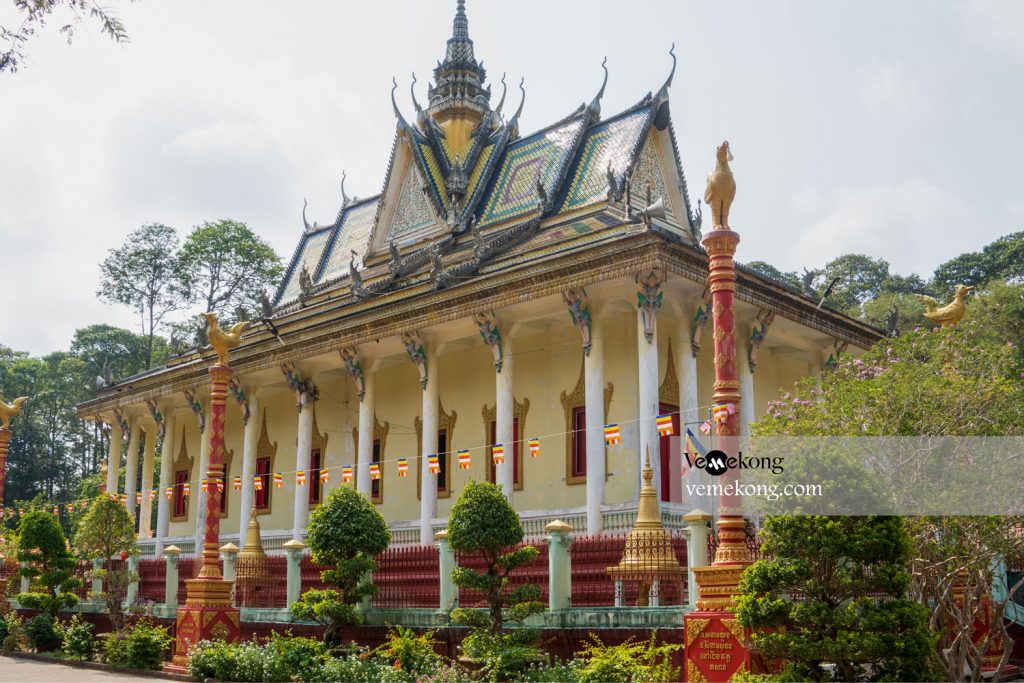 1. Better to Know as a Tourist
Ticket: Free
Spend-time: One hour (approx)
Hours: Dawn – Dusk
Food: Yes
Shop: Yes
Parking lot: Yes
Blog: https://vemekong.com/hang-pagoda-tra-vinh/
Address: Located at cluster 3, Chau Thanh town, Tra Vinh province.
Added values: Hang Pagoda not only fascinates passengers by its ancient beauty, but also by the uniqueness of the bird yard and fine art sculptures made by the skillful and talented hands of the temple's artisans creative feat.
Nearby attractions and hidden gems: Looking for places to stop on your way to and from Hang Pagoda? Or maybe you found it too crowded here? We've got some ideas! Check out our list: Ba Dong Beach (52 km), Ba Om Pond (6 km), Vam Ray Pagoda (32 km), Truc Lam Zen Monastery Tra Vinh (49 km), Con Chim Islet (17 km), Tra Vinh Market (5 km)…
2. Travel Guide to Tra Vinh Hang Pagoda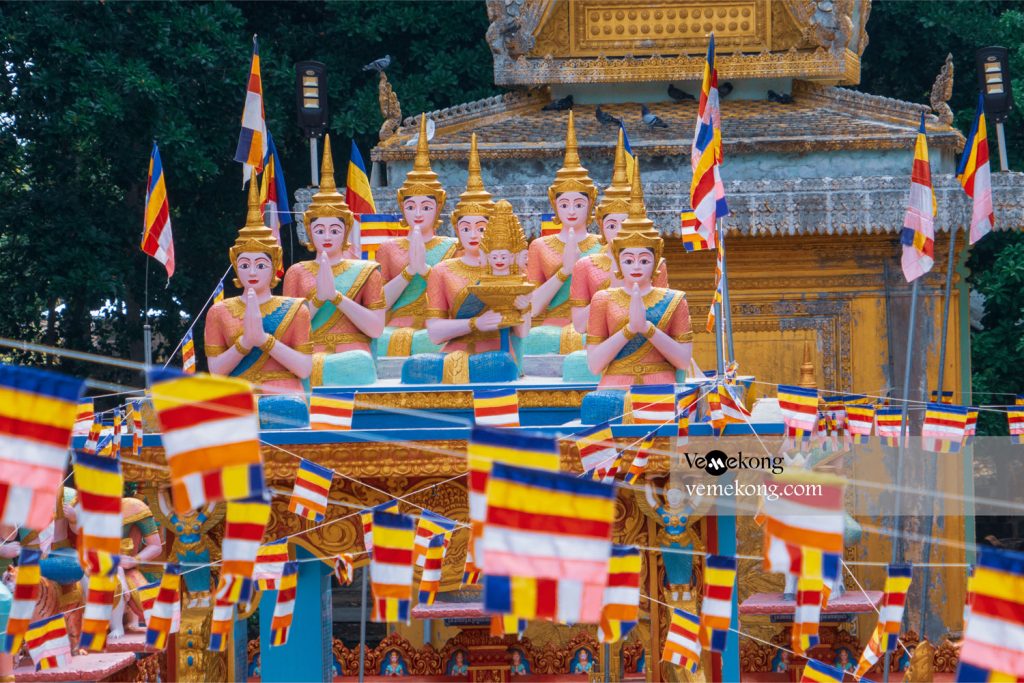 Like an ancient temple of more than 300 years old, Hang Pagoda has beautiful architecture, located in the middle of more than 2 hectares of green trees which has long been the residence and reproduction of millions of birds of all kinds. It is this that makes the fascination and unique features of the ancient temple. Resonating with the chirping birds on the porch, making the quiet scene of the temple peaceful and peaceful.
The campus of Hang Pagoda is about 7 hectares wide, really a primeval forest with many endemic plant species such as star wood tree, bamboo, etc., crammed together into many different high and low floors, which are very valuable.
Originally, this temple faced the east, overlooking the Long Binh river, where there was a boat dock near the banyan tree for people to conveniently go to the temple to listen to scriptures and worship Buddha, so it was named Wat Kompong Ch'ray. Ben Cay Da Pagoda). The pagoda was built in 1637 and has experienced 22 abbot generations.
In 1968 during the Tet Offensive, the pagoda was heavily damaged by bombs and bullets. In 1977, monk Thach Suong (now the 23rd abbot) returned, and campaigned to rebuild the temple. Since then, through many restorations, the temple has become spacious and superficial.
3. What to Do – See – Eat at Hang Pagoda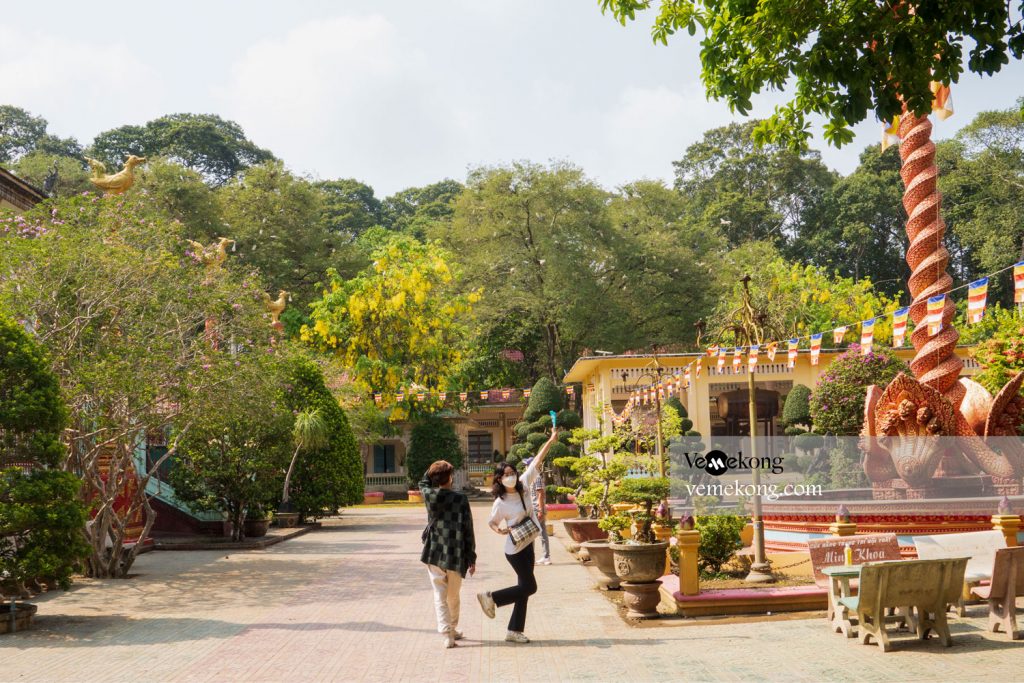 People used to call it Hang Pagoda because of the western side gate, facing Provincial Road 36 (now National Highway 54), built as a system of 3 caves close together. In which the middle door is a large cave, and on both sides are two small caves. All three gates are solidly built with 12m thick walls, creating the feeling of standing at the gate like being in a cave.
The arched pagoda gate is not only an artistic architectural work that distinguishes Hang Pagoda from the rest of the Khmer pagodas in the province but also contains sophisticated historical and religious values. The cave entrance is a "feature" that shows that Tra Vinh Khmer Theravada Buddhism has a stable inheritance of Brahmanism because, in the past, Brahmin monks often practiced silently in temples.
The main hall of the pagoda was built on high ground, with many stairs leading up, decorated with many patterns and motifs. The roof of the main hall is structured with many layers on top of each other, on the top is a majestic tower. Inside the main hall are two rows of tall and majestic columns, in the middle of the main hall is the altar. The large Shakyamuni Buddha statue is placed high, below are smaller Shakyamuni Buddha statues in different positions.
In front of the guesthouse and monastery is a flagpole, at the foot of the tower, there is a relief of 7 heads of Naga snakes. The two sides have 12-spoke wheels representing the twelve causes and conditions. Opposite the main hall of Hang Pagoda is a population of 12 animals, arranged in an arc, embossed with two dragons winding like a boat. The dragon's head is raised on two pillars with relief carvings of Yak (goblin transformed by Buddha) and Elephant. Viewed from the left are statues of fairies, fairies riding mice, ox, tigers, rabbits, and dragons…
The right side is also in the order of gods riding goats, monkeys, chickens… In the middle, there is a statue of a god riding a snake Naga and a god riding a horse is arranged close to the screen. On the screen is a 4-sided tower architecture with a roof, on both sides, there is a statue of goddess Kinnari supporting the roof, and on the top is a set of 8 Buddhas with hands clasped.
Like other Khmer temples, Hang Pagoda is not only a place of worship and belief but also a place of learning, moral education, and preservation of the traditional culture and art of the Khmer people. In the temple, there is a fairly large school and about two dozen small stilt houses just enough for one person to live in. Khmer people in the area often come here to pray and practice.
Compared to other Khmer Theravada Buddhist temples in Tra Vinh province, Hang Pagoda is not a big temple. The attraction of this temple compared to passengers near and far is that the wood carving workshop has been operating for nearly 30 years, with many products that resonate in the Vietnamese fine art market, and is a strictly protected "bird sanctuary".
Arriving at Hang Pagoda, after admiring the reclining Buddha image in the main hall, and visiting the artistic wood carving workshop, passengers can spend time sitting on the ice spread around the main hall. In our sight, the birds of the morning sky soared high, scattered in search of prey in the fields, and nearby rivers; In the afternoon, they returned, bringing food for the young birds waiting, creating a noisy atmosphere for the whole forest where the meditation was quiet.
After the war ended, especially from the 1990s onwards, the Hang Pagoda campus became a gathering place for many kinds of birds. As soon as the birds gathered back, the monks and relatives in the village were very happy. The pagoda sets very strict regulations on bird protection and forest tree protection, creating a peaceful natural environment for flocks of birds returning to life.
4. Free Itineraries from VeMekong
As a local travel expert, we have some ideas for you to think about.
From Tra Vinh center:
Route 1:
Route 2:
Route 3:
If you do not have much time left, it is easy to check out spots in one full day by boat or with bike or with motorbike and car. But there are much more than tourist sites like these in Tra Vinh. Make sure you have more time to feel and explore more about the hidden gems and the culture, food, night life, wildlife and forest as well. Top tip: Stay in a homestay nearby, so you have more chances to visit it and surroundings. If you are looking for the package Tra Vinh daily tour with local, you can contact www.vemekong.com or Hotline/WhatsApp/WeChat/Zalo +84939888559; email: hello@vemekong.com
5. Google Maps of Hang Pagoda in Tra Vinh
Google Maps made a name for itself helping people travel from one place to another, avoid traffic (You probably know the route from your hotel to the gas station by heart, but what you can't be sure about is gridlock), measure a distance, get back to the hotel on time, share the location…
Embedded slot
6. Visit Hang Pagoda by yourself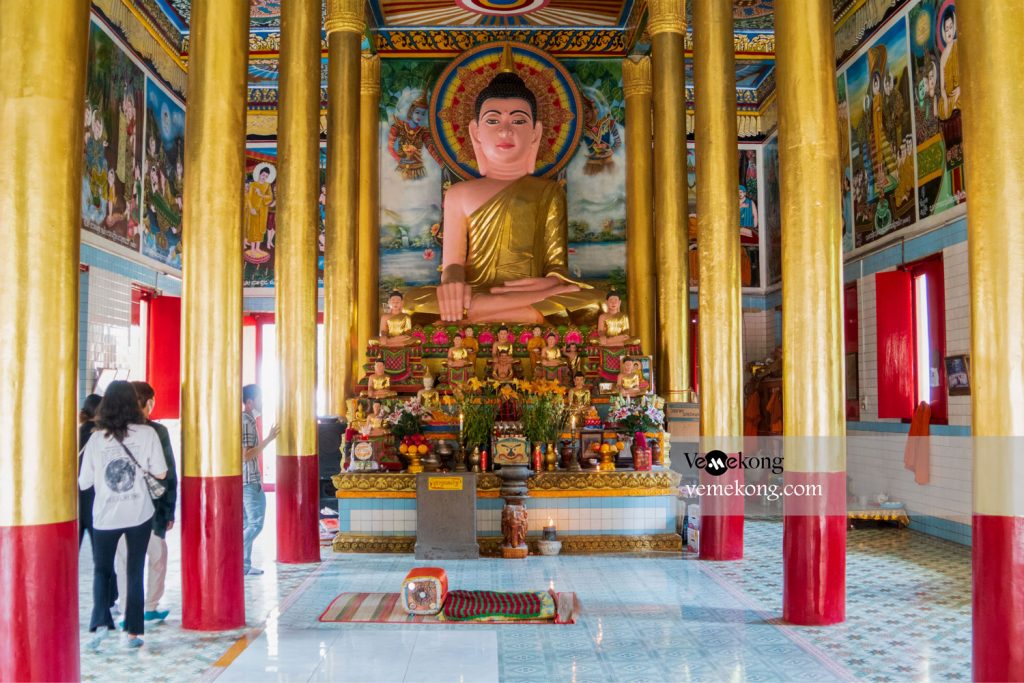 Solo traveller? Travelling on your own means you will get out of any difficult situations by yourself. This, in turn, leads to more satisfying travel experiences and helps you improve your problem-solving skills. These days we rarely get the chance to sit with ourselves and simply be. That's why you should consider the time you spend alone on your trip as a gift.
It is possible for solo travellers to use google maps and do it alone. But sometimes they need to update local maintained roads and bridges which close and lead you a longer road than the road from google maps. It is just about the time. It takes more time to find the correct garden to come. Adventure is always fun. Wifi is strong in Tra Vinh village! The locals find it hard to speak English as well. Top tip: Sticking to one canal and keeping going along it which gives you more things to see and avoids getting lost. Contact vemekong.com to hire a car, scooter with English-speaking-guide or cycling tours in Tra Vinh.
7. Responsible Travel and Advice to Visit Hang Pagoda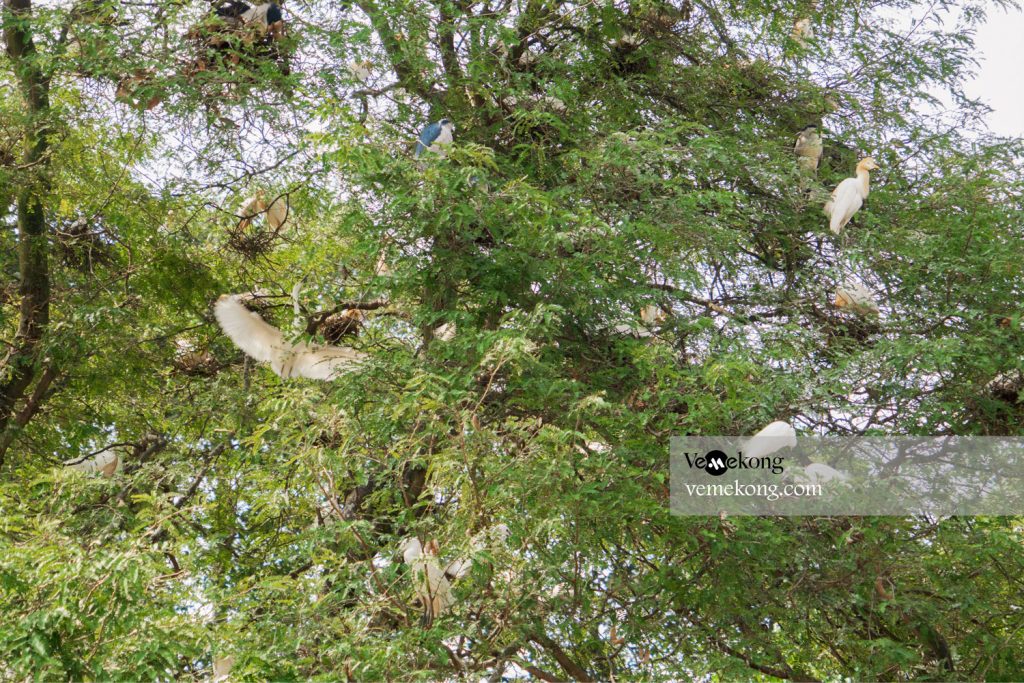 Don't get us wrong. But we assure you that you totally agree with us. "Do not give candy and things to the children when you plan to visit any local villages", the kids will leave the school and follow the sweets and later they find some things to give you or sell to you. The garden is a little forest, don't pick and touch the flowers or fruits without the local's smiles. We deal with traveling green and leaving green behind, not plastic. Top tip: Vemekong.com are some of the companies that care a lot about responsible travel and local respectation.
8. Amazing Video flycam/drone of Hang Pagoda (4k)
If a picture says a thousand words, it stands to reason that the video says many times more.
9. Incredible Tips for Photography, Specialists, KOLs, Media and Influencers
To get the best of the best for your unique writing, featuring, photo, video and insider's stories. We do recommend you to have a local travel expert, the one who always gets more ground information and makes sure every single element is solved perfectly. Vemekong (very exclusive Mekong) team is your priority choice. Email and have a private talk with them to customize your journey smoothly, personal and the most ultimately amazing. You can contact www.vemekong.com or Hotline/WhatsApp/WeChat/Zalo +84939888559; email: hello@vemekong.com
10. Pro Tips
Tra Vinh Khmer pagodas are solemn places, so you should choose beautiful clothes that are still polite and discreet. In the temple grounds, there are many animal statues such as elephants, snakes, etc. If you go with the children, please remind them not to climb because these are sacred symbols of the Khmer people.
The monks don't ask for money, although donations won't hurt.
If you plan to extend your tour to Tra Vinh homestay, do not forget to bring mosquito repellent cream.
Visit Tra Vinh or do any customized tours, please choose reputable providers with boat trips equipped with lifebuoys, jackets, motorcycle and cycling tours with the helmets. Safety is a priority! Choose Tra Vinh responsible tours which help you give back while traveling. It's a cliché, but it's true.
Tra Vinh food & drink guide ranges from street food, authentic, fancy to fusion foods. As a tropical land of many fresh vegetables and homegrown gardens, which always make Tra Vinh cuisines fresh, close to nature and very traditional. If you are a food lover, don't hesitate to put other bites onto your food lists such as Cong Cake, Tra Cuon's Sticky Rice Cake, Bun Nuoc Leo Tra Vinh's Noodle Soup, Macapuno Coconut…
Bring your hat, sunglasses, and sunblock, scarf to wear when visiting temples, pagodas, and the cathedral.
Bring the raincoat if you're planning a trip to Tra Vinh in the rainy season, as Tra Vinh always looks fantastic in the full rain and full sun.
Tra Vinh tourist attractions are magnificent itself, but if you have enough time, don't forget to put other places onto your bucket lists such as Hang Pagoda, Nôdol Pagoda (Stork temple), Khmer minority people's museum, Ba Dong Beach, Ba Om Pond, Ang Pagoda, Vam Ray Pagoda, Truc Lam Zen Monastery Tra Vinh, Cau Ke Ancient House or Huynh Ky Old House, Kampong Ksan pagoda, Con Chim islet – community-based tourism…
Hopefully, the above tips will help you to come up with a great plan for your adventure in Tra Vinh, Mekong Delta, Vietnam. Have a safe trip!
"Sleep less, travel more, respect more" – Thomas Vietnam – Local travel expert.
Thank you