Ang Pagoda – Tra Vinh Tourist Attraction
Referring to Tra Vinh, people think of the land of ancient Khmer temples and historical sites with many legends, associated with the journey to the South. The whole province of Tra Vinh has many Khmer temples, in which Ang Pagoda is considered one of the major temples, typical for Khmer temples in the province.
By Thomas Vietnam at vemekong.com | Official Tra Vinh Visitor Guide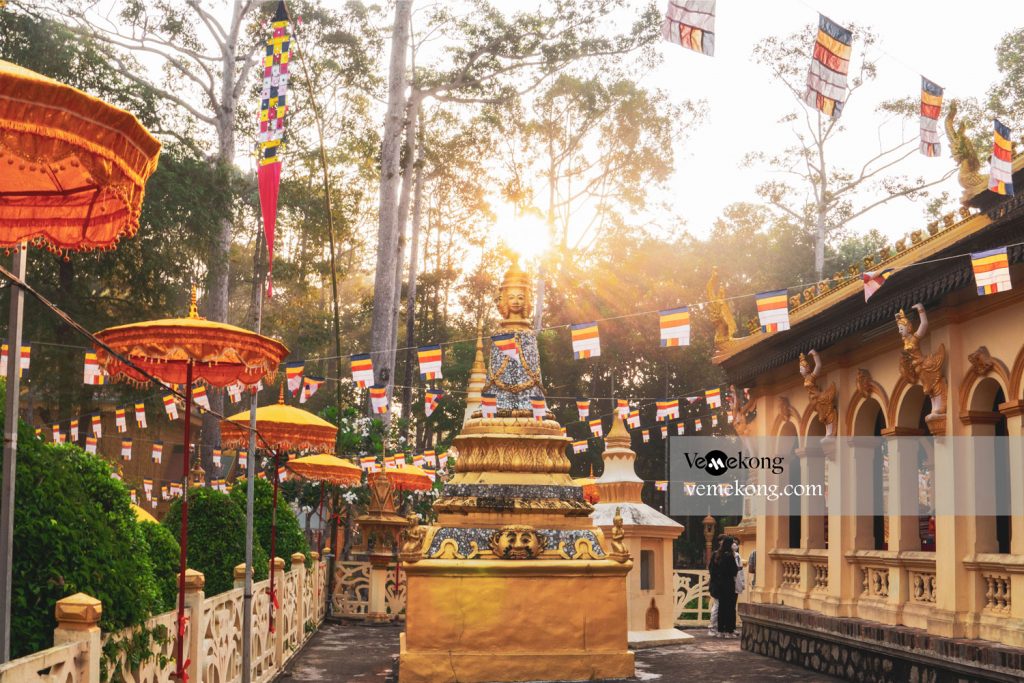 1. Better to Know as a Tourist
Ticket: Free
Spend-time: One hour (approx)
Hours: Dawn – Dusk
Food: Yes
Shop: Yes
Parking lot: Yes
Blog: https://vemekong.com/ang-pagoda-tra-vinh/
Address: Located in Ward 8, Tra Vinh city.
Added values: Visitors coming here will admire the buildings in the temple with tower-shaped architecture reaching straight up to the sky, bringing a magnificent, magnificent but equally dignified beauty.
Nearby attractions and hidden gems: Looking for places to stop on your way to and from Ang Pagoda? Or maybe you found it too crowded here? We've got some ideas! Check out our list: Ba Dong Beach (56 km), Ba Om Pond (2 minutes), Vam Ray Pagoda (38 km), Truc Lam Zen Monastery Tra Vinh (55 km), Con Chim Islet (18 km), Tra Vinh Market (12 minutes)…
2. Travel Guide to Ang Pagoda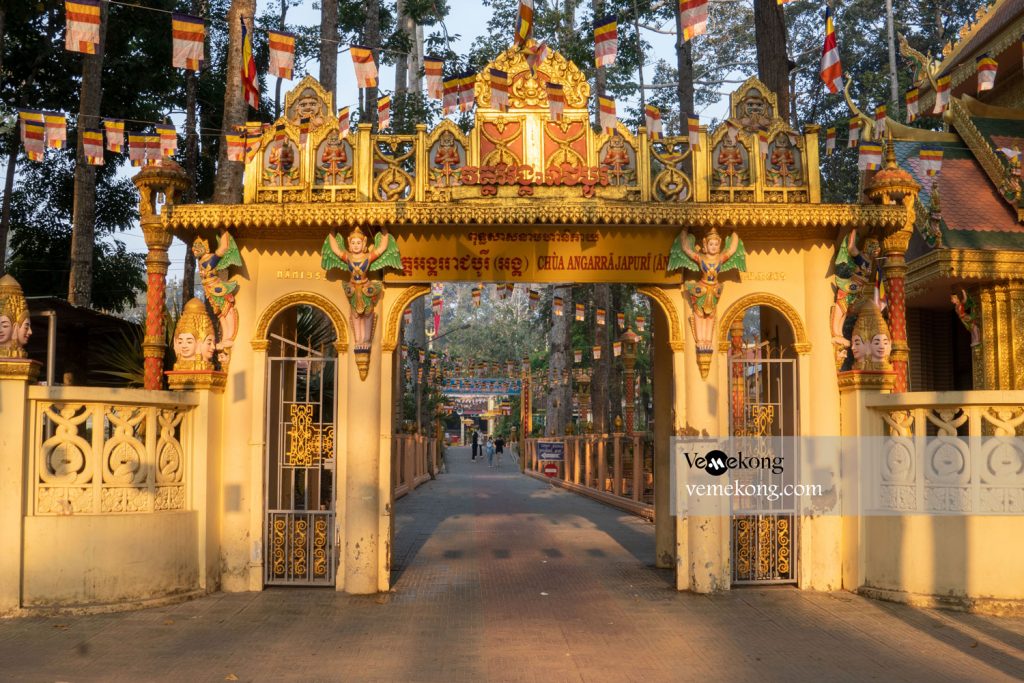 Ang Pagoda is also called Wat Angkor Raig Borei. The temple is located in the scenic Ao Ba Om cluster and the museum of Khmer ethnic culture is a highlight not to be missed on the tourist map of Tra Vinh.
According to history books, the Ang pagoda was built in the 10th century (in 990) and was built on the current scale in the 3rd year of Thieu Tri, i.e. 1842 according to the solar calendar. Since then, the temple has been restored and repaired many times, in which new auxiliary works such as monks and nuns were built.
Like many other Khmer temples in Tra Vinh, Ang Pagoda is a complex of architectural works including monks, lecture halls teaching, and Khmer characters… surrounding the majestic main hall. The temple faces the East, expressing the Buddhist thought that Shakyamuni Buddha in the West looks to the East to save sentient beings.
3. What to Do – See – Eat at Ang Pagoda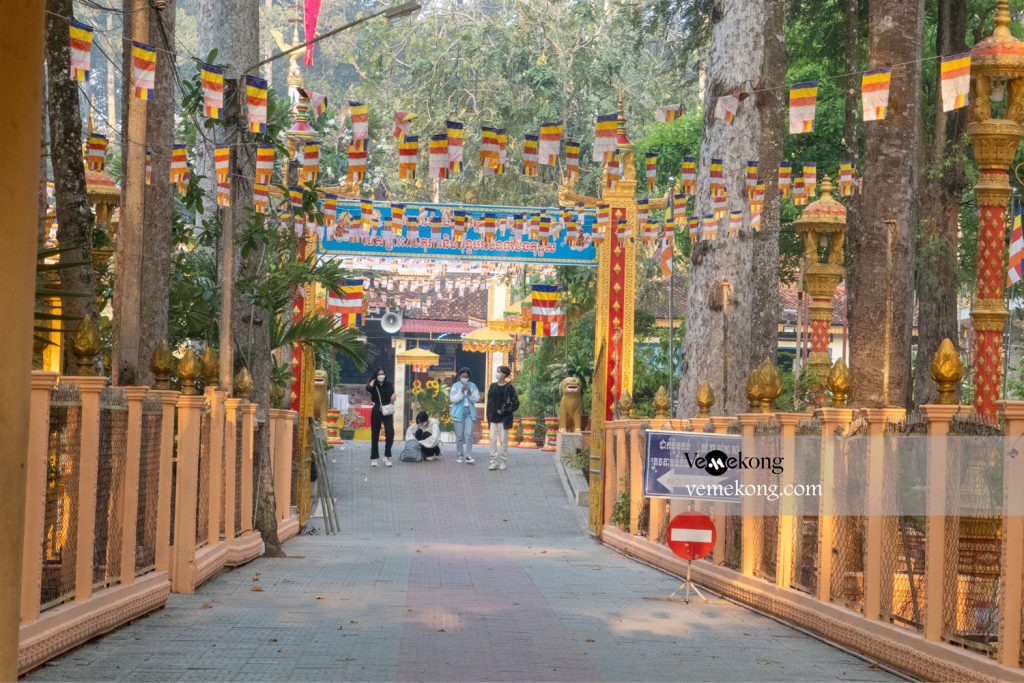 The gate of Ang pagoda is decorated with very elaborate and sophisticated sculptures with statues of owls, fairies, and birds in the Khmer traditional motif.
From the main gate, there is a wide passage between two rows of tall, tall old hopea trees, creating a majestic position for the temple. The walkway across the wide surrounding moat makes the atmosphere fresh and cool.
The pagoda's campus is 4 hectares wide with many endemic plant species on sandy soil such as hopea trees (cây sao), hundreds of years old dipterocarpus alatus ( cây dầu rái) trees, bamboo…
The center of the Khmer temple is the main hall (Preah Vihear) worshiping Buddha, which converges and reflects the level of contemporary artisans in architectural art, painting, sculpture… The entire main hall is supported by pillars. by a system of 18 precious wooden columns. Inside the main hall is a large space with 12 pillars decorated with dragons, painted gilded with vermilion.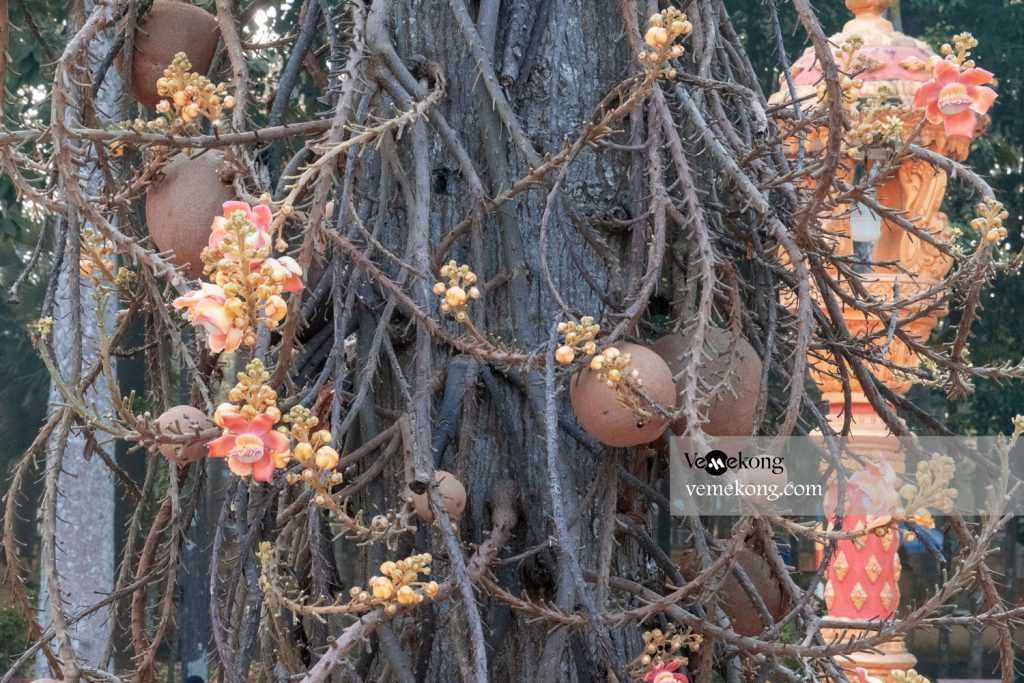 The roof of the main hall of Ang Pagoda is uniquely structured, including three levels of roofs with beautiful and harmonious colors, in which the top two roofs are very high and steep, creating a sacred feeling that Buddhists must be very humble. when looking up. The two gables are closed by two ornately carved triangular wooden panels. The roof mounds have a Naga snake god with a curved crest, symbolizing the bridge between earthly and Nirvana.
The four walls of the main hall are unique frescoes expressing Buddhist thought through the spiritual path of Shakyamuni Buddha. On the ceiling are four monumental frescoes showing the four stages of Buddha Shakyamuni's life: Buddha's birth, Buddha's ordination, Buddha's enlightenment, and Buddha's passing into nirvana.
The Buddha altar in the main hall of Ang pagoda was also performed by artists at that time. The whole pedestal is a lotus with many petals placed behind a wooden hammock carved very delicately with many pictures of flowers, and animals, and painted gilded with gold. Like other Khmer Theravada temples, the main hall of Ang Pagoda only worships Shakyamuni Buddha in a sitting position to meditate.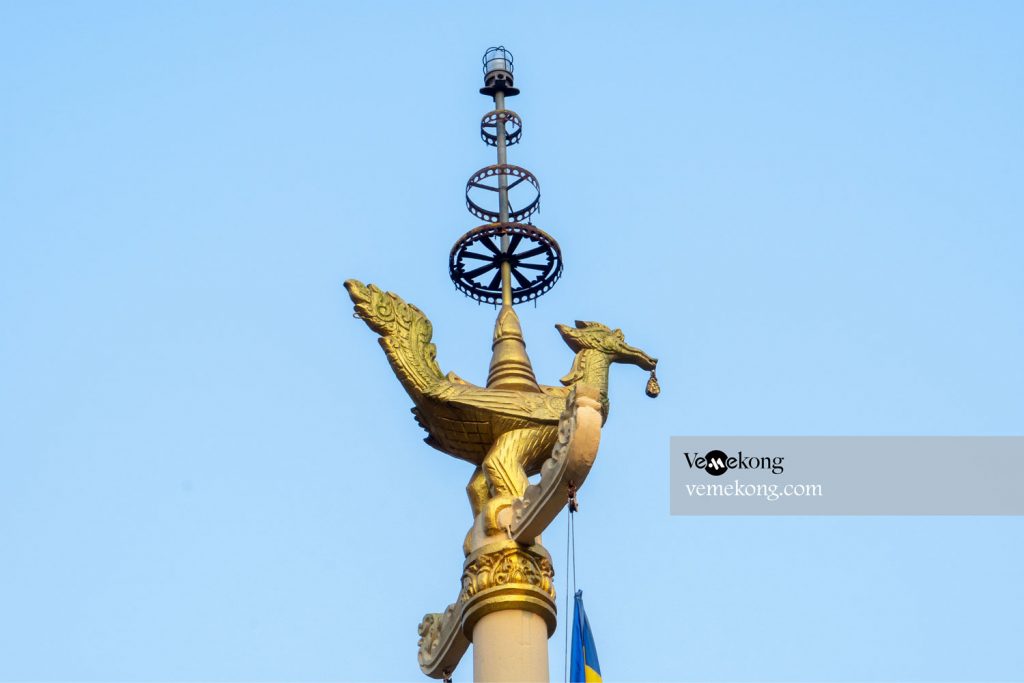 In front of the main hall is a tower containing the remains of the monks and abbots of the temple through the periods. This is the only five-top tower in the Khmer temples of Tra Vinh. The five-pointed tower is the influence of Hindu thought on the universe, nature, and people.
After nearly two centuries of stability and majesty that survives the impact of weather, rain, wind, and time, Ang Pagoda is the pride of the Khmer people in particular, of the Tra Vinh ethnic community in general. With the unique values ​​of architecture, painting, and sculpture imbued with Khmer cultural identity, there are certain exchanges with Vietnamese, Chinese, Indian, and Thai cultures.
In the spiritual life of the Khmer, the temple is not only a place of religious practice and Buddhist rituals but also a place to preserve and transmit traditional cultural values ​​from generation to generation. With that great material and spiritual values, Ang Pagoda was ranked a national historical-cultural relic by the Ministry of Culture and Information, now the Ministry of Culture, Sports and Tourism.
Every year, on the Chol-cham-thmay, Delta festival, especially the Moon Offering – Ok-om-bok festival, the Khmer and Kinh, and Hoa people in Tra Vinh and neighboring provinces gather here to admire the festival, worship and participate in fun activities.
4. Free Itineraries from VeMekong
As a local travel expert, we have some ideas for you to think about.
From Tra Vinh center:
Route 1:
Route 2:
Route 3:
If you do not have much time left, it is easy to check out spots in one full day by boat or with bike or with motorbike and car. But there are much more than tourist sites like these in Tra Vinh. Make sure you have more time to feel and explore more about the hidden gems and the culture, food, night life, wildlife and forest as well. Top tip: Stay in a homestay nearby, so you have more chances to visit it and surroundings. If you are looking for the package Tra Vinh daily tours with local, you can contact www.vemekong.com or Hotline/WhatsApp/WeChat/Zalo +84939888559; email: hello@vemekong.com
5. Google Maps of Ang Pagoda
Google Maps made a name for itself helping people travel from one place to another, avoid traffic (You probably know the route from your hotel to the gas station by heart, but what you can't be sure about is gridlock), measure a distance, get back to the hotel on time, share the location…
Embedded slot
6. Visit Ang Pagoda by yourself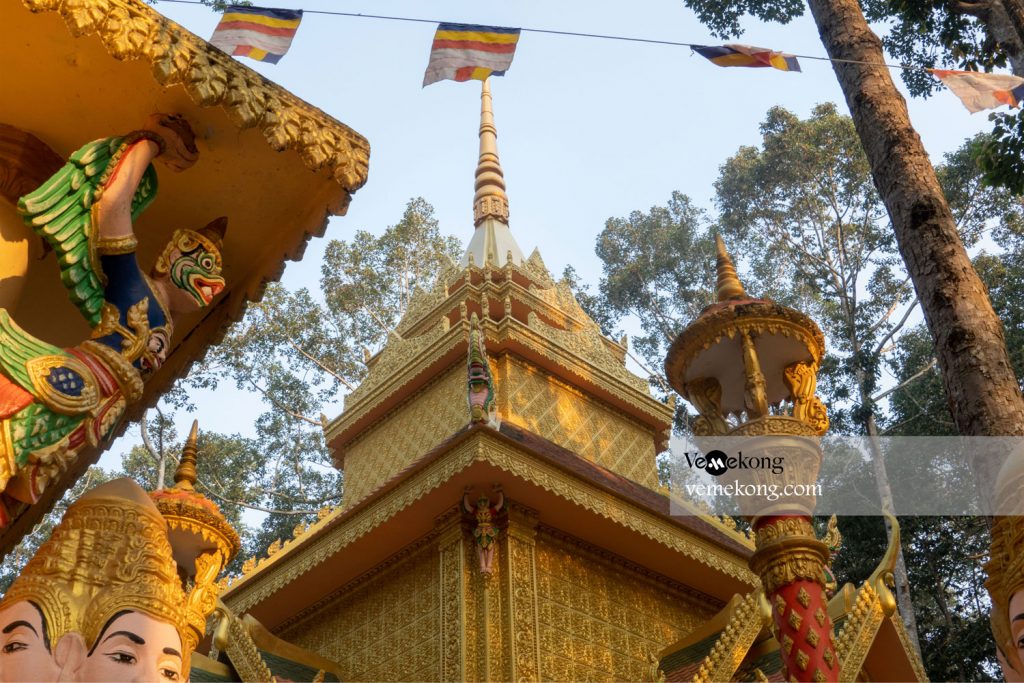 Solo traveller? Travelling on your own means you will get out of any difficult situations by yourself. This, in turn, leads to more satisfying travel experiences and helps you improve your problem-solving skills. These days we rarely get the chance to sit with ourselves and simply be. That's why you should consider the time you spend alone on your trip as a gift.
It is possible for solo travellers to use google maps and do it alone. But sometimes they need to update local maintained roads and bridges which close and lead you a longer road than the road from google maps. It is just about the time. It takes more time to find the correct garden to come. Adventure is always fun. Wifi is strong in Tra Vinh village! The locals find it hard to speak English as well. Top tip: Sticking to one canal and keeping going along it which gives you more things to see and avoids getting lost. Contact vemekong.com to hire a car, scooter with English-speaking-guide or cycling tours in Tra Vinh.
7. Responsible Travel and Advice to Visit Ang Pagoda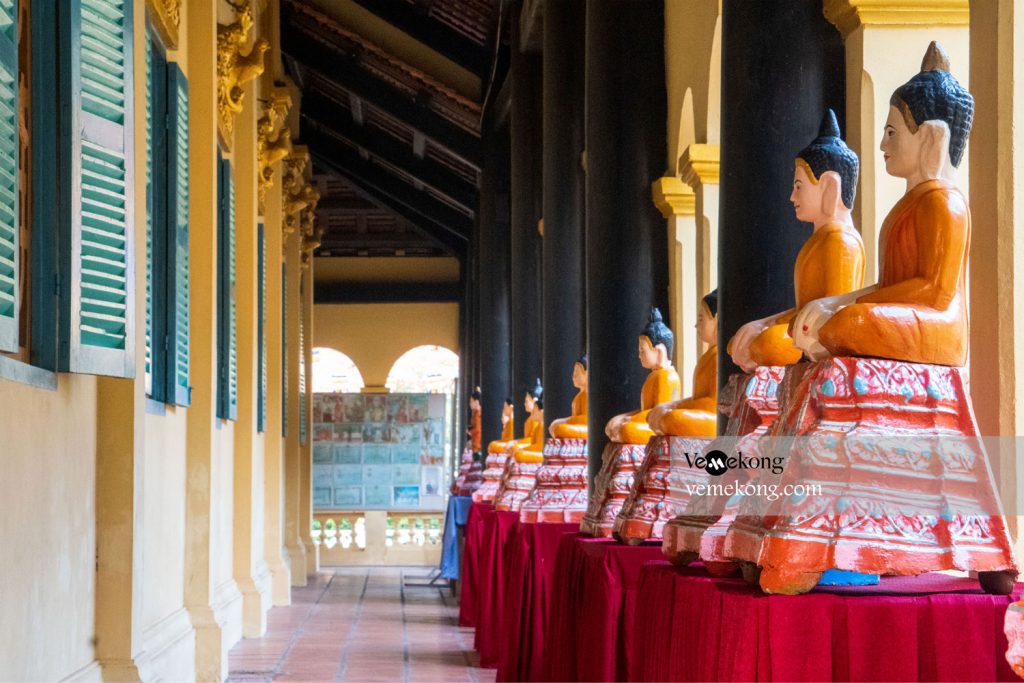 Don't get us wrong. But we assure you that you totally agree with us. "Do not give candy and things to the children when you plan to visit any local villages", the kids will leave the school and follow the sweets and later they find some things to give you or sell to you. The garden is a little forest, don't pick and touch the flowers or fruits without the local's smiles. We deal with traveling green and leaving green behind, not plastic. Top tip: Vemekong.com are some of the companies that care a lot about responsible travel and local respectation.
8. Amazing Video flycam/drone of Ang Pagoda (4k)
If a picture says a thousand words, it stands to reason that the video says many times more.
9. Incredible Tips for Photography, Specialists, KOLs, Media and Influencers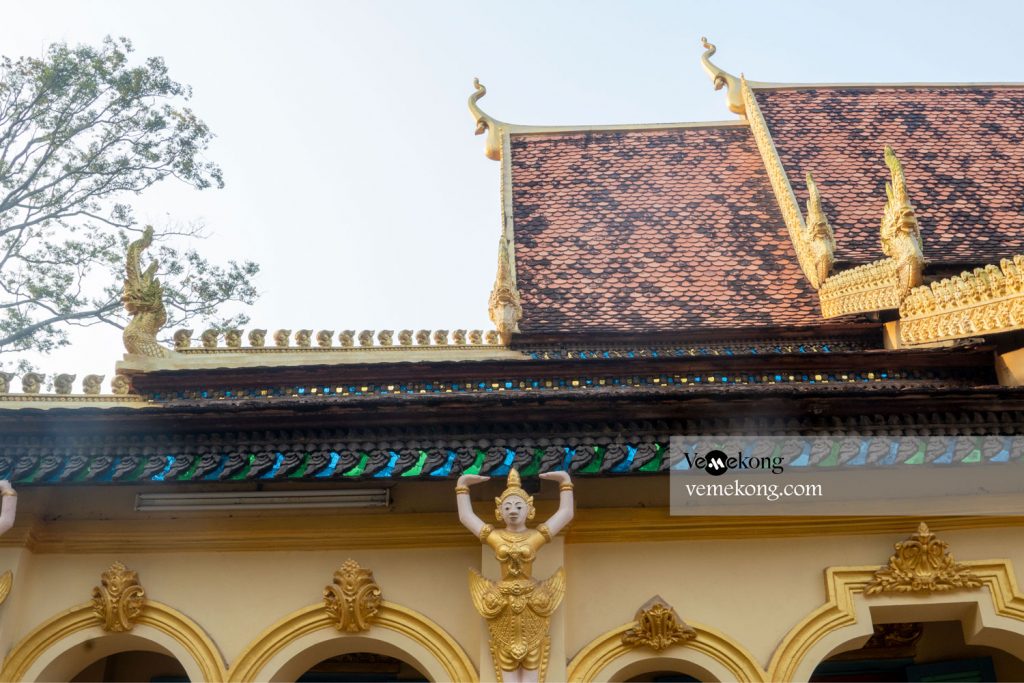 To get the best of the best for your unique writing, featuring, photo, video and insider's stories. We do recommend you to have a local travel expert, the one who always gets more ground information and makes sure every single element is solved perfectly. Vemekong (very exclusive Mekong) team is your priority choice. Email and have a private talk with them to customize your journey smoothly, personal and the most ultimately amazing. You can contact www.vemekong.com or Hotline/WhatsApp/WeChat/Zalo +84939888559; email: hello@vemekong.com
10. Pro Tips
Tra Vinh Khmer pagodas are solemn places, so you should choose beautiful clothes that are still polite and discreet. In the temple grounds, there are many animal statues such as elephants, snakes, etc. If you go with the children, please remind them not to climb because these are sacred symbols of the Khmer people.
The monks don't ask for money, although donations won't hurt.
If you plan to extend your tour to Tra Vinh homestay, do not forget to bring mosquito repellent cream.
Visit Tra Vinh or do any customized tours, please choose reputable providers with boat trips equipped with lifebuoys, jackets, motorcycle and cycling tours with the helmets. Safety is a priority! Choose Tra Vinh responsible tours which help you give back while traveling. It's a cliché, but it's true.
Tra Vinh food & drink guide ranges from street food, authentic, fancy to fusion foods. As a tropical land of many fresh vegetables and homegrown gardens, which always make Tra Vinh cuisines fresh, close to nature and very traditional. If you are a food lover, don't hesitate to put other bites onto your food lists such as Cong Cake, Tra Cuon's Sticky Rice Cake, Bun Nuoc Leo Tra Vinh's Noodle Soup, Macapuno Coconut…
Bring your hat, sunglasses, and sunblock, scarf to wear when visiting temples, pagodas, and the cathedral.
Bring the raincoat if you're planning a trip to Tra Vinh in the rainy season, as Tra Vinh always looks fantastic in the full rain and full sun.
Tra Vinh tourist attractions are magnificent itself, but if you have enough time, don't forget to put other places onto your bucket lists such as Hang Pagoda, Nôdol Pagoda (Stork temple), Khmer minority people's museum, Ba Dong Beach, Ba Om Pond, Ang Pagoda, Vam Ray Pagoda, Truc Lam Zen Monastery Tra Vinh, Cau Ke Ancient House or Huynh Ky Old House, Kampong Ksan pagoda, Con Chim islet – community-based tourism…
Hopefully, the above tips will help you to come up with a great plan for your adventure in Tra Vinh, Mekong Delta, Vietnam. Have a safe trip!
"Sleep less, travel more, respect more" – Thomas Vietnam – Local travel expert.
Thank you